OSIAS Electric Fuel Pump Pump with 1/4" NPT Inlet and Outlet E8470 P4070
| | |
| --- | --- |
| Brand/Part #: | OSIAS 84070 |
| Location: | Dayton, New Jersey, US |
| Ship To Locations: | US - FREE SHIPPING |

OSIAS Electric Fuel Pump Pump with 1/4" NPT Inlet and Outlet E8470 P4070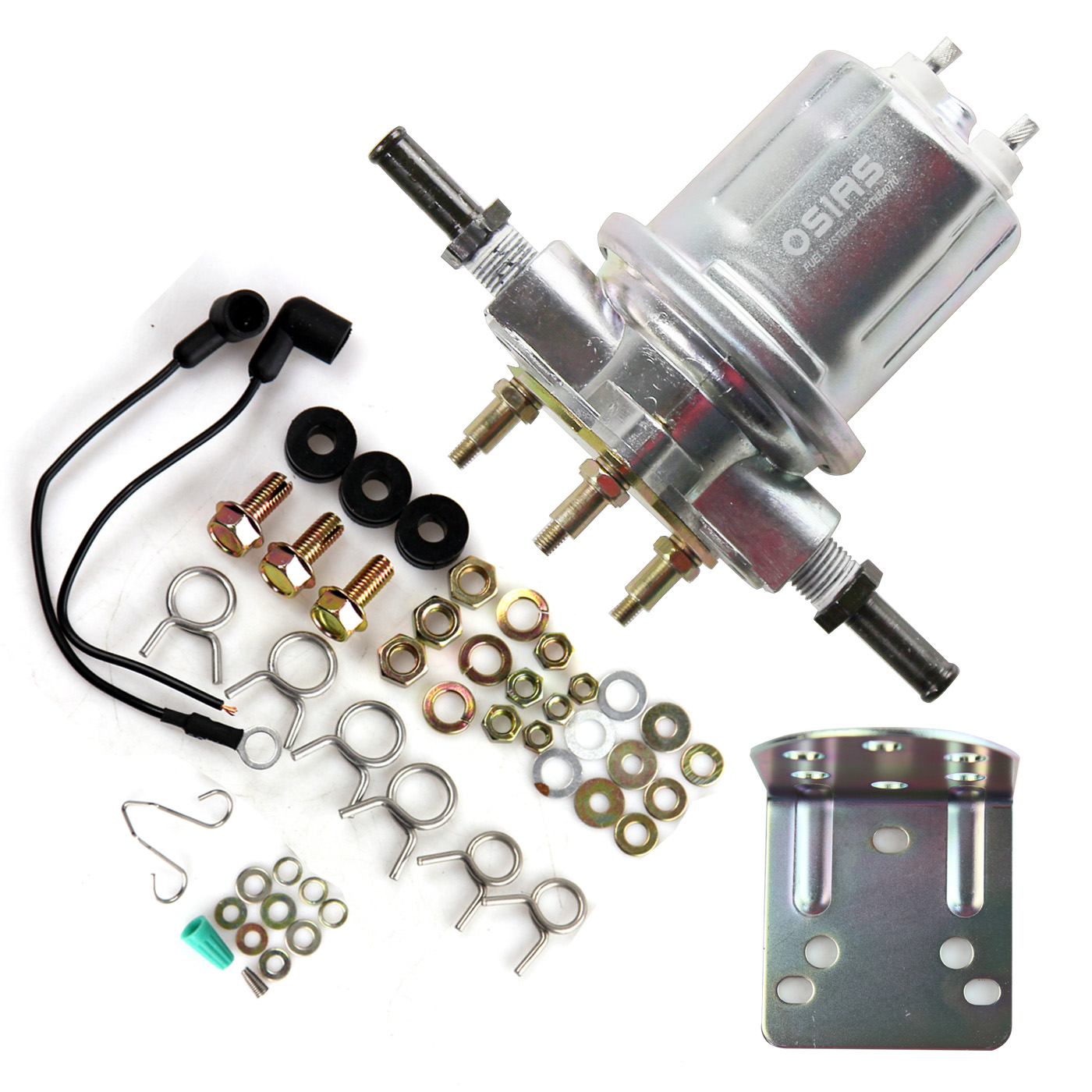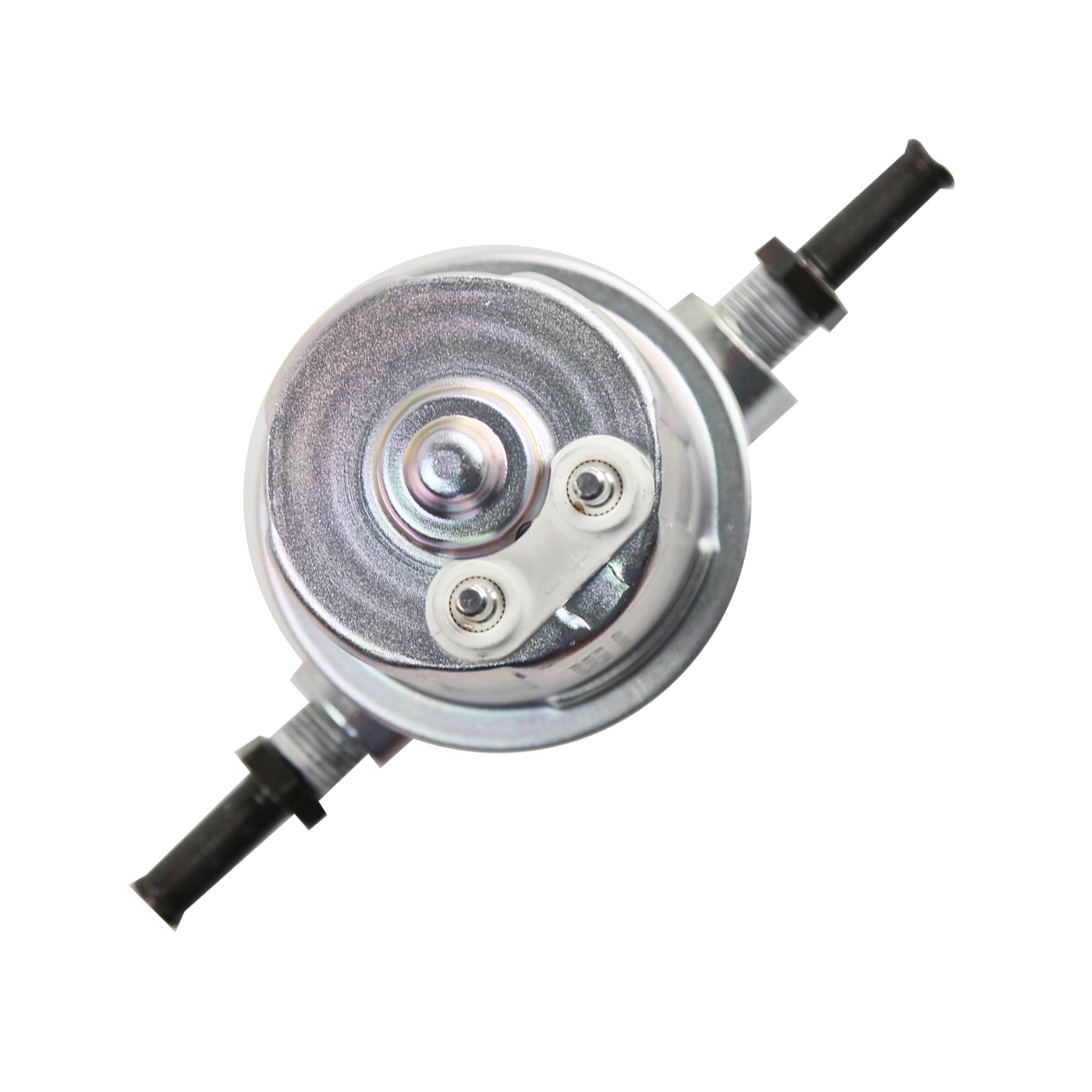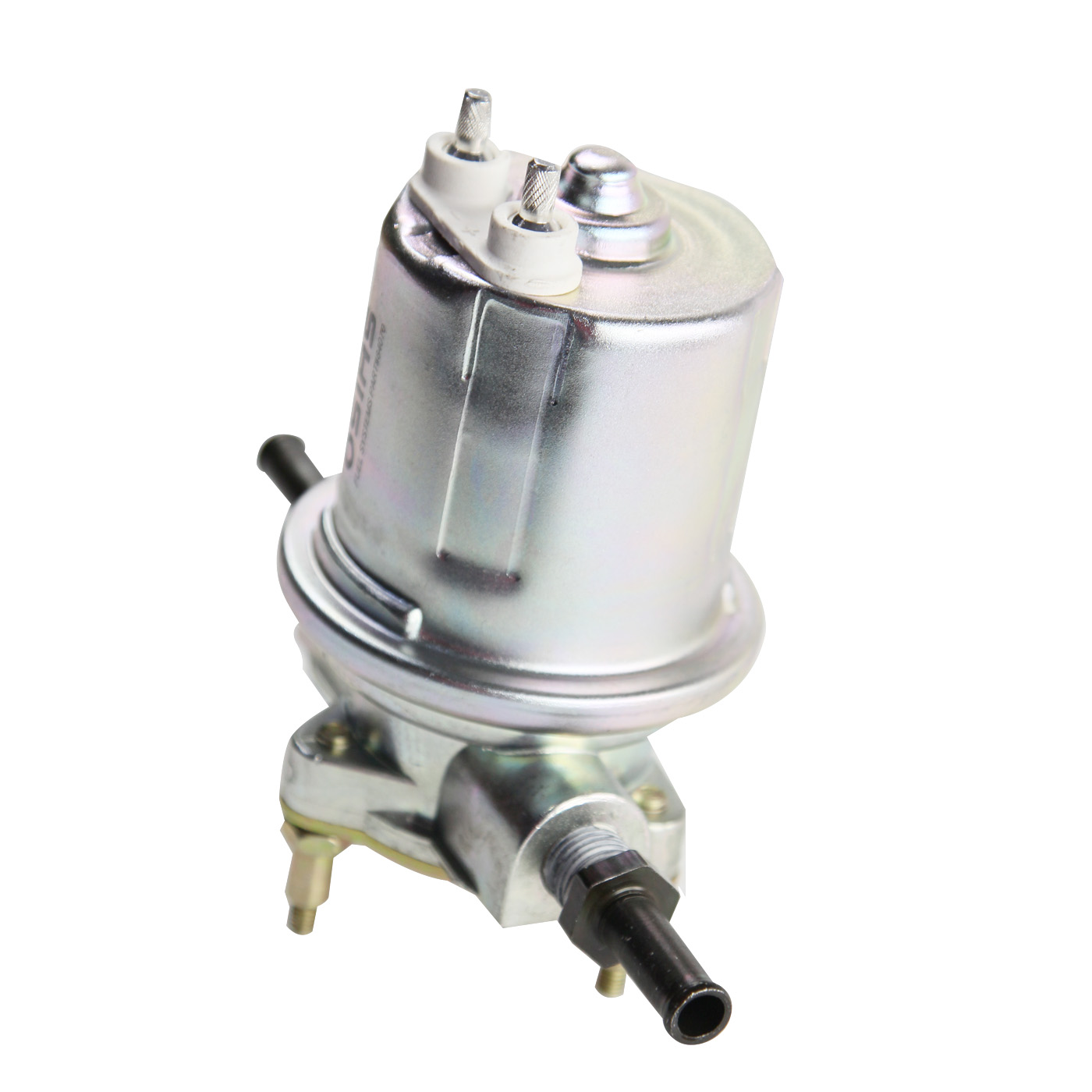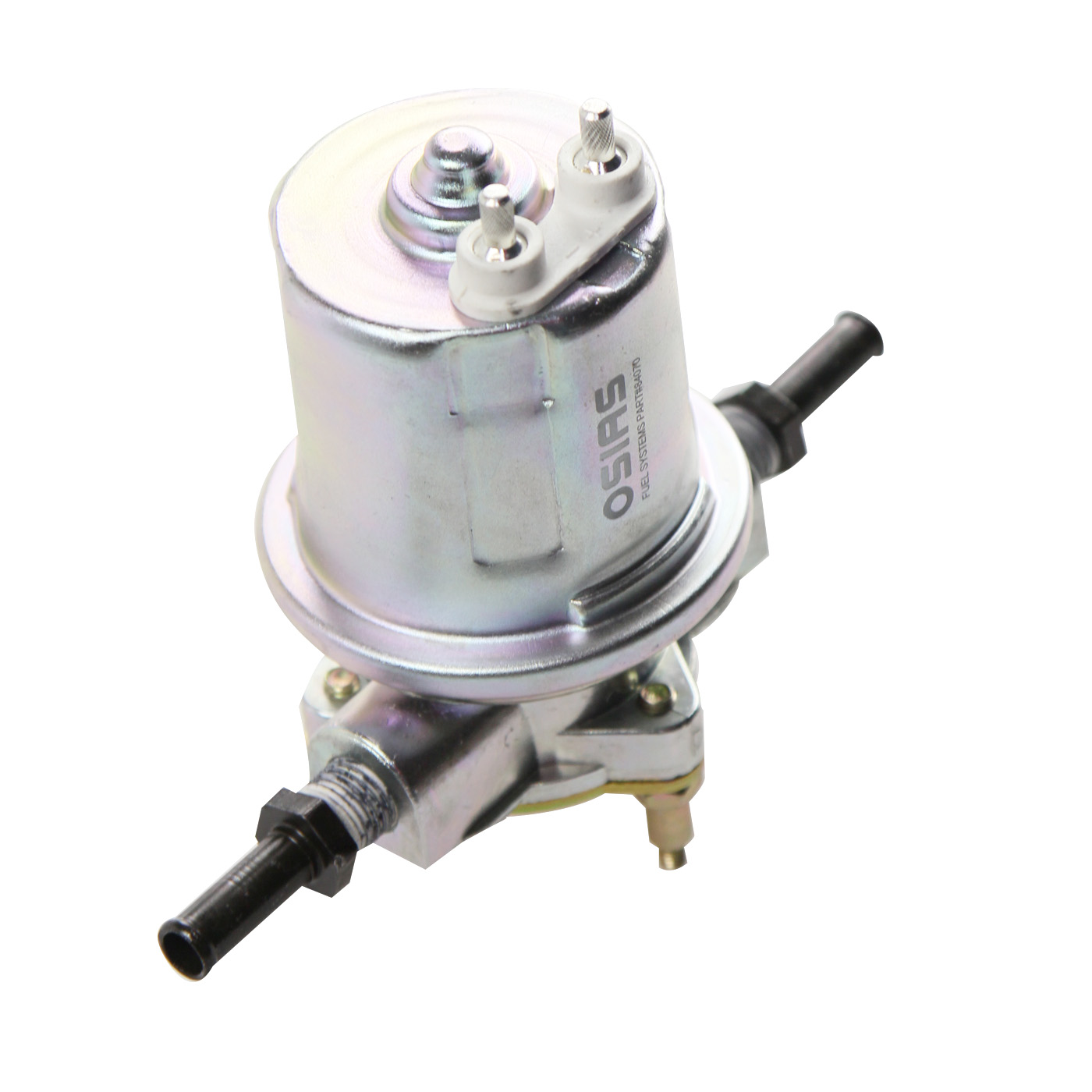 Quality & Warranty
3 Years Warranty

Electric Fuel Pump
1/4" NPT Inlet and Outlet
Operating using leaded and unleaded gas,diesel fuels, and fuel boosters
Internal pressure regulating valve,filter required
Free-flow fuel delivery
Constant flow, non-pulsating pump
Shipping Cost : Free to USA,and more
We ship to eBay address

Refund is valid within 30 days after the date delivered
Refund will be given as money back or replacement
The money less the freight cost will be refunded due to their own fault
Item must be returned in original packing same as reached
Buyers are responsible for the return shipping cost
Business Hours: Monday thru Saturday 8:30am to 5:30pm EST.
Compatibility tables are for reference only and should only be used as guidance so OT Auto Parts recommend checking the part number(OEM number) of your existing unit before purchasing as we cannot take responsibility for incorrect orders placed.


Please leave us with positive feedback if you are satisfied with our products and services,if not, please contact us before leave any neutral or negative feedback,we'll try our best to satisfy with you.
Thanks.
---
On Sep-05-20 at 02:31:10 PDT, seller added the following information:

Restocking Fee: No
Returns Accepted: Returns Accepted
Item must be returned within: 60 Days
Refund will be given as: Money Back
Return shipping will be paid by: Buyer
Interchange Part Number: E1HZ-9350A, SP1130, FD0002, 12S, FE0539, SP8132
Manufacturer Part Number: 84070
UPC: 680465816554
MPN: 84070
Surface Finish: Brand New
Outlet Type: Female Thread
Inlet Attachment: Hose Threaded
Other Part Number: AFS0725P, A1072, 69404, P4070, EP247, 1004-30411
Brand: OSIAS
Fitment Type: Direct Replacement
Warranty: 3 Year
SKU: 84070
OSIAS Electric Fuel Pump Pump with 1/4" NPT Inlet and Outlet E8470 P4070 fits on the following vehicles. This is for your reference only, please check your auto manual to make sure it fits.
YEAR
MAKE
MODEL
TRIM
NOTES
1977
Chevrolet
P10
Base Stripped Chassis 6.6L 400Cu. In. V8 GAS OHV Naturally Aspirated
May Be Used As Mechanical Fuel Pump Replacement; PartType:Electric Fuel Pump Quantity Required:1
1977
Chevrolet
P10
Step-Van Standard Cargo Van 2-Door 6.6L 400Cu. In. V8 GAS OHV Naturally Aspirated
May Be Used As Mechanical Fuel Pump Replacement; PartType:Electric Fuel Pump Quantity Required:1
1976
Chevrolet
Caprice
Classic Coupe 2-Door 7.4L 454Cu. In. V8 GAS OHV Naturally Aspirated
May Be Used As Mechanical Fuel Pump Replacement; PartType:Electric Fuel Pump Quantity Required:1
1976
Chevrolet
Caprice
Classic Estate Wagon 4-Door 7.4L 454Cu. In. V8 GAS OHV Naturally Aspirated
May Be Used As Mechanical Fuel Pump Replacement; PartType:Electric Fuel Pump Quantity Required:1
1976
Chevrolet
Caprice
Classic Landau Coupe 2-Door 7.4L 454Cu. In. V8 GAS OHV Naturally Aspirated
May Be Used As Mechanical Fuel Pump Replacement; PartType:Electric Fuel Pump Quantity Required:1
1976
Chevrolet
Caprice
Classic Sedan 4-Door 7.4L 454Cu. In. V8 GAS OHV Naturally Aspirated
May Be Used As Mechanical Fuel Pump Replacement; PartType:Electric Fuel Pump Quantity Required:1
1976
Chevrolet
Caprice
Classic Sport Sedan 4-Door 7.4L 454Cu. In. V8 GAS OHV Naturally Aspirated
May Be Used As Mechanical Fuel Pump Replacement; PartType:Electric Fuel Pump Quantity Required:1
1976
Chevrolet
Impala
Base Wagon 4-Door 7.4L 454Cu. In. V8 GAS OHV Naturally Aspirated
May Be Used As Mechanical Fuel Pump Replacement; PartType:Electric Fuel Pump Quantity Required:1
1976
Chevrolet
Impala
Custom Coupe 2-Door 7.4L 454Cu. In. V8 GAS OHV Naturally Aspirated
May Be Used As Mechanical Fuel Pump Replacement; PartType:Electric Fuel Pump Quantity Required:1
1976
Chevrolet
Impala
Custom Landau Coupe 2-Door 7.4L 454Cu. In. V8 GAS OHV Naturally Aspirated
May Be Used As Mechanical Fuel Pump Replacement; PartType:Electric Fuel Pump Quantity Required:1
1976
Chevrolet
Impala
S Sedan 4-Door 7.4L 454Cu. In. V8 GAS OHV Naturally Aspirated
May Be Used As Mechanical Fuel Pump Replacement; PartType:Electric Fuel Pump Quantity Required:1
1976
Chevrolet
Impala
Sport Sedan 4-Door 7.4L 454Cu. In. V8 GAS OHV Naturally Aspirated
May Be Used As Mechanical Fuel Pump Replacement; PartType:Electric Fuel Pump Quantity Required:1
1975
Chevrolet
Bel Air
Base Sedan 4-Door 7.4L 454Cu. In. V8 GAS OHV Naturally Aspirated
May Be Used As Mechanical Fuel Pump Replacement; PartType:Electric Fuel Pump Quantity Required:1
1975
Chevrolet
Bel Air
Base Wagon 4-Door 7.4L 454Cu. In. V8 GAS OHV Naturally Aspirated
May Be Used As Mechanical Fuel Pump Replacement; PartType:Electric Fuel Pump Quantity Required:1
1975
Chevrolet
Caprice
Classic Convertible 2-Door 7.4L 454Cu. In. V8 GAS OHV Naturally Aspirated
May Be Used As Mechanical Fuel Pump Replacement; PartType:Electric Fuel Pump Quantity Required:1
1975
Chevrolet
Caprice
Classic Sedan 4-Door 7.4L 454Cu. In. V8 GAS OHV Naturally Aspirated
May Be Used As Mechanical Fuel Pump Replacement; PartType:Electric Fuel Pump Quantity Required:1
1975
Chevrolet
Caprice
Classic Sport Coupe 2-Door 7.4L 454Cu. In. V8 GAS OHV Naturally Aspirated
May Be Used As Mechanical Fuel Pump Replacement; PartType:Electric Fuel Pump Quantity Required:1
1975
Chevrolet
Caprice
Classic Sport Sedan 4-Door 7.4L 454Cu. In. V8 GAS OHV Naturally Aspirated
May Be Used As Mechanical Fuel Pump Replacement; PartType:Electric Fuel Pump Quantity Required:1
1975
Chevrolet
Caprice
Estate Wagon Wagon 4-Door 7.4L 454Cu. In. V8 GAS OHV Naturally Aspirated
May Be Used As Mechanical Fuel Pump Replacement; PartType:Electric Fuel Pump Quantity Required:1
1975
Chevrolet
Impala
Base Sedan 4-Door 7.4L 454Cu. In. V8 GAS OHV Naturally Aspirated
May Be Used As Mechanical Fuel Pump Replacement; PartType:Electric Fuel Pump Quantity Required:1
1975
Chevrolet
Impala
Base Wagon 4-Door 7.4L 454Cu. In. V8 GAS OHV Naturally Aspirated
May Be Used As Mechanical Fuel Pump Replacement; PartType:Electric Fuel Pump Quantity Required:1
1975
Chevrolet
Impala
Custom Coupe 2-Door 7.4L 454Cu. In. V8 GAS OHV Naturally Aspirated
May Be Used As Mechanical Fuel Pump Replacement; PartType:Electric Fuel Pump Quantity Required:1
1975
Chevrolet
Impala
Sport Coupe 2-Door 7.4L 454Cu. In. V8 GAS OHV Naturally Aspirated
May Be Used As Mechanical Fuel Pump Replacement; PartType:Electric Fuel Pump Quantity Required:1
1975
Chevrolet
Impala
Sport Sedan 4-Door 7.4L 454Cu. In. V8 GAS OHV Naturally Aspirated
May Be Used As Mechanical Fuel Pump Replacement; PartType:Electric Fuel Pump Quantity Required:1
1974
Cadillac
Calais
Base 7.7L 472Cu. In. V8 GAS Naturally Aspirated
w/o A.C., May Be Used As Mechanical Fuel Pump Replacement; PartType:Electric Fuel Pump Quantity Required:1
1974
Cadillac
Calais
Base Coupe 2-Door 7.7L 472Cu. In. V8 GAS Naturally Aspirated
w/o A.C., May Be Used As Mechanical Fuel Pump Replacement; PartType:Electric Fuel Pump Quantity Required:1
1974
Cadillac
Calais
Base Hardtop 4-Door 7.7L 472Cu. In. V8 GAS Naturally Aspirated
w/o A.C., May Be Used As Mechanical Fuel Pump Replacement; PartType:Electric Fuel Pump Quantity Required:1
1974
Cadillac
DeVille
Base 7.7L 472Cu. In. V8 GAS Naturally Aspirated
w/o A.C., May Be Used As Mechanical Fuel Pump Replacement; PartType:Electric Fuel Pump Quantity Required:1
1974
Cadillac
DeVille
Base Coupe 2-Door 7.7L 472Cu. In. V8 GAS Naturally Aspirated
w/o A.C., May Be Used As Mechanical Fuel Pump Replacement; PartType:Electric Fuel Pump Quantity Required:1
1974
Cadillac
DeVille
Base Hardtop 4-Door 7.7L 472Cu. In. V8 GAS Naturally Aspirated
w/o A.C., May Be Used As Mechanical Fuel Pump Replacement; PartType:Electric Fuel Pump Quantity Required:1
1974
Cadillac
Eldorado
Base 8.2L 500Cu. In. V8 GAS Naturally Aspirated
w/o A.C., May Be Used As Mechanical Fuel Pump Replacement; PartType:Electric Fuel Pump Quantity Required:1
1974
Cadillac
Eldorado
Base Convertible 2-Door 8.2L 500Cu. In. V8 GAS Naturally Aspirated
w/o A.C., May Be Used As Mechanical Fuel Pump Replacement; PartType:Electric Fuel Pump Quantity Required:1
1974
Cadillac
Eldorado
Base Hardtop 2-Door 8.2L 500Cu. In. V8 GAS Naturally Aspirated
w/o A.C., May Be Used As Mechanical Fuel Pump Replacement; PartType:Electric Fuel Pump Quantity Required:1
1974
Cadillac
Fleetwood
60 Special 7.7L 472Cu. In. V8 GAS Naturally Aspirated
w/o A.C., May Be Used As Mechanical Fuel Pump Replacement; PartType:Electric Fuel Pump Quantity Required:1
1974
Cadillac
Fleetwood
60 Special Sedan 4-Door 7.7L 472Cu. In. V8 GAS Naturally Aspirated
w/o A.C., May Be Used As Mechanical Fuel Pump Replacement; PartType:Electric Fuel Pump Quantity Required:1
1974
Cadillac
Fleetwood
75 7.7L 472Cu. In. V8 GAS Naturally Aspirated
w/o A.C., May Be Used As Mechanical Fuel Pump Replacement; PartType:Electric Fuel Pump Quantity Required:1
1974
Cadillac
Fleetwood
75 Limousine 4-Door 7.7L 472Cu. In. V8 GAS Naturally Aspirated
w/o A.C., May Be Used As Mechanical Fuel Pump Replacement; PartType:Electric Fuel Pump Quantity Required:1
1974
Cadillac
Fleetwood
75 Sedan 4-Door 7.7L 472Cu. In. V8 GAS Naturally Aspirated
w/o A.C., May Be Used As Mechanical Fuel Pump Replacement; PartType:Electric Fuel Pump Quantity Required:1
1974
Cadillac
Fleetwood
Base 7.7L 472Cu. In. V8 GAS Naturally Aspirated
w/o A.C., May Be Used As Mechanical Fuel Pump Replacement; PartType:Electric Fuel Pump Quantity Required:1
1974
Cadillac
Fleetwood
Base Sedan 4-Door 7.7L 472Cu. In. V8 GAS Naturally Aspirated
w/o A.C., May Be Used As Mechanical Fuel Pump Replacement; PartType:Electric Fuel Pump Quantity Required:1
1974
Chevrolet
Bel Air
Base 7.4L 454Cu. In. V8 GAS Naturally Aspirated
May Be Used As Mechanical Fuel Pump Replacement; PartType:Electric Fuel Pump Quantity Required:1
1974
Chevrolet
Bel Air
Base Coupe 2-Door 7.4L 454Cu. In. V8 GAS Naturally Aspirated
May Be Used As Mechanical Fuel Pump Replacement; PartType:Electric Fuel Pump Quantity Required:1
1974
Chevrolet
Bel Air
Base Sedan 4-Door 7.4L 454Cu. In. V8 GAS Naturally Aspirated
May Be Used As Mechanical Fuel Pump Replacement; PartType:Electric Fuel Pump Quantity Required:1
1974
Chevrolet
Bel Air
Base Wagon 4-Door 7.4L 454Cu. In. V8 GAS Naturally Aspirated
May Be Used As Mechanical Fuel Pump Replacement; PartType:Electric Fuel Pump Quantity Required:1
1974
Chevrolet
Caprice
Classic 7.4L 454Cu. In. V8 GAS Naturally Aspirated
May Be Used As Mechanical Fuel Pump Replacement; PartType:Electric Fuel Pump Quantity Required:1
1974
Chevrolet
Caprice
Classic Convertible 2-Door 7.4L 454Cu. In. V8 GAS Naturally Aspirated
May Be Used As Mechanical Fuel Pump Replacement; PartType:Electric Fuel Pump Quantity Required:1
1974
Chevrolet
Caprice
Classic Coupe 2-Door 7.4L 454Cu. In. V8 GAS Naturally Aspirated
May Be Used As Mechanical Fuel Pump Replacement; PartType:Electric Fuel Pump Quantity Required:1
1974
Chevrolet
Caprice
Classic Sedan 4-Door 7.4L 454Cu. In. V8 GAS Naturally Aspirated
May Be Used As Mechanical Fuel Pump Replacement; PartType:Electric Fuel Pump Quantity Required:1
1974
Chevrolet
Caprice
Classic Wagon 4-Door 7.4L 454Cu. In. V8 GAS Naturally Aspirated
May Be Used As Mechanical Fuel Pump Replacement; PartType:Electric Fuel Pump Quantity Required:1
1974
Chevrolet
Caprice
Estate 7.4L 454Cu. In. V8 GAS Naturally Aspirated
May Be Used As Mechanical Fuel Pump Replacement; PartType:Electric Fuel Pump Quantity Required:1
1974
Chevrolet
Caprice
Estate Wagon 4-Door 7.4L 454Cu. In. V8 GAS Naturally Aspirated
May Be Used As Mechanical Fuel Pump Replacement; PartType:Electric Fuel Pump Quantity Required:1
1974
Chevrolet
Impala
Base 7.4L 454Cu. In. V8 GAS Naturally Aspirated
May Be Used As Mechanical Fuel Pump Replacement; PartType:Electric Fuel Pump Quantity Required:1
1974
Chevrolet
Impala
Base Coupe 2-Door 7.4L 454Cu. In. V8 GAS Naturally Aspirated
May Be Used As Mechanical Fuel Pump Replacement; PartType:Electric Fuel Pump Quantity Required:1
1974
Chevrolet
Impala
Base Sedan 4-Door 7.4L 454Cu. In. V8 GAS Naturally Aspirated
May Be Used As Mechanical Fuel Pump Replacement; PartType:Electric Fuel Pump Quantity Required:1
1974
Chevrolet
Impala
Base Wagon 4-Door 7.4L 454Cu. In. V8 GAS Naturally Aspirated
May Be Used As Mechanical Fuel Pump Replacement; PartType:Electric Fuel Pump Quantity Required:1
1974
Pontiac
Bonneville
Base 6.6L 400Cu. In. V8 GAS Naturally Aspirated
w/o A.C., May Be Used As Mechanical Fuel Pump Replacement; PartType:Electric Fuel Pump Quantity Required:1
1974
Pontiac
Bonneville
Base Hardtop 2-Door 6.6L 400Cu. In. V8 GAS Naturally Aspirated
w/o A.C., May Be Used As Mechanical Fuel Pump Replacement; PartType:Electric Fuel Pump Quantity Required:1
1974
Pontiac
Bonneville
Base Hardtop 4-Door 6.6L 400Cu. In. V8 GAS Naturally Aspirated
w/o A.C., May Be Used As Mechanical Fuel Pump Replacement; PartType:Electric Fuel Pump Quantity Required:1
1974
Pontiac
Bonneville
Base Sedan 4-Door 6.6L 400Cu. In. V8 GAS Naturally Aspirated
w/o A.C., May Be Used As Mechanical Fuel Pump Replacement; PartType:Electric Fuel Pump Quantity Required:1
1974
Pontiac
Catalina
Base Hardtop 2-Door 6.6L 400Cu. In. V8 GAS Naturally Aspirated
w/o A.C., May Be Used As Mechanical Fuel Pump Replacement; PartType:Electric Fuel Pump Quantity Required:1
1974
Pontiac
Catalina
Base Hardtop 4-Door 6.6L 400Cu. In. V8 GAS Naturally Aspirated
w/o A.C., May Be Used As Mechanical Fuel Pump Replacement; PartType:Electric Fuel Pump Quantity Required:1
1974
Pontiac
Catalina
Base Sedan 4-Door 6.6L 400Cu. In. V8 GAS Naturally Aspirated
w/o A.C., May Be Used As Mechanical Fuel Pump Replacement; PartType:Electric Fuel Pump Quantity Required:1
1974
Pontiac
Catalina
Safari Wagon 4-Door 6.6L 400Cu. In. V8 GAS Naturally Aspirated
w/o A.C., May Be Used As Mechanical Fuel Pump Replacement; PartType:Electric Fuel Pump Quantity Required:1
1974
Pontiac
Firebird
Esprit 6.6L 400Cu. In. V8 GAS Naturally Aspirated
VIN: P; VIN: R; w/o A.C., May Be Used As Mechanical Fuel Pump Replacement PartType:Electric Fuel Pump Quantity Required:1
1974
Pontiac
Firebird
Esprit Coupe 2-Door 6.6L 400Cu. In. V8 GAS Naturally Aspirated
VIN: P; VIN: R; w/o A.C., May Be Used As Mechanical Fuel Pump Replacement PartType:Electric Fuel Pump Quantity Required:1
1974
Pontiac
Firebird
Formula 6.6L 400Cu. In. V8 GAS Naturally Aspirated
VIN: P; VIN: R; w/o A.C., May Be Used As Mechanical Fuel Pump Replacement PartType:Electric Fuel Pump Quantity Required:1
1974
Pontiac
Firebird
Formula Coupe 2-Door 6.6L 400Cu. In. V8 GAS Naturally Aspirated
VIN: P; VIN: R; w/o A.C., May Be Used As Mechanical Fuel Pump Replacement PartType:Electric Fuel Pump Quantity Required:1
1974
Pontiac
Firebird
Trans Am 6.6L 400Cu. In. V8 GAS Naturally Aspirated
VIN: R; w/o A.C., May Be Used As Mechanical Fuel Pump Replacement PartType:Electric Fuel Pump Quantity Required:1
1974
Pontiac
Firebird
Trans Am Coupe 2-Door 6.6L 400Cu. In. V8 GAS Naturally Aspirated
VIN: R; w/o A.C., May Be Used As Mechanical Fuel Pump Replacement PartType:Electric Fuel Pump Quantity Required:1
1974
Pontiac
Grand Safari
Base 6.6L 400Cu. In. V8 GAS Naturally Aspirated
w/o A.C., May Be Used As Mechanical Fuel Pump Replacement; PartType:Electric Fuel Pump Quantity Required:1
1974
Pontiac
Grand Safari
Base Wagon 4-Door 6.6L 400Cu. In. V8 GAS Naturally Aspirated
w/o A.C., May Be Used As Mechanical Fuel Pump Replacement; PartType:Electric Fuel Pump Quantity Required:1
1974
Pontiac
LeMans
Base 6.6L 400Cu. In. V8 GAS Naturally Aspirated
VIN: P; VIN: R; w/o A.C., May Be Used As Mechanical Fuel Pump Replacement PartType:Electric Fuel Pump Quantity Required:1
1974
Pontiac
LeMans
Base Coupe 2-Door 6.6L 400Cu. In. V8 GAS Naturally Aspirated
VIN: P; VIN: R; w/o A.C., May Be Used As Mechanical Fuel Pump Replacement PartType:Electric Fuel Pump Quantity Required:1
1974
Pontiac
LeMans
Base Hardtop 2-Door 6.6L 400Cu. In. V8 GAS Naturally Aspirated
VIN: P; VIN: R; w/o A.C., May Be Used As Mechanical Fuel Pump Replacement PartType:Electric Fuel Pump Quantity Required:1
1974
Pontiac
LeMans
Base Hardtop 4-Door 6.6L 400Cu. In. V8 GAS Naturally Aspirated
VIN: P; VIN: R; w/o A.C., May Be Used As Mechanical Fuel Pump Replacement PartType:Electric Fuel Pump Quantity Required:1
1974
Pontiac
LeMans
Base Sedan 4-Door 6.6L 400Cu. In. V8 GAS Naturally Aspirated
VIN: P; VIN: R; w/o A.C., May Be Used As Mechanical Fuel Pump Replacement PartType:Electric Fuel Pump Quantity Required:1
1974
Pontiac
LeMans
Safari 6.6L 400Cu. In. V8 GAS Naturally Aspirated
VIN: P; VIN: R; w/o A.C., May Be Used As Mechanical Fuel Pump Replacement PartType:Electric Fuel Pump Quantity Required:1
1974
Pontiac
LeMans
Safari Wagon 4-Door 6.6L 400Cu. In. V8 GAS Naturally Aspirated
VIN: P; VIN: R; w/o A.C., May Be Used As Mechanical Fuel Pump Replacement PartType:Electric Fuel Pump Quantity Required:1
1974
Pontiac
LeMans
Sport 6.6L 400Cu. In. V8 GAS Naturally Aspirated
VIN: P; VIN: R; w/o A.C., May Be Used As Mechanical Fuel Pump Replacement PartType:Electric Fuel Pump Quantity Required:1
1974
Pontiac
LeMans
Sport Coupe 2-Door 6.6L 400Cu. In. V8 GAS Naturally Aspirated
VIN: P; VIN: R; w/o A.C., May Be Used As Mechanical Fuel Pump Replacement PartType:Electric Fuel Pump Quantity Required:1
1974
Pontiac
LeMans
Sport Hardtop 2-Door 6.6L 400Cu. In. V8 GAS Naturally Aspirated
VIN: P; VIN: R; w/o A.C., May Be Used As Mechanical Fuel Pump Replacement PartType:Electric Fuel Pump Quantity Required:1
1973
Cadillac
Calais
Base 7.7L 472Cu. In. V8 GAS Naturally Aspirated
w/o A.C., May Be Used As Mechanical Fuel Pump Replacement; PartType:Electric Fuel Pump Quantity Required:1
1973
Cadillac
Calais
Base Hardtop 2-Door 7.7L 472Cu. In. V8 GAS Naturally Aspirated
w/o A.C., May Be Used As Mechanical Fuel Pump Replacement; PartType:Electric Fuel Pump Quantity Required:1
1973
Cadillac
Calais
Base Hardtop 4-Door 7.7L 472Cu. In. V8 GAS Naturally Aspirated
w/o A.C., May Be Used As Mechanical Fuel Pump Replacement; PartType:Electric Fuel Pump Quantity Required:1
1973
Cadillac
DeVille
Base 7.7L 472Cu. In. V8 GAS Naturally Aspirated
w/o A.C., May Be Used As Mechanical Fuel Pump Replacement; PartType:Electric Fuel Pump Quantity Required:1
1973
Cadillac
DeVille
Base Hardtop 2-Door 7.7L 472Cu. In. V8 GAS Naturally Aspirated
w/o A.C., May Be Used As Mechanical Fuel Pump Replacement; PartType:Electric Fuel Pump Quantity Required:1
1973
Cadillac
DeVille
Base Hardtop 4-Door 7.7L 472Cu. In. V8 GAS Naturally Aspirated
w/o A.C., May Be Used As Mechanical Fuel Pump Replacement; PartType:Electric Fuel Pump Quantity Required:1
1973
Cadillac
Eldorado
Base 8.2L 500Cu. In. V8 GAS Naturally Aspirated
w/o A.C., May Be Used As Mechanical Fuel Pump Replacement; PartType:Electric Fuel Pump Quantity Required:1
1973
Cadillac
Eldorado
Base Convertible 2-Door 8.2L 500Cu. In. V8 GAS Naturally Aspirated
w/o A.C., May Be Used As Mechanical Fuel Pump Replacement; PartType:Electric Fuel Pump Quantity Required:1
1973
Cadillac
Eldorado
Base Hardtop 2-Door 8.2L 500Cu. In. V8 GAS Naturally Aspirated
w/o A.C., May Be Used As Mechanical Fuel Pump Replacement; PartType:Electric Fuel Pump Quantity Required:1
1973
Cadillac
Fleetwood
60 Special 7.7L 472Cu. In. V8 GAS Naturally Aspirated
w/o A.C., May Be Used As Mechanical Fuel Pump Replacement; PartType:Electric Fuel Pump Quantity Required:1
1973
Cadillac
Fleetwood
60 Special Brougham 7.7L 472Cu. In. V8 GAS Naturally Aspirated
w/o A.C., May Be Used As Mechanical Fuel Pump Replacement; PartType:Electric Fuel Pump Quantity Required:1
1973
Cadillac
Fleetwood
60 Special Sedan 4-Door 7.7L 472Cu. In. V8 GAS Naturally Aspirated
w/o A.C., May Be Used As Mechanical Fuel Pump Replacement; PartType:Electric Fuel Pump Quantity Required:1
1973
Cadillac
Fleetwood
75 7.7L 472Cu. In. V8 GAS Naturally Aspirated
w/o A.C., May Be Used As Mechanical Fuel Pump Replacement; PartType:Electric Fuel Pump Quantity Required:1
1973
Cadillac
Fleetwood
75 Limousine 4-Door 7.7L 472Cu. In. V8 GAS Naturally Aspirated
w/o A.C., May Be Used As Mechanical Fuel Pump Replacement; PartType:Electric Fuel Pump Quantity Required:1
1973
Cadillac
Fleetwood
75 Sedan 4-Door 7.7L 472Cu. In. V8 GAS Naturally Aspirated
w/o A.C., May Be Used As Mechanical Fuel Pump Replacement; PartType:Electric Fuel Pump Quantity Required:1
1973
Cadillac
Fleetwood
Base 7.7L 472Cu. In. V8 GAS Naturally Aspirated
w/o A.C., May Be Used As Mechanical Fuel Pump Replacement; PartType:Electric Fuel Pump Quantity Required:1
1973
Chevrolet
Bel Air
Base 7.4L 454Cu. In. V8 GAS Naturally Aspirated
May Be Used As Mechanical Fuel Pump Replacement; PartType:Electric Fuel Pump Quantity Required:1
1973
Chevrolet
Bel Air
Base Sedan 4-Door 7.4L 454Cu. In. V8 GAS Naturally Aspirated
May Be Used As Mechanical Fuel Pump Replacement; PartType:Electric Fuel Pump Quantity Required:1
1973
Chevrolet
Bel Air
Base Wagon 4-Door 7.4L 454Cu. In. V8 GAS Naturally Aspirated
May Be Used As Mechanical Fuel Pump Replacement; PartType:Electric Fuel Pump Quantity Required:1
1973
Chevrolet
Blazer
Base 5.0L 307Cu. In. V8 GAS Naturally Aspirated
PartType:Electric Fuel Pump Quantity Required:1
1973
Chevrolet
Blazer
Base Sport Utility 2-Door 5.0L 307Cu. In. V8 GAS Naturally Aspirated
PartType:Electric Fuel Pump Quantity Required:1
1973
Chevrolet
C10 Suburban
Base 5.0L 307Cu. In. V8 GAS Naturally Aspirated
PartType:Electric Fuel Pump Quantity Required:1
1973
Chevrolet
C10 Suburban
Base Sport Utility 4-Door 5.0L 307Cu. In. V8 GAS Naturally Aspirated
PartType:Electric Fuel Pump Quantity Required:1
1973
Chevrolet
C20 Suburban
Base 5.0L 307Cu. In. V8 GAS Naturally Aspirated
PartType:Electric Fuel Pump Quantity Required:1
1973
Chevrolet
C20 Suburban
Base Sport Utility 3-Door 5.0L 307Cu. In. V8 GAS Naturally Aspirated
PartType:Electric Fuel Pump Quantity Required:1
1973
Chevrolet
Caprice
Classic 7.4L 454Cu. In. V8 GAS Naturally Aspirated
May Be Used As Mechanical Fuel Pump Replacement; PartType:Electric Fuel Pump Quantity Required:1
1973
Chevrolet
Caprice
Classic Convertible 2-Door 7.4L 454Cu. In. V8 GAS Naturally Aspirated
May Be Used As Mechanical Fuel Pump Replacement; PartType:Electric Fuel Pump Quantity Required:1
1973
Chevrolet
Caprice
Classic Hardtop 2-Door 7.4L 454Cu. In. V8 GAS Naturally Aspirated
May Be Used As Mechanical Fuel Pump Replacement; PartType:Electric Fuel Pump Quantity Required:1
1973
Chevrolet
Caprice
Classic Sedan 4-Door 7.4L 454Cu. In. V8 GAS Naturally Aspirated
May Be Used As Mechanical Fuel Pump Replacement; PartType:Electric Fuel Pump Quantity Required:1
1973
Chevrolet
Caprice
Estate 7.4L 454Cu. In. V8 GAS Naturally Aspirated
May Be Used As Mechanical Fuel Pump Replacement; PartType:Electric Fuel Pump Quantity Required:1
1973
Chevrolet
Caprice
Estate Wagon 4-Door 7.4L 454Cu. In. V8 GAS Naturally Aspirated
May Be Used As Mechanical Fuel Pump Replacement; PartType:Electric Fuel Pump Quantity Required:1
1973
Chevrolet
El Camino
Base Standard Cab Pickup 2-Door 5.0L 307Cu. In. V8 GAS Naturally Aspirated
PartType:Electric Fuel Pump Quantity Required:1
1973
Chevrolet
Impala
Base 7.4L 454Cu. In. V8 GAS Naturally Aspirated
May Be Used As Mechanical Fuel Pump Replacement; PartType:Electric Fuel Pump Quantity Required:1
1973
Chevrolet
Impala
Base Hardtop 2-Door 7.4L 454Cu. In. V8 GAS Naturally Aspirated
May Be Used As Mechanical Fuel Pump Replacement; PartType:Electric Fuel Pump Quantity Required:1
1973
Chevrolet
Impala
Base Hardtop 4-Door 7.4L 454Cu. In. V8 GAS Naturally Aspirated
May Be Used As Mechanical Fuel Pump Replacement; PartType:Electric Fuel Pump Quantity Required:1
1973
Chevrolet
Impala
Base Sedan 4-Door 7.4L 454Cu. In. V8 GAS Naturally Aspirated
May Be Used As Mechanical Fuel Pump Replacement; PartType:Electric Fuel Pump Quantity Required:1
1973
Chevrolet
Impala
Base Wagon 4-Door 7.4L 454Cu. In. V8 GAS Naturally Aspirated
May Be Used As Mechanical Fuel Pump Replacement; PartType:Electric Fuel Pump Quantity Required:1
1973
Chevrolet
K10 Suburban
Base 5.0L 307Cu. In. V8 GAS Naturally Aspirated
PartType:Electric Fuel Pump Quantity Required:1
1973
Chevrolet
K10 Suburban
Base Sport Utility 3-Door 5.0L 307Cu. In. V8 GAS Naturally Aspirated
PartType:Electric Fuel Pump Quantity Required:1
1973
Chevrolet
K20 Suburban
Base 5.0L 307Cu. In. V8 GAS Naturally Aspirated
PartType:Electric Fuel Pump Quantity Required:1
1973
Chevrolet
K20 Suburban
Base Sport Utility 4-Door 5.0L 307Cu. In. V8 GAS Naturally Aspirated
PartType:Electric Fuel Pump Quantity Required:1
1973
Chevrolet
Malibu
Base 5.0L 307Cu. In. V8 GAS Naturally Aspirated
PartType:Electric Fuel Pump Quantity Required:1
1973
Chevrolet
Malibu
Base Coupe 2-Door 5.0L 307Cu. In. V8 GAS Naturally Aspirated
PartType:Electric Fuel Pump Quantity Required:1
1973
Chevrolet
Malibu
Base Sedan 4-Door 5.0L 307Cu. In. V8 GAS Naturally Aspirated
PartType:Electric Fuel Pump Quantity Required:1
1973
Chevrolet
Malibu
Base Wagon 4-Door 5.0L 307Cu. In. V8 GAS Naturally Aspirated
PartType:Electric Fuel Pump Quantity Required:1
1973
Chevrolet
Malibu
Estate 5.0L 307Cu. In. V8 GAS Naturally Aspirated
PartType:Electric Fuel Pump Quantity Required:1
1973
Chevrolet
Malibu
Estate Wagon 4-Door 5.0L 307Cu. In. V8 GAS Naturally Aspirated
PartType:Electric Fuel Pump Quantity Required:1
1973
Chevrolet
Nova
Base 5.0L 307Cu. In. V8 GAS Naturally Aspirated
PartType:Electric Fuel Pump Quantity Required:1
1973
Chevrolet
Nova
Base Coupe 2-Door 5.0L 307Cu. In. V8 GAS Naturally Aspirated
PartType:Electric Fuel Pump Quantity Required:1
1973
Chevrolet
Nova
Base Hatchback 2-Door 5.0L 307Cu. In. V8 GAS Naturally Aspirated
PartType:Electric Fuel Pump Quantity Required:1
1973
Chevrolet
Nova
Base Sedan 4-Door 5.0L 307Cu. In. V8 GAS Naturally Aspirated
PartType:Electric Fuel Pump Quantity Required:1
1973
Chevrolet
Nova
Custom 5.0L 307Cu. In. V8 GAS Naturally Aspirated
PartType:Electric Fuel Pump Quantity Required:1
1973
Chevrolet
Nova
Custom Coupe 2-Door 5.0L 307Cu. In. V8 GAS Naturally Aspirated
PartType:Electric Fuel Pump Quantity Required:1
1973
Chevrolet
Nova
Custom Hatchback 2-Door 5.0L 307Cu. In. V8 GAS Naturally Aspirated
PartType:Electric Fuel Pump Quantity Required:1
1973
Chevrolet
Nova
Custom Sedan 4-Door 5.0L 307Cu. In. V8 GAS Naturally Aspirated
PartType:Electric Fuel Pump Quantity Required:1
1973
Chevrolet
P20 Van
Base 7.4L 454Cu. In. V8 GAS Naturally Aspirated
PartType:Electric Fuel Pump Quantity Required:1
1973
Chevrolet
P30 Van
Base 7.4L 454Cu. In. V8 GAS Naturally Aspirated
PartType:Electric Fuel Pump Quantity Required:1
1973
GMC
C15/C1500 Pickup
Base 7.4L 454Cu. In. V8 GAS Naturally Aspirated
May Be Used As Mechanical Fuel Pump Replacement; PartType:Electric Fuel Pump Quantity Required:1
1973
GMC
C15/C1500 Suburban
Base 5.0L 307Cu. In. V8 GAS Naturally Aspirated
PartType:Electric Fuel Pump Quantity Required:1
1973
GMC
C25/C2500 Pickup
Base 7.4L 454Cu. In. V8 GAS Naturally Aspirated
May Be Used As Mechanical Fuel Pump Replacement; PartType:Electric Fuel Pump Quantity Required:1
1973
GMC
C25/C2500 Suburban
Base 5.0L 307Cu. In. V8 GAS Naturally Aspirated
PartType:Electric Fuel Pump Quantity Required:1
1973
GMC
C35/C3500 Pickup
Base 7.4L 454Cu. In. V8 GAS Naturally Aspirated
May Be Used As Mechanical Fuel Pump Replacement; PartType:Electric Fuel Pump Quantity Required:1
1973
GMC
K15/K1500 Suburban
Base 5.0L 307Cu. In. V8 GAS Naturally Aspirated
PartType:Electric Fuel Pump Quantity Required:1
1973
GMC
K25/K2500 Suburban
Base 5.0L 307Cu. In. V8 GAS Naturally Aspirated
PartType:Electric Fuel Pump Quantity Required:1
1973
GMC
P35/P3500 Van
Base 7.4L 454Cu. In. V8 GAS Naturally Aspirated
PartType:Electric Fuel Pump Quantity Required:1
1973
GMC
Sprint
Base Standard Cab Pickup 2-Door 5.0L 307Cu. In. V8 GAS Naturally Aspirated
PartType:Electric Fuel Pump Quantity Required:1
1973
Pontiac
Bonneville
Base 6.6L 400Cu. In. V8 GAS Naturally Aspirated
w/o A.C., May Be Used As Mechanical Fuel Pump Replacement; PartType:Electric Fuel Pump Quantity Required:1
1973
Pontiac
Bonneville
Base 7.5L 455Cu. In. V8 GAS Naturally Aspirated
VIN: W; w/o A.C., May Be Used As Mechanical Fuel Pump Replacement PartType:Electric Fuel Pump Quantity Required:1
1973
Pontiac
Bonneville
Base Hardtop 2-Door 6.6L 400Cu. In. V8 GAS Naturally Aspirated
w/o A.C., May Be Used As Mechanical Fuel Pump Replacement; PartType:Electric Fuel Pump Quantity Required:1
1973
Pontiac
Bonneville
Base Hardtop 2-Door 7.5L 455Cu. In. V8 GAS Naturally Aspirated
VIN: W; w/o A.C., May Be Used As Mechanical Fuel Pump Replacement PartType:Electric Fuel Pump Quantity Required:1
1973
Pontiac
Bonneville
Base Hardtop 4-Door 6.6L 400Cu. In. V8 GAS Naturally Aspirated
w/o A.C., May Be Used As Mechanical Fuel Pump Replacement; PartType:Electric Fuel Pump Quantity Required:1
1973
Pontiac
Bonneville
Base Hardtop 4-Door 7.5L 455Cu. In. V8 GAS Naturally Aspirated
VIN: W; w/o A.C., May Be Used As Mechanical Fuel Pump Replacement PartType:Electric Fuel Pump Quantity Required:1
1973
Pontiac
Bonneville
Base Sedan 4-Door 6.6L 400Cu. In. V8 GAS Naturally Aspirated
w/o A.C., May Be Used As Mechanical Fuel Pump Replacement; PartType:Electric Fuel Pump Quantity Required:1
1973
Pontiac
Bonneville
Base Sedan 4-Door 7.5L 455Cu. In. V8 GAS Naturally Aspirated
VIN: W; w/o A.C., May Be Used As Mechanical Fuel Pump Replacement PartType:Electric Fuel Pump Quantity Required:1
1973
Pontiac
Catalina
Base 6.6L 400Cu. In. V8 GAS Naturally Aspirated
w/o A.C., May Be Used As Mechanical Fuel Pump Replacement; PartType:Electric Fuel Pump Quantity Required:1
1973
Pontiac
Catalina
Base 7.5L 455Cu. In. V8 GAS Naturally Aspirated
w/o A.C., May Be Used As Mechanical Fuel Pump Replacement; PartType:Electric Fuel Pump Quantity Required:1
1973
Pontiac
Catalina
Base Hardtop 2-Door 6.6L 400Cu. In. V8 GAS Naturally Aspirated
w/o A.C., May Be Used As Mechanical Fuel Pump Replacement; PartType:Electric Fuel Pump Quantity Required:1
1973
Pontiac
Catalina
Base Hardtop 2-Door 7.5L 455Cu. In. V8 GAS Naturally Aspirated
w/o A.C., May Be Used As Mechanical Fuel Pump Replacement; PartType:Electric Fuel Pump Quantity Required:1
1973
Pontiac
Catalina
Base Hardtop 4-Door 6.6L 400Cu. In. V8 GAS Naturally Aspirated
w/o A.C., May Be Used As Mechanical Fuel Pump Replacement; PartType:Electric Fuel Pump Quantity Required:1
1973
Pontiac
Catalina
Base Hardtop 4-Door 7.5L 455Cu. In. V8 GAS Naturally Aspirated
w/o A.C., May Be Used As Mechanical Fuel Pump Replacement; PartType:Electric Fuel Pump Quantity Required:1
1973
Pontiac
Catalina
Base Sedan 4-Door 6.6L 400Cu. In. V8 GAS Naturally Aspirated
w/o A.C., May Be Used As Mechanical Fuel Pump Replacement; PartType:Electric Fuel Pump Quantity Required:1
1973
Pontiac
Catalina
Base Sedan 4-Door 7.5L 455Cu. In. V8 GAS Naturally Aspirated
w/o A.C., May Be Used As Mechanical Fuel Pump Replacement; PartType:Electric Fuel Pump Quantity Required:1
1973
Pontiac
Catalina
Base Wagon 4-Door 6.6L 400Cu. In. V8 GAS Naturally Aspirated
w/o A.C., May Be Used As Mechanical Fuel Pump Replacement; PartType:Electric Fuel Pump Quantity Required:1
1973
Pontiac
Catalina
Base Wagon 4-Door 7.5L 455Cu. In. V8 GAS Naturally Aspirated
w/o A.C., May Be Used As Mechanical Fuel Pump Replacement; PartType:Electric Fuel Pump Quantity Required:1
1973
Pontiac
Catalina
Safari 6.6L 400Cu. In. V8 GAS Naturally Aspirated
w/o A.C., May Be Used As Mechanical Fuel Pump Replacement; PartType:Electric Fuel Pump Quantity Required:1
1973
Pontiac
Catalina
Safari 7.5L 455Cu. In. V8 GAS Naturally Aspirated
w/o A.C., May Be Used As Mechanical Fuel Pump Replacement; PartType:Electric Fuel Pump Quantity Required:1
1973
Pontiac
Catalina
Safari Wagon 4-Door 6.6L 400Cu. In. V8 GAS Naturally Aspirated
w/o A.C., May Be Used As Mechanical Fuel Pump Replacement; PartType:Electric Fuel Pump Quantity Required:1
1973
Pontiac
Catalina
Safari Wagon 4-Door 7.5L 455Cu. In. V8 GAS Naturally Aspirated
w/o A.C., May Be Used As Mechanical Fuel Pump Replacement; PartType:Electric Fuel Pump Quantity Required:1
1973
Pontiac
Grand Safari
Base 6.6L 400Cu. In. V8 GAS Naturally Aspirated
w/o A.C., May Be Used As Mechanical Fuel Pump Replacement; PartType:Electric Fuel Pump Quantity Required:1
1973
Pontiac
Grand Safari
Base 7.5L 455Cu. In. V8 GAS Naturally Aspirated
VIN: W; w/o A.C., May Be Used As Mechanical Fuel Pump Replacement PartType:Electric Fuel Pump Quantity Required:1
1973
Pontiac
Grand Safari
Base Wagon 4-Door 6.6L 400Cu. In. V8 GAS Naturally Aspirated
w/o A.C., May Be Used As Mechanical Fuel Pump Replacement; PartType:Electric Fuel Pump Quantity Required:1
1973
Pontiac
Grand Safari
Base Wagon 4-Door 7.5L 455Cu. In. V8 GAS Naturally Aspirated
VIN: W; w/o A.C., May Be Used As Mechanical Fuel Pump Replacement PartType:Electric Fuel Pump Quantity Required:1
1973
Pontiac
Grandville
Base 6.6L 400Cu. In. V8 GAS Naturally Aspirated
w/o A.C., May Be Used As Mechanical Fuel Pump Replacement; PartType:Electric Fuel Pump Quantity Required:1
1973
Pontiac
Grandville
Base 7.5L 455Cu. In. V8 GAS Naturally Aspirated
w/o A.C., May Be Used As Mechanical Fuel Pump Replacement; PartType:Electric Fuel Pump Quantity Required:1
1972
Pontiac
Bonneville
Base 7.5L 455Cu. In. V8 GAS Naturally Aspirated
VIN: U; w/o A.C., May Be Used As Mechanical Fuel Pump Replacement PartType:Electric Fuel Pump Quantity Required:1
1972
Pontiac
Bonneville
Base Hardtop 2-Door 7.5L 455Cu. In. V8 GAS Naturally Aspirated
VIN: U; w/o A.C., May Be Used As Mechanical Fuel Pump Replacement PartType:Electric Fuel Pump Quantity Required:1
1972
Pontiac
Bonneville
Base Hardtop 4-Door 7.5L 455Cu. In. V8 GAS Naturally Aspirated
VIN: U; w/o A.C., May Be Used As Mechanical Fuel Pump Replacement PartType:Electric Fuel Pump Quantity Required:1
1972
Pontiac
Bonneville
Base Sedan 4-Door 7.5L 455Cu. In. V8 GAS Naturally Aspirated
VIN: U; w/o A.C., May Be Used As Mechanical Fuel Pump Replacement PartType:Electric Fuel Pump Quantity Required:1
1972
Pontiac
Bonneville
Base Wagon 4-Door 7.5L 455Cu. In. V8 GAS Naturally Aspirated
VIN: U; w/o A.C., May Be Used As Mechanical Fuel Pump Replacement PartType:Electric Fuel Pump Quantity Required:1
1972
Pontiac
Catalina
Base 7.5L 455Cu. In. V8 GAS Naturally Aspirated
VIN: U; VIN: V; w/o A.C., May Be Used As Mechanical Fuel Pump Replacement PartType:Electric Fuel Pump Quantity Required:1
1972
Pontiac
Catalina
Base Convertible 2-Door 7.5L 455Cu. In. V8 GAS Naturally Aspirated
VIN: U; VIN: V; w/o A.C., May Be Used As Mechanical Fuel Pump Replacement PartType:Electric Fuel Pump Quantity Required:1
1972
Pontiac
Catalina
Base Hardtop 2-Door 7.5L 455Cu. In. V8 GAS Naturally Aspirated
VIN: U; VIN: V; w/o A.C., May Be Used As Mechanical Fuel Pump Replacement PartType:Electric Fuel Pump Quantity Required:1
1972
Pontiac
Catalina
Base Hardtop 4-Door 7.5L 455Cu. In. V8 GAS Naturally Aspirated
VIN: U; VIN: V; w/o A.C., May Be Used As Mechanical Fuel Pump Replacement PartType:Electric Fuel Pump Quantity Required:1
1972
Pontiac
Catalina
Base Sedan 4-Door 7.5L 455Cu. In. V8 GAS Naturally Aspirated
VIN: U; VIN: V; w/o A.C., May Be Used As Mechanical Fuel Pump Replacement PartType:Electric Fuel Pump Quantity Required:1
1972
Pontiac
Catalina
Base Wagon 4-Door 7.5L 455Cu. In. V8 GAS Naturally Aspirated
VIN: U; VIN: V; w/o A.C., May Be Used As Mechanical Fuel Pump Replacement PartType:Electric Fuel Pump Quantity Required:1
1972
Pontiac
Catalina
Brougham 7.5L 455Cu. In. V8 GAS Naturally Aspirated
VIN: U; VIN: V; w/o A.C., May Be Used As Mechanical Fuel Pump Replacement PartType:Electric Fuel Pump Quantity Required:1
1972
Pontiac
Catalina
Brougham Hardtop 2-Door 7.5L 455Cu. In. V8 GAS Naturally Aspirated
VIN: U; VIN: V; w/o A.C., May Be Used As Mechanical Fuel Pump Replacement PartType:Electric Fuel Pump Quantity Required:1
1972
Pontiac
Catalina
Brougham Hardtop 4-Door 7.5L 455Cu. In. V8 GAS Naturally Aspirated
VIN: U; VIN: V; w/o A.C., May Be Used As Mechanical Fuel Pump Replacement PartType:Electric Fuel Pump Quantity Required:1
1972
Pontiac
Catalina
Brougham Sedan 4-Door 7.5L 455Cu. In. V8 GAS Naturally Aspirated
VIN: U; VIN: V; w/o A.C., May Be Used As Mechanical Fuel Pump Replacement PartType:Electric Fuel Pump Quantity Required:1
1972
Pontiac
Catalina
Safari 7.5L 455Cu. In. V8 GAS Naturally Aspirated
VIN: U; VIN: V; w/o A.C., May Be Used As Mechanical Fuel Pump Replacement PartType:Electric Fuel Pump Quantity Required:1
1972
Pontiac
Catalina
Safari Wagon 4-Door 7.5L 455Cu. In. V8 GAS Naturally Aspirated
VIN: U; VIN: V; w/o A.C., May Be Used As Mechanical Fuel Pump Replacement PartType:Electric Fuel Pump Quantity Required:1
1972
Pontiac
Firebird
Esprit 6.6L 400Cu. In. V8 GAS Naturally Aspirated
VIN: R; w/o A.C., May Be Used As Mechanical Fuel Pump Replacement PartType:Electric Fuel Pump Quantity Required:1
1972
Pontiac
Firebird
Formula 6.6L 400Cu. In. V8 GAS Naturally Aspirated
VIN: R; w/o A.C., May Be Used As Mechanical Fuel Pump Replacement PartType:Electric Fuel Pump Quantity Required:1
1972
Pontiac
Firebird
Trans Am 6.6L 400Cu. In. V8 GAS Naturally Aspirated
VIN: R; w/o A.C., May Be Used As Mechanical Fuel Pump Replacement PartType:Electric Fuel Pump Quantity Required:1
1972
Pontiac
Grand Safari
Base 7.5L 455Cu. In. V8 GAS Naturally Aspirated
VIN: U; w/o A.C., May Be Used As Mechanical Fuel Pump Replacement PartType:Electric Fuel Pump Quantity Required:1
1972
Pontiac
Grand Safari
Base Wagon 4-Door 7.5L 455Cu. In. V8 GAS Naturally Aspirated
VIN: U; w/o A.C., May Be Used As Mechanical Fuel Pump Replacement PartType:Electric Fuel Pump Quantity Required:1
1972
Pontiac
Grandville
Base 7.5L 455Cu. In. V8 GAS Naturally Aspirated
w/o A.C., May Be Used As Mechanical Fuel Pump Replacement; PartType:Electric Fuel Pump Quantity Required:1
1966
Buick
Electra
Custom 7.0L 425Cu. In. V8 GAS Naturally Aspirated
w/o A.C., May Be Used As Mechanical Fuel Pump Replacement; PartType:Electric Fuel Pump Quantity Required:1
1966
Buick
Riviera
Gran Sport 7.0L 425Cu. In. V8 GAS Naturally Aspirated
w/o A.C., May Be Used As Mechanical Fuel Pump Replacement; PartType:Electric Fuel Pump Quantity Required:1
1966
Buick
Wildcat
Custom 7.0L 425Cu. In. V8 GAS Naturally Aspirated
w/o A.C., May Be Used As Mechanical Fuel Pump Replacement; PartType:Electric Fuel Pump Quantity Required:1
1966
Buick
Wildcat
Gran Sport 7.0L 425Cu. In. V8 GAS Naturally Aspirated
w/o A.C., May Be Used As Mechanical Fuel Pump Replacement; PartType:Electric Fuel Pump Quantity Required:1
1966
Oldsmobile
Toronado
Deluxe 7.0L 425Cu. In. V8 GAS Naturally Aspirated
w/o A.C., May Be Used As Mechanical Fuel Pump Replacement; PartType:Electric Fuel Pump Quantity Required:1
1965
Chevrolet
Bel Air
Base 6.5L 6489CC 396Cu. In. V8 GAS OHV Naturally Aspirated
May Be Used As Mechanical Fuel Pump Replacement; PartType:Electric Fuel Pump Quantity Required:1
1965
Chevrolet
Bel Air
Base 6.7L 6704CC 409Cu. In. V8 GAS OHV Naturally Aspirated
May Be Used As Mechanical Fuel Pump Replacement; PartType:Electric Fuel Pump Quantity Required:1
1965
Chevrolet
Bel Air
Base Sedan 2-Door 6.5L 6489CC 396Cu. In. V8 GAS OHV Naturally Aspirated
May Be Used As Mechanical Fuel Pump Replacement; PartType:Electric Fuel Pump Quantity Required:1
1965
Chevrolet
Bel Air
Base Sedan 2-Door 6.7L 6704CC 409Cu. In. V8 GAS OHV Naturally Aspirated
May Be Used As Mechanical Fuel Pump Replacement; PartType:Electric Fuel Pump Quantity Required:1
1965
Chevrolet
Bel Air
Base Sedan 4-Door 6.5L 6489CC 396Cu. In. V8 GAS OHV Naturally Aspirated
May Be Used As Mechanical Fuel Pump Replacement; PartType:Electric Fuel Pump Quantity Required:1
1965
Chevrolet
Bel Air
Base Sedan 4-Door 6.7L 6704CC 409Cu. In. V8 GAS OHV Naturally Aspirated
May Be Used As Mechanical Fuel Pump Replacement; PartType:Electric Fuel Pump Quantity Required:1
1965
Chevrolet
Bel Air
Base Wagon 4-Door 6.5L 6489CC 396Cu. In. V8 GAS OHV Naturally Aspirated
May Be Used As Mechanical Fuel Pump Replacement; PartType:Electric Fuel Pump Quantity Required:1
1965
Chevrolet
Bel Air
Base Wagon 4-Door 6.7L 6704CC 409Cu. In. V8 GAS OHV Naturally Aspirated
May Be Used As Mechanical Fuel Pump Replacement; PartType:Electric Fuel Pump Quantity Required:1
1965
Chevrolet
Biscayne
Base 6.5L 6489CC 396Cu. In. V8 GAS OHV Naturally Aspirated
May Be Used As Mechanical Fuel Pump Replacement; PartType:Electric Fuel Pump Quantity Required:1
1965
Chevrolet
Biscayne
Base 6.7L 6704CC 409Cu. In. V8 GAS OHV Naturally Aspirated
May Be Used As Mechanical Fuel Pump Replacement; PartType:Electric Fuel Pump Quantity Required:1
1965
Chevrolet
Impala
Base 6.5L 6489CC 396Cu. In. V8 GAS OHV Naturally Aspirated
May Be Used As Mechanical Fuel Pump Replacement; PartType:Electric Fuel Pump Quantity Required:1
1965
Chevrolet
Impala
Base 6.7L 6704CC 409Cu. In. V8 GAS OHV Naturally Aspirated
May Be Used As Mechanical Fuel Pump Replacement; PartType:Electric Fuel Pump Quantity Required:1
1965
Chevrolet
Impala
Base Convertible 2-Door 6.5L 6489CC 396Cu. In. V8 GAS OHV Naturally Aspirated
May Be Used As Mechanical Fuel Pump Replacement; PartType:Electric Fuel Pump Quantity Required:1
1965
Chevrolet
Impala
Base Convertible 2-Door 6.7L 6704CC 409Cu. In. V8 GAS OHV Naturally Aspirated
May Be Used As Mechanical Fuel Pump Replacement; PartType:Electric Fuel Pump Quantity Required:1
1965
Chevrolet
Impala
Base Hardtop 2-Door 6.5L 6489CC 396Cu. In. V8 GAS OHV Naturally Aspirated
May Be Used As Mechanical Fuel Pump Replacement; PartType:Electric Fuel Pump Quantity Required:1
1965
Chevrolet
Impala
Base Hardtop 2-Door 6.7L 6704CC 409Cu. In. V8 GAS OHV Naturally Aspirated
May Be Used As Mechanical Fuel Pump Replacement; PartType:Electric Fuel Pump Quantity Required:1
1965
Chevrolet
Impala
Base Hardtop 4-Door 6.5L 6489CC 396Cu. In. V8 GAS OHV Naturally Aspirated
May Be Used As Mechanical Fuel Pump Replacement; PartType:Electric Fuel Pump Quantity Required:1
1965
Chevrolet
Impala
Base Hardtop 4-Door 6.7L 6704CC 409Cu. In. V8 GAS OHV Naturally Aspirated
May Be Used As Mechanical Fuel Pump Replacement; PartType:Electric Fuel Pump Quantity Required:1
1965
Chevrolet
Impala
Base Sedan 4-Door 6.5L 6489CC 396Cu. In. V8 GAS OHV Naturally Aspirated
May Be Used As Mechanical Fuel Pump Replacement; PartType:Electric Fuel Pump Quantity Required:1
1965
Chevrolet
Impala
Base Sedan 4-Door 6.7L 6704CC 409Cu. In. V8 GAS OHV Naturally Aspirated
May Be Used As Mechanical Fuel Pump Replacement; PartType:Electric Fuel Pump Quantity Required:1
1965
Chevrolet
Impala
Base Wagon 4-Door 6.5L 6489CC 396Cu. In. V8 GAS OHV Naturally Aspirated
May Be Used As Mechanical Fuel Pump Replacement; PartType:Electric Fuel Pump Quantity Required:1
1965
Chevrolet
Impala
Base Wagon 4-Door 6.7L 6704CC 409Cu. In. V8 GAS OHV Naturally Aspirated
May Be Used As Mechanical Fuel Pump Replacement; PartType:Electric Fuel Pump Quantity Required:1
1965
Chevrolet
Impala
SS 6.5L 396Cu. In. V8 GAS Naturally Aspirated
May Be Used As Mechanical Fuel Pump Replacement; PartType:Electric Fuel Pump Quantity Required:1
1965
Chevrolet
Impala
SS 6.7L 409Cu. In. V8 GAS Naturally Aspirated
May Be Used As Mechanical Fuel Pump Replacement; PartType:Electric Fuel Pump Quantity Required:1
1965
Chevrolet
Malibu
Base 6.5L 6489CC 396Cu. In. V8 GAS OHV Naturally Aspirated
May Be Used As Mechanical Fuel Pump Replacement; PartType:Electric Fuel Pump Quantity Required:1
1965
Chevrolet
Malibu
Base Convertible 2-Door 6.5L 6489CC 396Cu. In. V8 GAS OHV Naturally Aspirated
May Be Used As Mechanical Fuel Pump Replacement; PartType:Electric Fuel Pump Quantity Required:1
1965
Chevrolet
Malibu
Base Hardtop 2-Door 6.5L 6489CC 396Cu. In. V8 GAS OHV Naturally Aspirated
May Be Used As Mechanical Fuel Pump Replacement; PartType:Electric Fuel Pump Quantity Required:1
1965
Chevrolet
Malibu
Base Sedan 4-Door 6.5L 6489CC 396Cu. In. V8 GAS OHV Naturally Aspirated
May Be Used As Mechanical Fuel Pump Replacement; PartType:Electric Fuel Pump Quantity Required:1
1965
Chevrolet
Malibu
Base Wagon 4-Door 6.5L 6489CC 396Cu. In. V8 GAS OHV Naturally Aspirated
May Be Used As Mechanical Fuel Pump Replacement; PartType:Electric Fuel Pump Quantity Required:1
1964
Chevrolet
Bel Air
Base 6.7L 6704CC 409Cu. In. V8 GAS OHV Naturally Aspirated
May Be Used As Mechanical Fuel Pump Replacement; PartType:Electric Fuel Pump Quantity Required:1
1964
Chevrolet
Bel Air
Base Sedan 2-Door 6.7L 6704CC 409Cu. In. V8 GAS OHV Naturally Aspirated
May Be Used As Mechanical Fuel Pump Replacement; PartType:Electric Fuel Pump Quantity Required:1
1964
Chevrolet
Bel Air
Base Sedan 4-Door 6.7L 6704CC 409Cu. In. V8 GAS OHV Naturally Aspirated
May Be Used As Mechanical Fuel Pump Replacement; PartType:Electric Fuel Pump Quantity Required:1
1964
Chevrolet
Bel Air
Base Wagon 4-Door 6.7L 6704CC 409Cu. In. V8 GAS OHV Naturally Aspirated
May Be Used As Mechanical Fuel Pump Replacement; PartType:Electric Fuel Pump Quantity Required:1
1964
Chevrolet
Biscayne
Base 6.7L 6704CC 409Cu. In. V8 GAS OHV Naturally Aspirated
May Be Used As Mechanical Fuel Pump Replacement; PartType:Electric Fuel Pump Quantity Required:1
1964
Chevrolet
Impala
Base 6.7L 6704CC 409Cu. In. V8 GAS OHV Naturally Aspirated
May Be Used As Mechanical Fuel Pump Replacement; PartType:Electric Fuel Pump Quantity Required:1
1964
Chevrolet
Impala
Base Convertible 2-Door 6.7L 6704CC 409Cu. In. V8 GAS OHV Naturally Aspirated
May Be Used As Mechanical Fuel Pump Replacement; PartType:Electric Fuel Pump Quantity Required:1
1964
Chevrolet
Impala
Base Hardtop 2-Door 6.7L 6704CC 409Cu. In. V8 GAS OHV Naturally Aspirated
May Be Used As Mechanical Fuel Pump Replacement; PartType:Electric Fuel Pump Quantity Required:1
1964
Chevrolet
Impala
Base Hardtop 4-Door 6.7L 6704CC 409Cu. In. V8 GAS OHV Naturally Aspirated
May Be Used As Mechanical Fuel Pump Replacement; PartType:Electric Fuel Pump Quantity Required:1
1964
Chevrolet
Impala
Base Sedan 4-Door 6.7L 6704CC 409Cu. In. V8 GAS OHV Naturally Aspirated
May Be Used As Mechanical Fuel Pump Replacement; PartType:Electric Fuel Pump Quantity Required:1
1964
Chevrolet
Impala
Base Wagon 4-Door 6.7L 6704CC 409Cu. In. V8 GAS OHV Naturally Aspirated
May Be Used As Mechanical Fuel Pump Replacement; PartType:Electric Fuel Pump Quantity Required:1
1964
Chevrolet
Impala
SS 6.7L 409Cu. In. V8 GAS Naturally Aspirated
May Be Used As Mechanical Fuel Pump Replacement; PartType:Electric Fuel Pump Quantity Required:1
1964
Oldsmobile
98
Custom 6.5L 394Cu. In. V8 GAS Naturally Aspirated
May Be Used As Mechanical Fuel Pump Replacement; PartType:Electric Fuel Pump Quantity Required:1
1963
Chevrolet
Bel Air
Base 6.7L 6704CC 409Cu. In. V8 GAS OHV Naturally Aspirated
May Be Used As Mechanical Fuel Pump Replacement; PartType:Electric Fuel Pump Quantity Required:1
1963
Chevrolet
Bel Air
Base Sedan 2-Door 6.7L 6704CC 409Cu. In. V8 GAS OHV Naturally Aspirated
May Be Used As Mechanical Fuel Pump Replacement; PartType:Electric Fuel Pump Quantity Required:1
1963
Chevrolet
Bel Air
Base Sedan 4-Door 6.7L 6704CC 409Cu. In. V8 GAS OHV Naturally Aspirated
May Be Used As Mechanical Fuel Pump Replacement; PartType:Electric Fuel Pump Quantity Required:1
1963
Chevrolet
Bel Air
Base Wagon 4-Door 6.7L 6704CC 409Cu. In. V8 GAS OHV Naturally Aspirated
May Be Used As Mechanical Fuel Pump Replacement; PartType:Electric Fuel Pump Quantity Required:1
1963
Chevrolet
Biscayne
Base 6.7L 6704CC 409Cu. In. V8 GAS OHV Naturally Aspirated
May Be Used As Mechanical Fuel Pump Replacement; PartType:Electric Fuel Pump Quantity Required:1
1963
Chevrolet
Impala
Base 6.7L 6704CC 409Cu. In. V8 GAS OHV Naturally Aspirated
May Be Used As Mechanical Fuel Pump Replacement; PartType:Electric Fuel Pump Quantity Required:1
1963
Chevrolet
Impala
Base Convertible 2-Door 6.7L 6704CC 409Cu. In. V8 GAS OHV Naturally Aspirated
May Be Used As Mechanical Fuel Pump Replacement; PartType:Electric Fuel Pump Quantity Required:1
1963
Chevrolet
Impala
Base Hardtop 2-Door 6.7L 6704CC 409Cu. In. V8 GAS OHV Naturally Aspirated
May Be Used As Mechanical Fuel Pump Replacement; PartType:Electric Fuel Pump Quantity Required:1
1963
Chevrolet
Impala
Base Hardtop 4-Door 6.7L 6704CC 409Cu. In. V8 GAS OHV Naturally Aspirated
May Be Used As Mechanical Fuel Pump Replacement; PartType:Electric Fuel Pump Quantity Required:1
1963
Chevrolet
Impala
Base Sedan 4-Door 6.7L 6704CC 409Cu. In. V8 GAS OHV Naturally Aspirated
May Be Used As Mechanical Fuel Pump Replacement; PartType:Electric Fuel Pump Quantity Required:1
1963
Chevrolet
Impala
Base Wagon 4-Door 6.7L 6704CC 409Cu. In. V8 GAS OHV Naturally Aspirated
May Be Used As Mechanical Fuel Pump Replacement; PartType:Electric Fuel Pump Quantity Required:1
1963
Oldsmobile
98
Custom 6.5L 394Cu. In. V8 GAS Naturally Aspirated
May Be Used As Mechanical Fuel Pump Replacement; PartType:Electric Fuel Pump Quantity Required:1