New OE replacement Fuel Pump & Install Kit 04 w/ Lifetime Warranty
| | |
| --- | --- |
| Brand/Part #: | MOSTPLUS 11382MS029 |
| Location: | Dayton, New Jersey, US |
| Ship To Locations: | US - FREE SHIPPING |
Since 2001, we have started to manufacture the fuel pump for after market. These fuel pumps are all made up of first-class material in order to strengthen the durability and extend the usage life. Some competitors' pumps use cheap material inside leading unstability and short life. The all procedures are executed strictly according ISO/TS1649 and QS900 standard which is highest quality class for OEM in auto industry.Every pump is 100% tested before shipment. Customers can purchase these pumps without concern. We accept 60 days return for refund or replacement. Meanwhile any question will be replied within 24 hours.
Features
·
38mm compact design with quiet operation
·
Off

set inlet easily to install
·

Same performance as OE

·

1 x Fuel Strainer

·

1 x Universal connector

·

1 x Rubber hose included

·

2 x Stainless Steel Clamp
Technical Data
· Min Input Voltage:12V
· Flow Rate: 110-120LPH @ 43PSI/12V
· Flow Rate: 140-160LPH @ 43PSI/13.5V
· Current: [email protected]/12V
· PRV Activation:0-100PSI

Mechanical Spec

· Overall Length (tip to tip): 4 1/2" (11.5cm)
· Length of Pump Body Metal Case: 2 5/8" (6.6cm)
· Pump Body Diameter: 1 1/2" (3.8cm)
· Inlet Diameter: 5/16" (0.8cm)
· Outlet Diameter: 5/16" (0.8cm)
The following is one sample of installation for your reference, customers' assemblies will be similar or different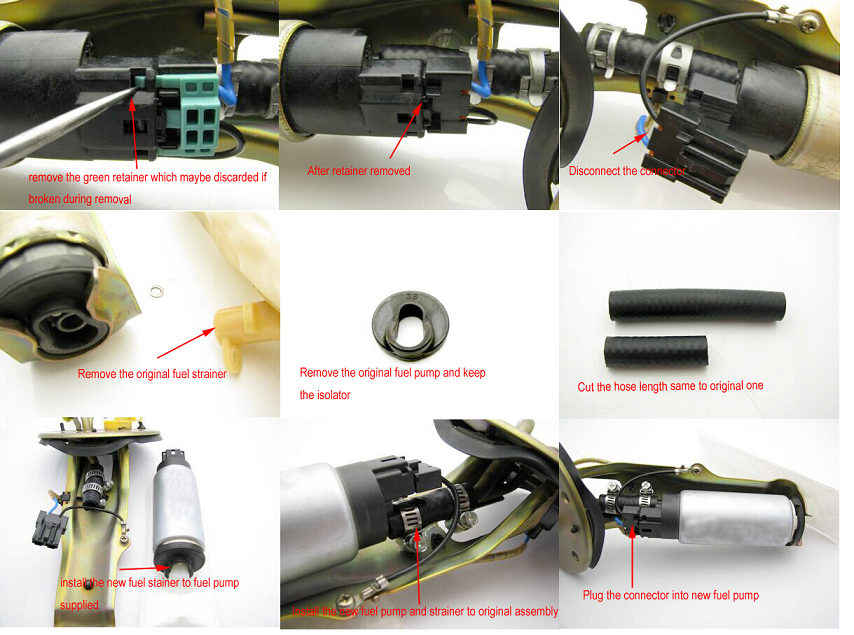 Shipping

· handling time: 1 days
· Shipping time: 2-5 business days in USA
· Shipping Cost : Free to all 50 USA states including Puerto Rico, Hawaii and USA Territories.
· After shipping, the tracking No. available by message
· We ship to eBay address

Return

· No returns are accepted without an RMA number.
· Refund is valid within 60 days after the date delivered
· Refund will be given as money back or replacement
· The money less the freight cost will be refunded due to their own fault
· Item must be returned in original packing same as reached
· Buyers are responsible for the return shipping cost.


Warranty

· Lifetime Warranty after receiving
· Buyers pay return and replacement shipping cost
· We will not refund any labor cost


Customer Service

· Any question will be replied within 24 hours except the weekend and holiday.

Returns Accepted: Returns Accepted
Item must be returned within: 60 Days
Refund will be given as: Money back or replacement (buyer's choice)
Return policy details:
Return shipping will be paid by: Seller
Interchange Part Number 2: P72237 P72239 P72240 P72241 P742242
Placement on Vehicle: Rear
Surface Finish: New Black
Interchange Part Number: FE0117 FE0118 FE0119 FE0131 FE0317 FE0129 FE0134
Manufacturer Part Number: 11382001
Other Part Number: EP126 EP382 EP387 EP432 P72192 P72236
Brand: MOSTPLUS
Fitment Type: Direct Replacement
Warranty: Lifetime
UPC: 739450554138
SKU: 11382MS029
New OE replacement Fuel Pump & Install Kit 04 w/ Lifetime Warranty fits on the following vehicles. This is for your reference only, please check your auto manual to make sure it fits.
YEAR
MAKE
MODEL
TRIM
NOTES
2013
Hyundai
Accent
GL Hatchback 4-Door 1.6L 1591CC 97Cu. In. l4 GAS DOHC Naturally Aspirated
Quantity Required: 1
2013
Hyundai
Accent
GL Sedan 4-Door 1.6L 1591CC 97Cu. In. l4 GAS DOHC Naturally Aspirated
Quantity Required: 1
2013
Hyundai
Accent
GLS Hatchback 4-Door 1.6L 1591CC 97Cu. In. l4 GAS DOHC Naturally Aspirated
Quantity Required: 1
2013
Hyundai
Accent
GLS Sedan 4-Door 1.6L 1591CC 97Cu. In. l4 GAS DOHC Naturally Aspirated
Quantity Required: 1
2013
Hyundai
Accent
GS Hatchback 4-Door 1.6L 1591CC 97Cu. In. l4 GAS DOHC Naturally Aspirated
Quantity Required: 1
2013
Hyundai
Accent
L Hatchback 4-Door 1.6L 1591CC 97Cu. In. l4 GAS DOHC Naturally Aspirated
Quantity Required: 1
2013
Hyundai
Accent
L Sedan 4-Door 1.6L 1591CC 97Cu. In. l4 GAS DOHC Naturally Aspirated
Quantity Required: 1
2013
Hyundai
Accent
SE Hatchback 4-Door 1.6L 1591CC 97Cu. In. l4 GAS DOHC Naturally Aspirated
Quantity Required: 1
2013
Hyundai
Elantra
GL Sedan 4-Door 1.8L 1797CC l4 GAS DOHC Naturally Aspirated
Quantity Required: 1
2013
Hyundai
Elantra
GLS Sedan 4-Door 1.8L 1797CC l4 GAS DOHC Naturally Aspirated
Quantity Required: 1
2013
Hyundai
Elantra
L Sedan 4-Door 1.8L 1797CC l4 GAS DOHC Naturally Aspirated
Quantity Required: 1
2013
Hyundai
Elantra
Limited Sedan 4-Door 1.8L 1797CC l4 GAS DOHC Naturally Aspirated
Quantity Required: 1
2013
Hyundai
Equus
Signature Sedan 4-Door 5.0L 5038CC V8 GAS DOHC Naturally Aspirated
Quantity Required: 1
2013
Hyundai
Equus
Ultimate Sedan 4-Door 5.0L 5038CC V8 GAS DOHC Naturally Aspirated
Quantity Required: 1
2013
Hyundai
Genesis
3.8 Sedan 4-Door 3.8L 3778CC 231Cu. In. V6 GAS DOHC Naturally Aspirated
Quantity Required: 1
2013
Hyundai
Genesis Coupe
2.0T Coupe 2-Door 2.0L 1998CC 122Cu. In. l4 GAS DOHC Turbocharged
Quantity Required: 1
2013
Hyundai
Genesis Coupe
2.0T Premium Coupe 2-Door 2.0L 1998CC 122Cu. In. l4 GAS DOHC Turbocharged
Quantity Required: 1
2013
Hyundai
Genesis Coupe
2.0T R-Spec Coupe 2-Door 2.0L 1998CC 122Cu. In. l4 GAS DOHC Turbocharged
Quantity Required: 1
2013
Hyundai
Genesis Coupe
3.8 Grand Touring Coupe 2-Door 3.8L 3778CC 231Cu. In. V6 GAS DOHC Naturally Aspirated
Quantity Required: 1
2013
Hyundai
Genesis Coupe
3.8 GT Coupe 2-Door 3.8L 3778CC 231Cu. In. V6 GAS DOHC Naturally Aspirated
Quantity Required: 1
2013
Hyundai
Genesis Coupe
3.8 R-Spec Coupe 2-Door 3.8L 3778CC 231Cu. In. V6 GAS DOHC Naturally Aspirated
Quantity Required: 1
2013
Hyundai
Genesis Coupe
3.8 Track Coupe 2-Door 3.8L 3778CC 231Cu. In. V6 GAS DOHC Naturally Aspirated
Quantity Required: 1
2013
Hyundai
Sonata
GL Sedan 4-Door 2.4L 2359CC l4 GAS DOHC Naturally Aspirated
Quantity Required: 1
2013
Hyundai
Sonata
GLS Sedan 4-Door 2.4L 2359CC l4 GAS DOHC Naturally Aspirated
Quantity Required: 1
2013
Hyundai
Sonata
Hybrid Sedan 4-Door 2.4L 2359CC l4 ELECTRIC/GAS DOHC Naturally Aspirated
Quantity Required: 1
2013
Hyundai
Sonata
Limited Sedan 4-Door 2.0L 1998CC 122Cu. In. l4 GAS DOHC Turbocharged
Quantity Required: 1
2013
Hyundai
Sonata
Limited Sedan 4-Door 2.4L 2359CC l4 GAS DOHC Naturally Aspirated
Quantity Required: 1
2013
Hyundai
Sonata
SE Sedan 4-Door 2.0L 1998CC 122Cu. In. l4 GAS DOHC Turbocharged
Quantity Required: 1
2013
Hyundai
Sonata
SE Sedan 4-Door 2.4L 2359CC l4 GAS DOHC Naturally Aspirated
Quantity Required: 1
2013
Hyundai
Veloster
Base Hatchback 3-Door 1.6L 1591CC 97Cu. In. l4 GAS DOHC Naturally Aspirated
Quantity Required: 1
2013
Hyundai
Veloster
Turbo Hatchback 3-Door 1.6L 1591CC 97Cu. In. l4 GAS DOHC Turbocharged
Quantity Required: 1
2012
Hyundai
Accent
GL Hatchback 4-Door 1.6L 1591CC 97Cu. In. l4 GAS DOHC Naturally Aspirated
Quantity Required: 1
2012
Hyundai
Accent
GL Sedan 4-Door 1.6L 1591CC 97Cu. In. l4 GAS DOHC Naturally Aspirated
Quantity Required: 1
2012
Hyundai
Accent
GLS Hatchback 4-Door 1.6L 1591CC 97Cu. In. l4 GAS DOHC Naturally Aspirated
Quantity Required: 1
2012
Hyundai
Accent
GLS Sedan 4-Door 1.6L 1591CC 97Cu. In. l4 GAS DOHC Naturally Aspirated
Quantity Required: 1
2012
Hyundai
Accent
GS Hatchback 4-Door 1.6L 1591CC 97Cu. In. l4 GAS DOHC Naturally Aspirated
Quantity Required: 1
2012
Hyundai
Accent
L Hatchback 4-Door 1.6L 1591CC 97Cu. In. l4 GAS DOHC Naturally Aspirated
Quantity Required: 1
2012
Hyundai
Accent
L Sedan 4-Door 1.6L 1591CC 97Cu. In. l4 GAS DOHC Naturally Aspirated
Quantity Required: 1
2012
Hyundai
Accent
SE Hatchback 4-Door 1.6L 1591CC 97Cu. In. l4 GAS DOHC Naturally Aspirated
Quantity Required: 1
2012
Hyundai
Azera
Base Sedan 4-Door 3.3L 3342CC V6 GAS DOHC Naturally Aspirated
Quantity Required: 1
2012
Hyundai
Elantra
GL Sedan 4-Door 1.8L 1797CC l4 GAS DOHC Naturally Aspirated
Quantity Required: 1
2012
Hyundai
Elantra
GLS Sedan 4-Door 1.8L 1797CC l4 GAS DOHC Naturally Aspirated
Quantity Required: 1
2012
Hyundai
Elantra
L Sedan 4-Door 1.8L 1797CC l4 GAS DOHC Naturally Aspirated
Quantity Required: 1
2012
Hyundai
Elantra
Limited Sedan 4-Door 1.8L 1797CC l4 GAS DOHC Naturally Aspirated
Quantity Required: 1
2012
Hyundai
Equus
Signature Sedan 4-Door 5.0L 5038CC V8 GAS DOHC Naturally Aspirated
Quantity Required: 1
2012
Hyundai
Equus
Ultimate Sedan 4-Door 5.0L 5038CC V8 GAS DOHC Naturally Aspirated
Quantity Required: 1
2012
Hyundai
Genesis
3.8 Sedan 4-Door 3.8L 3778CC 231Cu. In. V6 GAS DOHC Naturally Aspirated
Quantity Required: 1
2012
Hyundai
Genesis
4.6 Sedan 4-Door 4.6L 4627CC V8 GAS DOHC Naturally Aspirated
Quantity Required: 1
2012
Hyundai
Genesis
5.0 R-Spec Sedan 4-Door 5.0L 5038CC V8 GAS DOHC Naturally Aspirated
Quantity Required: 1
2012
Hyundai
Genesis
5.0 Sedan 4-Door 5.0L 5038CC V8 GAS DOHC Naturally Aspirated
Quantity Required: 1
2012
Hyundai
Genesis Coupe
2.0T Coupe 2-Door 2.0L 1998CC 122Cu. In. l4 GAS DOHC Turbocharged
Quantity Required: 1
2012
Hyundai
Genesis Coupe
2.0T GT Coupe 2-Door 2.0L 1998CC 122Cu. In. l4 GAS DOHC Turbocharged
Quantity Required: 1
2012
Hyundai
Genesis Coupe
2.0T Premium Coupe 2-Door 2.0L 1998CC 122Cu. In. l4 GAS DOHC Turbocharged
Quantity Required: 1
2012
Hyundai
Genesis Coupe
2.0T R-Spec Coupe 2-Door 2.0L 1998CC 122Cu. In. l4 GAS DOHC Turbocharged
Quantity Required: 1
2012
Hyundai
Genesis Coupe
3.8 Coupe 2-Door 3.8L 3778CC 231Cu. In. V6 GAS DOHC Naturally Aspirated
Quantity Required: 1
2012
Hyundai
Genesis Coupe
3.8 Grand Touring Coupe 2-Door 3.8L 3778CC 231Cu. In. V6 GAS DOHC Naturally Aspirated
Quantity Required: 1
2012
Hyundai
Genesis Coupe
3.8 GT Coupe 2-Door 3.8L 3778CC 231Cu. In. V6 GAS DOHC Naturally Aspirated
Quantity Required: 1
2012
Hyundai
Genesis Coupe
3.8 R-Spec Coupe 2-Door 3.8L 3778CC 231Cu. In. V6 GAS DOHC Naturally Aspirated
Quantity Required: 1
2012
Hyundai
Genesis Coupe
3.8 Track Coupe 2-Door 3.8L 3778CC 231Cu. In. V6 GAS DOHC Naturally Aspirated
Quantity Required: 1
2012
Hyundai
Santa Fe
GL Premium Sport Utility 4-Door 2.4L 2359CC l4 GAS DOHC Naturally Aspirated
Quantity Required: 1
2012
Hyundai
Santa Fe
GL Sport Sport Utility 4-Door 3.5L 3470CC V6 GAS DOHC Naturally Aspirated
Quantity Required: 1
2012
Hyundai
Santa Fe
GL Sport Utility 4-Door 2.4L 2359CC l4 GAS DOHC Naturally Aspirated
Quantity Required: 1
2012
Hyundai
Santa Fe
GL Sport Utility 4-Door 3.5L 3470CC V6 GAS DOHC Naturally Aspirated
Quantity Required: 1
2012
Hyundai
Santa Fe
GLS Sport Utility 4-Door 2.4L 2359CC l4 GAS DOHC Naturally Aspirated
Quantity Required: 1
2012
Hyundai
Santa Fe
GLS Sport Utility 4-Door 3.5L 3470CC V6 GAS DOHC Naturally Aspirated
Quantity Required: 1
2012
Hyundai
Santa Fe
Limited Sport Utility 4-Door 2.4L 2359CC l4 GAS DOHC Naturally Aspirated
Quantity Required: 1
2012
Hyundai
Santa Fe
Limited Sport Utility 4-Door 3.5L 3470CC V6 GAS DOHC Naturally Aspirated
Quantity Required: 1
2012
Hyundai
Santa Fe
SE Sport Utility 4-Door 3.5L 3470CC V6 GAS DOHC Naturally Aspirated
Quantity Required: 1
2012
Hyundai
Sonata
2.0T Limited Sedan 4-Door 2.0L 1998CC 122Cu. In. l4 GAS DOHC Turbocharged
Quantity Required: 1
2012
Hyundai
Sonata
2.0T Sedan 4-Door 2.0L 1998CC 122Cu. In. l4 GAS DOHC Turbocharged
Quantity Required: 1
2012
Hyundai
Sonata
GL Sedan 4-Door 2.4L 2359CC l4 GAS DOHC Naturally Aspirated
Quantity Required: 1
2012
Hyundai
Sonata
GLS Sedan 4-Door 2.4L 2359CC l4 GAS DOHC Naturally Aspirated
Quantity Required: 1
2012
Hyundai
Sonata
Hybrid Premium Sedan 4-Door 2.4L 2359CC l4 ELECTRIC/GAS DOHC Naturally Aspirated
Quantity Required: 1
2012
Hyundai
Sonata
Hybrid Sedan 4-Door 2.4L 2359CC l4 ELECTRIC/GAS DOHC Naturally Aspirated
Quantity Required: 1
2012
Hyundai
Sonata
Limited Sedan 4-Door 2.0L 1998CC 122Cu. In. l4 GAS DOHC Turbocharged
Quantity Required: 1
2012
Hyundai
Sonata
Limited Sedan 4-Door 2.4L 2359CC l4 GAS DOHC Naturally Aspirated
Quantity Required: 1
2012
Hyundai
Sonata
SE Sedan 4-Door 2.0L 1998CC 122Cu. In. l4 GAS DOHC Turbocharged
Quantity Required: 1
2012
Hyundai
Sonata
SE Sedan 4-Door 2.4L 2359CC l4 GAS DOHC Naturally Aspirated
Quantity Required: 1
2012
Hyundai
Tucson
GL Sport Utility 4-Door 2.0L 1975CC l4 GAS DOHC Naturally Aspirated
Quantity Required: 1
2012
Hyundai
Tucson
GLS Sport Utility 4-Door 2.4L 2359CC l4 GAS DOHC Naturally Aspirated
Quantity Required: 1
2012
Hyundai
Tucson
L Sport Utility 4-Door 2.0L 1975CC l4 GAS DOHC Naturally Aspirated
Quantity Required: 1
2012
Hyundai
Tucson
Limited Sport Utility 4-Door 2.4L 2359CC l4 GAS DOHC Naturally Aspirated
Quantity Required: 1
2012
Hyundai
Veloster
Base Hatchback 3-Door 1.6L 1591CC 97Cu. In. l4 GAS DOHC Naturally Aspirated
Quantity Required: 1
2012
Hyundai
Veracruz
GL Sport Utility 4-Door 3.8L 3778CC 231Cu. In. V6 GAS DOHC Naturally Aspirated
Quantity Required: 1
2012
Hyundai
Veracruz
GLS Sport Utility 4-Door 3.8L 3778CC 231Cu. In. V6 GAS DOHC Naturally Aspirated
Quantity Required: 1
2012
Hyundai
Veracruz
Limited Sport Utility 4-Door 3.8L 3778CC 231Cu. In. V6 GAS DOHC Naturally Aspirated
Quantity Required: 1
2012
Mitsubishi
Eclipse
Spyder GS Sport Convertible 2-Door 2.4L 2378CC l4 GAS SOHC Naturally Aspirated
Quantity Required: 1
2012
Mitsubishi
Eclipse
Spyder GT Convertible 2-Door 3.8L 3828CC 230Cu. In. V6 GAS SOHC Naturally Aspirated
Quantity Required: 1
2012
Mitsubishi
Eclipse
Spyder SE Convertible 2-Door 2.4L 2378CC l4 GAS SOHC Naturally Aspirated
Quantity Required: 1
2012
Mitsubishi
Galant
ES Sedan 4-Door 2.4L 2378CC l4 GAS SOHC Naturally Aspirated
Quantity Required: 1
2012
Mitsubishi
Galant
SE Sedan 4-Door 2.4L 2378CC l4 GAS SOHC Naturally Aspirated
Quantity Required: 1
2012
Mitsubishi
Lancer
DE Sedan 4-Door 2.0L 1998CC 122Cu. In. l4 GAS DOHC Naturally Aspirated
Quantity Required: 1
2012
Mitsubishi
Lancer
ES Sedan 4-Door 2.0L 1998CC 122Cu. In. l4 GAS DOHC Naturally Aspirated
Quantity Required: 1
2012
Mitsubishi
Lancer
ES Sportback Hatchback 4-Door 2.0L 1998CC 122Cu. In. l4 GAS DOHC Naturally Aspirated
Quantity Required: 1
2012
Mitsubishi
Lancer
Evolution GSR Sedan 4-Door 2.0L 1998CC 122Cu. In. l4 GAS DOHC Turbocharged
Quantity Required: 1
2012
Mitsubishi
Lancer
Evolution MR Sedan 4-Door 2.0L 1998CC 122Cu. In. l4 GAS DOHC Turbocharged
Quantity Required: 1
2012
Mitsubishi
Lancer
GT Sedan 4-Door 2.4L 2360CC 144Cu. In. l4 GAS DOHC Naturally Aspirated
Quantity Required: 1
2012
Mitsubishi
Lancer
GT Sportback Hatchback 4-Door 2.4L 2360CC 144Cu. In. l4 GAS DOHC Naturally Aspirated
Quantity Required: 1
2012
Mitsubishi
Lancer
Ralliart Sedan 4-Door 2.0L 1998CC 122Cu. In. l4 GAS DOHC Turbocharged
Quantity Required: 1
2012
Mitsubishi
Lancer
SE Sedan 4-Door 2.4L 2360CC 144Cu. In. l4 GAS DOHC Naturally Aspirated
Quantity Required: 1
2012
Mitsubishi
Outlander
ES Sport Utility 4-Door 2.4L 2360CC 144Cu. In. l4 GAS DOHC Naturally Aspirated
Quantity Required: 1
2012
Mitsubishi
Outlander
GT Sport Utility 4-Door 3.0L 2998CC 182Cu. In. V6 GAS SOHC Naturally Aspirated
Quantity Required: 1
2012
Mitsubishi
Outlander
SE Sport Utility 4-Door 2.4L 2360CC 144Cu. In. l4 GAS DOHC Naturally Aspirated
Quantity Required: 1
2012
Mitsubishi
Outlander Sport
ES Sport Utility 4-Door 2.0L 1998CC 122Cu. In. l4 GAS DOHC Naturally Aspirated
Quantity Required: 1
2012
Mitsubishi
Outlander Sport
SE Sport Utility 4-Door 2.0L 1998CC 122Cu. In. l4 GAS DOHC Naturally Aspirated
Quantity Required: 1
2012
Mitsubishi
RVR
ES Sport Utility 4-Door 2.0L 1998CC 122Cu. In. l4 GAS DOHC Naturally Aspirated
Quantity Required: 1
2012
Mitsubishi
RVR
GT Sport Utility 4-Door 2.0L 1998CC 122Cu. In. l4 GAS DOHC Naturally Aspirated
Quantity Required: 1
2012
Mitsubishi
RVR
SE Sport Utility 4-Door 2.0L 1998CC 122Cu. In. l4 GAS DOHC Naturally Aspirated
Quantity Required: 1
2011
Hyundai
Accent
GL Hatchback 2-Door 1.6L 1599CC l4 GAS DOHC Naturally Aspirated
Quantity Required: 1
2011
Hyundai
Accent
GLS Sedan 4-Door 1.6L 1599CC l4 GAS DOHC Naturally Aspirated
Quantity Required: 1
2011
Hyundai
Accent
GS Hatchback 2-Door 1.6L 1599CC l4 GAS DOHC Naturally Aspirated
Quantity Required: 1
2011
Hyundai
Accent
L Hatchback 2-Door 1.6L 1599CC l4 GAS DOHC Naturally Aspirated
Quantity Required: 1
2011
Hyundai
Accent
SE Hatchback 2-Door 1.6L 1599CC l4 GAS DOHC Naturally Aspirated
Quantity Required: 1
2011
Hyundai
Azera
GLS Sedan 4-Door 3.3L 3342CC V6 GAS DOHC Naturally Aspirated
Quantity Required: 1
2011
Hyundai
Azera
Limited Sedan 4-Door 3.8L 3778CC 231Cu. In. V6 GAS DOHC Naturally Aspirated
Quantity Required: 1
2011
Hyundai
Elantra
GL Sedan 4-Door 1.8L 1797CC l4 GAS DOHC Naturally Aspirated
Quantity Required: 1
2011
Hyundai
Elantra
GLS Sedan 4-Door 1.8L 1797CC l4 GAS DOHC Naturally Aspirated
Quantity Required: 1
2011
Hyundai
Elantra
L Sedan 4-Door 1.8L 1797CC l4 GAS DOHC Naturally Aspirated
Quantity Required: 1
2011
Hyundai
Elantra
Limited Sedan 4-Door 1.8L 1797CC l4 GAS DOHC Naturally Aspirated
Quantity Required: 1
2011
Hyundai
Equus
Signature Sedan 4-Door 4.6L 4627CC V8 GAS DOHC Naturally Aspirated
Quantity Required: 1
2011
Hyundai
Equus
Ultimate Sedan 4-Door 4.6L 4627CC V8 GAS DOHC Naturally Aspirated
Quantity Required: 1
2011
Hyundai
Genesis
3.8 Sedan 4-Door 3.8L 3778CC 231Cu. In. V6 GAS DOHC Naturally Aspirated
Quantity Required: 1
2011
Hyundai
Genesis
4.6 Sedan 4-Door 4.6L 4627CC V8 GAS DOHC Naturally Aspirated
Quantity Required: 1
2011
Hyundai
Genesis Coupe
2.0T Coupe 2-Door 2.0L 1998CC 122Cu. In. l4 GAS DOHC Turbocharged
Quantity Required: 1
2011
Hyundai
Genesis Coupe
2.0T GT Coupe 2-Door 2.0L 1998CC 122Cu. In. l4 GAS DOHC Turbocharged
Quantity Required: 1
2011
Hyundai
Genesis Coupe
2.0T Premium Coupe 2-Door 2.0L 1998CC 122Cu. In. l4 GAS DOHC Turbocharged
Quantity Required: 1
2011
Hyundai
Genesis Coupe
2.0T R-Spec Coupe 2-Door 2.0L 1998CC 122Cu. In. l4 GAS DOHC Turbocharged
Quantity Required: 1
2011
Hyundai
Genesis Coupe
3.8 Grand Touring Coupe 2-Door 3.8L 3778CC 231Cu. In. V6 GAS DOHC Naturally Aspirated
Quantity Required: 1
2011
Hyundai
Genesis Coupe
3.8 GT Coupe 2-Door 3.8L 3778CC 231Cu. In. V6 GAS DOHC Naturally Aspirated
Quantity Required: 1
2011
Hyundai
Genesis Coupe
3.8 R-Spec Coupe 2-Door 3.8L 3778CC 231Cu. In. V6 GAS DOHC Naturally Aspirated
Quantity Required: 1
2011
Hyundai
Genesis Coupe
3.8 Track Coupe 2-Door 3.8L 3778CC 231Cu. In. V6 GAS DOHC Naturally Aspirated
Quantity Required: 1
2011
Hyundai
Santa Fe
GL Premium Sport Utility 4-Door 2.4L 2359CC l4 GAS DOHC Naturally Aspirated
Quantity Required: 1
2011
Hyundai
Santa Fe
GL Sport Sport Utility 4-Door 3.5L 3470CC V6 GAS DOHC Naturally Aspirated
Quantity Required: 1
2011
Hyundai
Santa Fe
GL Sport Utility 4-Door 2.4L 2359CC l4 GAS DOHC Naturally Aspirated
Quantity Required: 1
2011
Hyundai
Santa Fe
GL Sport Utility 4-Door 3.5L 3470CC V6 GAS DOHC Naturally Aspirated
Quantity Required: 1
2011
Hyundai
Santa Fe
GLS Sport Utility 4-Door 2.4L 2359CC l4 GAS DOHC Naturally Aspirated
Quantity Required: 1
2011
Hyundai
Santa Fe
GLS Sport Utility 4-Door 3.5L 3470CC V6 GAS DOHC Naturally Aspirated
Quantity Required: 1
2011
Hyundai
Santa Fe
Limited Sport Utility 4-Door 2.4L 2359CC l4 GAS DOHC Naturally Aspirated
Quantity Required: 1
2011
Hyundai
Santa Fe
Limited Sport Utility 4-Door 3.5L 3470CC V6 GAS DOHC Naturally Aspirated
Quantity Required: 1
2011
Hyundai
Santa Fe
SE Sport Utility 4-Door 3.5L 3470CC V6 GAS DOHC Naturally Aspirated
Quantity Required: 1
2011
Hyundai
Sonata
2.0T Limited Sedan 4-Door 2.0L 1998CC 122Cu. In. l4 GAS DOHC Turbocharged
Quantity Required: 1
2011
Hyundai
Sonata
2.0T Sedan 4-Door 2.0L 1998CC 122Cu. In. l4 GAS DOHC Turbocharged
Quantity Required: 1
2011
Hyundai
Sonata
GL Sedan 4-Door 2.4L 2359CC l4 GAS DOHC Naturally Aspirated
Quantity Required: 1
2011
Hyundai
Sonata
GLS Sedan 4-Door 2.4L 2359CC l4 GAS DOHC Naturally Aspirated
Quantity Required: 1
2011
Hyundai
Sonata
Hybrid Sedan 4-Door 2.4L 2359CC l4 ELECTRIC/GAS DOHC Naturally Aspirated
Quantity Required: 1
2011
Hyundai
Sonata
Limited Sedan 4-Door 2.0L 1998CC 122Cu. In. l4 GAS DOHC Turbocharged
Quantity Required: 1
2011
Hyundai
Sonata
Limited Sedan 4-Door 2.4L 2359CC l4 GAS DOHC Naturally Aspirated
Quantity Required: 1
2011
Hyundai
Sonata
SE Sedan 4-Door 2.0L 1998CC 122Cu. In. l4 GAS DOHC Turbocharged
Quantity Required: 1
2011
Hyundai
Sonata
SE Sedan 4-Door 2.4L 2359CC l4 GAS DOHC Naturally Aspirated
Quantity Required: 1
2011
Hyundai
Tucson
GL Sport Utility 4-Door 2.0L 1975CC l4 GAS DOHC Naturally Aspirated
Quantity Required: 1
2011
Hyundai
Tucson
GLS Sport Utility 4-Door 2.4L 2359CC l4 GAS DOHC Naturally Aspirated
Quantity Required: 1
2011
Hyundai
Tucson
L Sport Utility 4-Door 2.0L 1975CC l4 GAS DOHC Naturally Aspirated
Quantity Required: 1
2011
Hyundai
Tucson
Limited Sport Utility 4-Door 2.4L 2359CC l4 GAS DOHC Naturally Aspirated
Quantity Required: 1
2011
Hyundai
Veracruz
GL Sport Utility 4-Door 3.8L 3778CC 231Cu. In. V6 GAS DOHC Naturally Aspirated
Quantity Required: 1
2011
Hyundai
Veracruz
GLS Sport Utility 4-Door 3.8L 3778CC 231Cu. In. V6 GAS DOHC Naturally Aspirated
Quantity Required: 1
2011
Hyundai
Veracruz
Limited Sport Utility 4-Door 3.8L 3778CC 231Cu. In. V6 GAS DOHC Naturally Aspirated
Quantity Required: 1
2011
Mitsubishi
Eclipse
Spyder GS Convertible 2-Door 2.4L 2378CC l4 GAS SOHC Naturally Aspirated
Quantity Required: 1
2011
Mitsubishi
Eclipse
Spyder GT Convertible 2-Door 3.8L 3828CC 230Cu. In. V6 GAS SOHC Naturally Aspirated
Quantity Required: 1
2011
Mitsubishi
Eclipse
Spyder GT-P Convertible 2-Door 3.8L 3828CC 230Cu. In. V6 GAS SOHC Naturally Aspirated
Quantity Required: 1
2011
Mitsubishi
Endeavor
LS Sport Utility 4-Door 3.8L 3828CC 230Cu. In. V6 GAS SOHC Naturally Aspirated
Quantity Required: 1
2011
Mitsubishi
Endeavor
SE Sport Utility 4-Door 3.8L 3828CC 230Cu. In. V6 GAS SOHC Naturally Aspirated
Quantity Required: 1
2011
Mitsubishi
Galant
ES Sedan 4-Door 2.4L 2378CC l4 GAS SOHC Naturally Aspirated
Quantity Required: 1
2011
Mitsubishi
Galant
SE Sedan 4-Door 2.4L 2378CC l4 GAS SOHC Naturally Aspirated
Quantity Required: 1
2011
Mitsubishi
Lancer
DE Sedan 4-Door 2.0L 1998CC 122Cu. In. l4 GAS DOHC Naturally Aspirated
Quantity Required: 1
2011
Mitsubishi
Lancer
ES Sedan 4-Door 2.0L 1998CC 122Cu. In. l4 GAS DOHC Naturally Aspirated
Quantity Required: 1
2011
Mitsubishi
Lancer
ES Sportback Hatchback 4-Door 2.0L 1998CC 122Cu. In. l4 GAS DOHC Naturally Aspirated
Quantity Required: 1
2011
Mitsubishi
Lancer
Evolution GSR Sedan 4-Door 2.0L 1998CC 122Cu. In. l4 GAS DOHC Turbocharged
Quantity Required: 1
2011
Mitsubishi
Lancer
Evolution MR Sedan 4-Door 2.0L 1998CC 122Cu. In. l4 GAS DOHC Turbocharged
Quantity Required: 1
2011
Mitsubishi
Lancer
Evolution MR Touring Sedan 4-Door 2.0L 1998CC 122Cu. In. l4 GAS DOHC Turbocharged
Quantity Required: 1
2011
Mitsubishi
Lancer
GT Sedan 4-Door 2.0L 1998CC 122Cu. In. l4 GAS DOHC Naturally Aspirated
Quantity Required: 1
2011
Mitsubishi
Lancer
GT Sportback Hatchback 4-Door 2.0L 1998CC 122Cu. In. l4 GAS DOHC Naturally Aspirated
Quantity Required: 1
2011
Mitsubishi
Lancer
GTS Sedan 4-Door 2.4L 2360CC 144Cu. In. l4 GAS DOHC Naturally Aspirated
Quantity Required: 1
2011
Mitsubishi
Lancer
GTS Sportback Wagon 4-Door 2.4L 2360CC 144Cu. In. l4 GAS DOHC Naturally Aspirated
Quantity Required: 1
2011
Mitsubishi
Lancer
Ralliart Sedan 4-Door 2.0L 1998CC 122Cu. In. l4 GAS DOHC Turbocharged
Quantity Required: 1
2011
Mitsubishi
Lancer
Ralliart Sportback Hatchback 4-Door 2.0L 1998CC 122Cu. In. l4 GAS DOHC Turbocharged
Quantity Required: 1
2011
Mitsubishi
Lancer
Ralliart Sportback Wagon 4-Door 2.0L 1998CC 122Cu. In. l4 GAS DOHC Turbocharged
Quantity Required: 1
2011
Mitsubishi
Lancer
SE Sedan 4-Door 2.0L 1998CC 122Cu. In. l4 GAS DOHC Naturally Aspirated
Quantity Required: 1
2011
Mitsubishi
Lancer
SE Sportback Hatchback 4-Door 2.0L 1998CC 122Cu. In. l4 GAS DOHC Naturally Aspirated
Quantity Required: 1
2011
Mitsubishi
Outlander
ES Sport Utility 4-Door 2.4L 2360CC 144Cu. In. l4 GAS DOHC Naturally Aspirated
Quantity Required: 1
2011
Mitsubishi
Outlander
GT Sport Utility 4-Door 3.0L 2998CC 182Cu. In. V6 GAS SOHC Naturally Aspirated
Quantity Required: 1
2011
Mitsubishi
Outlander
LS Sport Utility 4-Door 2.4L 2360CC 144Cu. In. l4 GAS DOHC Naturally Aspirated
Quantity Required: 1
2011
Mitsubishi
Outlander
SE Sport Utility 4-Door 2.4L 2360CC 144Cu. In. l4 GAS DOHC Naturally Aspirated
Quantity Required: 1
2011
Mitsubishi
Outlander
XLS Sport Utility 4-Door 3.0L 2998CC 182Cu. In. V6 GAS SOHC Naturally Aspirated
Quantity Required: 1
2011
Mitsubishi
Outlander Sport
ES Sport Utility 4-Door 2.0L 1998CC 122Cu. In. l4 GAS DOHC Naturally Aspirated
Quantity Required: 1
2011
Mitsubishi
Outlander Sport
SE Sport Utility 4-Door 2.0L 1998CC 122Cu. In. l4 GAS DOHC Naturally Aspirated
Quantity Required: 1
2011
Mitsubishi
RVR
ES Sport Utility 4-Door 2.0L 1998CC 122Cu. In. l4 GAS DOHC Naturally Aspirated
Quantity Required: 1
2011
Mitsubishi
RVR
GT Sport Utility 4-Door 2.0L 1998CC 122Cu. In. l4 GAS DOHC Naturally Aspirated
Quantity Required: 1
2011
Mitsubishi
RVR
SE Sport Utility 4-Door 2.0L 1998CC 122Cu. In. l4 GAS DOHC Naturally Aspirated
Quantity Required: 1
2011
Toyota
Avalon
Base Sedan 4-Door 3.5L 3456CC V6 GAS DOHC Naturally Aspirated
Strainer required to validate the warranty; Engine: 2GRFE<br>PartType:Electric Fuel Pump<br>Quantity Required:1<br>
2011
Toyota
Avalon
Limited Sedan 4-Door 3.5L 3456CC V6 GAS DOHC Naturally Aspirated
Strainer required to validate the warranty; Engine: 2GRFE<br>PartType:Electric Fuel Pump<br>Quantity Required:1<br>
2011
Toyota
Avalon
XLS Sedan 4-Door 3.5L 3456CC V6 GAS DOHC Naturally Aspirated
Strainer required to validate the warranty; Engine: 2GRFE<br>PartType:Electric Fuel Pump<br>Quantity Required:1<br>
2011
Toyota
Camry
LE Sedan 4-Door 3.5L 3456CC V6 GAS DOHC Naturally Aspirated
Strainer required to validate the warranty; Engine: 2GRFE<br>PartType:Electric Fuel Pump<br>Quantity Required:1<br>
2011
Toyota
Camry
SE Sedan 4-Door 3.5L 3456CC V6 GAS DOHC Naturally Aspirated
Strainer required to validate the warranty; Engine: 2GRFE<br>PartType:Electric Fuel Pump<br>Quantity Required:1<br>
2011
Toyota
Camry
XLE Sedan 4-Door 3.5L 3456CC V6 GAS DOHC Naturally Aspirated
Strainer required to validate the warranty; Engine: 2GRFE<br>PartType:Electric Fuel Pump<br>Quantity Required:1<br>
2010
Hyundai
Accent
Blue Hatchback 2-Door 1.6L 1599CC l4 GAS DOHC Naturally Aspirated
Quantity Required: 1
2010
Hyundai
Accent
GL Hatchback 2-Door 1.6L 1599CC l4 GAS DOHC Naturally Aspirated
Quantity Required: 1
2010
Hyundai
Accent
GLS Sedan 4-Door 1.6L 1599CC l4 GAS DOHC Naturally Aspirated
Quantity Required: 1
2010
Hyundai
Accent
GS Hatchback 2-Door 1.6L 1599CC l4 GAS DOHC Naturally Aspirated
Quantity Required: 1
2010
Hyundai
Accent
L Hatchback 2-Door 1.6L 1599CC l4 GAS DOHC Naturally Aspirated
Quantity Required: 1
2010
Hyundai
Accent
SE Hatchback 2-Door 1.6L 1599CC l4 GAS DOHC Naturally Aspirated
Quantity Required: 1
2010
Hyundai
Azera
GLS Sedan 4-Door 3.3L 3342CC V6 GAS DOHC Naturally Aspirated
Quantity Required: 1
2010
Hyundai
Azera
Limited Sedan 4-Door 3.8L 3778CC 231Cu. In. V6 GAS DOHC Naturally Aspirated
Quantity Required: 1
2010
Hyundai
Elantra
Blue Sedan 4-Door 2.0L 1975CC l4 GAS DOHC Naturally Aspirated
Quantity Required: 1
2010
Hyundai
Elantra
GL Sedan 4-Door 2.0L 1975CC l4 GAS DOHC Naturally Aspirated
Quantity Required: 1
2010
Hyundai
Elantra
GLS Sedan 4-Door 2.0L 1975CC l4 GAS DOHC Naturally Aspirated
Quantity Required: 1
2010
Hyundai
Elantra
L Sedan 4-Door 2.0L 1975CC l4 GAS DOHC Naturally Aspirated
Quantity Required: 1
2010
Hyundai
Elantra
Limited Sedan 4-Door 2.0L 1975CC l4 GAS DOHC Naturally Aspirated
Quantity Required: 1
2010
Hyundai
Elantra
SE Sedan 4-Door 2.0L 1975CC l4 GAS DOHC Naturally Aspirated
Quantity Required: 1
2010
Hyundai
Entourage
L Mini Passenger Van 4-Door 3.8L 3778CC 231Cu. In. V6 GAS DOHC Naturally Aspirated
Quantity Required: 1
2010
Hyundai
Genesis
3.8 Sedan 4-Door 3.8L 3778CC 231Cu. In. V6 GAS DOHC Naturally Aspirated
Quantity Required: 1
2010
Hyundai
Genesis
4.6 Sedan 4-Door 4.6L 4627CC V8 GAS DOHC Naturally Aspirated
Quantity Required: 1
2010
Hyundai
Genesis Coupe
2.0T Coupe 2-Door 2.0L 1998CC 122Cu. In. l4 GAS DOHC Turbocharged
Quantity Required: 1
2010
Hyundai
Genesis Coupe
2.0T GT Coupe 2-Door 2.0L 1998CC 122Cu. In. l4 GAS DOHC Turbocharged
Quantity Required: 1
2010
Hyundai
Genesis Coupe
2.0T Premium Coupe 2-Door 2.0L 1998CC 122Cu. In. l4 GAS DOHC Turbocharged
Quantity Required: 1
2010
Hyundai
Genesis Coupe
2.0T R-Spec Coupe 2-Door 2.0L 1998CC 122Cu. In. l4 GAS DOHC Turbocharged
Quantity Required: 1
2010
Hyundai
Genesis Coupe
2.0T Track Coupe 2-Door 2.0L 1998CC 122Cu. In. l4 GAS DOHC Turbocharged
Quantity Required: 1
2010
Hyundai
Genesis Coupe
3.8 Coupe 2-Door 3.8L 3778CC 231Cu. In. V6 GAS DOHC Naturally Aspirated
Quantity Required: 1
2010
Hyundai
Genesis Coupe
3.8 Grand Touring Coupe 2-Door 3.8L 3778CC 231Cu. In. V6 GAS DOHC Naturally Aspirated
Quantity Required: 1
2010
Hyundai
Genesis Coupe
3.8 GT Coupe 2-Door 3.8L 3778CC 231Cu. In. V6 GAS DOHC Naturally Aspirated
Quantity Required: 1
2010
Hyundai
Genesis Coupe
3.8 Track Coupe 2-Door 3.8L 3778CC 231Cu. In. V6 GAS DOHC Naturally Aspirated
Quantity Required: 1
2010
Hyundai
Santa Fe
GL Sport Sport Utility 4-Door 3.5L 3470CC V6 GAS DOHC Naturally Aspirated
Quantity Required: 1
2010
Hyundai
Santa Fe
GL Sport Utility 4-Door 2.4L 2359CC l4 GAS DOHC Naturally Aspirated
Quantity Required: 1
2010
Hyundai
Santa Fe
GL Sport Utility 4-Door 3.5L 3470CC V6 GAS DOHC Naturally Aspirated
Quantity Required: 1
2010
Hyundai
Santa Fe
GLS Sport Utility 4-Door 2.4L 2359CC l4 GAS DOHC Naturally Aspirated
Quantity Required: 1
2010
Hyundai
Santa Fe
Limited Sport Utility 4-Door 2.4L 2359CC l4 GAS DOHC Naturally Aspirated
Quantity Required: 1
2010
Hyundai
Santa Fe
Limited Sport Utility 4-Door 3.5L 3470CC V6 GAS DOHC Naturally Aspirated
Quantity Required: 1
2010
Hyundai
Santa Fe
SE Sport Utility 4-Door 3.5L 3470CC V6 GAS DOHC Naturally Aspirated
Quantity Required: 1
2010
Hyundai
Sonata
GL Sedan 4-Door 2.4L 2359CC l4 GAS DOHC Naturally Aspirated
Quantity Required: 1
2010
Hyundai
Sonata
GLS Sedan 4-Door 2.4L 2359CC l4 GAS DOHC Naturally Aspirated
Quantity Required: 1
2010
Hyundai
Sonata
GLS Sedan 4-Door 3.3L 3342CC V6 GAS DOHC Naturally Aspirated
Quantity Required: 1
2010
Hyundai
Sonata
Limited Sedan 4-Door 2.4L 2359CC l4 GAS DOHC Naturally Aspirated
Quantity Required: 1
2010
Hyundai
Sonata
Limited Sedan 4-Door 3.3L 3342CC V6 GAS DOHC Naturally Aspirated
Quantity Required: 1
2010
Hyundai
Sonata
SE Sedan 4-Door 2.4L 2359CC l4 GAS DOHC Naturally Aspirated
Quantity Required: 1
2010
Hyundai
Sonata
SE Sedan 4-Door 3.3L 3342CC V6 GAS DOHC Naturally Aspirated
Quantity Required: 1
2010
Hyundai
Tucson
GLS Sport Utility 4-Door 2.4L 2359CC l4 GAS DOHC Naturally Aspirated
Quantity Required: 1
2010
Hyundai
Tucson
Limited Sport Utility 4-Door 2.4L 2359CC l4 GAS DOHC Naturally Aspirated
Quantity Required: 1
2010
Hyundai
Veracruz
GL Sport Utility 4-Door 3.8L 3778CC 231Cu. In. V6 GAS DOHC Naturally Aspirated
Quantity Required: 1
2010
Hyundai
Veracruz
GLS Sport Utility 4-Door 3.8L 3778CC 231Cu. In. V6 GAS DOHC Naturally Aspirated
Quantity Required: 1
2010
Hyundai
Veracruz
Limited Sport Utility 4-Door 3.8L 3778CC 231Cu. In. V6 GAS DOHC Naturally Aspirated
Quantity Required: 1
2010
Lexus
ES350
Base Sedan 4-Door 3.5L 3456CC V6 GAS DOHC Naturally Aspirated
Strainer required to validate the warranty;<br>PartType:Electric Fuel Pump<br>Quantity Required:1<br>
2010
Mitsubishi
Eclipse
Spyder GS Convertible 2-Door 2.4L 2378CC l4 GAS SOHC Naturally Aspirated
Quantity Required: 1
2010
Mitsubishi
Eclipse
Spyder GT Convertible 2-Door 3.8L 3828CC 230Cu. In. V6 GAS SOHC Naturally Aspirated
Quantity Required: 1
2010
Mitsubishi
Endeavor
LS Sport Utility 4-Door 3.8L 3828CC 230Cu. In. V6 GAS SOHC Naturally Aspirated
Quantity Required: 1
2010
Mitsubishi
Endeavor
SE Sport Utility 4-Door 3.8L 3828CC 230Cu. In. V6 GAS SOHC Naturally Aspirated
Quantity Required: 1
2010
Mitsubishi
Galant
ES Sedan 4-Door 2.4L 2378CC l4 GAS SOHC Naturally Aspirated
Quantity Required: 1
2010
Mitsubishi
Galant
SE Sedan 4-Door 2.4L 2378CC l4 GAS SOHC Naturally Aspirated
Quantity Required: 1
2010
Mitsubishi
Lancer
DE Sedan 4-Door 2.0L 1998CC 122Cu. In. l4 GAS DOHC Naturally Aspirated
Quantity Required: 1
2010
Mitsubishi
Lancer
ES Sedan 4-Door 2.0L 1998CC 122Cu. In. l4 GAS DOHC Naturally Aspirated
Quantity Required: 1
2010
Mitsubishi
Lancer
Evolution GSR Sedan 4-Door 2.0L 1998CC 122Cu. In. l4 GAS DOHC Turbocharged
Quantity Required: 1
2010
Mitsubishi
Lancer
Evolution MR Sedan 4-Door 2.0L 1998CC 122Cu. In. l4 GAS DOHC Turbocharged
Quantity Required: 1
2010
Mitsubishi
Lancer
Evolution MR Touring Sedan 4-Door 2.0L 1998CC 122Cu. In. l4 GAS DOHC Turbocharged
Quantity Required: 1
2010
Mitsubishi
Lancer
GTS Sedan 4-Door 2.4L 2360CC 144Cu. In. l4 GAS DOHC Naturally Aspirated
Quantity Required: 1
2010
Mitsubishi
Lancer
GTS Sportback Hatchback 4-Door 2.4L 2360CC 144Cu. In. l4 GAS DOHC Naturally Aspirated
Quantity Required: 1
2010
Mitsubishi
Lancer
GTS Sportback Wagon 4-Door 2.4L 2360CC 144Cu. In. l4 GAS DOHC Naturally Aspirated
Quantity Required: 1
2010
Mitsubishi
Lancer
Ralliart Sedan 4-Door 2.0L 1998CC 122Cu. In. l4 GAS DOHC Turbocharged
Quantity Required: 1
2010
Mitsubishi
Lancer
Ralliart Sportback Hatchback 4-Door 2.0L 1998CC 122Cu. In. l4 GAS DOHC Turbocharged
Quantity Required: 1
2010
Mitsubishi
Lancer
Ralliart Sportback Wagon 4-Door 2.0L 1998CC 122Cu. In. l4 GAS DOHC Turbocharged
Quantity Required: 1
2010
Mitsubishi
Lancer
SE Sedan 4-Door 2.0L 1998CC 122Cu. In. l4 GAS DOHC Naturally Aspirated
Quantity Required: 1
2010
Mitsubishi
Outlander
ES Sport Utility 4-Door 2.4L 2360CC 144Cu. In. l4 GAS DOHC Naturally Aspirated
Quantity Required: 1
2010
Mitsubishi
Outlander
GT Sport Utility 4-Door 3.0L 2998CC 182Cu. In. V6 GAS SOHC Naturally Aspirated
Quantity Required: 1
2010
Mitsubishi
Outlander
LS Sport Utility 4-Door 3.0L 2998CC 182Cu. In. V6 GAS SOHC Naturally Aspirated
Quantity Required: 1
2010
Mitsubishi
Outlander
SE Sport Utility 4-Door 2.4L 2360CC 144Cu. In. l4 GAS DOHC Naturally Aspirated
Quantity Required: 1
2010
Mitsubishi
Outlander
XLS Sport Utility 4-Door 3.0L 2998CC 182Cu. In. V6 GAS SOHC Naturally Aspirated
Quantity Required: 1
2010
Toyota
Avalon
Limited Sedan 4-Door 3.5L 3456CC V6 GAS DOHC Naturally Aspirated
Strainer required to validate the warranty; Engine: 2GRFE<br>PartType:Electric Fuel Pump<br>Quantity Required:1<br>
2010
Toyota
Avalon
XL Sedan 4-Door 3.5L 3456CC V6 GAS DOHC Naturally Aspirated
Strainer required to validate the warranty; Engine: 2GRFE<br>PartType:Electric Fuel Pump<br>Quantity Required:1<br>
2010
Toyota
Avalon
XLS Sedan 4-Door 3.5L 3456CC V6 GAS DOHC Naturally Aspirated
Strainer required to validate the warranty; Engine: 2GRFE<br>PartType:Electric Fuel Pump<br>Quantity Required:1<br>
2010
Toyota
Camry
LE Sedan 4-Door 3.5L 3456CC V6 GAS DOHC Naturally Aspirated
Strainer required to validate the warranty; Engine: 2GRFE<br>PartType:Electric Fuel Pump<br>Quantity Required:1<br>
2010
Toyota
Camry
SE Sedan 4-Door 3.5L 3456CC V6 GAS DOHC Naturally Aspirated
Strainer required to validate the warranty; Engine: 2GRFE<br>PartType:Electric Fuel Pump<br>Quantity Required:1<br>
2010
Toyota
Camry
XLE Sedan 4-Door 3.5L 3456CC V6 GAS DOHC Naturally Aspirated
Strainer required to validate the warranty; Engine: 2GRFE<br>PartType:Electric Fuel Pump<br>Quantity Required:1<br>
2009
Hyundai
Accent
GL Hatchback 2-Door 1.6L 1599CC l4 GAS DOHC Naturally Aspirated
Quantity Required: 1
2009
Hyundai
Accent
GLS Sedan 4-Door 1.6L 1599CC l4 GAS DOHC Naturally Aspirated
Quantity Required: 1
2009
Hyundai
Accent
GS Hatchback 2-Door 1.6L 1599CC l4 GAS DOHC Naturally Aspirated
Quantity Required: 1
2009
Hyundai
Accent
L Hatchback 2-Door 1.6L 1599CC l4 GAS DOHC Naturally Aspirated
Quantity Required: 1
2009
Hyundai
Accent
SE Hatchback 2-Door 1.6L 1599CC l4 GAS DOHC Naturally Aspirated
Quantity Required: 1
2009
Hyundai
Azera
Base Sedan 4-Door 3.8L 3778CC 231Cu. In. V6 GAS DOHC Naturally Aspirated
Quantity Required: 1
2009
Hyundai
Azera
GLS Sedan 4-Door 3.3L 3342CC V6 GAS DOHC Naturally Aspirated
Quantity Required: 1
2009
Hyundai
Azera
Limited Sedan 4-Door 3.8L 3778CC 231Cu. In. V6 GAS DOHC Naturally Aspirated
Quantity Required: 1
2009
Hyundai
Elantra
GL Sedan 4-Door 2.0L 1975CC l4 GAS DOHC Naturally Aspirated
Quantity Required: 1
2009
Hyundai
Elantra
GLS Sedan 4-Door 2.0L 1975CC l4 GAS DOHC Naturally Aspirated
Quantity Required: 1
2009
Hyundai
Elantra
L Sedan 4-Door 2.0L 1975CC l4 GAS DOHC Naturally Aspirated
Quantity Required: 1
2009
Hyundai
Elantra
Limited Sedan 4-Door 2.0L 1975CC l4 GAS DOHC Naturally Aspirated
Quantity Required: 1
2009
Hyundai
Elantra
SE Sedan 4-Door 2.0L 1975CC l4 GAS DOHC Naturally Aspirated
Quantity Required: 1
2009
Hyundai
Entourage
L Mini Passenger Van 4-Door 3.8L 3778CC 231Cu. In. V6 GAS DOHC Naturally Aspirated
Quantity Required: 1
2009
Hyundai
Genesis
3.8 Sedan 4-Door 3.8L 3778CC 231Cu. In. V6 GAS DOHC Naturally Aspirated
Quantity Required: 1
2009
Hyundai
Genesis
4.6 Sedan 4-Door 4.6L 4627CC V8 GAS DOHC Naturally Aspirated
Quantity Required: 1
2009
Hyundai
Santa Fe
GL Sport Utility 4-Door 2.7L 2656CC V6 GAS DOHC Naturally Aspirated
Quantity Required: 1
2009
Hyundai
Santa Fe
GL Sport Utility 4-Door 3.3L 3342CC V6 GAS DOHC Naturally Aspirated
Quantity Required: 1
2009
Hyundai
Santa Fe
GLS Sport Utility 4-Door 2.7L 2656CC V6 GAS DOHC Naturally Aspirated
Quantity Required: 1
2009
Hyundai
Santa Fe
Limited Sport Utility 4-Door 3.3L 3342CC V6 GAS DOHC Naturally Aspirated
Quantity Required: 1
2009
Hyundai
Santa Fe
SE Sport Utility 4-Door 3.3L 3342CC V6 GAS DOHC Naturally Aspirated
Quantity Required: 1
2009
Hyundai
Sonata
GL Sedan 4-Door 2.4L 2359CC l4 GAS DOHC Naturally Aspirated
Quantity Required: 1
2009
Hyundai
Sonata
GL Sedan 4-Door 3.3L 3342CC V6 GAS DOHC Naturally Aspirated
Quantity Required: 1
2009
Hyundai
Sonata
GLS Sedan 4-Door 2.4L 2359CC l4 GAS DOHC Naturally Aspirated
Quantity Required: 1
2009
Hyundai
Sonata
GLS Sedan 4-Door 3.3L 3342CC V6 GAS DOHC Naturally Aspirated
Quantity Required: 1
2009
Hyundai
Sonata
Limited Sedan 4-Door 2.4L 2359CC l4 GAS DOHC Naturally Aspirated
Quantity Required: 1
2009
Hyundai
Sonata
Limited Sedan 4-Door 3.3L 3342CC V6 GAS DOHC Naturally Aspirated
Quantity Required: 1
2009
Hyundai
Sonata
SE Sedan 4-Door 2.4L 2359CC l4 GAS DOHC Naturally Aspirated
Quantity Required: 1
2009
Hyundai
Sonata
SE Sedan 4-Door 3.3L 3342CC V6 GAS DOHC Naturally Aspirated
Quantity Required: 1
2009
Hyundai
Tucson
25th Anniversary Edition Sport Utility 4-Door 2.0L 1975CC l4 GAS DOHC Naturally Aspirated
Quantity Required: 1
2009
Hyundai
Tucson
GL Sport Utility 4-Door 2.0L 1975CC l4 GAS DOHC Naturally Aspirated
Quantity Required: 1
2009
Hyundai
Tucson
GL Sport Utility 4-Door 2.7L 2656CC V6 GAS DOHC Naturally Aspirated
Quantity Required: 1
2009
Hyundai
Tucson
GLS Sport Utility 4-Door 2.0L 1975CC l4 GAS DOHC Naturally Aspirated
Quantity Required: 1
2009
Hyundai
Tucson
L Sport Utility 4-Door 2.0L 1975CC l4 GAS DOHC Naturally Aspirated
Quantity Required: 1
2009
Hyundai
Tucson
Limited Sport Utility 4-Door 2.0L 1975CC l4 GAS DOHC Naturally Aspirated
Quantity Required: 1
2009
Hyundai
Tucson
Limited Sport Utility 4-Door 2.7L 2656CC V6 GAS DOHC Naturally Aspirated
Quantity Required: 1
2009
Hyundai
Tucson
SE Sport Utility 4-Door 2.7L 2656CC V6 GAS DOHC Naturally Aspirated
Quantity Required: 1
2009
Hyundai
Veracruz
GL Sport Utility 4-Door 3.8L 3778CC 231Cu. In. V6 GAS DOHC Naturally Aspirated
Quantity Required: 1
2009
Hyundai
Veracruz
GLS Sport Utility 4-Door 3.8L 3778CC 231Cu. In. V6 GAS DOHC Naturally Aspirated
Quantity Required: 1
2009
Hyundai
Veracruz
Limited Sport Utility 4-Door 3.8L 3778CC 231Cu. In. V6 GAS DOHC Naturally Aspirated
Quantity Required: 1
2009
Lexus
ES350
Base Sedan 4-Door 3.5L 3456CC V6 GAS DOHC Naturally Aspirated
Strainer required to validate the warranty;<br>PartType:Electric Fuel Pump<br>Quantity Required:1<br>
2009
Mitsubishi
Eclipse
GT Coupe 2-Door 3.8L 3828CC 230Cu. In. V6 GAS SOHC Naturally Aspirated
Quantity Required: 1
2009
Mitsubishi
Eclipse
Spyder GS Convertible 2-Door 2.4L 2378CC l4 GAS SOHC Naturally Aspirated
Quantity Required: 1
2009
Mitsubishi
Eclipse
Spyder GT Convertible 2-Door 3.8L 3828CC 230Cu. In. V6 GAS SOHC Naturally Aspirated
Quantity Required: 1
2009
Mitsubishi
Eclipse
Spyder GT-P Convertible 2-Door 3.8L 3828CC 230Cu. In. V6 GAS SOHC Naturally Aspirated
Quantity Required: 1
2009
Mitsubishi
Galant
ES Sedan 4-Door 2.4L 2378CC l4 GAS SOHC Naturally Aspirated
Quantity Required: 1
2009
Mitsubishi
Galant
GT Sedan 4-Door 3.8L 3828CC 230Cu. In. V6 GAS SOHC Naturally Aspirated
Quantity Required: 1
2009
Mitsubishi
Galant
Ralliart Sedan 4-Door 3.8L 3828CC 230Cu. In. V6 GAS SOHC Naturally Aspirated
Quantity Required: 1
2009
Mitsubishi
Galant
Sport Edition Sedan 4-Door 2.4L 2378CC l4 GAS SOHC Naturally Aspirated
Quantity Required: 1
2009
Mitsubishi
Galant
Sport V6 Sedan 4-Door 3.8L 3828CC 230Cu. In. V6 GAS SOHC Naturally Aspirated
Quantity Required: 1
2009
Mitsubishi
Lancer
DE Sedan 4-Door 2.0L 1998CC 122Cu. In. l4 GAS DOHC Naturally Aspirated
Quantity Required: 1
2009
Mitsubishi
Lancer
ES Sedan 4-Door 2.0L 1998CC 122Cu. In. l4 GAS DOHC Naturally Aspirated
Quantity Required: 1
2009
Mitsubishi
Lancer
Evolution GSR Sedan 4-Door 2.0L 1998CC 122Cu. In. l4 GAS DOHC Turbocharged
Quantity Required: 1
2009
Mitsubishi
Lancer
Evolution MR Sedan 4-Door 2.0L 1998CC 122Cu. In. l4 GAS DOHC Turbocharged
Quantity Required: 1
2009
Mitsubishi
Lancer
Evolution RS Sedan 4-Door 2.0L 1998CC 122Cu. In. l4 GAS DOHC Turbocharged
Quantity Required: 1
2009
Mitsubishi
Lancer
GTS Hatchback 4-Door 2.4L 2360CC 144Cu. In. l4 GAS DOHC Naturally Aspirated
Quantity Required: 1
2009
Mitsubishi
Lancer
GTS Sedan 4-Door 2.4L 2360CC 144Cu. In. l4 GAS DOHC Naturally Aspirated
Quantity Required: 1
2009
Mitsubishi
Lancer
Ralliart Hatchback 4-Door 2.0L 1998CC 122Cu. In. l4 GAS DOHC Turbocharged
Quantity Required: 1
2009
Mitsubishi
Lancer
Ralliart Sedan 4-Door 2.0L 1998CC 122Cu. In. l4 GAS DOHC Turbocharged
Quantity Required: 1
2009
Mitsubishi
Lancer
SE Sedan 4-Door 2.0L 1998CC 122Cu. In. l4 GAS DOHC Naturally Aspirated
Quantity Required: 1
2009
Mitsubishi
Outlander
ES Sport Utility 4-Door 2.4L 2360CC 144Cu. In. l4 GAS DOHC Naturally Aspirated
Quantity Required: 1
2009
Mitsubishi
Outlander
LS Sport Utility 4-Door 3.0L 2998CC 182Cu. In. V6 GAS SOHC Naturally Aspirated
Quantity Required: 1
2009
Mitsubishi
Outlander
SE Sport Utility 4-Door 2.4L 2360CC 144Cu. In. l4 GAS DOHC Naturally Aspirated
Quantity Required: 1
2009
Mitsubishi
Outlander
XLS Sport Utility 4-Door 3.0L 2998CC 182Cu. In. V6 GAS SOHC Naturally Aspirated
Quantity Required: 1
2009
Mitsubishi
Raider
LS Crew Cab Pickup 4-Door 3.7L 226Cu. In. V6 GAS SOHC Naturally Aspirated
Turbine Upgrade; Quantity Required: 1
2009
Mitsubishi
Raider
LS Extended Cab Pickup 4-Door 3.7L 226Cu. In. V6 GAS SOHC Naturally Aspirated
Turbine Upgrade; Quantity Required: 1
2009
Toyota
Avalon
Limited Sedan 4-Door 3.5L 3456CC V6 GAS DOHC Naturally Aspirated
Strainer required to validate the warranty; Engine: 2GRFE<br>PartType:Electric Fuel Pump<br>Quantity Required:1<br>
2009
Toyota
Avalon
XL Sedan 4-Door 3.5L 3456CC V6 GAS DOHC Naturally Aspirated
Strainer required to validate the warranty; Engine: 2GRFE<br>PartType:Electric Fuel Pump<br>Quantity Required:1<br>
2009
Toyota
Avalon
XLS Sedan 4-Door 3.5L 3456CC V6 GAS DOHC Naturally Aspirated
Strainer required to validate the warranty; Engine: 2GRFE<br>PartType:Electric Fuel Pump<br>Quantity Required:1<br>
2009
Toyota
Camry
LE Sedan 4-Door 3.5L 3456CC V6 GAS DOHC Naturally Aspirated
Strainer required to validate the warranty; Engine: 2GRFE<br>PartType:Electric Fuel Pump<br>Quantity Required:1<br>
2009
Toyota
Camry
SE Sedan 4-Door 3.5L 3456CC V6 GAS DOHC Naturally Aspirated
Strainer required to validate the warranty; Engine: 2GRFE<br>PartType:Electric Fuel Pump<br>Quantity Required:1<br>
2009
Toyota
Camry
XLE Sedan 4-Door 3.5L 3456CC V6 GAS DOHC Naturally Aspirated
Strainer required to validate the warranty; Engine: 2GRFE<br>PartType:Electric Fuel Pump<br>Quantity Required:1<br>
2008
Hyundai
Accent
GL Hatchback 2-Door 1.6L 1599CC l4 GAS DOHC Naturally Aspirated
Quantity Required: 1
2008
Hyundai
Accent
GLS Sedan 4-Door 1.6L 1599CC l4 GAS DOHC Naturally Aspirated
Quantity Required: 1
2008
Hyundai
Accent
GS Hatchback 2-Door 1.6L 1599CC l4 GAS DOHC Naturally Aspirated
Quantity Required: 1
2008
Hyundai
Accent
L Hatchback 2-Door 1.6L 1599CC l4 GAS DOHC Naturally Aspirated
Quantity Required: 1
2008
Hyundai
Accent
SE Hatchback 2-Door 1.6L 1599CC l4 GAS DOHC Naturally Aspirated
Quantity Required: 1
2008
Hyundai
Accent
SR Hatchback 2-Door 1.6L 1599CC l4 GAS DOHC Naturally Aspirated
Quantity Required: 1
2008
Hyundai
Azera
GLS Sedan 4-Door 3.3L 3342CC V6 GAS DOHC Naturally Aspirated
Quantity Required: 1
2008
Hyundai
Azera
Limited Sedan 4-Door 3.8L 3778CC 231Cu. In. V6 GAS DOHC Naturally Aspirated
Quantity Required: 1
2008
Hyundai
Elantra
GL Sedan 4-Door 2.0L 1975CC l4 GAS DOHC Naturally Aspirated
Quantity Required: 1
2008
Hyundai
Elantra
GLS Sedan 4-Door 2.0L 1975CC l4 GAS DOHC Naturally Aspirated
Quantity Required: 1
2008
Hyundai
Elantra
GLS Sport Sedan 4-Door 2.0L 1975CC l4 GAS DOHC Naturally Aspirated
Quantity Required: 1
2008
Hyundai
Elantra
L Sedan 4-Door 2.0L 1975CC l4 GAS DOHC Naturally Aspirated
Quantity Required: 1
2008
Hyundai
Elantra
Limited Sedan 4-Door 2.0L 1975CC l4 GAS DOHC Naturally Aspirated
Quantity Required: 1
2008
Hyundai
Elantra
SE Sedan 4-Door 2.0L 1975CC l4 GAS DOHC Naturally Aspirated
Quantity Required: 1
2008
Hyundai
Entourage
GL Mini Passenger Van 4-Door 3.8L 3778CC 231Cu. In. V6 GAS DOHC Naturally Aspirated
Quantity Required: 1
2008
Hyundai
Entourage
GLS Mini Passenger Van 4-Door 3.8L 3778CC 231Cu. In. V6 GAS DOHC Naturally Aspirated
Quantity Required: 1
2008
Hyundai
Entourage
L Mini Passenger Van 4-Door 3.8L 3778CC 231Cu. In. V6 GAS DOHC Naturally Aspirated
Quantity Required: 1
2008
Hyundai
Entourage
Limited Mini Passenger Van 4-Door 3.8L 3778CC 231Cu. In. V6 GAS DOHC Naturally Aspirated
Quantity Required: 1
2008
Hyundai
Santa Fe
GL Sport Utility 4-Door 2.7L 2656CC V6 GAS DOHC Naturally Aspirated
Quantity Required: 1
2008
Hyundai
Santa Fe
GL Sport Utility 4-Door 3.3L 3342CC V6 GAS DOHC Naturally Aspirated
Quantity Required: 1
2008
Hyundai
Santa Fe
GLS Sport Utility 4-Door 2.7L 2656CC V6 GAS DOHC Naturally Aspirated
Quantity Required: 1
2008
Hyundai
Santa Fe
GLS Sport Utility 4-Door 3.3L 3342CC V6 GAS DOHC Naturally Aspirated
Quantity Required: 1
2008
Hyundai
Santa Fe
Limited Sport Utility 4-Door 3.3L 3342CC V6 GAS DOHC Naturally Aspirated
Quantity Required: 1
2008
Hyundai
Santa Fe
SE Sport Utility 4-Door 3.3L 3342CC V6 GAS DOHC Naturally Aspirated
Quantity Required: 1
2008
Hyundai
Sonata
GL Sedan 4-Door 2.4L 2359CC l4 GAS DOHC Naturally Aspirated
Quantity Required: 1
2008
Hyundai
Sonata
GL Sedan 4-Door 3.3L 3342CC V6 GAS DOHC Naturally Aspirated
Quantity Required: 1
2008
Hyundai
Sonata
GLS Sedan 4-Door 2.4L 2359CC l4 GAS DOHC Naturally Aspirated
Quantity Required: 1
2008
Hyundai
Sonata
GLS Sedan 4-Door 3.3L 3342CC V6 GAS DOHC Naturally Aspirated
Quantity Required: 1
2008
Hyundai
Sonata
Limited Sedan 4-Door 2.4L 2359CC l4 GAS DOHC Naturally Aspirated
Quantity Required: 1
2008
Hyundai
Sonata
Limited Sedan 4-Door 3.3L 3342CC V6 GAS DOHC Naturally Aspirated
Quantity Required: 1
2008
Hyundai
Sonata
SE Sedan 4-Door 2.4L 2359CC l4 GAS DOHC Naturally Aspirated
Quantity Required: 1
2008
Hyundai
Sonata
SE Sedan 4-Door 3.3L 3342CC V6 GAS DOHC Naturally Aspirated
Quantity Required: 1
2008
Hyundai
Tiburon
GS Coupe 2-Door 2.0L 1975CC l4 GAS DOHC Naturally Aspirated
Quantity Required: 1
2008
Hyundai
Tiburon
GT Coupe 2-Door 2.7L 2656CC V6 GAS DOHC Naturally Aspirated
Quantity Required: 1
2008
Hyundai
Tiburon
GT Limited Coupe 2-Door 2.7L 2656CC V6 GAS DOHC Naturally Aspirated
Quantity Required: 1
2008
Hyundai
Tiburon
GTP Coupe 2-Door 2.7L 2656CC V6 GAS DOHC Naturally Aspirated
Quantity Required: 1
2008
Hyundai
Tiburon
SE Coupe 2-Door 2.7L 2656CC V6 GAS DOHC Naturally Aspirated
Quantity Required: 1
2008
Hyundai
Tucson
GL Sport Utility 4-Door 2.0L 1975CC l4 GAS DOHC Naturally Aspirated
Quantity Required: 1
2008
Hyundai
Tucson
GL Sport Utility 4-Door 2.7L 2656CC V6 GAS DOHC Naturally Aspirated
Quantity Required: 1
2008
Hyundai
Tucson
GLS Sport Utility 4-Door 2.0L 1975CC l4 GAS DOHC Naturally Aspirated
Quantity Required: 1
2008
Hyundai
Tucson
L Sport Utility 4-Door 2.0L 1975CC l4 GAS DOHC Naturally Aspirated
Quantity Required: 1
2008
Hyundai
Tucson
Limited Sport Utility 4-Door 2.0L 1975CC l4 GAS DOHC Naturally Aspirated
Quantity Required: 1
2008
Hyundai
Tucson
Limited Sport Utility 4-Door 2.7L 2656CC V6 GAS DOHC Naturally Aspirated
Quantity Required: 1
2008
Hyundai
Tucson
SE Sport Utility 4-Door 2.7L 2656CC V6 GAS DOHC Naturally Aspirated
Quantity Required: 1
2008
Hyundai
Veracruz
GLS Sport Utility 4-Door 3.8L 3778CC 231Cu. In. V6 GAS DOHC Naturally Aspirated
Quantity Required: 1
2008
Hyundai
Veracruz
Limited Sport Utility 4-Door 3.8L 3778CC 231Cu. In. V6 GAS DOHC Naturally Aspirated
Quantity Required: 1
2008
Hyundai
Veracruz
SE Sport Utility 4-Door 3.8L 3778CC 231Cu. In. V6 GAS DOHC Naturally Aspirated
Quantity Required: 1
2008
Lexus
ES350
Base Sedan 4-Door 3.5L 3456CC V6 GAS DOHC Naturally Aspirated
Strainer required to validate the warranty;<br>PartType:Electric Fuel Pump<br>Quantity Required:1<br>
2008
Mitsubishi
Eclipse
GT Coupe 2-Door 3.8L 3828CC 230Cu. In. V6 GAS SOHC Naturally Aspirated
Quantity Required: 1
2008
Mitsubishi
Eclipse
Spyder GS Convertible 2-Door 2.4L 2378CC l4 GAS SOHC Naturally Aspirated
Quantity Required: 1
2008
Mitsubishi
Eclipse
Spyder GT Convertible 2-Door 3.8L 3828CC 230Cu. In. V6 GAS SOHC Naturally Aspirated
Quantity Required: 1
2008
Mitsubishi
Eclipse
Spyder GT-P Convertible 2-Door 3.8L 3828CC 230Cu. In. V6 GAS SOHC Naturally Aspirated
Quantity Required: 1
2008
Mitsubishi
Endeavor
LS Sport Utility 4-Door 3.8L 3828CC 230Cu. In. V6 GAS SOHC Naturally Aspirated
Quantity Required: 1
2008
Mitsubishi
Endeavor
SE Sport Utility 4-Door 3.8L 3828CC 230Cu. In. V6 GAS SOHC Naturally Aspirated
Quantity Required: 1
2008
Mitsubishi
Galant
DE Sedan 4-Door 2.4L 2378CC l4 GAS SOHC Naturally Aspirated
Quantity Required: 1
2008
Mitsubishi
Galant
ES Sedan 4-Door 2.4L 2378CC l4 GAS SOHC Naturally Aspirated
Quantity Required: 1
2008
Mitsubishi
Galant
Ralliart Sedan 4-Door 3.8L 3828CC 230Cu. In. V6 GAS SOHC Naturally Aspirated
Quantity Required: 1
2008
Mitsubishi
Lancer
DE Sedan 4-Door 2.0L 1998CC 122Cu. In. l4 GAS DOHC Naturally Aspirated
Quantity Required: 1
2008
Mitsubishi
Lancer
ES Sedan 4-Door 2.0L 1998CC 122Cu. In. l4 GAS DOHC Naturally Aspirated
Quantity Required: 1
2008
Mitsubishi
Lancer
Evolution GSR Sedan 4-Door 2.0L 1998CC 122Cu. In. l4 GAS DOHC Turbocharged
Quantity Required: 1
2008
Mitsubishi
Lancer
Evolution MR Sedan 4-Door 2.0L 1998CC 122Cu. In. l4 GAS DOHC Turbocharged
Quantity Required: 1
2008
Mitsubishi
Lancer
GTS Sedan 4-Door 2.0L 1998CC 122Cu. In. l4 GAS DOHC Naturally Aspirated
Quantity Required: 1
2008
Mitsubishi
Outlander
ES Sport Utility 4-Door 2.4L 2360CC 144Cu. In. l4 GAS DOHC Naturally Aspirated
Quantity Required: 1
2008
Mitsubishi
Outlander
LS Sport Utility 4-Door 3.0L 2998CC 182Cu. In. V6 GAS SOHC Naturally Aspirated
Quantity Required: 1
2008
Mitsubishi
Outlander
SE Sport Utility 4-Door 2.4L 2360CC 144Cu. In. l4 GAS DOHC Naturally Aspirated
Quantity Required: 1
2008
Mitsubishi
Outlander
XLS Sport Utility 4-Door 3.0L 2998CC 182Cu. In. V6 GAS SOHC Naturally Aspirated
Quantity Required: 1
2008
Mitsubishi
Raider
LS Crew Cab Pickup 4-Door 3.7L 226Cu. In. V6 GAS SOHC Naturally Aspirated
Turbine Upgrade; Quantity Required: 1
2008
Mitsubishi
Raider
LS Extended Cab Pickup 4-Door 3.7L 226Cu. In. V6 GAS SOHC Naturally Aspirated
Turbine Upgrade; Quantity Required: 1
2008
Subaru
Forester
2.5 X Wagon 4-Door 2.5L 2458CC H4 GAS SOHC Naturally Aspirated
Strainer required to validate the warranty; SOHC<br>PartType:Electric Fuel Pump<br>Quantity Required:1<br>
2008
Subaru
Forester
2.5 XS Premium Wagon 4-Door 2.5L 2458CC H4 GAS SOHC Naturally Aspirated
Strainer required to validate the warranty; SOHC<br>PartType:Electric Fuel Pump<br>Quantity Required:1<br>
2008
Subaru
Forester
2.5 XS Wagon 4-Door 2.5L 2458CC H4 GAS SOHC Naturally Aspirated
Strainer required to validate the warranty; SOHC<br>PartType:Electric Fuel Pump<br>Quantity Required:1<br>
2008
Subaru
Forester
Anniversary Edition Wagon 4-Door 2.5L 2458CC H4 GAS SOHC Naturally Aspirated
Strainer required to validate the warranty; SOHC<br>PartType:Electric Fuel Pump<br>Quantity Required:1<br>
2008
Subaru
Forester
Sports 2.5 X Wagon 4-Door 2.5L 2458CC H4 GAS SOHC Naturally Aspirated
Strainer required to validate the warranty; SOHC<br>PartType:Electric Fuel Pump<br>Quantity Required:1<br>
2008
Subaru
Forester
X L.L. Bean Edition Wagon 4-Door 2.5L 2458CC H4 GAS SOHC Naturally Aspirated
Strainer required to validate the warranty; SOHC<br>PartType:Electric Fuel Pump<br>Quantity Required:1<br>
2008
Subaru
Forester
X Wagon 4-Door 2.5L 2458CC H4 GAS SOHC Naturally Aspirated
Strainer required to validate the warranty; SOHC<br>PartType:Electric Fuel Pump<br>Quantity Required:1<br>
2008
Toyota
Avalon
Limited Sedan 4-Door 3.5L 3456CC V6 GAS DOHC Naturally Aspirated
Strainer required to validate the warranty; Engine: 2GRFE<br>PartType:Electric Fuel Pump<br>Quantity Required:1<br>
2008
Toyota
Avalon
Touring Sedan 4-Door 3.5L 3456CC V6 GAS DOHC Naturally Aspirated
Strainer required to validate the warranty; Engine: 2GRFE<br>PartType:Electric Fuel Pump<br>Quantity Required:1<br>
2008
Toyota
Avalon
XL Sedan 4-Door 3.5L 3456CC V6 GAS DOHC Naturally Aspirated
Strainer required to validate the warranty; Engine: 2GRFE<br>PartType:Electric Fuel Pump<br>Quantity Required:1<br>
2008
Toyota
Avalon
XLS Sedan 4-Door 3.5L 3456CC V6 GAS DOHC Naturally Aspirated
Strainer required to validate the warranty; Engine: 2GRFE<br>PartType:Electric Fuel Pump<br>Quantity Required:1<br>
2008
Toyota
Camry
LE Sedan 4-Door 3.5L 3456CC V6 GAS DOHC Naturally Aspirated
Strainer required to validate the warranty; Engine: 2GRFE<br>PartType:Electric Fuel Pump<br>Quantity Required:1<br>
2008
Toyota
Camry
SE Sedan 4-Door 3.5L 3456CC V6 GAS DOHC Naturally Aspirated
Strainer required to validate the warranty; Engine: 2GRFE<br>PartType:Electric Fuel Pump<br>Quantity Required:1<br>
2008
Toyota
Camry
XLE Sedan 4-Door 3.5L 3456CC V6 GAS DOHC Naturally Aspirated
Strainer required to validate the warranty; Engine: 2GRFE<br>PartType:Electric Fuel Pump<br>Quantity Required:1<br>
2008
Toyota
Solara
SE Convertible 2-Door 3.3L 3300CC 202Cu. In. V6 GAS DOHC Naturally Aspirated
Strainer required to validate the warranty; Engine: 3MZFE<br>PartType:Electric Fuel Pump<br>Quantity Required:1<br>
2008
Toyota
Solara
SE Coupe 2-Door 3.3L 3300CC 202Cu. In. V6 GAS DOHC Naturally Aspirated
Strainer required to validate the warranty; Engine: 3MZFE<br>PartType:Electric Fuel Pump<br>Quantity Required:1<br>
2008
Toyota
Solara
SLE Convertible 2-Door 3.3L 3300CC 202Cu. In. V6 GAS DOHC Naturally Aspirated
Strainer required to validate the warranty; Engine: 3MZFE<br>PartType:Electric Fuel Pump<br>Quantity Required:1<br>
2008
Toyota
Solara
SLE Coupe 2-Door 3.3L 3300CC 202Cu. In. V6 GAS DOHC Naturally Aspirated
Strainer required to validate the warranty; Engine: 3MZFE<br>PartType:Electric Fuel Pump<br>Quantity Required:1<br>
2008
Toyota
Solara
Sport Convertible 2-Door 3.3L 3300CC 202Cu. In. V6 GAS DOHC Naturally Aspirated
Strainer required to validate the warranty; Engine: 3MZFE<br>PartType:Electric Fuel Pump<br>Quantity Required:1<br>
2008
Toyota
Solara
Sport Coupe 2-Door 3.3L 3300CC 202Cu. In. V6 GAS DOHC Naturally Aspirated
Strainer required to validate the warranty; Engine: 3MZFE<br>PartType:Electric Fuel Pump<br>Quantity Required:1<br>
2007
Hyundai
Accent
GLS Sedan 4-Door 1.6L 1599CC l4 GAS DOHC Naturally Aspirated
Quantity Required: 1
2007
Hyundai
Accent
GS Hatchback 2-Door 1.6L 1599CC l4 GAS DOHC Naturally Aspirated
Quantity Required: 1
2007
Hyundai
Accent
SE Hatchback 2-Door 1.6L 1599CC l4 GAS DOHC Naturally Aspirated
Quantity Required: 1
2007
Hyundai
Azera
GLS Sedan 4-Door 3.3L 3342CC V6 GAS DOHC Naturally Aspirated
Quantity Required: 1
2007
Hyundai
Azera
Limited Sedan 4-Door 3.8L 3778CC 231Cu. In. V6 GAS DOHC Naturally Aspirated
Quantity Required: 1
2007
Hyundai
Azera
SE Sedan 4-Door 3.8L 3778CC 231Cu. In. V6 GAS DOHC Naturally Aspirated
Quantity Required: 1
2007
Hyundai
Elantra
GLS Sedan 4-Door 2.0L 1975CC l4 GAS DOHC Naturally Aspirated
Quantity Required: 1
2007
Hyundai
Elantra
Limited Sedan 4-Door 2.0L 1975CC l4 GAS DOHC Naturally Aspirated
Quantity Required: 1
2007
Hyundai
Elantra
SE Sedan 4-Door 2.0L 1975CC l4 GAS DOHC Naturally Aspirated
Quantity Required: 1
2007
Hyundai
Entourage
GLS Mini Passenger Van 4-Door 3.8L 3778CC 231Cu. In. V6 GAS DOHC Naturally Aspirated
Quantity Required: 1
2007
Hyundai
Entourage
Limited Mini Passenger Van 4-Door 3.8L 3778CC 231Cu. In. V6 GAS DOHC Naturally Aspirated
Quantity Required: 1
2007
Hyundai
Entourage
SE Mini Passenger Van 4-Door 3.8L 3778CC 231Cu. In. V6 GAS DOHC Naturally Aspirated
Quantity Required: 1
2007
Hyundai
Santa Fe
GLS Sport Utility 4-Door 2.7L 2656CC V6 GAS DOHC Naturally Aspirated
Quantity Required: 1
2007
Hyundai
Santa Fe
Limited Sport Utility 4-Door 3.3L 3342CC V6 GAS DOHC Naturally Aspirated
Quantity Required: 1
2007
Hyundai
Santa Fe
SE Sport Utility 4-Door 3.3L 3342CC V6 GAS DOHC Naturally Aspirated
Quantity Required: 1
2007
Hyundai
Sonata
GLS Sedan 4-Door 2.4L 2359CC l4 GAS DOHC Naturally Aspirated
Quantity Required: 1
2007
Hyundai
Sonata
Limited Sedan 4-Door 3.3L 3342CC V6 GAS DOHC Naturally Aspirated
Quantity Required: 1
2007
Hyundai
Sonata
SE Sedan 4-Door 3.3L 3342CC V6 GAS DOHC Naturally Aspirated
Quantity Required: 1
2007
Hyundai
Tiburon
GS Coupe 2-Door 2.0L 1975CC l4 GAS DOHC Naturally Aspirated
Quantity Required: 1
2007
Hyundai
Tiburon
GT Coupe 2-Door 2.7L 2656CC V6 GAS DOHC Naturally Aspirated
Quantity Required: 1
2007
Hyundai
Tiburon
GT Limited Coupe 2-Door 2.7L 2656CC V6 GAS DOHC Naturally Aspirated
Quantity Required: 1
2007
Hyundai
Tiburon
SE Coupe 2-Door 2.7L 2656CC V6 GAS DOHC Naturally Aspirated
Quantity Required: 1
2007
Hyundai
Tucson
GLS Sport Utility 4-Door 2.0L 1975CC l4 GAS DOHC Naturally Aspirated
Quantity Required: 1
2007
Hyundai
Tucson
Limited Sport Utility 4-Door 2.7L 2656CC V6 GAS DOHC Naturally Aspirated
Quantity Required: 1
2007
Hyundai
Tucson
SE Sport Utility 4-Door 2.7L 2656CC V6 GAS DOHC Naturally Aspirated
Quantity Required: 1
2007
Hyundai
Veracruz
GLS Sport Utility 4-Door 3.8L 3778CC 231Cu. In. V6 GAS DOHC Naturally Aspirated
Quantity Required: 1
2007
Hyundai
Veracruz
Limited Sport Utility 4-Door 3.8L 3778CC 231Cu. In. V6 GAS DOHC Naturally Aspirated
Quantity Required: 1
2007
Hyundai
Veracruz
SE Sport Utility 4-Door 3.8L 3778CC 231Cu. In. V6 GAS DOHC Naturally Aspirated
Quantity Required: 1
2007
Lexus
ES350
Base Sedan 4-Door 3.5L 3456CC V6 GAS DOHC Naturally Aspirated
Strainer required to validate the warranty;<br>PartType:Electric Fuel Pump<br>Quantity Required:1<br>
2007
Mitsubishi
Eclipse
GT Coupe 2-Door 3.8L 3828CC 230Cu. In. V6 GAS SOHC Naturally Aspirated
Quantity Required: 1
2007
Mitsubishi
Eclipse
Spyder GS Convertible 2-Door 2.4L 2378CC l4 GAS SOHC Naturally Aspirated
Quantity Required: 1
2007
Mitsubishi
Eclipse
Spyder GT Convertible 2-Door 3.8L 3828CC 230Cu. In. V6 GAS SOHC Naturally Aspirated
Quantity Required: 1
2007
Mitsubishi
Endeavor
LS Sport Utility 4-Door 3.8L 3828CC 230Cu. In. V6 GAS SOHC Naturally Aspirated
Quantity Required: 1
2007
Mitsubishi
Endeavor
SE Sport Utility 4-Door 3.8L 3828CC 230Cu. In. V6 GAS SOHC Naturally Aspirated
Quantity Required: 1
2007
Mitsubishi
Galant
DE Sedan 4-Door 2.4L 2378CC l4 GAS SOHC Naturally Aspirated
Quantity Required: 1
2007
Mitsubishi
Galant
ES Sedan 4-Door 2.4L 2378CC l4 GAS SOHC Naturally Aspirated
Quantity Required: 1
2007
Mitsubishi
Galant
GTS Sedan 4-Door 3.8L 3828CC 230Cu. In. V6 GAS SOHC Naturally Aspirated
Quantity Required: 1
2007
Mitsubishi
Galant
Ralliart Sedan 4-Door 3.8L 3828CC 230Cu. In. V6 GAS SOHC Naturally Aspirated
Quantity Required: 1
2007
Mitsubishi
Galant
SE Sedan 4-Door 2.4L 2378CC l4 GAS SOHC Naturally Aspirated
Quantity Required: 1
2007
Mitsubishi
Lancer
ES Sedan 4-Door 2.0L 1999CC 122Cu. In. l4 GAS SOHC Naturally Aspirated
Quantity Required: 1
2007
Mitsubishi
Outlander
ES Sport Utility 4-Door 3.0L 2998CC 182Cu. In. V6 GAS SOHC Naturally Aspirated
Quantity Required: 1
2007
Mitsubishi
Outlander
LS Sport Utility 4-Door 3.0L 2998CC 182Cu. In. V6 GAS SOHC Naturally Aspirated
Quantity Required: 1
2007
Mitsubishi
Outlander
XLS Sport Utility 4-Door 3.0L 2998CC 182Cu. In. V6 GAS SOHC Naturally Aspirated
Quantity Required: 1
2007
Mitsubishi
Raider
DuroCross Crew Cab Pickup 4-Door 3.7L 226Cu. In. V6 GAS SOHC Naturally Aspirated
Turbine Upgrade; Quantity Required: 1
2007
Mitsubishi
Raider
LS Crew Cab Pickup 4-Door 3.7L 226Cu. In. V6 GAS SOHC Naturally Aspirated
Turbine Upgrade; Quantity Required: 1
2007
Mitsubishi
Raider
LS Crew Cab Pickup 4-Door 4.7L 285Cu. In. V8 GAS SOHC Naturally Aspirated
Turbine Upgrade; Quantity Required: 1
2007
Mitsubishi
Raider
LS Extended Cab Pickup 4-Door 3.7L 226Cu. In. V6 GAS SOHC Naturally Aspirated
Turbine Upgrade; Quantity Required: 1
2007
Mitsubishi
Raider
LS Extended Cab Pickup 4-Door 4.7L 285Cu. In. V8 GAS SOHC Naturally Aspirated
Turbine Upgrade; Quantity Required: 1
2007
Mitsubishi
Raider
SE Crew Cab Pickup 4-Door 4.7L 285Cu. In. V8 GAS SOHC Naturally Aspirated
Turbine Upgrade; Quantity Required: 1
2007
Subaru
Forester
X L.L. Bean Edition Wagon 4-Door 2.5L 2458CC H4 GAS SOHC Naturally Aspirated
Strainer required to validate the warranty; SOHC<br>PartType:Electric Fuel Pump<br>Quantity Required:1<br>
2007
Subaru
Forester
X Wagon 4-Door 2.5L 2458CC H4 GAS SOHC Naturally Aspirated
Strainer required to validate the warranty; SOHC<br>PartType:Electric Fuel Pump<br>Quantity Required:1<br>
2007
Subaru
Impreza
2.5i Sedan 4-Door 2.5L 2458CC H4 GAS SOHC Naturally Aspirated
Strainer required to validate the warranty; SOHC, Natural<br>PartType:Electric Fuel Pump<br>Quantity Required:1<br>
2007
Subaru
Impreza
2.5i Wagon 4-Door 2.5L 2458CC H4 GAS SOHC Naturally Aspirated
Strainer required to validate the warranty; SOHC, Natural<br>PartType:Electric Fuel Pump<br>Quantity Required:1<br>
2007
Subaru
Impreza
Outback Sport Wagon 4-Door 2.5L 2458CC H4 GAS SOHC Naturally Aspirated
Strainer required to validate the warranty; SOHC, Natural<br>PartType:Electric Fuel Pump<br>Quantity Required:1<br>
2007
Suzuki
Aerio
Premium Sedan 4-Door 2.3L 2290CC 140Cu. In. l4 GAS DOHC Naturally Aspirated
Strainer required to validate the warranty;<br>PartType:Electric Fuel Pump<br>Quantity Required:1<br>
2007
Toyota
Avalon
Limited Sedan 4-Door 3.5L 3456CC V6 GAS DOHC Naturally Aspirated
Strainer required to validate the warranty; Engine: 2GRFE<br>PartType:Electric Fuel Pump<br>Quantity Required:1<br>
2007
Toyota
Avalon
Touring Sedan 4-Door 3.5L 3456CC V6 GAS DOHC Naturally Aspirated
Strainer required to validate the warranty; Engine: 2GRFE<br>PartType:Electric Fuel Pump<br>Quantity Required:1<br>
2007
Toyota
Avalon
XL Sedan 4-Door 3.5L 3456CC V6 GAS DOHC Naturally Aspirated
Strainer required to validate the warranty; Engine: 2GRFE<br>PartType:Electric Fuel Pump<br>Quantity Required:1<br>
2007
Toyota
Avalon
XLS Sedan 4-Door 3.5L 3456CC V6 GAS DOHC Naturally Aspirated
Strainer required to validate the warranty; Engine: 2GRFE<br>PartType:Electric Fuel Pump<br>Quantity Required:1<br>
2007
Toyota
Camry
LE Sedan 4-Door 3.5L 3456CC V6 GAS DOHC Naturally Aspirated
Strainer required to validate the warranty; Engine: 2GRFE<br>PartType:Electric Fuel Pump<br>Quantity Required:1<br>
2007
Toyota
Camry
SE Sedan 4-Door 3.5L 3456CC V6 GAS DOHC Naturally Aspirated
Strainer required to validate the warranty; Engine: 2GRFE<br>PartType:Electric Fuel Pump<br>Quantity Required:1<br>
2007
Toyota
Camry
XLE Sedan 4-Door 3.5L 3456CC V6 GAS DOHC Naturally Aspirated
Strainer required to validate the warranty; Engine: 2GRFE<br>PartType:Electric Fuel Pump<br>Quantity Required:1<br>
2007
Toyota
Solara
SE Convertible 2-Door 3.3L 3300CC 202Cu. In. V6 GAS DOHC Naturally Aspirated
Strainer required to validate the warranty; Engine: 3MZFE<br>PartType:Electric Fuel Pump<br>Quantity Required:1<br>
2007
Toyota
Solara
SE Coupe 2-Door 3.3L 3300CC 202Cu. In. V6 GAS DOHC Naturally Aspirated
Strainer required to validate the warranty; Engine: 3MZFE<br>PartType:Electric Fuel Pump<br>Quantity Required:1<br>
2007
Toyota
Solara
SLE Convertible 2-Door 3.3L 3300CC 202Cu. In. V6 GAS DOHC Naturally Aspirated
Strainer required to validate the warranty; Engine: 3MZFE<br>PartType:Electric Fuel Pump<br>Quantity Required:1<br>
2007
Toyota
Solara
SLE Coupe 2-Door 3.3L 3300CC 202Cu. In. V6 GAS DOHC Naturally Aspirated
Strainer required to validate the warranty; Engine: 3MZFE<br>PartType:Electric Fuel Pump<br>Quantity Required:1<br>
2007
Toyota
Solara
Sport Convertible 2-Door 3.3L 3300CC 202Cu. In. V6 GAS DOHC Naturally Aspirated
Strainer required to validate the warranty; Engine: 3MZFE<br>PartType:Electric Fuel Pump<br>Quantity Required:1<br>
2007
Toyota
Solara
Sport Coupe 2-Door 3.3L 3300CC 202Cu. In. V6 GAS DOHC Naturally Aspirated
Strainer required to validate the warranty; Engine: 3MZFE<br>PartType:Electric Fuel Pump<br>Quantity Required:1<br>
2006
Honda
CR-V
EX Sport Utility 4-Door 2.4L 2354CC l4 GAS DOHC Naturally Aspirated
Strainer required to validate the warranty;<br>PartType:Electric Fuel Pump<br>Quantity Required:1<br>
2006
Honda
CR-V
LX Sport Utility 4-Door 2.4L 2354CC l4 GAS DOHC Naturally Aspirated
Strainer required to validate the warranty;<br>PartType:Electric Fuel Pump<br>Quantity Required:1<br>
2006
Honda
CR-V
SE Sport Utility 4-Door 2.4L 2354CC l4 GAS DOHC Naturally Aspirated
Strainer required to validate the warranty;<br>PartType:Electric Fuel Pump<br>Quantity Required:1<br>
2006
Hyundai
Accent
GLS Sedan 4-Door 1.6L 1599CC l4 GAS DOHC Naturally Aspirated
Quantity Required: 1
2006
Hyundai
Azera
Limited Sedan 4-Door 3.8L 3778CC 231Cu. In. V6 GAS DOHC Naturally Aspirated
Quantity Required: 1
2006
Hyundai
Azera
SE Sedan 4-Door 3.8L 3778CC 231Cu. In. V6 GAS DOHC Naturally Aspirated
Quantity Required: 1
2006
Hyundai
Elantra
GLS Sedan 4-Door 2.0L 1975CC l4 GAS DOHC Naturally Aspirated
Quantity Required: 1
2006
Hyundai
Elantra
Limited Sedan 4-Door 2.0L 1975CC l4 GAS DOHC Naturally Aspirated
Quantity Required: 1
2006
Hyundai
Santa Fe
GL Sport Utility 4-Door 2.4L 2351CC l4 GAS DOHC Naturally Aspirated
Quantity Required: 1
2006
Hyundai
Santa Fe
GLS Sport Utility 4-Door 2.7L 2656CC V6 GAS DOHC Naturally Aspirated
Quantity Required: 1
2006
Hyundai
Santa Fe
GLS Sport Utility 4-Door 3.5L 3467CC V6 GAS DOHC Naturally Aspirated
Quantity Required: 1
2006
Hyundai
Santa Fe
Limited Sport Utility 4-Door 3.5L 3467CC V6 GAS DOHC Naturally Aspirated
Quantity Required: 1
2006
Hyundai
Sonata
GL Sedan 4-Door 2.4L 2359CC l4 GAS DOHC Naturally Aspirated
Quantity Required: 1
2006
Hyundai
Sonata
GLS Sedan 4-Door 2.4L 2359CC l4 GAS DOHC Naturally Aspirated
Quantity Required: 1
2006
Hyundai
Sonata
GLS Sedan 4-Door 3.3L 3342CC V6 GAS DOHC Naturally Aspirated
Quantity Required: 1
2006
Hyundai
Sonata
LX Sedan 4-Door 3.3L 3342CC V6 GAS DOHC Naturally Aspirated
Quantity Required: 1
2006
Hyundai
Tiburon
GS Coupe 2-Door 2.0L 1975CC l4 GAS DOHC Naturally Aspirated
Quantity Required: 1
2006
Hyundai
Tiburon
GT Coupe 2-Door 2.7L 2656CC V6 GAS DOHC Naturally Aspirated
Quantity Required: 1
2006
Hyundai
Tiburon
SE Coupe 2-Door 2.7L 2656CC V6 GAS DOHC Naturally Aspirated
Quantity Required: 1
2006
Hyundai
Tucson
GL Sport Utility 4-Door 2.0L 1975CC l4 GAS DOHC Naturally Aspirated
Quantity Required: 1
2006
Hyundai
Tucson
GLS Sport Utility 4-Door 2.7L 2656CC V6 GAS DOHC Naturally Aspirated
Quantity Required: 1
2006
Hyundai
Tucson
Limited Sport Utility 4-Door 2.7L 2656CC V6 GAS DOHC Naturally Aspirated
Quantity Required: 1
2006
Kia
Amanti
Base Sedan 4-Door 3.5L 3497CC V6 GAS DOHC Naturally Aspirated
Strainer required to validate the warranty;<br>PartType:Electric Fuel Pump<br>Quantity Required:1<br>
2006
Kia
Optima
EX Sedan 4-Door 2.7L 2656CC V6 GAS DOHC Naturally Aspirated
Strainer required to validate the warranty; VIN: 8<br>PartType:Electric Fuel Pump<br>Quantity Required:1<br>
2006
Kia
Optima
LX Sedan 4-Door 2.7L 2656CC V6 GAS DOHC Naturally Aspirated
Strainer required to validate the warranty; VIN: 8<br>PartType:Electric Fuel Pump<br>Quantity Required:1<br>
2006
Lexus
ES330
Base Sedan 4-Door 3.3L 3300CC 202Cu. In. V6 GAS DOHC Naturally Aspirated
Strainer required to validate the warranty;<br>PartType:Electric Fuel Pump<br>Quantity Required:1<br>
2006
Mitsubishi
Eclipse
GS Hatchback 2-Door 2.4L 2378CC l4 GAS SOHC Naturally Aspirated
Quantity Required: 1
2006
Mitsubishi
Eclipse
GT Hatchback 2-Door 3.8L 3828CC 230Cu. In. V6 GAS SOHC Naturally Aspirated
Quantity Required: 1
2006
Mitsubishi
Endeavor
Limited Sport Utility 4-Door 3.8L 3828CC 230Cu. In. V6 GAS SOHC Naturally Aspirated
Quantity Required: 1
2006
Mitsubishi
Endeavor
LS Sport Utility 4-Door 3.8L 3828CC 230Cu. In. V6 GAS SOHC Naturally Aspirated
Quantity Required: 1
2006
Mitsubishi
Galant
DE Sedan 4-Door 2.4L 2378CC l4 GAS SOHC Naturally Aspirated
Quantity Required: 1
2006
Mitsubishi
Galant
ES Sedan 4-Door 2.4L 2378CC l4 GAS SOHC Naturally Aspirated
Quantity Required: 1
2006
Mitsubishi
Galant
GTS Sedan 4-Door 3.8L 3828CC 230Cu. In. V6 GAS SOHC Naturally Aspirated
Quantity Required: 1
2006
Mitsubishi
Galant
LS Sedan 4-Door 3.8L 3828CC 230Cu. In. V6 GAS SOHC Naturally Aspirated
Quantity Required: 1
2006
Mitsubishi
Galant
SE Sedan 4-Door 2.4L 2378CC l4 GAS SOHC Naturally Aspirated
Quantity Required: 1
2006
Mitsubishi
Lancer
ES Sedan 4-Door 2.0L 1999CC 122Cu. In. l4 GAS SOHC Naturally Aspirated
Quantity Required: 1
2006
Mitsubishi
Lancer
Evolution MR Sedan 4-Door 2.0L 1997CC 122Cu. In. l4 GAS DOHC Turbocharged
Quantity Required: 1
2006
Mitsubishi
Lancer
Evolution RS Sedan 4-Door 2.0L 1997CC 122Cu. In. l4 GAS DOHC Turbocharged
Quantity Required: 1
2006
Mitsubishi
Lancer
Evolution SE Sedan 4-Door 2.0L 1997CC 122Cu. In. l4 GAS DOHC Turbocharged
Quantity Required: 1
2006
Mitsubishi
Lancer
Evolution Sedan 4-Door 2.0L 1997CC 122Cu. In. l4 GAS DOHC Turbocharged
Quantity Required: 1
2006
Mitsubishi
Lancer
OZ Rally Sedan 4-Door 2.0L 1999CC 122Cu. In. l4 GAS SOHC Naturally Aspirated
Quantity Required: 1
2006
Mitsubishi
Lancer
Ralliart Sedan 4-Door 2.4L 2378CC l4 GAS SOHC Naturally Aspirated
Quantity Required: 1
2006
Mitsubishi
Lancer
SE Sedan 4-Door 2.0L 1999CC 122Cu. In. l4 GAS SOHC Naturally Aspirated
Quantity Required: 1
2006
Mitsubishi
Montero
Limited Sport Utility 4-Door 3.8L 3828CC 230Cu. In. V6 GAS SOHC Naturally Aspirated
Quantity Required: 1
2006
Mitsubishi
Outlander
Limited Sport Utility 4-Door 2.4L 2378CC l4 GAS SOHC Naturally Aspirated
Quantity Required: 1
2006
Mitsubishi
Outlander
LS Sport Utility 4-Door 2.4L 2378CC l4 GAS SOHC Naturally Aspirated
Quantity Required: 1
2006
Mitsubishi
Outlander
SE Sport Utility 4-Door 2.4L 2378CC l4 GAS SOHC Naturally Aspirated
Quantity Required: 1
2006
Mitsubishi
Raider
DuroCross Crew Cab Pickup 4-Door 3.7L 226Cu. In. V6 GAS SOHC Naturally Aspirated
Turbine Upgrade; Quantity Required: 1
2006
Mitsubishi
Raider
DuroCross Crew Cab Pickup 4-Door 4.7L 285Cu. In. V8 GAS SOHC Naturally Aspirated
Turbine Upgrade; Quantity Required: 1
2006
Mitsubishi
Raider
DuroCross Extended Cab Pickup 4-Door 3.7L 226Cu. In. V6 GAS SOHC Naturally Aspirated
Turbine Upgrade; Quantity Required: 1
2006
Mitsubishi
Raider
DuroCross Extended Cab Pickup 4-Door 4.7L 285Cu. In. V8 GAS SOHC Naturally Aspirated
Turbine Upgrade; Quantity Required: 1
2006
Mitsubishi
Raider
LS Crew Cab Pickup 4-Door 3.7L 226Cu. In. V6 GAS SOHC Naturally Aspirated
Turbine Upgrade; Quantity Required: 1
2006
Mitsubishi
Raider
LS Extended Cab Pickup 4-Door 3.7L 226Cu. In. V6 GAS SOHC Naturally Aspirated
Turbine Upgrade; Quantity Required: 1
2006
Mitsubishi
Raider
XLS Crew Cab Pickup 4-Door 4.7L 285Cu. In. V8 GAS SOHC Naturally Aspirated
Turbine Upgrade; Quantity Required: 1
2006
Pontiac
Vibe
Base Wagon 4-Door 1.8L 1794CC l4 GAS DOHC Naturally Aspirated
Strainer required to validate the warranty; AWD<br>PartType:Electric Fuel Pump<br>Quantity Required:1<br>
2006
Subaru
Forester
X L.L. Bean Edition Wagon 4-Door 2.5L 2458CC H4 GAS SOHC Naturally Aspirated
Strainer required to validate the warranty; SOHC<br>PartType:Electric Fuel Pump<br>Quantity Required:1<br>
2006
Subaru
Forester
X Wagon 4-Door 2.5L 2458CC H4 GAS SOHC Naturally Aspirated
Strainer required to validate the warranty; SOHC<br>PartType:Electric Fuel Pump<br>Quantity Required:1<br>
2006
Subaru
Impreza
2.5i Sedan 4-Door 2.5L 2458CC H4 GAS SOHC Naturally Aspirated
Strainer required to validate the warranty; SOHC, Natural<br>PartType:Electric Fuel Pump<br>Quantity Required:1<br>
2006
Subaru
Impreza
2.5i Wagon 4-Door 2.5L 2458CC H4 GAS SOHC Naturally Aspirated
Strainer required to validate the warranty; SOHC, Natural<br>PartType:Electric Fuel Pump<br>Quantity Required:1<br>
2006
Subaru
Impreza
Outback Sport Wagon 4-Door 2.5L 2458CC H4 GAS SOHC Naturally Aspirated
Strainer required to validate the warranty; SOHC, Natural<br>PartType:Electric Fuel Pump<br>Quantity Required:1<br>
2006
Suzuki
Aerio
Base Sedan 4-Door 2.3L 2290CC 140Cu. In. l4 GAS DOHC Naturally Aspirated
Strainer required to validate the warranty;<br>PartType:Electric Fuel Pump<br>Quantity Required:1<br>
2006
Suzuki
Aerio
Premium Sedan 4-Door 2.3L 2290CC 140Cu. In. l4 GAS DOHC Naturally Aspirated
Strainer required to validate the warranty;<br>PartType:Electric Fuel Pump<br>Quantity Required:1<br>
2006
Suzuki
Aerio
SX Premium Wagon 5-Door 2.3L 2290CC 140Cu. In. l4 GAS DOHC Naturally Aspirated
Strainer required to validate the warranty;<br>PartType:Electric Fuel Pump<br>Quantity Required:1<br>
2006
Suzuki
Aerio
SX Wagon 5-Door 2.3L 2290CC 140Cu. In. l4 GAS DOHC Naturally Aspirated
Strainer required to validate the warranty;<br>PartType:Electric Fuel Pump<br>Quantity Required:1<br>
2006
Toyota
Avalon
Limited Sedan 4-Door 3.5L 3456CC V6 GAS DOHC Naturally Aspirated
Strainer required to validate the warranty; Engine: 2GRFE<br>PartType:Electric Fuel Pump<br>Quantity Required:1<br>
2006
Toyota
Avalon
Touring Sedan 4-Door 3.5L 3456CC V6 GAS DOHC Naturally Aspirated
Strainer required to validate the warranty; Engine: 2GRFE<br>PartType:Electric Fuel Pump<br>Quantity Required:1<br>
2006
Toyota
Avalon
XL Sedan 4-Door 3.5L 3456CC V6 GAS DOHC Naturally Aspirated
Strainer required to validate the warranty; Engine: 2GRFE<br>PartType:Electric Fuel Pump<br>Quantity Required:1<br>
2006
Toyota
Avalon
XLS Sedan 4-Door 3.5L 3456CC V6 GAS DOHC Naturally Aspirated
Strainer required to validate the warranty; Engine: 2GRFE<br>PartType:Electric Fuel Pump<br>Quantity Required:1<br>
2006
Toyota
Camry
LE Sedan 4-Door 3.0L 2995CC V6 GAS DOHC Naturally Aspirated
Strainer required to validate the warranty; Engine: 1MZFE<br>PartType:Electric Fuel Pump<br>Quantity Required:1<br>
2006
Toyota
Camry
SE Sedan 4-Door 3.3L 3300CC 202Cu. In. V6 GAS DOHC Naturally Aspirated
Strainer required to validate the warranty; Engine: 3MZFE<br>PartType:Electric Fuel Pump<br>Quantity Required:1<br>
2006
Toyota
Camry
XLE Sedan 4-Door 3.0L 2995CC V6 GAS DOHC Naturally Aspirated
Strainer required to validate the warranty; Engine: 1MZFE<br>PartType:Electric Fuel Pump<br>Quantity Required:1<br>
2006
Toyota
Solara
SE Convertible 2-Door 3.3L 3300CC 202Cu. In. V6 GAS DOHC Naturally Aspirated
Strainer required to validate the warranty; Engine: 3MZFE<br>PartType:Electric Fuel Pump<br>Quantity Required:1<br>
2006
Toyota
Solara
SE Coupe 2-Door 3.3L 3300CC 202Cu. In. V6 GAS DOHC Naturally Aspirated
Strainer required to validate the warranty; Engine: 3MZFE<br>PartType:Electric Fuel Pump<br>Quantity Required:1<br>
2006
Toyota
Solara
SE Sport Coupe 2-Door 3.3L 3300CC 202Cu. In. V6 GAS DOHC Naturally Aspirated
Strainer required to validate the warranty; Engine: 3MZFE<br>PartType:Electric Fuel Pump<br>Quantity Required:1<br>
2006
Toyota
Solara
SLE Convertible 2-Door 3.3L 3300CC 202Cu. In. V6 GAS DOHC Naturally Aspirated
Strainer required to validate the warranty; Engine: 3MZFE<br>PartType:Electric Fuel Pump<br>Quantity Required:1<br>
2006
Toyota
Solara
SLE Coupe 2-Door 3.3L 3300CC 202Cu. In. V6 GAS DOHC Naturally Aspirated
Strainer required to validate the warranty; Engine: 3MZFE<br>PartType:Electric Fuel Pump<br>Quantity Required:1<br>
2005
Honda
CR-V
EX Sport Utility 4-Door 2.4L 2354CC l4 GAS DOHC Naturally Aspirated
Strainer required to validate the warranty;<br>PartType:Electric Fuel Pump<br>Quantity Required:1<br>
2005
Honda
CR-V
LX Sport Utility 4-Door 2.4L 2354CC l4 GAS DOHC Naturally Aspirated
Strainer required to validate the warranty;<br>PartType:Electric Fuel Pump<br>Quantity Required:1<br>
2005
Honda
CR-V
SE Sport Utility 4-Door 2.4L 2354CC l4 GAS DOHC Naturally Aspirated
Strainer required to validate the warranty;<br>PartType:Electric Fuel Pump<br>Quantity Required:1<br>
2005
Honda
S2000
Base Convertible 2-Door 2.2L 2157CC l4 GAS DOHC Naturally Aspirated
Strainer required to validate the warranty;<br>PartType:Electric Fuel Pump<br>Quantity Required:1<br>
2005
Hyundai
Accent
GLS Sedan 4-Door 1.6L 1600CC l4 GAS DOHC Naturally Aspirated
Quantity Required: 1
2005
Hyundai
Elantra
GLS Sedan 4-Door 2.0L 1975CC l4 GAS DOHC Naturally Aspirated
Quantity Required: 1
2005
Hyundai
Elantra
GT Sedan 4-Door 2.0L 1975CC l4 GAS DOHC Naturally Aspirated
Quantity Required: 1
2005
Hyundai
Santa Fe
Base Sport Utility 4-Door 2.7L 2656CC V6 GAS DOHC Naturally Aspirated
Quantity Required: 1
2005
Hyundai
Santa Fe
GL Sport Utility 4-Door 2.4L 2351CC l4 GAS DOHC Naturally Aspirated
Quantity Required: 1
2005
Hyundai
Santa Fe
GLS Sport Utility 4-Door 2.7L 2656CC V6 GAS DOHC Naturally Aspirated
Quantity Required: 1
2005
Hyundai
Santa Fe
GLS Sport Utility 4-Door 3.5L 3500CC V6 GAS DOHC Naturally Aspirated
Quantity Required: 1
2005
Hyundai
Santa Fe
LX Sport Utility 4-Door 3.5L 3500CC V6 GAS DOHC Naturally Aspirated
Quantity Required: 1
2005
Hyundai
Sonata
GL Sedan 4-Door 2.4L 2351CC l4 GAS DOHC Naturally Aspirated
Quantity Required: 1
2005
Hyundai
Sonata
GL Sedan 4-Door 2.7L 2656CC V6 GAS DOHC Naturally Aspirated
Quantity Required: 1
2005
Hyundai
Sonata
GLS Sedan 4-Door 2.7L 2656CC V6 GAS DOHC Naturally Aspirated
Quantity Required: 1
2005
Hyundai
Sonata
LX Sedan 4-Door 2.7L 2656CC V6 GAS DOHC Naturally Aspirated
Quantity Required: 1
2005
Hyundai
Tiburon
GS Coupe 2-Door 2.0L 1975CC l4 GAS DOHC Naturally Aspirated
Quantity Required: 1
2005
Hyundai
Tiburon
GT Coupe 2-Door 2.7L 2656CC V6 GAS DOHC Naturally Aspirated
Quantity Required: 1
2005
Hyundai
Tiburon
SE Coupe 2-Door 2.7L 2656CC V6 GAS DOHC Naturally Aspirated
Quantity Required: 1
2005
Hyundai
Tucson
GL Sport Utility 4-Door 2.0L 1975CC l4 GAS DOHC Naturally Aspirated
Quantity Required: 1
2005
Hyundai
Tucson
GLS Sport Utility 4-Door 2.7L 2656CC V6 GAS DOHC Naturally Aspirated
Quantity Required: 1
2005
Hyundai
Tucson
LX Sport Utility 4-Door 2.7L 2656CC V6 GAS DOHC Naturally Aspirated
Quantity Required: 1
2005
Hyundai
XG350
Base Sedan 4-Door 3.5L 3500CC V6 GAS DOHC Naturally Aspirated
Quantity Required: 1
2005
Hyundai
XG350
L Sedan 4-Door 3.5L 3500CC V6 GAS DOHC Naturally Aspirated
Quantity Required: 1
2005
Kia
Amanti
Base Sedan 4-Door 3.5L 3497CC V6 GAS DOHC Naturally Aspirated
Strainer required to validate the warranty;<br>PartType:Electric Fuel Pump<br>Quantity Required:1<br>
2005
Kia
Optima
EX Sedan 4-Door 2.4L 2351CC l4 GAS DOHC Naturally Aspirated
Strainer required to validate the warranty;<br>PartType:Electric Fuel Pump<br>Quantity Required:1<br>
2005
Kia
Optima
EX Sedan 4-Door 2.7L 2656CC V6 GAS DOHC Naturally Aspirated
Strainer required to validate the warranty;<br>PartType:Electric Fuel Pump<br>Quantity Required:1<br>
2005
Kia
Optima
LX Sedan 4-Door 2.4L 2351CC l4 GAS DOHC Naturally Aspirated
Strainer required to validate the warranty;<br>PartType:Electric Fuel Pump<br>Quantity Required:1<br>
2005
Kia
Optima
LX Sedan 4-Door 2.7L 2656CC V6 GAS DOHC Naturally Aspirated
Strainer required to validate the warranty;<br>PartType:Electric Fuel Pump<br>Quantity Required:1<br>
2005
Lexus
ES330
Base Sedan 4-Door 3.3L 3300CC 202Cu. In. V6 GAS DOHC Naturally Aspirated
Strainer required to validate the warranty;<br>PartType:Electric Fuel Pump<br>Quantity Required:1<br>
2005
Mitsubishi
Eclipse
GT Coupe 2-Door 3.0L 2972CC 181Cu. In. V6 GAS SOHC Naturally Aspirated
Quantity Required: 1
2005
Mitsubishi
Eclipse
Spyder GS Convertible 2-Door 2.4L 2351CC l4 GAS SOHC Naturally Aspirated
Quantity Required: 1
2005
Mitsubishi
Eclipse
Spyder GT Convertible 2-Door 3.0L 2972CC 181Cu. In. V6 GAS SOHC Naturally Aspirated
Quantity Required: 1
2005
Mitsubishi
Eclipse
Spyder GTS Convertible 2-Door 3.0L 2972CC 181Cu. In. V6 GAS SOHC Naturally Aspirated
Quantity Required: 1
2005
Mitsubishi
Endeavor
Limited Sport Utility 4-Door 3.8L 3828CC 230Cu. In. V6 GAS SOHC Naturally Aspirated
Quantity Required: 1
2005
Mitsubishi
Endeavor
LS Sport Utility 4-Door 3.8L 3828CC 230Cu. In. V6 GAS SOHC Naturally Aspirated
Quantity Required: 1
2005
Mitsubishi
Endeavor
XLS Sport Utility 4-Door 3.8L 3828CC 230Cu. In. V6 GAS SOHC Naturally Aspirated
Quantity Required: 1
2005
Mitsubishi
Galant
DE Sedan 4-Door 2.4L 2378CC l4 GAS SOHC Naturally Aspirated
Quantity Required: 1
2005
Mitsubishi
Galant
ES Sedan 4-Door 2.4L 2378CC l4 GAS SOHC Naturally Aspirated
Quantity Required: 1
2005
Mitsubishi
Galant
GTS Sedan 4-Door 3.8L 3828CC 230Cu. In. V6 GAS SOHC Naturally Aspirated
Quantity Required: 1
2005
Mitsubishi
Galant
LS Sedan 4-Door 3.8L 3828CC 230Cu. In. V6 GAS SOHC Naturally Aspirated
Quantity Required: 1
2005
Mitsubishi
Galant
SE Sedan 4-Door 2.4L 2378CC l4 GAS SOHC Naturally Aspirated
Quantity Required: 1
2005
Mitsubishi
Lancer
ES Sedan 4-Door 2.0L 1999CC 122Cu. In. l4 GAS SOHC Naturally Aspirated
Quantity Required: 1
2005
Mitsubishi
Lancer
Evolution MR Sedan 4-Door 2.0L 1997CC 122Cu. In. l4 GAS DOHC Turbocharged
Quantity Required: 1
2005
Mitsubishi
Lancer
Evolution RS Sedan 4-Door 2.0L 1997CC 122Cu. In. l4 GAS DOHC Turbocharged
Quantity Required: 1
2005
Mitsubishi
Lancer
Evolution Sedan 4-Door 2.0L 1997CC 122Cu. In. l4 GAS DOHC Turbocharged
Quantity Required: 1
2005
Mitsubishi
Lancer
OZ Rally Sedan 4-Door 2.0L 1999CC 122Cu. In. l4 GAS SOHC Naturally Aspirated
Quantity Required: 1
2005
Mitsubishi
Lancer
Ralliart Sedan 4-Door 2.4L 2378CC l4 GAS SOHC Naturally Aspirated
Quantity Required: 1
2005
Mitsubishi
Montero
Limited Sport Utility 4-Door 3.8L 3797CC 230Cu. In. V6 GAS SOHC Naturally Aspirated
Quantity Required: 1
2005
Mitsubishi
Outlander
Limited Sport Utility 4-Door 2.4L 2378CC l4 GAS SOHC Naturally Aspirated
Quantity Required: 1
2005
Mitsubishi
Outlander
LS Sport Utility 4-Door 2.4L 2378CC l4 GAS SOHC Naturally Aspirated
Quantity Required: 1
2005
Mitsubishi
Outlander
XLS Sport Utility 4-Door 2.4L 2378CC l4 GAS SOHC Naturally Aspirated
Quantity Required: 1
2005
Pontiac
Vibe
Base Wagon 4-Door 1.8L 1794CC l4 GAS DOHC Naturally Aspirated
Strainer required to validate the warranty; AWD<br>PartType:Electric Fuel Pump<br>Quantity Required:1<br>
2005
Subaru
Forester
X Wagon 4-Door 2.5L 2458CC H4 GAS SOHC Naturally Aspirated
Strainer required to validate the warranty; SOHC<br>PartType:Electric Fuel Pump<br>Quantity Required:1<br>
2005
Subaru
Impreza
Outback Sport Wagon 4-Door 2.5L 2458CC H4 GAS SOHC Naturally Aspirated
Strainer required to validate the warranty; SOHC, Natural<br>PartType:Electric Fuel Pump<br>Quantity Required:1<br>
2005
Toyota
Avalon
Limited Sedan 4-Door 3.5L 3456CC V6 GAS DOHC Naturally Aspirated
Strainer required to validate the warranty; Engine: 2GRFE<br>PartType:Electric Fuel Pump<br>Quantity Required:1<br>
2005
Toyota
Avalon
Touring Sedan 4-Door 3.5L 3456CC V6 GAS DOHC Naturally Aspirated
Strainer required to validate the warranty; Engine: 2GRFE<br>PartType:Electric Fuel Pump<br>Quantity Required:1<br>
2005
Toyota
Avalon
XL Sedan 4-Door 3.5L 3456CC V6 GAS DOHC Naturally Aspirated
Strainer required to validate the warranty; Engine: 2GRFE<br>PartType:Electric Fuel Pump<br>Quantity Required:1<br>
2005
Toyota
Avalon
XLS Sedan 4-Door 3.5L 3456CC V6 GAS DOHC Naturally Aspirated
Strainer required to validate the warranty; Engine: 2GRFE<br>PartType:Electric Fuel Pump<br>Quantity Required:1<br>
2005
Toyota
Camry
LE Sedan 4-Door 3.0L 2995CC V6 GAS DOHC Naturally Aspirated
Strainer required to validate the warranty; Engine: 1MZFE<br>PartType:Electric Fuel Pump<br>Quantity Required:1<br>
2005
Toyota
Camry
SE Sedan 4-Door 3.3L 3300CC 202Cu. In. V6 GAS DOHC Naturally Aspirated
Strainer required to validate the warranty; Engine: 3MZFE<br>PartType:Electric Fuel Pump<br>Quantity Required:1<br>
2005
Toyota
Camry
XLE Sedan 4-Door 3.0L 2995CC V6 GAS DOHC Naturally Aspirated
Strainer required to validate the warranty; Engine: 1MZFE<br>PartType:Electric Fuel Pump<br>Quantity Required:1<br>
2005
Toyota
Celica
GT Hatchback 2-Door 1.8L 1794CC l4 GAS DOHC Naturally Aspirated
Strainer required to validate the warranty; Engine: 1ZZFE<br>PartType:Electric Fuel Pump<br>Quantity Required:1<br>
2005
Toyota
Celica
GTS Hatchback 2-Door 1.8L 1795CC l4 GAS DOHC Naturally Aspirated
Strainer required to validate the warranty; Engine: 2ZZGE<br>PartType:Electric Fuel Pump<br>Quantity Required:1<br>
2005
Toyota
Echo
Base Sedan 2-Door 1.5L 1497CC l4 GAS DOHC Naturally Aspirated
Strainer required to validate the warranty; Engine: 1NZFE<br>PartType:Electric Fuel Pump<br>Quantity Required:1<br>
2005
Toyota
Echo
Base Sedan 4-Door 1.5L 1497CC l4 GAS DOHC Naturally Aspirated
Strainer required to validate the warranty; Engine: 1NZFE<br>PartType:Electric Fuel Pump<br>Quantity Required:1<br>
2005
Toyota
Solara
SE Convertible 2-Door 3.3L 3300CC 202Cu. In. V6 GAS DOHC Naturally Aspirated
Strainer required to validate the warranty; Engine: 3MZFE<br>PartType:Electric Fuel Pump<br>Quantity Required:1<br>
2005
Toyota
Solara
SE Coupe 2-Door 3.3L 3300CC 202Cu. In. V6 GAS DOHC Naturally Aspirated
Strainer required to validate the warranty; Engine: 3MZFE<br>PartType:Electric Fuel Pump<br>Quantity Required:1<br>
2005
Toyota
Solara
SLE Convertible 2-Door 3.3L 3300CC 202Cu. In. V6 GAS DOHC Naturally Aspirated
Strainer required to validate the warranty; Engine: 3MZFE<br>PartType:Electric Fuel Pump<br>Quantity Required:1<br>
2005
Toyota
Solara
SLE Coupe 2-Door 3.3L 3300CC 202Cu. In. V6 GAS DOHC Naturally Aspirated
Strainer required to validate the warranty; Engine: 3MZFE<br>PartType:Electric Fuel Pump<br>Quantity Required:1<br>
2004
Acura
RL
Premium Sedan 4-Door 3.5L 3475CC V6 GAS SOHC Naturally Aspirated
Strainer required to validate the warranty;<br>PartType:Electric Fuel Pump<br>Quantity Required:1<br>
2004
Chevrolet
Tracker
Base Sport Utility 4-Door 2.5L 2500CC V6 GAS DOHC Naturally Aspirated
Strainer required to validate the warranty;<br>PartType:Electric Fuel Pump<br>Quantity Required:1<br>
2004
Chevrolet
Tracker
LT Sport Utility 4-Door 2.5L 2500CC V6 GAS DOHC Naturally Aspirated
Strainer required to validate the warranty;<br>PartType:Electric Fuel Pump<br>Quantity Required:1<br>
2004
Chevrolet
Tracker
ZR2 Sport Utility 4-Door 2.5L 2500CC V6 GAS DOHC Naturally Aspirated
Strainer required to validate the warranty;<br>PartType:Electric Fuel Pump<br>Quantity Required:1<br>
2004
Dodge
Dakota
SLT Crew Cab Pickup 4-Door 3.7L 226Cu. In. V6 GAS SOHC Naturally Aspirated
4 Door, Crew Cab Pickup; Part Type: Electric Fuel Pump Quantity Required:1
2004
Dodge
Dakota
SLT Crew Cab Pickup 4-Door 4.7L 285Cu. In. V8 GAS SOHC Naturally Aspirated
4 Door, Crew Cab Pickup; Part Type: Electric Fuel Pump Quantity Required:1
2004
Dodge
Dakota
SLT Plus Crew Cab Pickup 4-Door 3.7L 226Cu. In. V6 GAS SOHC Naturally Aspirated
4 Door, Crew Cab Pickup; Part Type: Electric Fuel Pump Quantity Required:1
2004
Dodge
Dakota
SLT Plus Crew Cab Pickup 4-Door 4.7L 285Cu. In. V8 GAS SOHC Naturally Aspirated
4 Door, Crew Cab Pickup; Part Type: Electric Fuel Pump Quantity Required:1
2004
Dodge
Dakota
Sport Crew Cab Pickup 4-Door 3.7L 226Cu. In. V6 GAS SOHC Naturally Aspirated
4 Door, Crew Cab Pickup; Part Type: Electric Fuel Pump Quantity Required:1
2004
Dodge
Dakota
Sport Crew Cab Pickup 4-Door 4.7L 285Cu. In. V8 GAS SOHC Naturally Aspirated
4 Door, Crew Cab Pickup; Part Type: Electric Fuel Pump Quantity Required:1
2004
Dodge
Dakota
Sport Plus Crew Cab Pickup 4-Door 3.7L 226Cu. In. V6 GAS SOHC Naturally Aspirated
4 Door, Crew Cab Pickup; Part Type: Electric Fuel Pump Quantity Required:1
2004
Dodge
Dakota
Sport Plus Crew Cab Pickup 4-Door 4.7L 285Cu. In. V8 GAS SOHC Naturally Aspirated
4 Door, Crew Cab Pickup; Part Type: Electric Fuel Pump Quantity Required:1
2004
Honda
Civic
DX Coupe 2-Door 1.7L 1700CC l4 GAS SOHC Naturally Aspirated
Strainer required to validate the warranty; 2 Door, Coupe<br>PartType:Electric Fuel Pump<br>Quantity Required:1<br>
2004
Honda
CR-V
EX Sport Utility 4-Door 2.4L 2354CC l4 GAS DOHC Naturally Aspirated
1st Character of VIN is J; Japan Built; Strainer required to validate the warranty;<br>PartType:Electric Fuel Pump<br>Quantity Required:1<br>
2004
Honda
CR-V
LX Sport Utility 4-Door 2.4L 2354CC l4 GAS DOHC Naturally Aspirated
1st Character of VIN is J; Japan Built; Strainer required to validate the warranty;<br>PartType:Electric Fuel Pump<br>Quantity Required:1<br>
2004
Honda
Odyssey
EX Mini Passenger Van 5-Door 3.5L 3474CC V6 GAS SOHC Naturally Aspirated
Strainer required to validate the warranty;<br>PartType:Electric Fuel Pump<br>Quantity Required:1<br>
2004
Honda
Odyssey
LX Mini Passenger Van 5-Door 3.5L 3474CC V6 GAS SOHC Naturally Aspirated
Strainer required to validate the warranty;<br>PartType:Electric Fuel Pump<br>Quantity Required:1<br>
2004
Honda
S2000
Base Convertible 2-Door 2.2L 2157CC l4 GAS DOHC Naturally Aspirated
Strainer required to validate the warranty;<br>PartType:Electric Fuel Pump<br>Quantity Required:1<br>
2004
Hyundai
Accent
GL Sedan 4-Door 1.6L 1600CC l4 GAS DOHC Naturally Aspirated
Quantity Required: 1
2004
Hyundai
Elantra
GLS Sedan 4-Door 2.0L 1975CC l4 GAS DOHC Naturally Aspirated
Quantity Required: 1
2004
Hyundai
Elantra
GT Sedan 4-Door 2.0L 1975CC l4 GAS DOHC Naturally Aspirated
Quantity Required: 1
2004
Hyundai
Santa Fe
Base Sport Utility 4-Door 2.4L 2351CC l4 GAS DOHC Naturally Aspirated
Quantity Required: 1
2004
Hyundai
Santa Fe
GLS Sport Utility 4-Door 2.7L 2656CC V6 GAS DOHC Naturally Aspirated
Quantity Required: 1
2004
Hyundai
Santa Fe
GLS Sport Utility 4-Door 3.5L 3500CC V6 GAS DOHC Naturally Aspirated
Quantity Required: 1
2004
Hyundai
Santa Fe
LX Sport Utility 4-Door 3.5L 3500CC V6 GAS DOHC Naturally Aspirated
Quantity Required: 1
2004
Hyundai
Sonata
Base Sedan 4-Door 2.4L 2351CC l4 GAS DOHC Naturally Aspirated
Quantity Required: 1
2004
Hyundai
Sonata
GL Sedan 4-Door 2.4L 2351CC l4 GAS DOHC Naturally Aspirated
Quantity Required: 1
2004
Hyundai
Sonata
GL Sedan 4-Door 2.7L 2656CC V6 GAS DOHC Naturally Aspirated
Quantity Required: 1
2004
Hyundai
Sonata
GLS Sedan 4-Door 2.7L 2656CC V6 GAS DOHC Naturally Aspirated
Quantity Required: 1
2004
Hyundai
Sonata
LX Sedan 4-Door 2.7L 2656CC V6 GAS DOHC Naturally Aspirated
Quantity Required: 1
2004
Hyundai
Tiburon
Base Coupe 2-Door 2.0L 1975CC l4 GAS DOHC Naturally Aspirated
Quantity Required: 1
2004
Hyundai
Tiburon
GT Coupe 2-Door 2.7L 2656CC V6 GAS DOHC Naturally Aspirated
Quantity Required: 1
2004
Hyundai
XG350
Base Sedan 4-Door 3.5L 3500CC V6 GAS DOHC Naturally Aspirated
Quantity Required: 1
2004
Hyundai
XG350
L Sedan 4-Door 3.5L 3500CC V6 GAS DOHC Naturally Aspirated
Quantity Required: 1
2004
Infiniti
G35
Base Sedan 4-Door 3.5L 3498CC V6 GAS DOHC Naturally Aspirated
Strainer required to validate the warranty; Engine: VQ35DE, Sedan<br>PartType:Electric Fuel Pump<br>Quantity Required:1<br>
2004
Infiniti
G35
X Sedan 4-Door 3.5L 3498CC V6 GAS DOHC Naturally Aspirated
Strainer required to validate the warranty; Engine: VQ35DE, Sedan<br>PartType:Electric Fuel Pump<br>Quantity Required:1<br>
2004
Infiniti
I35
Base Sedan 4-Door 3.5L 3498CC V6 GAS DOHC Naturally Aspirated
Strainer required to validate the warranty;<br>PartType:Electric Fuel Pump<br>Quantity Required:1<br>
2004
Jeep
Grand Cherokee
Laredo Sport Utility 4-Door 4.0L 242Cu. In. l6 GAS OHV Naturally Aspirated
Part Type: Electric Fuel Pump Quantity Required:1
2004
Jeep
Grand Cherokee
Laredo Sport Utility 4-Door 4.7L 285Cu. In. V8 GAS SOHC Naturally Aspirated
Part Type: Electric Fuel Pump Quantity Required:1
2004
Jeep
Grand Cherokee
Limited Sport Utility 4-Door 4.0L 242Cu. In. l6 GAS OHV Naturally Aspirated
Part Type: Electric Fuel Pump Quantity Required:1
2004
Jeep
Grand Cherokee
Limited Sport Utility 4-Door 4.7L 285Cu. In. V8 GAS SOHC Naturally Aspirated
Part Type: Electric Fuel Pump Quantity Required:1
2004
Jeep
Grand Cherokee
Overland Sport Utility 4-Door 4.7L 285Cu. In. V8 GAS SOHC Naturally Aspirated
Part Type: Electric Fuel Pump Quantity Required:1
2004
Jeep
Grand Cherokee
Special Edition Sport Utility 4-Door 4.0L 242Cu. In. l6 GAS OHV Naturally Aspirated
Part Type: Electric Fuel Pump Quantity Required:1
2004
Jeep
Grand Cherokee
Special Edition Sport Utility 4-Door 4.7L 285Cu. In. V8 GAS SOHC Naturally Aspirated
Part Type: Electric Fuel Pump Quantity Required:1
2004
Jeep
TJ
Rubicon Sport Utility 2-Door 4.0L 242Cu. In. l6 GAS OHV Naturally Aspirated
Part Type: Electric Fuel Pump Quantity Required:1
2004
Jeep
TJ
Sahara Sport Utility 2-Door 4.0L 242Cu. In. l6 GAS OHV Naturally Aspirated
Part Type: Electric Fuel Pump Quantity Required:1
2004
Jeep
TJ
Sport Sport Utility 2-Door 4.0L 242Cu. In. l6 GAS OHV Naturally Aspirated
Part Type: Electric Fuel Pump Quantity Required:1
2004
Jeep
Wrangler
Rubicon Sport Utility 2-Door 4.0L 242Cu. In. l6 GAS OHV Naturally Aspirated
Part Type: Electric Fuel Pump Quantity Required:1
2004
Jeep
Wrangler
Sahara Sport Utility 2-Door 4.0L 242Cu. In. l6 GAS OHV Naturally Aspirated
Part Type: Electric Fuel Pump Quantity Required:1
2004
Jeep
Wrangler
SE Sport Utility 2-Door 2.4L 148Cu. In. l4 GAS DOHC Naturally Aspirated
Part Type: Electric Fuel Pump Quantity Required:1
2004
Jeep
Wrangler
Sport Sport Utility 2-Door 4.0L 242Cu. In. l6 GAS OHV Naturally Aspirated
Part Type: Electric Fuel Pump Quantity Required:1
2004
Jeep
Wrangler
Unlimited Sport Utility 2-Door 4.0L 242Cu. In. l6 GAS OHV Naturally Aspirated
Part Type: Electric Fuel Pump Quantity Required:1
2004
Jeep
Wrangler
X Sport Utility 2-Door 4.0L 242Cu. In. l6 GAS OHV Naturally Aspirated
Part Type: Electric Fuel Pump Quantity Required:1
2004
Kia
Amanti
Base Sedan 4-Door 3.5L 3497CC V6 GAS DOHC Naturally Aspirated
Strainer required to validate the warranty;<br>PartType:Electric Fuel Pump<br>Quantity Required:1<br>
2004
Kia
Optima
EX Sedan 4-Door 2.4L 2351CC l4 GAS DOHC Naturally Aspirated
Strainer required to validate the warranty;<br>PartType:Electric Fuel Pump<br>Quantity Required:1<br>
2004
Kia
Optima
EX Sedan 4-Door 2.7L 2656CC V6 GAS DOHC Naturally Aspirated
Strainer required to validate the warranty;<br>PartType:Electric Fuel Pump<br>Quantity Required:1<br>
2004
Kia
Optima
LX Sedan 4-Door 2.4L 2351CC l4 GAS DOHC Naturally Aspirated
Strainer required to validate the warranty;<br>PartType:Electric Fuel Pump<br>Quantity Required:1<br>
2004
Kia
Optima
LX Sedan 4-Door 2.7L 2656CC V6 GAS DOHC Naturally Aspirated
Strainer required to validate the warranty;<br>PartType:Electric Fuel Pump<br>Quantity Required:1<br>
2004
Lexus
ES330
Base Sedan 4-Door 3.3L 3300CC 202Cu. In. V6 GAS DOHC Naturally Aspirated
Strainer required to validate the warranty;<br>PartType:Electric Fuel Pump<br>Quantity Required:1<br>
2004
Mitsubishi
Diamante
ES Sedan 4-Door 3.5L 3497CC 215Cu. In. V6 GAS SOHC Naturally Aspirated
Quantity Required: 1
2004
Mitsubishi
Diamante
LS Sedan 4-Door 3.5L 3497CC 215Cu. In. V6 GAS SOHC Naturally Aspirated
Quantity Required: 1
2004
Mitsubishi
Diamante
VR-X Sedan 4-Door 3.5L 3497CC 215Cu. In. V6 GAS SOHC Naturally Aspirated
Quantity Required: 1
2004
Mitsubishi
Eclipse
GT Coupe 2-Door 3.0L 2972CC 181Cu. In. V6 GAS SOHC Naturally Aspirated
Quantity Required: 1
2004
Mitsubishi
Eclipse
Spyder GS Convertible 2-Door 2.4L 2351CC l4 GAS SOHC Naturally Aspirated
Quantity Required: 1
2004
Mitsubishi
Eclipse
Spyder GT Convertible 2-Door 3.0L 2972CC 181Cu. In. V6 GAS SOHC Naturally Aspirated
Quantity Required: 1
2004
Mitsubishi
Eclipse
Spyder GTS Convertible 2-Door 3.0L 2972CC 181Cu. In. V6 GAS SOHC Naturally Aspirated
Quantity Required: 1
2004
Mitsubishi
Endeavor
Limited Sport Utility 4-Door 3.8L 3797CC 230Cu. In. V6 GAS SOHC Naturally Aspirated
Quantity Required: 1
2004
Mitsubishi
Endeavor
LS Sport Utility 4-Door 3.8L 3797CC 230Cu. In. V6 GAS SOHC Naturally Aspirated
Quantity Required: 1
2004
Mitsubishi
Endeavor
XLS Sport Utility 4-Door 3.8L 3797CC 230Cu. In. V6 GAS SOHC Naturally Aspirated
Quantity Required: 1
2004
Mitsubishi
Galant
DE Sedan 4-Door 2.4L 2351CC l4 GAS SOHC Naturally Aspirated
Quantity Required: 1
2004
Mitsubishi
Galant
ES Sedan 4-Door 2.4L 2351CC l4 GAS SOHC Naturally Aspirated
Quantity Required: 1
2004
Mitsubishi
Lancer
ES Sedan 4-Door 2.0L 2000CC l4 GAS SOHC Naturally Aspirated
Quantity Required: 1
2004
Mitsubishi
Lancer
Evolution Sedan 4-Door 2.0L 1997CC 122Cu. In. l4 GAS DOHC Turbocharged
Quantity Required: 1
2004
Mitsubishi
Lancer
LS Sedan 4-Door 2.0L 2000CC l4 GAS SOHC Naturally Aspirated
Quantity Required: 1
2004
Mitsubishi
Lancer
OZ Rally Sedan 4-Door 2.0L 2000CC l4 GAS SOHC Naturally Aspirated
Quantity Required: 1
2004
Mitsubishi
Lancer
Ralliart Sedan 4-Door 2.4L 2400CC l4 GAS SOHC Naturally Aspirated
Quantity Required: 1
2004
Mitsubishi
Lancer
Sportback Ralliart Wagon 4-Door 2.4L 2400CC l4 GAS SOHC Naturally Aspirated
Quantity Required: 1
2004
Mitsubishi
Lancer
Sportback Wagon 4-Door 2.4L 2400CC l4 GAS SOHC Naturally Aspirated
Quantity Required: 1
2004
Mitsubishi
Montero
Limited Sport Utility 4-Door 3.8L 3797CC 230Cu. In. V6 GAS SOHC Naturally Aspirated
Quantity Required: 1
2004
Mitsubishi
Montero
XLS Sport Utility 4-Door 3.8L 3797CC 230Cu. In. V6 GAS SOHC Naturally Aspirated
Quantity Required: 1
2004
Mitsubishi
Montero Sport
LS Sport Utility 4-Door 3.5L 3497CC 215Cu. In. V6 GAS SOHC Naturally Aspirated
Quantity Required: 1
2004
Mitsubishi
Montero Sport
XLS Sport Utility 4-Door 3.5L 3497CC 215Cu. In. V6 GAS SOHC Naturally Aspirated
Quantity Required: 1
2004
Mitsubishi
Outlander
LS Sport Utility 4-Door 2.4L 2351CC l4 GAS SOHC Naturally Aspirated
Quantity Required: 1
2004
Mitsubishi
Outlander
XLS Sport Utility 4-Door 2.4L 2351CC l4 GAS SOHC Naturally Aspirated
Quantity Required: 1
2004
Pontiac
Vibe
Base Wagon 4-Door 1.8L 1794CC l4 GAS DOHC Naturally Aspirated
Strainer required to validate the warranty; Engine: 1ZZFE<br>PartType:Electric Fuel Pump<br>Quantity Required:1<br>
2004
Pontiac
Vibe
GT Wagon 4-Door 1.8L 1795CC l4 GAS DOHC Naturally Aspirated
Strainer required to validate the warranty; Engine: 2ZZGE<br>PartType:Electric Fuel Pump<br>Quantity Required:1<br>
2004
Subaru
Forester
X Wagon 4-Door 2.5L 2458CC H4 GAS SOHC Naturally Aspirated
Strainer required to validate the warranty; SOHC<br>PartType:Electric Fuel Pump<br>Quantity Required:1<br>
2004
Subaru
Forester
XS Wagon 4-Door 2.5L 2458CC H4 GAS SOHC Naturally Aspirated
Strainer required to validate the warranty; SOHC<br>PartType:Electric Fuel Pump<br>Quantity Required:1<br>
2004
Subaru
Impreza
Outback Wagon 4-Door 2.5L 2458CC H4 GAS SOHC Naturally Aspirated
Strainer required to validate the warranty; Outback<br>PartType:Electric Fuel Pump<br>Quantity Required:1<br>
2004
Subaru
Impreza
WRX STI Sedan 4-Door 2.5L 2458CC H4 GAS DOHC Turbocharged
RS & TS Models; Strainer required to validate the warranty; WRX STI<br>PartType:Electric Fuel Pump<br>Quantity Required:1<br>
2004
Subaru
Outback
H6 35th Anniversary Edition Wagon 4-Door 3.0L 3000CC H6 GAS DOHC Naturally Aspirated
Strainer required to validate the warranty;<br>PartType:Electric Fuel Pump<br>Quantity Required:1<br>
2004
Subaru
Outback
H6 Sedan 4-Door 3.0L 3000CC H6 GAS DOHC Naturally Aspirated
Strainer required to validate the warranty;<br>PartType:Electric Fuel Pump<br>Quantity Required:1<br>
2004
Subaru
Outback
H6 VDC Sedan 4-Door 3.0L 3000CC H6 GAS DOHC Naturally Aspirated
Strainer required to validate the warranty;<br>PartType:Electric Fuel Pump<br>Quantity Required:1<br>
2004
Subaru
Outback
H6 VDC Wagon 4-Door 3.0L 3000CC H6 GAS DOHC Naturally Aspirated
Strainer required to validate the warranty;<br>PartType:Electric Fuel Pump<br>Quantity Required:1<br>
2004
Subaru
Outback
H6 Wagon 4-Door 3.0L 3000CC H6 GAS DOHC Naturally Aspirated
Strainer required to validate the warranty;<br>PartType:Electric Fuel Pump<br>Quantity Required:1<br>
2004
Subaru
Outback
L.L. Bean Wagon 4-Door 3.0L 3000CC H6 GAS DOHC Naturally Aspirated
Strainer required to validate the warranty;<br>PartType:Electric Fuel Pump<br>Quantity Required:1<br>
2004
Suzuki
Aerio
LX Sedan 4-Door 2.3L 2290CC 140Cu. In. l4 GAS DOHC Naturally Aspirated
Strainer required to validate the warranty;<br>PartType:Electric Fuel Pump<br>Quantity Required:1<br>
2004
Suzuki
Aerio
S Sedan 4-Door 2.3L 2290CC 140Cu. In. l4 GAS DOHC Naturally Aspirated
Strainer required to validate the warranty;<br>PartType:Electric Fuel Pump<br>Quantity Required:1<br>
2004
Suzuki
Aerio
SX Wagon 5-Door 2.3L 2290CC 140Cu. In. l4 GAS DOHC Naturally Aspirated
Strainer required to validate the warranty;<br>PartType:Electric Fuel Pump<br>Quantity Required:1<br>
2004
Suzuki
Grand Vitara
EX Sport Utility 4-Door 2.5L 2500CC V6 GAS DOHC Naturally Aspirated
Strainer required to validate the warranty;<br>PartType:Electric Fuel Pump<br>Quantity Required:1<br>
2004
Suzuki
Grand Vitara
LX Sport Utility 4-Door 2.5L 2500CC V6 GAS DOHC Naturally Aspirated
Strainer required to validate the warranty;<br>PartType:Electric Fuel Pump<br>Quantity Required:1<br>
2004
Toyota
Avalon
XL Sedan 4-Door 3.0L 2995CC V6 GAS DOHC Naturally Aspirated
Strainer required to validate the warranty; Engine: 1MZFE<br>PartType:Electric Fuel Pump<br>Quantity Required:1<br>
2004
Toyota
Avalon
XLS Sedan 4-Door 3.0L 2995CC V6 GAS DOHC Naturally Aspirated
Strainer required to validate the warranty; Engine: 1MZFE<br>PartType:Electric Fuel Pump<br>Quantity Required:1<br>
2004
Toyota
Camry
LE Sedan 4-Door 3.0L 2995CC V6 GAS DOHC Naturally Aspirated
Strainer required to validate the warranty; Engine: 1MZFE<br>PartType:Electric Fuel Pump<br>Quantity Required:1<br>
2004
Toyota
Camry
SE Sedan 4-Door 3.3L 3300CC V6 GAS DOHC Naturally Aspirated
Strainer required to validate the warranty; Engine: 3MZFE<br>PartType:Electric Fuel Pump<br>Quantity Required:1<br>
2004
Toyota
Camry
XLE Sedan 4-Door 3.0L 2995CC V6 GAS DOHC Naturally Aspirated
Strainer required to validate the warranty; Engine: 1MZFE<br>PartType:Electric Fuel Pump<br>Quantity Required:1<br>
2004
Toyota
Celica
GT Hatchback 2-Door 1.8L 1794CC l4 GAS DOHC Naturally Aspirated
Strainer required to validate the warranty; Engine: 1ZZFE<br>PartType:Electric Fuel Pump<br>Quantity Required:1<br>
2004
Toyota
Celica
GTS Hatchback 2-Door 1.8L 1795CC l4 GAS DOHC Naturally Aspirated
Strainer required to validate the warranty; Engine: 2ZZGE<br>PartType:Electric Fuel Pump<br>Quantity Required:1<br>
2004
Toyota
Echo
Base Sedan 2-Door 1.5L 1497CC l4 GAS DOHC Naturally Aspirated
Strainer required to validate the warranty; Engine: 1NZFE<br>PartType:Electric Fuel Pump<br>Quantity Required:1<br>
2004
Toyota
Echo
Base Sedan 4-Door 1.5L 1497CC l4 GAS DOHC Naturally Aspirated
Strainer required to validate the warranty; Engine: 1NZFE<br>PartType:Electric Fuel Pump<br>Quantity Required:1<br>
2004
Toyota
Solara
SE Convertible 2-Door 3.3L 3300CC V6 GAS DOHC Naturally Aspirated
Strainer required to validate the warranty; Engine: 3MZFE<br>PartType:Electric Fuel Pump<br>Quantity Required:1<br>
2004
Toyota
Solara
SE Coupe 2-Door 3.3L 3300CC V6 GAS DOHC Naturally Aspirated
Strainer required to validate the warranty; Engine: 3MZFE<br>PartType:Electric Fuel Pump<br>Quantity Required:1<br>
2004
Toyota
Solara
SLE Convertible 2-Door 3.3L 3300CC V6 GAS DOHC Naturally Aspirated
Strainer required to validate the warranty; Engine: 3MZFE<br>PartType:Electric Fuel Pump<br>Quantity Required:1<br>
2004
Toyota
Solara
SLE Coupe 2-Door 3.3L 3300CC V6 GAS DOHC Naturally Aspirated
Strainer required to validate the warranty; Engine: 3MZFE<br>PartType:Electric Fuel Pump<br>Quantity Required:1<br>
2004
Toyota
Tacoma
Base Crew Cab Pickup 4-Door 2.4L 2438CC l4 GAS DOHC Naturally Aspirated
Strainer required to validate the warranty; Engine: 2RZFE<br>PartType:Electric Fuel Pump<br>Quantity Required:1<br>
2004
Toyota
Tacoma
Base Crew Cab Pickup 4-Door 2.7L 2694CC l4 GAS DOHC Naturally Aspirated
Strainer required to validate the warranty; Engine: 3RZFE<br>PartType:Electric Fuel Pump<br>Quantity Required:1<br>
2004
Toyota
Tacoma
Base Crew Cab Pickup 4-Door 3.4L 3378CC V6 GAS DOHC Naturally Aspirated
Strainer required to validate the warranty; Engine: 5VZFE<br>PartType:Electric Fuel Pump<br>Quantity Required:1<br>
2004
Toyota
Tacoma
Base Extended Cab Pickup 2-Door 2.4L 2438CC l4 GAS DOHC Naturally Aspirated
Strainer required to validate the warranty; Engine: 2RZFE<br>PartType:Electric Fuel Pump<br>Quantity Required:1<br>
2004
Toyota
Tacoma
Base Extended Cab Pickup 2-Door 2.7L 2694CC l4 GAS DOHC Naturally Aspirated
Strainer required to validate the warranty; Engine: 3RZFE<br>PartType:Electric Fuel Pump<br>Quantity Required:1<br>
2004
Toyota
Tacoma
Base Extended Cab Pickup 2-Door 3.4L 3378CC V6 GAS DOHC Naturally Aspirated
Strainer required to validate the warranty; Engine: 5VZFE<br>PartType:Electric Fuel Pump<br>Quantity Required:1<br>
2004
Toyota
Tacoma
Base Standard Cab Pickup 2-Door 2.4L 2438CC l4 GAS DOHC Naturally Aspirated
Strainer required to validate the warranty; Engine: 2RZFE<br>PartType:Electric Fuel Pump<br>Quantity Required:1<br>
2004
Toyota
Tacoma
Base Standard Cab Pickup 2-Door 2.7L 2694CC l4 GAS DOHC Naturally Aspirated
Strainer required to validate the warranty; Engine: 3RZFE<br>PartType:Electric Fuel Pump<br>Quantity Required:1<br>
2004
Toyota
Tacoma
Base Standard Cab Pickup 2-Door 3.4L 3378CC V6 GAS DOHC Naturally Aspirated
Strainer required to validate the warranty; Engine: 5VZFE<br>PartType:Electric Fuel Pump<br>Quantity Required:1<br>
2004
Toyota
Tacoma
Pre Runner Crew Cab Pickup 4-Door 2.7L 2694CC l4 GAS DOHC Naturally Aspirated
Strainer required to validate the warranty; Engine: 3RZFE<br>PartType:Electric Fuel Pump<br>Quantity Required:1<br>
2004
Toyota
Tacoma
Pre Runner Crew Cab Pickup 4-Door 3.4L 3378CC V6 GAS DOHC Naturally Aspirated
Strainer required to validate the warranty; Engine: 5VZFE<br>PartType:Electric Fuel Pump<br>Quantity Required:1<br>
2004
Toyota
Tacoma
Pre Runner Extended Cab Pickup 2-Door 2.7L 2694CC l4 GAS DOHC Naturally Aspirated
Strainer required to validate the warranty; Engine: 3RZFE<br>PartType:Electric Fuel Pump<br>Quantity Required:1<br>
2004
Toyota
Tacoma
Pre Runner Extended Cab Pickup 2-Door 3.4L 3378CC V6 GAS DOHC Naturally Aspirated
Strainer required to validate the warranty; Engine: 5VZFE<br>PartType:Electric Fuel Pump<br>Quantity Required:1<br>
2004
Toyota
Tacoma
Pre Runner Standard Cab Pickup 2-Door 2.7L 2694CC l4 GAS DOHC Naturally Aspirated
Strainer required to validate the warranty; Engine: 3RZFE<br>PartType:Electric Fuel Pump<br>Quantity Required:1<br>
2004
Toyota
Tacoma
Pre Runner Standard Cab Pickup 2-Door 3.4L 3378CC V6 GAS DOHC Naturally Aspirated
Strainer required to validate the warranty; Engine: 5VZFE<br>PartType:Electric Fuel Pump<br>Quantity Required:1<br>
2004
Toyota
Tacoma
S-Runner Extended Cab Pickup 2-Door 3.4L 3378CC V6 GAS DOHC Naturally Aspirated
Strainer required to validate the warranty; Engine: 5VZFE<br>PartType:Electric Fuel Pump<br>Quantity Required:1<br>
2003
Acura
RL
Premium Sedan 4-Door 3.5L 3475CC V6 GAS SOHC Naturally Aspirated
Strainer required to validate the warranty;<br>PartType:Electric Fuel Pump<br>Quantity Required:1<br>
2003
Chevrolet
Tracker
Base Sport Utility 2-Door 2.0L 122Cu. In. l4 GAS DOHC Naturally Aspirated
Strainer required to validate the warranty;<br>PartType:Electric Fuel Pump<br>Quantity Required:1<br>
2003
Chevrolet
Tracker
Base Sport Utility 4-Door 2.0L 122Cu. In. l4 GAS DOHC Naturally Aspirated
Strainer required to validate the warranty;<br>PartType:Electric Fuel Pump<br>Quantity Required:1<br>
2003
Chevrolet
Tracker
LT Sport Utility 4-Door 2.0L 122Cu. In. l4 GAS DOHC Naturally Aspirated
Strainer required to validate the warranty;<br>PartType:Electric Fuel Pump<br>Quantity Required:1<br>
2003
Chevrolet
Tracker
LT Sport Utility 4-Door 2.5L 2500CC V6 GAS DOHC Naturally Aspirated
Strainer required to validate the warranty;<br>PartType:Electric Fuel Pump<br>Quantity Required:1<br>
2003
Chevrolet
Tracker
ZR2 Sport Utility 2-Door 2.0L 122Cu. In. l4 GAS DOHC Naturally Aspirated
Strainer required to validate the warranty;<br>PartType:Electric Fuel Pump<br>Quantity Required:1<br>
2003
Chevrolet
Tracker
ZR2 Sport Utility 2-Door 2.5L 2500CC V6 GAS DOHC Naturally Aspirated
Strainer required to validate the warranty;<br>PartType:Electric Fuel Pump<br>Quantity Required:1<br>
2003
Chevrolet
Tracker
ZR2 Sport Utility 4-Door 2.0L 122Cu. In. l4 GAS DOHC Naturally Aspirated
Strainer required to validate the warranty;<br>PartType:Electric Fuel Pump<br>Quantity Required:1<br>
2003
Chevrolet
Tracker
ZR2 Sport Utility 4-Door 2.5L 2500CC V6 GAS DOHC Naturally Aspirated
Strainer required to validate the warranty;<br>PartType:Electric Fuel Pump<br>Quantity Required:1<br>
2003
Dodge
Dakota
SLT Crew Cab Pickup 4-Door 3.9L 3906CC 239Cu. In. V6 GAS OHV Naturally Aspirated
4 Door, Crew Cab Pickup; Part Type: Electric Fuel Pump Quantity Required:1
2003
Dodge
Dakota
SLT Crew Cab Pickup 4-Door 4.7L 285Cu. In. V8 GAS SOHC Naturally Aspirated
4 Door, Crew Cab Pickup; Part Type: Electric Fuel Pump Quantity Required:1
2003
Dodge
Dakota
SLT Crew Cab Pickup 4-Door 5.9L 360Cu. In. V8 GAS OHV Naturally Aspirated
4 Door, Crew Cab Pickup; Part Type: Electric Fuel Pump Quantity Required:1
2003
Dodge
Dakota
Sport Crew Cab Pickup 4-Door 3.9L 3906CC 239Cu. In. V6 GAS OHV Naturally Aspirated
4 Door, Crew Cab Pickup; Part Type: Electric Fuel Pump Quantity Required:1
2003
Dodge
Dakota
Sport Crew Cab Pickup 4-Door 4.7L 285Cu. In. V8 GAS SOHC Naturally Aspirated
4 Door, Crew Cab Pickup; Part Type: Electric Fuel Pump Quantity Required:1
2003
Dodge
Dakota
Sport Crew Cab Pickup 4-Door 5.9L 360Cu. In. V8 GAS OHV Naturally Aspirated
4 Door, Crew Cab Pickup; Part Type: Electric Fuel Pump Quantity Required:1
2003
Honda
Civic
LX Sedan 4-Door 1.7L 1700CC l4 GAS SOHC Naturally Aspirated
Strainer required to validate the warranty;<br>PartType:Electric Fuel Pump<br>Quantity Required:1<br>
2003
Honda
CR-V
EX Sport Utility 4-Door 2.4L 2354CC l4 GAS DOHC Naturally Aspirated
Strainer required to validate the warranty;<br>PartType:Electric Fuel Pump<br>Quantity Required:1<br>
2003
Honda
CR-V
LX Sport Utility 4-Door 2.4L 2354CC l4 GAS DOHC Naturally Aspirated
Strainer required to validate the warranty;<br>PartType:Electric Fuel Pump<br>Quantity Required:1<br>
2003
Honda
Odyssey
EX Mini Passenger Van 5-Door 3.5L 3474CC V6 GAS SOHC Naturally Aspirated
Strainer required to validate the warranty;<br>PartType:Electric Fuel Pump<br>Quantity Required:1<br>
2003
Honda
Odyssey
EX-L Mini Passenger Van 5-Door 3.5L 3474CC V6 GAS SOHC Naturally Aspirated
Strainer required to validate the warranty;<br>PartType:Electric Fuel Pump<br>Quantity Required:1<br>
2003
Honda
Odyssey
LX Mini Passenger Van 5-Door 3.5L 3474CC V6 GAS SOHC Naturally Aspirated
Strainer required to validate the warranty;<br>PartType:Electric Fuel Pump<br>Quantity Required:1<br>
2003
Honda
S2000
Base Convertible 2-Door 2.0L 1997CC l4 GAS DOHC Naturally Aspirated
Strainer required to validate the warranty;<br>PartType:Electric Fuel Pump<br>Quantity Required:1<br>
2003
Hyundai
Accent
GL Sedan 4-Door 1.6L 1600CC l4 GAS DOHC Naturally Aspirated
Quantity Required: 1
2003
Hyundai
Elantra
GLS Sedan 4-Door 2.0L 1975CC l4 GAS DOHC Naturally Aspirated
Quantity Required: 1
2003
Hyundai
Elantra
GT Sedan 4-Door 2.0L 1975CC l4 GAS DOHC Naturally Aspirated
Quantity Required: 1
2003
Hyundai
Santa Fe
Base Sport Utility 5-Door 2.4L 2351CC l4 GAS DOHC Naturally Aspirated
Quantity Required: 1
2003
Hyundai
Santa Fe
GLS Sport Utility 5-Door 2.7L 2656CC V6 GAS DOHC Naturally Aspirated
Quantity Required: 1
2003
Hyundai
Santa Fe
GLS Sport Utility 5-Door 3.5L 3500CC V6 GAS DOHC Naturally Aspirated
Quantity Required: 1
2003
Hyundai
Santa Fe
LX Sport Utility 5-Door 3.5L 3500CC V6 GAS DOHC Naturally Aspirated
Quantity Required: 1
2003
Hyundai
Sonata
Base Sedan 4-Door 2.4L 2351CC l4 GAS DOHC Naturally Aspirated
Quantity Required: 1
2003
Hyundai
Sonata
GL Sedan 4-Door 2.4L 2351CC l4 GAS DOHC Naturally Aspirated
Quantity Required: 1
2003
Hyundai
Sonata
GL Sedan 4-Door 2.7L 2656CC V6 GAS DOHC Naturally Aspirated
Quantity Required: 1
2003
Hyundai
Sonata
GLS Sedan 4-Door 2.7L 2656CC V6 GAS DOHC Naturally Aspirated
Quantity Required: 1
2003
Hyundai
Sonata
LX Sedan 4-Door 2.7L 2656CC V6 GAS DOHC Naturally Aspirated
Quantity Required: 1
2003
Hyundai
Tiburon
Base Coupe 2-Door 2.0L 1975CC l4 GAS DOHC Naturally Aspirated
Quantity Required: 1
2003
Hyundai
Tiburon
GT Coupe 2-Door 2.7L 2656CC V6 GAS DOHC Naturally Aspirated
Quantity Required: 1
2003
Hyundai
XG350
Base Sedan 4-Door 3.5L 3500CC V6 GAS DOHC Naturally Aspirated
Quantity Required: 1
2003
Hyundai
XG350
L Sedan 4-Door 3.5L 3500CC V6 GAS DOHC Naturally Aspirated
Quantity Required: 1
2003
Infiniti
G35
Base Coupe 2-Door 3.5L 3498CC V6 GAS DOHC Naturally Aspirated
Strainer required to validate the warranty;<br>PartType:Electric Fuel Pump<br>Quantity Required:1<br>
2003
Infiniti
G35
Base Sedan 4-Door 3.5L 3498CC V6 GAS DOHC Naturally Aspirated
Strainer required to validate the warranty;<br>PartType:Electric Fuel Pump<br>Quantity Required:1<br>
2003
Infiniti
I35
Base Sedan 4-Door 3.5L 3498CC V6 GAS DOHC Naturally Aspirated
Strainer required to validate the warranty;<br>PartType:Electric Fuel Pump<br>Quantity Required:1<br>
2003
Jeep
Grand Cherokee
Laredo Sport Utility 4-Door 4.0L 242Cu. In. l6 GAS OHV Naturally Aspirated
Part Type: Electric Fuel Pump Quantity Required:1
2003
Jeep
Grand Cherokee
Laredo Sport Utility 4-Door 4.7L 285Cu. In. V8 GAS SOHC Naturally Aspirated
Part Type: Electric Fuel Pump Quantity Required:1
2003
Jeep
Grand Cherokee
Limited Sport Utility 4-Door 4.0L 242Cu. In. l6 GAS OHV Naturally Aspirated
Part Type: Electric Fuel Pump Quantity Required:1
2003
Jeep
Grand Cherokee
Limited Sport Utility 4-Door 4.7L 285Cu. In. V8 GAS SOHC Naturally Aspirated
Part Type: Electric Fuel Pump Quantity Required:1
2003
Jeep
Grand Cherokee
Overland Sport Utility 4-Door 4.7L 285Cu. In. V8 GAS SOHC Naturally Aspirated
Part Type: Electric Fuel Pump Quantity Required:1
2003
Jeep
TJ
Rubicon Sport Utility 2-Door 4.0L 242Cu. In. l6 GAS OHV Naturally Aspirated
Part Type: Electric Fuel Pump Quantity Required:1
2003
Jeep
TJ
Sahara Sport Utility 2-Door 4.0L 242Cu. In. l6 GAS OHV Naturally Aspirated
Part Type: Electric Fuel Pump Quantity Required:1
2003
Jeep
TJ
SE Sport Utility 2-Door 2.4L 148Cu. In. l4 GAS DOHC Naturally Aspirated
Part Type: Electric Fuel Pump Quantity Required:1
2003
Jeep
TJ
Sport Sport Utility 2-Door 4.0L 242Cu. In. l6 GAS OHV Naturally Aspirated
Part Type: Electric Fuel Pump Quantity Required:1
2003
Jeep
Wrangler
Rubicon Sport Utility 2-Door 4.0L 242Cu. In. l6 GAS OHV Naturally Aspirated
Part Type: Electric Fuel Pump Quantity Required:1
2003
Jeep
Wrangler
Sahara Sport Utility 2-Door 4.0L 242Cu. In. l6 GAS OHV Naturally Aspirated
Part Type: Electric Fuel Pump Quantity Required:1
2003
Jeep
Wrangler
SE Sport Utility 2-Door 2.4L 148Cu. In. l4 GAS DOHC Naturally Aspirated
Part Type: Electric Fuel Pump Quantity Required:1
2003
Jeep
Wrangler
Sport Sport Utility 2-Door 4.0L 242Cu. In. l6 GAS OHV Naturally Aspirated
Part Type: Electric Fuel Pump Quantity Required:1
2003
Jeep
Wrangler
X Sport Utility 2-Door 4.0L 242Cu. In. l6 GAS OHV Naturally Aspirated
Part Type: Electric Fuel Pump Quantity Required:1
2003
Kia
Optima
LX Sedan 4-Door 2.4L 2351CC l4 GAS DOHC Naturally Aspirated
Strainer required to validate the warranty;<br>PartType:Electric Fuel Pump<br>Quantity Required:1<br>
2003
Kia
Optima
LX Sedan 4-Door 2.7L 2656CC V6 GAS DOHC Naturally Aspirated
Strainer required to validate the warranty;<br>PartType:Electric Fuel Pump<br>Quantity Required:1<br>
2003
Kia
Optima
SE Sedan 4-Door 2.4L 2351CC l4 GAS DOHC Naturally Aspirated
Strainer required to validate the warranty;<br>PartType:Electric Fuel Pump<br>Quantity Required:1<br>
2003
Kia
Optima
SE Sedan 4-Door 2.7L 2656CC V6 GAS DOHC Naturally Aspirated
Strainer required to validate the warranty;<br>PartType:Electric Fuel Pump<br>Quantity Required:1<br>
2003
Lexus
ES300
Base Sedan 4-Door 3.0L 2995CC V6 GAS DOHC Naturally Aspirated
Aisian Pump; Strainer required to validate the warranty;<br>PartType:Electric Fuel Pump<br>Quantity Required:1<br>
2003
Mazda
Protege5
Base Hatchback 4-Door 2.0L 2000CC l4 GAS DOHC Naturally Aspirated
Strainer required to validate the warranty;<br>PartType:Electric Fuel Pump<br>Quantity Required:1<br>
2003
Mitsubishi
Diamante
ES Sedan 4-Door 3.5L 3497CC 215Cu. In. V6 GAS SOHC Naturally Aspirated
Quantity Required: 1
2003
Mitsubishi
Diamante
LS Sedan 4-Door 3.5L 3497CC 215Cu. In. V6 GAS SOHC Naturally Aspirated
Quantity Required: 1
2003
Mitsubishi
Diamante
VR-X Sedan 4-Door 3.5L 3497CC 215Cu. In. V6 GAS SOHC Naturally Aspirated
Quantity Required: 1
2003
Mitsubishi
Eclipse
GT Coupe 2-Door 3.0L 2972CC 181Cu. In. V6 GAS SOHC Naturally Aspirated
Quantity Required: 1
2003
Mitsubishi
Eclipse
Spyder GS Convertible 2-Door 2.4L 2351CC l4 GAS SOHC Naturally Aspirated
Quantity Required: 1
2003
Mitsubishi
Eclipse
Spyder GT Convertible 2-Door 3.0L 2972CC 181Cu. In. V6 GAS SOHC Naturally Aspirated
Quantity Required: 1
2003
Mitsubishi
Eclipse
Spyder GTS Convertible 2-Door 3.0L 2972CC 181Cu. In. V6 GAS SOHC Naturally Aspirated
Quantity Required: 1
2003
Mitsubishi
Galant
DE Sedan 4-Door 2.4L 2351CC l4 GAS SOHC Naturally Aspirated
Quantity Required: 1
2003
Mitsubishi
Galant
ES Sedan 4-Door 2.4L 2351CC l4 GAS SOHC Naturally Aspirated
Quantity Required: 1
2003
Mitsubishi
Galant
ES Sedan 4-Door 3.0L 2972CC 181Cu. In. V6 GAS SOHC Naturally Aspirated
Quantity Required: 1
2003
Mitsubishi
Galant
GTZ Sedan 4-Door 3.0L 2972CC 181Cu. In. V6 GAS SOHC Naturally Aspirated
Quantity Required: 1
2003
Mitsubishi
Galant
LS Sedan 4-Door 2.4L 2351CC l4 GAS SOHC Naturally Aspirated
Quantity Required: 1
2003
Mitsubishi
Galant
LS Sedan 4-Door 3.0L 2972CC 181Cu. In. V6 GAS SOHC Naturally Aspirated
Quantity Required: 1
2003
Mitsubishi
Lancer
ES Sedan 4-Door 2.0L 2000CC l4 GAS SOHC Naturally Aspirated
Quantity Required: 1
2003
Mitsubishi
Lancer
Evolution Sedan 4-Door 2.0L 1997CC 122Cu. In. l4 GAS DOHC Turbocharged
Quantity Required: 1
2003
Mitsubishi
Lancer
LS Sedan 4-Door 2.0L 2000CC l4 GAS SOHC Naturally Aspirated
Quantity Required: 1
2003
Mitsubishi
Lancer
OZ Rally Sedan 4-Door 2.0L 2000CC l4 GAS SOHC Naturally Aspirated
Quantity Required: 1
2003
Mitsubishi
Montero
Limited Sport Utility 4-Door 3.8L 3797CC 230Cu. In. V6 GAS SOHC Naturally Aspirated
Quantity Required: 1
2003
Mitsubishi
Montero
XLS Sport Utility 4-Door 3.8L 3797CC 230Cu. In. V6 GAS SOHC Naturally Aspirated
Quantity Required: 1
2003
Mitsubishi
Montero Sport
ES Sport Utility 4-Door 3.0L 2972CC 181Cu. In. V6 GAS SOHC Naturally Aspirated
Quantity Required: 1
2003
Mitsubishi
Montero Sport
Limited Sport Utility 4-Door 3.5L 3497CC 215Cu. In. V6 GAS SOHC Naturally Aspirated
Quantity Required: 1
2003
Mitsubishi
Montero Sport
LS Sport Utility 4-Door 3.0L 2972CC 181Cu. In. V6 GAS SOHC Naturally Aspirated
Quantity Required: 1
2003
Mitsubishi
Montero Sport
XLS Sport Utility 4-Door 3.5L 3497CC 215Cu. In. V6 GAS SOHC Naturally Aspirated
Quantity Required: 1
2003
Mitsubishi
Outlander
LS Sport Utility 4-Door 2.4L 2351CC l4 GAS SOHC Naturally Aspirated
Quantity Required: 1
2003
Mitsubishi
Outlander
XLS Sport Utility 4-Door 2.4L 2351CC l4 GAS SOHC Naturally Aspirated
Quantity Required: 1
2003
Nissan
Maxima
GLE Sedan 4-Door 3.5L 3498CC V6 GAS DOHC Naturally Aspirated
Strainer required to validate the warranty; Engine: VQ35DE<br>PartType:Electric Fuel Pump<br>Quantity Required:1<br>
2003
Nissan
Maxima
GXE Sedan 4-Door 3.5L 3498CC V6 GAS DOHC Naturally Aspirated
Strainer required to validate the warranty; Engine: VQ35DE<br>PartType:Electric Fuel Pump<br>Quantity Required:1<br>
2003
Nissan
Maxima
SE Sedan 4-Door 3.5L 3498CC V6 GAS DOHC Naturally Aspirated
Strainer required to validate the warranty; Engine: VQ35DE<br>PartType:Electric Fuel Pump<br>Quantity Required:1<br>
2003
Pontiac
Vibe
Base Wagon 4-Door 1.8L 1794CC l4 GAS DOHC Naturally Aspirated
Strainer required to validate the warranty; Engine: 1ZZFE<br>PartType:Electric Fuel Pump<br>Quantity Required:1<br>
2003
Pontiac
Vibe
GT Wagon 4-Door 1.8L 1795CC l4 GAS DOHC Naturally Aspirated
Strainer required to validate the warranty; Engine: 2ZZGE<br>PartType:Electric Fuel Pump<br>Quantity Required:1<br>
2003
Subaru
Forester
X Wagon 4-Door 2.5L 2458CC H4 GAS SOHC Naturally Aspirated
Strainer required to validate the warranty;<br>PartType:Electric Fuel Pump<br>Quantity Required:1<br>
2003
Subaru
Forester
XS Wagon 4-Door 2.5L 2458CC H4 GAS SOHC Naturally Aspirated
Strainer required to validate the warranty;<br>PartType:Electric Fuel Pump<br>Quantity Required:1<br>
2003
Subaru
Impreza
Outback Wagon 4-Door 2.5L 2458CC H4 GAS SOHC Naturally Aspirated
Strainer required to validate the warranty; Outback<br>PartType:Electric Fuel Pump<br>Quantity Required:1<br>
2003
Subaru
Impreza
RS Sedan 4-Door 2.5L 2458CC H4 GAS SOHC Naturally Aspirated
RS & TS Models; Strainer required to validate the warranty; RS<br>PartType:Electric Fuel Pump<br>Quantity Required:1<br>
2003
Subaru
Impreza
TS Wagon 4-Door 2.5L 2458CC H4 GAS SOHC Naturally Aspirated
RS & TS Models; Strainer required to validate the warranty; TS<br>PartType:Electric Fuel Pump<br>Quantity Required:1<br>
2003
Subaru
Legacy
GT Sedan 4-Door 2.5L 2458CC H4 GAS SOHC Naturally Aspirated
Strainer required to validate the warranty;<br>PartType:Electric Fuel Pump<br>Quantity Required:1<br>
2003
Subaru
Legacy
GT Wagon 4-Door 2.5L 2458CC H4 GAS SOHC Naturally Aspirated
Strainer required to validate the warranty;<br>PartType:Electric Fuel Pump<br>Quantity Required:1<br>
2003
Subaru
Legacy
L SE Sedan 4-Door 2.5L 2458CC H4 GAS SOHC Naturally Aspirated
Strainer required to validate the warranty;<br>PartType:Electric Fuel Pump<br>Quantity Required:1<br>
2003
Subaru
Legacy
L SE Wagon 4-Door 2.5L 2458CC H4 GAS SOHC Naturally Aspirated
Strainer required to validate the warranty;<br>PartType:Electric Fuel Pump<br>Quantity Required:1<br>
2003
Subaru
Legacy
L Sedan 4-Door 2.5L 2458CC H4 GAS SOHC Naturally Aspirated
Strainer required to validate the warranty;<br>PartType:Electric Fuel Pump<br>Quantity Required:1<br>
2003
Subaru
Legacy
L Wagon 4-Door 2.5L 2458CC H4 GAS SOHC Naturally Aspirated
Strainer required to validate the warranty;<br>PartType:Electric Fuel Pump<br>Quantity Required:1<br>
2003
Subaru
Outback
H6 Sedan 4-Door 3.0L 3000CC H6 GAS DOHC Naturally Aspirated
Strainer required to validate the warranty;<br>PartType:Electric Fuel Pump<br>Quantity Required:1<br>
2003
Subaru
Outback
H6 Wagon 4-Door 3.0L 3000CC H6 GAS DOHC Naturally Aspirated
Strainer required to validate the warranty;<br>PartType:Electric Fuel Pump<br>Quantity Required:1<br>
2003
Subaru
Outback
L.L. Bean Wagon 4-Door 3.0L 3000CC H6 GAS DOHC Naturally Aspirated
Strainer required to validate the warranty;<br>PartType:Electric Fuel Pump<br>Quantity Required:1<br>
2003
Subaru
Outback
VDC Sedan 4-Door 3.0L 3000CC H6 GAS DOHC Naturally Aspirated
Strainer required to validate the warranty;<br>PartType:Electric Fuel Pump<br>Quantity Required:1<br>
2003
Subaru
Outback
VDC Wagon 4-Door 3.0L 3000CC H6 GAS DOHC Naturally Aspirated
Strainer required to validate the warranty;<br>PartType:Electric Fuel Pump<br>Quantity Required:1<br>
2003
Suzuki
Grand Vitara
Base Sport Utility 4-Door 2.5L 2500CC V6 GAS DOHC Naturally Aspirated
Strainer required to validate the warranty;<br>PartType:Electric Fuel Pump<br>Quantity Required:1<br>
2003
Toyota
Avalon
XL Sedan 4-Door 3.0L 2995CC V6 GAS DOHC Naturally Aspirated
Strainer required to validate the warranty; Engine: 1MZFE<br>PartType:Electric Fuel Pump<br>Quantity Required:1<br>
2003
Toyota
Avalon
XLS Sedan 4-Door 3.0L 2995CC V6 GAS DOHC Naturally Aspirated
Strainer required to validate the warranty; Engine: 1MZFE<br>PartType:Electric Fuel Pump<br>Quantity Required:1<br>
2003
Toyota
Celica
GT Hatchback 2-Door 1.8L 1794CC l4 GAS DOHC Naturally Aspirated
Strainer required to validate the warranty; Engine: 1ZZFE<br>PartType:Electric Fuel Pump<br>Quantity Required:1<br>
2003
Toyota
Celica
GTS Hatchback 2-Door 1.8L 1795CC l4 GAS DOHC Naturally Aspirated
Strainer required to validate the warranty; Engine: 2ZZGE<br>PartType:Electric Fuel Pump<br>Quantity Required:1<br>
2003
Toyota
Echo
Base Sedan 2-Door 1.5L 1497CC l4 GAS DOHC Naturally Aspirated
Strainer required to validate the warranty; Engine: 1NZFE<br>PartType:Electric Fuel Pump<br>Quantity Required:1<br>
2003
Toyota
Echo
Base Sedan 4-Door 1.5L 1497CC l4 GAS DOHC Naturally Aspirated
Strainer required to validate the warranty; Engine: 1NZFE<br>PartType:Electric Fuel Pump<br>Quantity Required:1<br>
2003
Toyota
Tacoma
DLX Extended Cab Pickup 2-Door 2.4L 2438CC l4 GAS DOHC Naturally Aspirated
Strainer required to validate the warranty; Engine: 2RZFE<br>PartType:Electric Fuel Pump<br>Quantity Required:1<br>
2003
Toyota
Tacoma
DLX Extended Cab Pickup 2-Door 2.7L 2694CC l4 GAS DOHC Naturally Aspirated
Strainer required to validate the warranty; Engine: 3RZFE<br>PartType:Electric Fuel Pump<br>Quantity Required:1<br>
2003
Toyota
Tacoma
DLX Extended Cab Pickup 2-Door 3.4L 3378CC V6 GAS DOHC Naturally Aspirated
Strainer required to validate the warranty; Engine: 5VZFE<br>PartType:Electric Fuel Pump<br>Quantity Required:1<br>
2003
Toyota
Tacoma
DLX Standard Cab Pickup 2-Door 2.4L 2438CC l4 GAS DOHC Naturally Aspirated
Strainer required to validate the warranty; Engine: 2RZFE<br>PartType:Electric Fuel Pump<br>Quantity Required:1<br>
2003
Toyota
Tacoma
DLX Standard Cab Pickup 2-Door 2.7L 2694CC l4 GAS DOHC Naturally Aspirated
Strainer required to validate the warranty; Engine: 3RZFE<br>PartType:Electric Fuel Pump<br>Quantity Required:1<br>
2003
Toyota
Tacoma
DLX Standard Cab Pickup 2-Door 3.4L 3378CC V6 GAS DOHC Naturally Aspirated
Strainer required to validate the warranty; Engine: 5VZFE<br>PartType:Electric Fuel Pump<br>Quantity Required:1<br>
2003
Toyota
Tacoma
Pre Runner Crew Cab Pickup 4-Door 2.7L 2694CC l4 GAS DOHC Naturally Aspirated
Strainer required to validate the warranty; Engine: 3RZFE<br>PartType:Electric Fuel Pump<br>Quantity Required:1<br>
2003
Toyota
Tacoma
Pre Runner Crew Cab Pickup 4-Door 3.4L 3378CC V6 GAS DOHC Naturally Aspirated
Strainer required to validate the warranty; Engine: 5VZFE<br>PartType:Electric Fuel Pump<br>Quantity Required:1<br>
2003
Toyota
Tacoma
Pre Runner Extended Cab Pickup 2-Door 2.7L 2694CC l4 GAS DOHC Naturally Aspirated
Strainer required to validate the warranty; Engine: 3RZFE<br>PartType:Electric Fuel Pump<br>Quantity Required:1<br>
2003
Toyota
Tacoma
Pre Runner Extended Cab Pickup 2-Door 3.4L 3378CC V6 GAS DOHC Naturally Aspirated
Strainer required to validate the warranty; Engine: 5VZFE<br>PartType:Electric Fuel Pump<br>Quantity Required:1<br>
2003
Toyota
Tacoma
Pre Runner Standard Cab Pickup 2-Door 2.7L 2694CC l4 GAS DOHC Naturally Aspirated
Strainer required to validate the warranty; Engine: 3RZFE<br>PartType:Electric Fuel Pump<br>Quantity Required:1<br>
2003
Toyota
Tacoma
Pre Runner Standard Cab Pickup 2-Door 3.4L 3378CC V6 GAS DOHC Naturally Aspirated
Strainer required to validate the warranty; Engine: 5VZFE<br>PartType:Electric Fuel Pump<br>Quantity Required:1<br>
2003
Toyota
Tacoma
S-Runner Extended Cab Pickup 2-Door 3.4L 3378CC V6 GAS DOHC Naturally Aspirated
Strainer required to validate the warranty; Engine: 5VZFE<br>PartType:Electric Fuel Pump<br>Quantity Required:1<br>
2002
Acura
RL
Premium Sedan 4-Door 3.5L 3475CC V6 GAS SOHC Naturally Aspirated
Strainer required to validate the warranty;<br>PartType:Electric Fuel Pump<br>Quantity Required:1<br>
2002
Chevrolet
Prizm
Base Sedan 4-Door 1.8L 1794CC l4 GAS DOHC Naturally Aspirated
Strainer required to validate the warranty; VIN: 8<br>PartType:Electric Fuel Pump<br>Quantity Required:1<br>
2002
Chevrolet
Prizm
LSi Sedan 4-Door 1.8L 1794CC l4 GAS DOHC Naturally Aspirated
Strainer required to validate the warranty; VIN: 8<br>PartType:Electric Fuel Pump<br>Quantity Required:1<br>
2002
Dodge
Dakota
SLT Crew Cab Pickup 4-Door 3.9L 3906CC 239Cu. In. V6 GAS OHV Naturally Aspirated
4 Door, Crew Cab Pickup; Part Type: Electric Fuel Pump Quantity Required:1
2002
Dodge
Dakota
SLT Crew Cab Pickup 4-Door 4.7L 285Cu. In. V8 GAS SOHC Naturally Aspirated
4 Door, Crew Cab Pickup; Part Type: Electric Fuel Pump Quantity Required:1
2002
Dodge
Dakota
SLT Crew Cab Pickup 4-Door 5.9L 360Cu. In. V8 GAS OHV Naturally Aspirated
4 Door, Crew Cab Pickup; Part Type: Electric Fuel Pump Quantity Required:1
2002
Dodge
Dakota
Sport Crew Cab Pickup 4-Door 3.9L 3906CC 239Cu. In. V6 GAS OHV Naturally Aspirated
4 Door, Crew Cab Pickup; Part Type: Electric Fuel Pump Quantity Required:1
2002
Dodge
Dakota
Sport Crew Cab Pickup 4-Door 4.7L 285Cu. In. V8 GAS SOHC Naturally Aspirated
4 Door, Crew Cab Pickup; Part Type: Electric Fuel Pump Quantity Required:1
2002
Dodge
Dakota
Sport Crew Cab Pickup 4-Door 5.9L 360Cu. In. V8 GAS OHV Naturally Aspirated
4 Door, Crew Cab Pickup; Part Type: Electric Fuel Pump Quantity Required:1
2002
Honda
Accord
EX Sedan 4-Door 2.3L 2254CC l4 GAS SOHC Naturally Aspirated
Strainer required to validate the warranty;<br>PartType:Electric Fuel Pump<br>Quantity Required:1<br>
2002
Honda
Accord
SE Sedan 4-Door 2.3L 2254CC l4 GAS SOHC Naturally Aspirated
Strainer required to validate the warranty;<br>PartType:Electric Fuel Pump<br>Quantity Required:1<br>
2002
Honda
Civic
DX Sedan 4-Door 1.7L 1700CC l4 GAS SOHC Naturally Aspirated
Strainer required to validate the warranty;<br>PartType:Electric Fuel Pump<br>Quantity Required:1<br>
2002
Honda
Civic
LX Sedan 4-Door 1.7L 1700CC l4 GAS SOHC Naturally Aspirated
Strainer required to validate the warranty;<br>PartType:Electric Fuel Pump<br>Quantity Required:1<br>
2002
Honda
CR-V
EX Sport Utility 4-Door 2.4L 2354CC l4 GAS DOHC Naturally Aspirated
Strainer required to validate the warranty;<br>PartType:Electric Fuel Pump<br>Quantity Required:1<br>
2002
Honda
CR-V
LX Sport Utility 4-Door 2.4L 2354CC l4 GAS DOHC Naturally Aspirated
Strainer required to validate the warranty;<br>PartType:Electric Fuel Pump<br>Quantity Required:1<br>
2002
Honda
Odyssey
Cargo Mini Cargo Van 5-Door 3.5L 3474CC V6 GAS SOHC Naturally Aspirated
Strainer required to validate the warranty;<br>PartType:Electric Fuel Pump<br>Quantity Required:1<br>
2002
Honda
Odyssey
EX Mini Passenger Van 5-Door 3.5L 3474CC V6 GAS SOHC Naturally Aspirated
Strainer required to validate the warranty;<br>PartType:Electric Fuel Pump<br>Quantity Required:1<br>
2002
Honda
Odyssey
EX-L Mini Passenger Van 5-Door 3.5L 3474CC V6 GAS SOHC Naturally Aspirated
Strainer required to validate the warranty;<br>PartType:Electric Fuel Pump<br>Quantity Required:1<br>
2002
Honda
Odyssey
LX Mini Passenger Van 5-Door 3.5L 3474CC V6 GAS SOHC Naturally Aspirated
Strainer required to validate the warranty;<br>PartType:Electric Fuel Pump<br>Quantity Required:1<br>
2002
Honda
S2000
Base Convertible 2-Door 2.0L 1997CC l4 GAS DOHC Naturally Aspirated
Strainer required to validate the warranty;<br>PartType:Electric Fuel Pump<br>Quantity Required:1<br>
2002
Hyundai
Accent
GL Sedan 4-Door 1.6L 1600CC l4 GAS DOHC Naturally Aspirated
Quantity Required: 1
2002
Hyundai
Elantra
GLS Sedan 4-Door 2.0L 1975CC l4 GAS DOHC Naturally Aspirated
Quantity Required: 1
2002
Hyundai
Santa Fe
Base Sport Utility 5-Door 2.4L 2351CC l4 GAS DOHC Naturally Aspirated
Quantity Required: 1
2002
Hyundai
Santa Fe
GLS Sport Utility 5-Door 2.7L 2656CC V6 GAS DOHC Naturally Aspirated
Quantity Required: 1
2002
Hyundai
Santa Fe
LX Sport Utility 5-Door 2.7L 2656CC V6 GAS DOHC Naturally Aspirated
Quantity Required: 1
2002
Hyundai
Sonata
Base Sedan 4-Door 2.4L 2351CC l4 GAS DOHC Naturally Aspirated
Quantity Required: 1
2002
Hyundai
Sonata
GLS Sedan 4-Door 2.7L 2656CC V6 GAS DOHC Naturally Aspirated
Quantity Required: 1
2002
Hyundai
Sonata
LX Sedan 4-Door 2.7L 2656CC V6 GAS DOHC Naturally Aspirated
Quantity Required: 1
2002
Hyundai
XG350
Base Sedan 4-Door 3.5L 3500CC V6 GAS DOHC Naturally Aspirated
Quantity Required: 1
2002
Hyundai
XG350
L Sedan 4-Door 3.5L 3500CC V6 GAS DOHC Naturally Aspirated
Quantity Required: 1
2002
Infiniti
I35
Base Sedan 4-Door 3.5L 3498CC V6 GAS DOHC Naturally Aspirated
Strainer required to validate the warranty;<br>PartType:Electric Fuel Pump<br>Quantity Required:1<br>
2002
Isuzu
Trooper
Limited Sport Utility 4-Door 3.5L 3475CC V6 GAS DOHC Naturally Aspirated
Strainer required to validate the warranty;<br>PartType:Electric Fuel Pump<br>Quantity Required:1<br>
2002
Isuzu
Trooper
LS Sport Utility 4-Door 3.5L 3475CC V6 GAS DOHC Naturally Aspirated
Strainer required to validate the warranty;<br>PartType:Electric Fuel Pump<br>Quantity Required:1<br>
2002
Isuzu
Trooper
S Sport Utility 4-Door 3.5L 3475CC V6 GAS DOHC Naturally Aspirated
Strainer required to validate the warranty;<br>PartType:Electric Fuel Pump<br>Quantity Required:1<br>
2002
Jeep
Grand Cherokee
Laredo Sport Utility 4-Door 4.0L 242Cu. In. l6 GAS OHV Naturally Aspirated
Part Type: Electric Fuel Pump Quantity Required:1
2002
Jeep
Grand Cherokee
Laredo Sport Utility 4-Door 4.7L 285Cu. In. V8 GAS SOHC Naturally Aspirated
Part Type: Electric Fuel Pump Quantity Required:1
2002
Jeep
Grand Cherokee
Limited Sport Utility 4-Door 4.0L 242Cu. In. l6 GAS OHV Naturally Aspirated
Part Type: Electric Fuel Pump Quantity Required:1
2002
Jeep
Grand Cherokee
Limited Sport Utility 4-Door 4.7L 285Cu. In. V8 GAS SOHC Naturally Aspirated
Part Type: Electric Fuel Pump Quantity Required:1
2002
Jeep
Grand Cherokee
Limited Sport Utility 4-Door 4.7L 4701CC 287Cu. In. V8 GAS SOHC Naturally Aspirated
Part Type: Electric Fuel Pump Quantity Required:1
2002
Jeep
Grand Cherokee
Overland Sport Utility 4-Door 4.7L 285Cu. In. V8 GAS SOHC Naturally Aspirated
Part Type: Electric Fuel Pump Quantity Required:1
2002
Jeep
Grand Cherokee
Overland Sport Utility 4-Door 4.7L 4701CC 287Cu. In. V8 GAS SOHC Naturally Aspirated
Part Type: Electric Fuel Pump Quantity Required:1
2002
Jeep
Grand Cherokee
Sport Sport Utility 4-Door 4.0L 242Cu. In. l6 GAS OHV Naturally Aspirated
Part Type: Electric Fuel Pump Quantity Required:1
2002
Jeep
Grand Cherokee
Sport Sport Utility 4-Door 4.7L 285Cu. In. V8 GAS SOHC Naturally Aspirated
Part Type: Electric Fuel Pump Quantity Required:1
2002
Jeep
TJ
Sahara Sport Utility 2-Door 4.0L 242Cu. In. l6 GAS OHV Naturally Aspirated
Part Type: Electric Fuel Pump Quantity Required:1
2002
Jeep
TJ
SE Sport Utility 2-Door 2.5L 150Cu. In. l4 GAS OHV Naturally Aspirated
Part Type: Electric Fuel Pump Quantity Required:1
2002
Jeep
TJ
Sport Sport Utility 2-Door 4.0L 242Cu. In. l6 GAS OHV Naturally Aspirated
Part Type: Electric Fuel Pump Quantity Required:1
2002
Jeep
Wrangler
Sahara Sport Utility 2-Door 4.0L 242Cu. In. l6 GAS OHV Naturally Aspirated
Part Type: Electric Fuel Pump Quantity Required:1
2002
Jeep
Wrangler
SE Sport Utility 2-Door 2.5L 150Cu. In. l4 GAS OHV Naturally Aspirated
Part Type: Electric Fuel Pump Quantity Required:1
2002
Jeep
Wrangler
Sport Sport Utility 2-Door 4.0L 242Cu. In. l6 GAS OHV Naturally Aspirated
Part Type: Electric Fuel Pump Quantity Required:1
2002
Jeep
Wrangler
X Sport Utility 2-Door 4.0L 242Cu. In. l6 GAS OHV Naturally Aspirated
Part Type: Electric Fuel Pump Quantity Required:1
2002
Kia
Optima
LX Sedan 4-Door 2.4L 2351CC l4 GAS DOHC Naturally Aspirated
Strainer required to validate the warranty;<br>PartType:Electric Fuel Pump<br>Quantity Required:1<br>
2002
Kia
Optima
LX Sedan 4-Door 2.7L 2656CC V6 GAS DOHC Naturally Aspirated
Strainer required to validate the warranty;<br>PartType:Electric Fuel Pump<br>Quantity Required:1<br>
2002
Kia
Optima
SE Sedan 4-Door 2.4L 2351CC l4 GAS DOHC Naturally Aspirated
Strainer required to validate the warranty;<br>PartType:Electric Fuel Pump<br>Quantity Required:1<br>
2002
Kia
Optima
SE Sedan 4-Door 2.7L 2656CC V6 GAS DOHC Naturally Aspirated
Strainer required to validate the warranty;<br>PartType:Electric Fuel Pump<br>Quantity Required:1<br>
2002
Lexus
ES300
Base Sedan 4-Door 3.0L 2995CC V6 GAS DOHC Naturally Aspirated
Aisian Pump; Strainer required to validate the warranty;<br>PartType:Electric Fuel Pump<br>Quantity Required:1<br>
2002
Mitsubishi
Diamante
ES Sedan 4-Door 3.5L 3497CC 215Cu. In. V6 GAS SOHC Naturally Aspirated
Quantity Required: 1
2002
Mitsubishi
Diamante
LS Sedan 4-Door 3.5L 3497CC 215Cu. In. V6 GAS SOHC Naturally Aspirated
Quantity Required: 1
2002
Mitsubishi
Diamante
VR-X Sedan 4-Door 3.5L 3497CC 215Cu. In. V6 GAS SOHC Naturally Aspirated
Quantity Required: 1
2002
Mitsubishi
Eclipse
Spyder GS Convertible 2-Door 2.4L 2351CC l4 GAS SOHC Naturally Aspirated
Quantity Required: 1
2002
Mitsubishi
Eclipse
Spyder GT Convertible 2-Door 3.0L 2972CC 181Cu. In. V6 GAS SOHC Naturally Aspirated
Quantity Required: 1
2002
Mitsubishi
Galant
DE Sedan 4-Door 2.4L 2351CC l4 GAS SOHC Naturally Aspirated
Quantity Required: 1
2002
Mitsubishi
Galant
ES Sedan 4-Door 2.4L 2351CC l4 GAS SOHC Naturally Aspirated
Quantity Required: 1
2002
Mitsubishi
Galant
ES Sedan 4-Door 3.0L 2972CC 181Cu. In. V6 GAS SOHC Naturally Aspirated
Quantity Required: 1
2002
Mitsubishi
Galant
GTZ Sedan 4-Door 3.0L 2972CC 181Cu. In. V6 GAS SOHC Naturally Aspirated
Quantity Required: 1
2002
Mitsubishi
Galant
LS Sedan 4-Door 2.4L 2351CC l4 GAS SOHC Naturally Aspirated
Quantity Required: 1
2002
Mitsubishi
Galant
LS Sedan 4-Door 3.0L 2972CC 181Cu. In. V6 GAS SOHC Naturally Aspirated
Quantity Required: 1
2002
Mitsubishi
Lancer
ES Sedan 4-Door 2.0L 2000CC l4 GAS SOHC Naturally Aspirated
Quantity Required: 1
2002
Mitsubishi
Lancer
LS Sedan 4-Door 2.0L 2000CC l4 GAS SOHC Naturally Aspirated
Quantity Required: 1
2002
Mitsubishi
Lancer
OZ Rally Sedan 4-Door 2.0L 2000CC l4 GAS SOHC Naturally Aspirated
Quantity Required: 1
2002
Mitsubishi
Mirage
DE Coupe 2-Door 1.5L 1468CC 90Cu. In. l4 GAS SOHC Naturally Aspirated
Quantity Required: 1
2002
Mitsubishi
Mirage
LS Coupe 2-Door 1.8L 1834CC 112Cu. In. l4 GAS SOHC Naturally Aspirated
Quantity Required: 1
2002
Mitsubishi
Montero
Limited Sport Utility 4-Door 3.5L 3497CC 215Cu. In. V6 GAS SOHC Naturally Aspirated
Quantity Required: 1
2002
Mitsubishi
Montero
XLS Sport Utility 4-Door 3.5L 3497CC 215Cu. In. V6 GAS SOHC Naturally Aspirated
Quantity Required: 1
2002
Mitsubishi
Montero Sport
ES Sport Utility 4-Door 3.0L 2972CC 181Cu. In. V6 GAS SOHC Naturally Aspirated
Quantity Required: 1
2002
Mitsubishi
Montero Sport
Limited Sport Utility 4-Door 3.5L 3497CC 215Cu. In. V6 GAS SOHC Naturally Aspirated
Quantity Required: 1
2002
Mitsubishi
Montero Sport
LS Sport Utility 4-Door 3.0L 2972CC 181Cu. In. V6 GAS SOHC Naturally Aspirated
Quantity Required: 1
2002
Mitsubishi
Montero Sport
XLS Sport Utility 4-Door 3.5L 3497CC 215Cu. In. V6 GAS SOHC Naturally Aspirated
Quantity Required: 1
2002
Nissan
Frontier
XE Crew Cab Pickup 4-Door 2.4L 2389CC l4 GAS DOHC Naturally Aspirated
Strainer required to validate the warranty; Engine: KA24DE<br>PartType:Electric Fuel Pump<br>Quantity Required:1<br>
2002
Nissan
Frontier
XE Extended Cab Pickup 2-Door 2.4L 2389CC l4 GAS DOHC Naturally Aspirated
Strainer required to validate the warranty; Engine: KA24DE<br>PartType:Electric Fuel Pump<br>Quantity Required:1<br>
2002
Nissan
Maxima
GLE Sedan 4-Door 3.5L 3498CC V6 GAS DOHC Naturally Aspirated
Strainer required to validate the warranty; Engine: VQ35DE<br>PartType:Electric Fuel Pump<br>Quantity Required:1<br>
2002
Nissan
Maxima
GXE Sedan 4-Door 3.5L 3498CC V6 GAS DOHC Naturally Aspirated
Strainer required to validate the warranty; Engine: VQ35DE<br>PartType:Electric Fuel Pump<br>Quantity Required:1<br>
2002
Nissan
Maxima
SE Sedan 4-Door 3.5L 3498CC V6 GAS DOHC Naturally Aspirated
Strainer required to validate the warranty; Engine: VQ35DE<br>PartType:Electric Fuel Pump<br>Quantity Required:1<br>
2002
Subaru
Forester
Base Wagon 4-Door 2.5L 2458CC H4 GAS SOHC Naturally Aspirated
Strainer required to validate the warranty;<br>PartType:Electric Fuel Pump<br>Quantity Required:1<br>
2002
Subaru
Forester
L Wagon 4-Door 2.5L 2458CC H4 GAS SOHC Naturally Aspirated
Strainer required to validate the warranty;<br>PartType:Electric Fuel Pump<br>Quantity Required:1<br>
2002
Subaru
Forester
S Wagon 4-Door 2.5L 2458CC H4 GAS SOHC Naturally Aspirated
Strainer required to validate the warranty;<br>PartType:Electric Fuel Pump<br>Quantity Required:1<br>
2002
Subaru
Impreza
Outback Wagon 4-Door 2.5L 2458CC H4 GAS SOHC Naturally Aspirated
Strainer required to validate the warranty; Outback<br>PartType:Electric Fuel Pump<br>Quantity Required:1<br>
2002
Subaru
Impreza
RS Sedan 4-Door 2.5L 2458CC H4 GAS SOHC Naturally Aspirated
RS & TS Models; Strainer required to validate the warranty; RS<br>PartType:Electric Fuel Pump<br>Quantity Required:1<br>
2002
Subaru
Impreza
TS Wagon 4-Door 2.5L 2458CC H4 GAS SOHC Naturally Aspirated
RS & TS Models; Strainer required to validate the warranty; TS<br>PartType:Electric Fuel Pump<br>Quantity Required:1<br>
2002
Subaru
Outback
H6 Sedan 4-Door 3.0L 3000CC H6 GAS DOHC Naturally Aspirated
Strainer required to validate the warranty;<br>PartType:Electric Fuel Pump<br>Quantity Required:1<br>
2002
Subaru
Outback
L.L. Bean Wagon 4-Door 3.0L 3000CC H6 GAS DOHC Naturally Aspirated
Strainer required to validate the warranty;<br>PartType:Electric Fuel Pump<br>Quantity Required:1<br>
2002
Subaru
Outback
VDC Sedan 4-Door 3.0L 3000CC H6 GAS DOHC Naturally Aspirated
Strainer required to validate the warranty;<br>PartType:Electric Fuel Pump<br>Quantity Required:1<br>
2002
Subaru
Outback
VDC Wagon 4-Door 3.0L 3000CC H6 GAS DOHC Naturally Aspirated
Strainer required to validate the warranty;<br>PartType:Electric Fuel Pump<br>Quantity Required:1<br>
2002
Suzuki
Aerio
SX Wagon 5-Door 2.0L 2000CC l4 GAS DOHC Naturally Aspirated
Strainer required to validate the warranty;<br>PartType:Electric Fuel Pump<br>Quantity Required:1<br>
2002
Suzuki
Esteem
GL Sedan 4-Door 1.8L 1790CC l4 GAS DOHC Naturally Aspirated
Strainer required to validate the warranty;<br>PartType:Electric Fuel Pump<br>Quantity Required:1<br>
2002
Suzuki
Esteem
GL Wagon 5-Door 1.8L 1790CC l4 GAS DOHC Naturally Aspirated
Strainer required to validate the warranty;<br>PartType:Electric Fuel Pump<br>Quantity Required:1<br>
2002
Suzuki
Esteem
GLX Plus Wagon 5-Door 1.8L 1790CC l4 GAS DOHC Naturally Aspirated
Strainer required to validate the warranty;<br>PartType:Electric Fuel Pump<br>Quantity Required:1<br>
2002
Suzuki
Esteem
GLX Sedan 4-Door 1.8L 1790CC l4 GAS DOHC Naturally Aspirated
Strainer required to validate the warranty;<br>PartType:Electric Fuel Pump<br>Quantity Required:1<br>
2002
Suzuki
Esteem
GLX Wagon 5-Door 1.8L 1790CC l4 GAS DOHC Naturally Aspirated
Strainer required to validate the warranty;<br>PartType:Electric Fuel Pump<br>Quantity Required:1<br>
2002
Suzuki
Grand Vitara
JLX Sport Utility 4-Door 2.5L 2500CC V6 GAS DOHC Naturally Aspirated
Strainer required to validate the warranty;<br>PartType:Electric Fuel Pump<br>Quantity Required:1<br>
2002
Suzuki
Grand Vitara
Limited Sport Utility 4-Door 2.5L 2500CC V6 GAS DOHC Naturally Aspirated
Strainer required to validate the warranty;<br>PartType:Electric Fuel Pump<br>Quantity Required:1<br>
2002
Suzuki
Vitara
JLX Sport Utility 4-Door 2.0L 2000CC l4 GAS DOHC Naturally Aspirated
Strainer required to validate the warranty; 4 Door, Sport Utility<br>PartType:Electric Fuel Pump<br>Quantity Required:1<br>
2002
Toyota
4Runner
Limited Sport Utility 4-Door 3.4L 3378CC V6 GAS DOHC Naturally Aspirated
Strainer required to validate the warranty; Engine: 5VZFE<br>PartType:Electric Fuel Pump<br>Quantity Required:1<br>
2002
Toyota
4Runner
SR5 Sport Utility 4-Door 3.4L 3378CC V6 GAS DOHC Naturally Aspirated
Strainer required to validate the warranty; Engine: 5VZFE<br>PartType:Electric Fuel Pump<br>Quantity Required:1<br>
2002
Toyota
Avalon
XL Sedan 4-Door 3.0L 2995CC V6 GAS DOHC Naturally Aspirated
Strainer required to validate the warranty; Engine: 1MZFE<br>PartType:Electric Fuel Pump<br>Quantity Required:1<br>
2002
Toyota
Avalon
XLS Sedan 4-Door 3.0L 2995CC V6 GAS DOHC Naturally Aspirated
Strainer required to validate the warranty; Engine: 1MZFE<br>PartType:Electric Fuel Pump<br>Quantity Required:1<br>
2002
Toyota
Celica
GT Hatchback 2-Door 1.8L 1794CC l4 GAS DOHC Naturally Aspirated
Strainer required to validate the warranty; Engine: 1ZZFE<br>PartType:Electric Fuel Pump<br>Quantity Required:1<br>
2002
Toyota
Celica
GTS Hatchback 2-Door 1.8L 1795CC l4 GAS DOHC Naturally Aspirated
Strainer required to validate the warranty; Engine: 2ZZGE<br>PartType:Electric Fuel Pump<br>Quantity Required:1<br>
2002
Toyota
Corolla
CE Sedan 4-Door 1.8L 1794CC l4 GAS DOHC Naturally Aspirated
Strainer required to validate the warranty; Engine: 1ZZFE<br>PartType:Electric Fuel Pump<br>Quantity Required:1<br>
2002
Toyota
Corolla
LE Sedan 4-Door 1.8L 1794CC l4 GAS DOHC Naturally Aspirated
Strainer required to validate the warranty; Engine: 1ZZFE<br>PartType:Electric Fuel Pump<br>Quantity Required:1<br>
2002
Toyota
Corolla
S Sedan 4-Door 1.8L 1794CC l4 GAS DOHC Naturally Aspirated
Strainer required to validate the warranty; Engine: 1ZZFE<br>PartType:Electric Fuel Pump<br>Quantity Required:1<br>
2002
Toyota
Echo
Base Sedan 2-Door 1.5L 1497CC l4 GAS DOHC Naturally Aspirated
Strainer required to validate the warranty; Engine: 1NZFE<br>PartType:Electric Fuel Pump<br>Quantity Required:1<br>
2002
Toyota
Echo
Base Sedan 4-Door 1.5L 1497CC l4 GAS DOHC Naturally Aspirated
Strainer required to validate the warranty; Engine: 1NZFE<br>PartType:Electric Fuel Pump<br>Quantity Required:1<br>
2002
Toyota
Tacoma
DLX Extended Cab Pickup 2-Door 2.4L 2438CC l4 GAS DOHC Naturally Aspirated
Strainer required to validate the warranty; Engine: 2RZFE<br>PartType:Electric Fuel Pump<br>Quantity Required:1<br>
2002
Toyota
Tacoma
DLX Extended Cab Pickup 2-Door 2.7L 2694CC l4 GAS DOHC Naturally Aspirated
Strainer required to validate the warranty; Engine: 3RZFE<br>PartType:Electric Fuel Pump<br>Quantity Required:1<br>
2002
Toyota
Tacoma
DLX Extended Cab Pickup 2-Door 3.4L 3378CC V6 GAS DOHC Naturally Aspirated
Strainer required to validate the warranty; Engine: 5VZFE<br>PartType:Electric Fuel Pump<br>Quantity Required:1<br>
2002
Toyota
Tacoma
DLX Standard Cab Pickup 2-Door 2.4L 2438CC l4 GAS DOHC Naturally Aspirated
Strainer required to validate the warranty; Engine: 2RZFE<br>PartType:Electric Fuel Pump<br>Quantity Required:1<br>
2002
Toyota
Tacoma
DLX Standard Cab Pickup 2-Door 2.7L 2694CC l4 GAS DOHC Naturally Aspirated
Strainer required to validate the warranty; Engine: 3RZFE<br>PartType:Electric Fuel Pump<br>Quantity Required:1<br>
2002
Toyota
Tacoma
DLX Standard Cab Pickup 2-Door 3.4L 3378CC V6 GAS DOHC Naturally Aspirated
Strainer required to validate the warranty; Engine: 5VZFE<br>PartType:Electric Fuel Pump<br>Quantity Required:1<br>
2002
Toyota
Tacoma
Pre Runner Crew Cab Pickup 4-Door 2.7L 2694CC l4 GAS DOHC Naturally Aspirated
Strainer required to validate the warranty; Engine: 3RZFE<br>PartType:Electric Fuel Pump<br>Quantity Required:1<br>
2002
Toyota
Tacoma
Pre Runner Crew Cab Pickup 4-Door 3.4L 3378CC V6 GAS DOHC Naturally Aspirated
Strainer required to validate the warranty; Engine: 5VZFE<br>PartType:Electric Fuel Pump<br>Quantity Required:1<br>
2002
Toyota
Tacoma
Pre Runner Extended Cab Pickup 2-Door 2.7L 2694CC l4 GAS DOHC Naturally Aspirated
Strainer required to validate the warranty; Engine: 3RZFE<br>PartType:Electric Fuel Pump<br>Quantity Required:1<br>
2002
Toyota
Tacoma
Pre Runner Extended Cab Pickup 2-Door 3.4L 3378CC V6 GAS DOHC Naturally Aspirated
Strainer required to validate the warranty; Engine: 5VZFE<br>PartType:Electric Fuel Pump<br>Quantity Required:1<br>
2002
Toyota
Tacoma
Pre Runner Standard Cab Pickup 2-Door 2.7L 2694CC l4 GAS DOHC Naturally Aspirated
Strainer required to validate the warranty; Engine: 3RZFE<br>PartType:Electric Fuel Pump<br>Quantity Required:1<br>
2002
Toyota
Tacoma
Pre Runner Standard Cab Pickup 2-Door 3.4L 3378CC V6 GAS DOHC Naturally Aspirated
Strainer required to validate the warranty; Engine: 5VZFE<br>PartType:Electric Fuel Pump<br>Quantity Required:1<br>
2002
Toyota
Tacoma
S-Runner Extended Cab Pickup 2-Door 3.4L 3378CC V6 GAS DOHC Naturally Aspirated
Strainer required to validate the warranty; Engine: 5VZFE<br>PartType:Electric Fuel Pump<br>Quantity Required:1<br>
2001
Acura
RL
Premium Sedan 4-Door 3.5L 3475CC V6 GAS SOHC Naturally Aspirated
Strainer required to validate the warranty;<br>PartType:Electric Fuel Pump<br>Quantity Required:1<br>
2001
Chevrolet
Prizm
Base Sedan 4-Door 1.8L 1794CC l4 GAS DOHC Naturally Aspirated
Strainer required to validate the warranty; VIN: 8<br>PartType:Electric Fuel Pump<br>Quantity Required:1<br>
2001
Chevrolet
Prizm
LSi Sedan 4-Door 1.8L 1794CC l4 GAS DOHC Naturally Aspirated
Strainer required to validate the warranty; VIN: 8<br>PartType:Electric Fuel Pump<br>Quantity Required:1<br>
2001
Chevrolet
Tracker
Base Sport Utility 2-Door 2.0L 122Cu. In. l4 GAS DOHC Naturally Aspirated
Strainer required to validate the warranty;<br>PartType:Electric Fuel Pump<br>Quantity Required:1<br>
2001
Chevrolet
Tracker
Base Sport Utility 4-Door 2.0L 122Cu. In. l4 GAS DOHC Naturally Aspirated
Strainer required to validate the warranty;<br>PartType:Electric Fuel Pump<br>Quantity Required:1<br>
2001
Chevrolet
Tracker
LT Sport Utility 4-Door 2.5L 2500CC V6 GAS DOHC Naturally Aspirated
Strainer required to validate the warranty;<br>PartType:Electric Fuel Pump<br>Quantity Required:1<br>
2001
Chevrolet
Tracker
ZR2 Sport Utility 4-Door 2.0L 122Cu. In. l4 GAS DOHC Naturally Aspirated
Strainer required to validate the warranty;<br>PartType:Electric Fuel Pump<br>Quantity Required:1<br>
2001
Dodge
Dakota
SLT Crew Cab Pickup 4-Door 3.9L 3906CC 239Cu. In. V6 GAS OHV Naturally Aspirated
4 Door, Crew Cab Pickup; Part Type: Electric Fuel Pump Quantity Required:1
2001
Dodge
Dakota
SLT Crew Cab Pickup 4-Door 4.7L 287Cu. In. V8 GAS SOHC Naturally Aspirated
4 Door, Crew Cab Pickup; Part Type: Electric Fuel Pump Quantity Required:1
2001
Dodge
Dakota
SLT Crew Cab Pickup 4-Door 5.9L 360Cu. In. V8 GAS OHV Naturally Aspirated
4 Door, Crew Cab Pickup; Part Type: Electric Fuel Pump Quantity Required:1
2001
Dodge
Dakota
Sport Crew Cab Pickup 4-Door 3.9L 3906CC 239Cu. In. V6 GAS OHV Naturally Aspirated
4 Door, Crew Cab Pickup; Part Type: Electric Fuel Pump Quantity Required:1
2001
Dodge
Dakota
Sport Crew Cab Pickup 4-Door 4.7L 287Cu. In. V8 GAS SOHC Naturally Aspirated
4 Door, Crew Cab Pickup; Part Type: Electric Fuel Pump Quantity Required:1
2001
Dodge
Dakota
Sport Crew Cab Pickup 4-Door 5.9L 360Cu. In. V8 GAS OHV Naturally Aspirated
4 Door, Crew Cab Pickup; Part Type: Electric Fuel Pump Quantity Required:1
2001
Honda
Civic
EX Sedan 4-Door 1.7L 1668CC l4 GAS SOHC Naturally Aspirated
Strainer required to validate the warranty;<br>PartType:Electric Fuel Pump<br>Quantity Required:1<br>
2001
Honda
CR-V
EX Sport Utility 4-Door 2.0L 1972CC l4 GAS DOHC Naturally Aspirated
Strainer required to validate the warranty;<br>PartType:Electric Fuel Pump<br>Quantity Required:1<br>
2001
Honda
CR-V
LX Sport Utility 4-Door 2.0L 1972CC l4 GAS DOHC Naturally Aspirated
Strainer required to validate the warranty;<br>PartType:Electric Fuel Pump<br>Quantity Required:1<br>
2001
Honda
CR-V
SE Sport Utility 4-Door 2.0L 1972CC l4 GAS DOHC Naturally Aspirated
Strainer required to validate the warranty;<br>PartType:Electric Fuel Pump<br>Quantity Required:1<br>
2001
Honda
Odyssey
Cargo Mini Cargo Van 5-Door 3.5L 3474CC V6 GAS SOHC Naturally Aspirated
Strainer required to validate the warranty;<br>PartType:Electric Fuel Pump<br>Quantity Required:1<br>
2001
Honda
Odyssey
EX Mini Passenger Van 5-Door 3.5L 3474CC V6 GAS SOHC Naturally Aspirated
Strainer required to validate the warranty;<br>PartType:Electric Fuel Pump<br>Quantity Required:1<br>
2001
Honda
Odyssey
LX Mini Passenger Van 5-Door 3.5L 3474CC V6 GAS SOHC Naturally Aspirated
Strainer required to validate the warranty;<br>PartType:Electric Fuel Pump<br>Quantity Required:1<br>
2001
Honda
Prelude
Base Coupe 2-Door 2.2L 2156CC l4 GAS DOHC Naturally Aspirated
Strainer required to validate the warranty;<br>PartType:Electric Fuel Pump<br>Quantity Required:1<br>
2001
Honda
Prelude
Type SH Coupe 2-Door 2.2L 2156CC l4 GAS DOHC Naturally Aspirated
Strainer required to validate the warranty;<br>PartType:Electric Fuel Pump<br>Quantity Required:1<br>
2001
Honda
S2000
Base Convertible 2-Door 2.0L 1997CC l4 GAS DOHC Naturally Aspirated
Strainer required to validate the warranty;<br>PartType:Electric Fuel Pump<br>Quantity Required:1<br>
2001
Hyundai
Accent
GL Sedan 4-Door 1.6L 1600CC l4 GAS DOHC Naturally Aspirated
Quantity Required: 1
2001
Hyundai
Elantra
GLS Sedan 4-Door 2.0L 1975CC l4 GAS DOHC Naturally Aspirated
Quantity Required: 1
2001
Hyundai
Santa Fe
GL Sport Utility 5-Door 2.4L 2351CC l4 GAS DOHC Naturally Aspirated
Quantity Required: 1
2001
Hyundai
Santa Fe
GL Sport Utility 5-Door 2.7L 2656CC V6 GAS DOHC Naturally Aspirated
Quantity Required: 1
2001
Hyundai
Santa Fe
GLS Sport Utility 5-Door 2.7L 2656CC V6 GAS DOHC Naturally Aspirated
Quantity Required: 1
2001
Hyundai
Santa Fe
LX Sport Utility 5-Door 2.7L 2656CC V6 GAS DOHC Naturally Aspirated
Quantity Required: 1
2001
Hyundai
Sonata
Base Sedan 4-Door 2.4L 2351CC l4 GAS DOHC Naturally Aspirated
Quantity Required: 1
2001
Hyundai
Sonata
GLS Sedan 4-Door 2.5L 2493CC V6 GAS DOHC Naturally Aspirated
Quantity Required: 1
2001
Hyundai
Tiburon
Base Coupe 2-Door 2.0L 1997CC l4 GAS DOHC Naturally Aspirated
Quantity Required: 1
2001
Hyundai
XG300
Base Sedan 4-Door 3.0L 2972CC V6 GAS DOHC Naturally Aspirated
Quantity Required: 1
2001
Hyundai
XG300
L Sedan 4-Door 3.0L 2972CC V6 GAS DOHC Naturally Aspirated
Quantity Required: 1
2001
Infiniti
I30
Base Sedan 4-Door 3.0L 2988CC 182Cu. In. V6 GAS DOHC Naturally Aspirated
Strainer required to validate the warranty;<br>PartType:Electric Fuel Pump<br>Quantity Required:1<br>
2001
Infiniti
I30
T Sedan 4-Door 3.0L 2988CC 182Cu. In. V6 GAS DOHC Naturally Aspirated
Strainer required to validate the warranty;<br>PartType:Electric Fuel Pump<br>Quantity Required:1<br>
2001
Isuzu
Trooper
Limited Sport Utility 4-Door 3.5L 3475CC V6 GAS DOHC Naturally Aspirated
Strainer required to validate the warranty;<br>PartType:Electric Fuel Pump<br>Quantity Required:1<br>
2001
Isuzu
Trooper
LS Sport Utility 4-Door 3.5L 3475CC V6 GAS DOHC Naturally Aspirated
Strainer required to validate the warranty;<br>PartType:Electric Fuel Pump<br>Quantity Required:1<br>
2001
Isuzu
Trooper
S Sport Utility 4-Door 3.5L 3475CC V6 GAS DOHC Naturally Aspirated
Strainer required to validate the warranty;<br>PartType:Electric Fuel Pump<br>Quantity Required:1<br>
2001
Isuzu
VehiCROSS
Base Sport Utility 2-Door 3.5L 3475CC V6 GAS DOHC Naturally Aspirated
Strainer required to validate the warranty;<br>PartType:Electric Fuel Pump<br>Quantity Required:1<br>
2001
Jeep
Cherokee
Classic Sport Utility 4-Door 4.0L 242Cu. In. l6 GAS OHV Naturally Aspirated
Part Type: Electric Fuel Pump Quantity Required:1
2001
Jeep
Cherokee
Limited Sport Utility 4-Door 4.0L 242Cu. In. l6 GAS OHV Naturally Aspirated
Part Type: Electric Fuel Pump Quantity Required:1
2001
Jeep
Cherokee
SE Sport Utility 2-Door 4.0L 242Cu. In. l6 GAS OHV Naturally Aspirated
Part Type: Electric Fuel Pump Quantity Required:1
2001
Jeep
Cherokee
SE Sport Utility 4-Door 4.0L 242Cu. In. l6 GAS OHV Naturally Aspirated
Part Type: Electric Fuel Pump Quantity Required:1
2001
Jeep
Cherokee
Sport Sport Utility 2-Door 4.0L 242Cu. In. l6 GAS OHV Naturally Aspirated
Part Type: Electric Fuel Pump Quantity Required:1
2001
Jeep
Cherokee
Sport Sport Utility 4-Door 4.0L 242Cu. In. l6 GAS OHV Naturally Aspirated
Part Type: Electric Fuel Pump Quantity Required:1
2001
Jeep
Grand Cherokee
Laredo Sport Utility 4-Door 4.0L 242Cu. In. l6 GAS OHV Naturally Aspirated
Part Type: Electric Fuel Pump Quantity Required:1
2001
Jeep
Grand Cherokee
Laredo Sport Utility 4-Door 4.7L 287Cu. In. V8 GAS SOHC Naturally Aspirated
Part Type: Electric Fuel Pump Quantity Required:1
2001
Jeep
Grand Cherokee
Limited Sport Utility 4-Door 4.0L 242Cu. In. l6 GAS OHV Naturally Aspirated
Part Type: Electric Fuel Pump Quantity Required:1
2001
Jeep
Grand Cherokee
Limited Sport Utility 4-Door 4.7L 287Cu. In. V8 GAS SOHC Naturally Aspirated
Part Type: Electric Fuel Pump Quantity Required:1
2001
Jeep
TJ
Sahara Sport Utility 2-Door 4.0L 242Cu. In. l6 GAS OHV Naturally Aspirated
Part Type: Electric Fuel Pump Quantity Required:1
2001
Jeep
TJ
SE Sport Utility 2-Door 2.5L 150Cu. In. l4 GAS OHV Naturally Aspirated
Part Type: Electric Fuel Pump Quantity Required:1
2001
Jeep
TJ
Sport Sport Utility 2-Door 4.0L 242Cu. In. l6 GAS OHV Naturally Aspirated
Part Type: Electric Fuel Pump Quantity Required:1
2001
Jeep
Wrangler
Sahara Sport Utility 2-Door 4.0L 242Cu. In. l6 GAS OHV Naturally Aspirated
Part Type: Electric Fuel Pump Quantity Required:1
2001
Jeep
Wrangler
SE Sport Utility 2-Door 2.5L 150Cu. In. l4 GAS OHV Naturally Aspirated
Part Type: Electric Fuel Pump Quantity Required:1
2001
Jeep
Wrangler
Sport Sport Utility 2-Door 4.0L 242Cu. In. l6 GAS OHV Naturally Aspirated
Part Type: Electric Fuel Pump Quantity Required:1
2001
Kia
Optima
LX Sedan 4-Door 2.5L 2500CC V6 GAS DOHC Naturally Aspirated
Strainer required to validate the warranty;<br>PartType:Electric Fuel Pump<br>Quantity Required:1<br>
2001
Kia
Optima
SE Sedan 4-Door 2.5L 2500CC V6 GAS DOHC Naturally Aspirated
Strainer required to validate the warranty;<br>PartType:Electric Fuel Pump<br>Quantity Required:1<br>
2001
Lexus
ES300
Base Sedan 4-Door 3.0L 2995CC V6 GAS DOHC Naturally Aspirated
Aisian Pump; Strainer required to validate the warranty;<br>PartType:Electric Fuel Pump<br>Quantity Required:1<br>
2001
Mazda
Millenia
Base Sedan 4-Door 2.5L 2497CC V6 GAS DOHC Naturally Aspirated
Strainer required to validate the warranty;<br>PartType:Electric Fuel Pump<br>Quantity Required:1<br>
2001
Mitsubishi
Diamante
ES Sedan 4-Door 3.5L 3497CC 215Cu. In. V6 GAS SOHC Naturally Aspirated
Quantity Required: 1
2001
Mitsubishi
Diamante
LS Sedan 4-Door 3.5L 3497CC 215Cu. In. V6 GAS SOHC Naturally Aspirated
Quantity Required: 1
2001
Mitsubishi
Eclipse
Spyder GS Convertible 2-Door 2.4L 2351CC l4 GAS SOHC Naturally Aspirated
Quantity Required: 1
2001
Mitsubishi
Eclipse
Spyder GT Convertible 2-Door 3.0L 2972CC 181Cu. In. V6 GAS SOHC Naturally Aspirated
Quantity Required: 1
2001
Mitsubishi
Galant
DE Sedan 4-Door 2.4L 2351CC l4 GAS SOHC Naturally Aspirated
Quantity Required: 1
2001
Mitsubishi
Galant
ES Sedan 4-Door 2.4L 2351CC l4 GAS SOHC Naturally Aspirated
Quantity Required: 1
2001
Mitsubishi
Galant
ES Sedan 4-Door 3.0L 2972CC 181Cu. In. V6 GAS SOHC Naturally Aspirated
Quantity Required: 1
2001
Mitsubishi
Galant
GTZ Sedan 4-Door 3.0L 2972CC 181Cu. In. V6 GAS SOHC Naturally Aspirated
Quantity Required: 1
2001
Mitsubishi
Galant
LS Sedan 4-Door 3.0L 2972CC 181Cu. In. V6 GAS SOHC Naturally Aspirated
Quantity Required: 1
2001
Mitsubishi
Mirage
DE Coupe 2-Door 1.5L 1468CC 90Cu. In. l4 GAS SOHC Naturally Aspirated
Quantity Required: 1
2001
Mitsubishi
Mirage
ES Sedan 4-Door 1.8L 1834CC 112Cu. In. l4 GAS SOHC Naturally Aspirated
Quantity Required: 1
2001
Mitsubishi
Mirage
LS Coupe 2-Door 1.8L 1834CC 112Cu. In. l4 GAS SOHC Naturally Aspirated
Quantity Required: 1
2001
Mitsubishi
Mirage
LS Sedan 4-Door 1.8L 1834CC 112Cu. In. l4 GAS SOHC Naturally Aspirated
Quantity Required: 1
2001
Mitsubishi
Montero
Limited Sport Utility 4-Door 3.5L 3497CC 215Cu. In. V6 GAS SOHC Naturally Aspirated
Quantity Required: 1
2001
Mitsubishi
Montero
XLS Sport Utility 4-Door 3.5L 3497CC 215Cu. In. V6 GAS SOHC Naturally Aspirated
Quantity Required: 1
2001
Mitsubishi
Montero Sport
ES Sport Utility 4-Door 3.0L 2972CC 181Cu. In. V6 GAS SOHC Naturally Aspirated
Quantity Required: 1
2001
Mitsubishi
Montero Sport
Limited Sport Utility 4-Door 3.5L 3497CC 215Cu. In. V6 GAS SOHC Naturally Aspirated
Quantity Required: 1
2001
Mitsubishi
Montero Sport
LS Sport Utility 4-Door 3.0L 2972CC 181Cu. In. V6 GAS SOHC Naturally Aspirated
Quantity Required: 1
2001
Mitsubishi
Montero Sport
XLS Sport Utility 4-Door 3.0L 2972CC 181Cu. In. V6 GAS SOHC Naturally Aspirated
Quantity Required: 1
2001
Mitsubishi
Montero Sport
XS Sport Utility 4-Door 3.5L 3497CC 215Cu. In. V6 GAS SOHC Naturally Aspirated
Quantity Required: 1
2001
Nissan
Altima
GXE Sedan 4-Door 2.4L 2389CC l4 GAS DOHC Naturally Aspirated
Strainer required to validate the warranty; Engine: KA24DE<br>PartType:Electric Fuel Pump<br>Quantity Required:1<br>
2001
Nissan
Maxima
GLE Sedan 4-Door 3.0L 2988CC 182Cu. In. V6 GAS DOHC Naturally Aspirated
Strainer required to validate the warranty; Engine: VQ30DE<br>PartType:Electric Fuel Pump<br>Quantity Required:1<br>
2001
Nissan
Maxima
GXE Sedan 4-Door 3.0L 2988CC 182Cu. In. V6 GAS DOHC Naturally Aspirated
Strainer required to validate the warranty; Engine: VQ30DE<br>PartType:Electric Fuel Pump<br>Quantity Required:1<br>
2001
Nissan
Maxima
SE 20th Anniversary Edition Sedan 4-Door 3.0L 2988CC 182Cu. In. V6 GAS DOHC Naturally Aspirated
Strainer required to validate the warranty; Engine: VQ30DE<br>PartType:Electric Fuel Pump<br>Quantity Required:1<br>
2001
Nissan
Maxima
SE Sedan 4-Door 3.0L 2988CC 182Cu. In. V6 GAS DOHC Naturally Aspirated
Strainer required to validate the warranty; Engine: VQ30DE<br>PartType:Electric Fuel Pump<br>Quantity Required:1<br>
2001
Subaru
Forester
Base Wagon 4-Door 2.5L 2458CC H4 GAS SOHC Naturally Aspirated
Strainer required to validate the warranty;<br>PartType:Electric Fuel Pump<br>Quantity Required:1<br>
2001
Subaru
Forester
L Wagon 4-Door 2.5L 2458CC H4 GAS SOHC Naturally Aspirated
Strainer required to validate the warranty;<br>PartType:Electric Fuel Pump<br>Quantity Required:1<br>
2001
Subaru
Forester
S Wagon 4-Door 2.5L 2458CC H4 GAS SOHC Naturally Aspirated
Strainer required to validate the warranty;<br>PartType:Electric Fuel Pump<br>Quantity Required:1<br>
2001
Subaru
Impreza
L Wagon 4-Door 2.2L 2212CC H4 GAS SOHC Naturally Aspirated
Strainer required to validate the warranty; L<br>PartType:Electric Fuel Pump<br>Quantity Required:1<br>
2001
Subaru
Legacy
GT Limited Sedan 4-Door 2.5L 2458CC H4 GAS SOHC Naturally Aspirated
Strainer required to validate the warranty;<br>PartType:Electric Fuel Pump<br>Quantity Required:1<br>
2001
Subaru
Legacy
GT Sedan 4-Door 2.5L 2458CC H4 GAS SOHC Naturally Aspirated
Strainer required to validate the warranty;<br>PartType:Electric Fuel Pump<br>Quantity Required:1<br>
2001
Subaru
Legacy
GT Wagon 4-Door 2.5L 2458CC H4 GAS SOHC Naturally Aspirated
Strainer required to validate the warranty;<br>PartType:Electric Fuel Pump<br>Quantity Required:1<br>
2001
Subaru
Legacy
L Sedan 4-Door 2.5L 2458CC H4 GAS SOHC Naturally Aspirated
Strainer required to validate the warranty;<br>PartType:Electric Fuel Pump<br>Quantity Required:1<br>
2001
Subaru
Legacy
L Wagon 4-Door 2.5L 2458CC H4 GAS SOHC Naturally Aspirated
Strainer required to validate the warranty;<br>PartType:Electric Fuel Pump<br>Quantity Required:1<br>
2001
Subaru
Outback
L.L. Bean Wagon 4-Door 3.0L 3000CC H6 GAS DOHC Naturally Aspirated
Strainer required to validate the warranty;<br>PartType:Electric Fuel Pump<br>Quantity Required:1<br>
2001
Subaru
Outback
VDC Wagon 4-Door 3.0L 3000CC H6 GAS DOHC Naturally Aspirated
Strainer required to validate the warranty;<br>PartType:Electric Fuel Pump<br>Quantity Required:1<br>
2001
Suzuki
Esteem
GL Sedan 4-Door 1.8L 1790CC l4 GAS DOHC Naturally Aspirated
Strainer required to validate the warranty;<br>PartType:Electric Fuel Pump<br>Quantity Required:1<br>
2001
Suzuki
Esteem
GL Wagon 5-Door 1.8L 1790CC l4 GAS DOHC Naturally Aspirated
Strainer required to validate the warranty;<br>PartType:Electric Fuel Pump<br>Quantity Required:1<br>
2001
Suzuki
Esteem
GLX Plus Sedan 4-Door 1.8L 1790CC l4 GAS DOHC Naturally Aspirated
Strainer required to validate the warranty;<br>PartType:Electric Fuel Pump<br>Quantity Required:1<br>
2001
Suzuki
Esteem
GLX Plus Wagon 5-Door 1.8L 1790CC l4 GAS DOHC Naturally Aspirated
Strainer required to validate the warranty;<br>PartType:Electric Fuel Pump<br>Quantity Required:1<br>
2001
Suzuki
Esteem
GLX Sedan 4-Door 1.8L 1790CC l4 GAS DOHC Naturally Aspirated
Strainer required to validate the warranty;<br>PartType:Electric Fuel Pump<br>Quantity Required:1<br>
2001
Suzuki
Esteem
GLX Wagon 5-Door 1.8L 1790CC l4 GAS DOHC Naturally Aspirated
Strainer required to validate the warranty;<br>PartType:Electric Fuel Pump<br>Quantity Required:1<br>
2001
Suzuki
Grand Vitara
JLS Plus SE Sport Utility 4-Door 2.5L 2500CC V6 GAS DOHC Naturally Aspirated
Strainer required to validate the warranty;<br>PartType:Electric Fuel Pump<br>Quantity Required:1<br>
2001
Suzuki
Vitara
JLS Sport Utility 2-Door 1.6L 1590CC 97Cu. In. l4 GAS SOHC Naturally Aspirated
Strainer required to validate the warranty;<br>PartType:Electric Fuel Pump<br>Quantity Required:1<br>
2001
Suzuki
Vitara
JLS Sport Utility 4-Door 1.6L 1590CC 97Cu. In. l4 GAS SOHC Naturally Aspirated
Strainer required to validate the warranty;<br>PartType:Electric Fuel Pump<br>Quantity Required:1<br>
2001
Suzuki
Vitara
JLX Sport Utility 2-Door 1.6L 1590CC 97Cu. In. l4 GAS SOHC Naturally Aspirated
Strainer required to validate the warranty;<br>PartType:Electric Fuel Pump<br>Quantity Required:1<br>
2001
Suzuki
Vitara
JLX Sport Utility 4-Door 1.6L 1590CC 97Cu. In. l4 GAS SOHC Naturally Aspirated
Strainer required to validate the warranty;<br>PartType:Electric Fuel Pump<br>Quantity Required:1<br>
2001
Toyota
4Runner
Base Sport Utility 4-Door 3.4L 3378CC V6 GAS DOHC Naturally Aspirated
Strainer required to validate the warranty; Engine: 5VZFE<br>PartType:Electric Fuel Pump<br>Quantity Required:1<br>
2001
Toyota
4Runner
Limited Sport Utility 4-Door 3.4L 3378CC V6 GAS DOHC Naturally Aspirated
Strainer required to validate the warranty; Engine: 5VZFE<br>PartType:Electric Fuel Pump<br>Quantity Required:1<br>
2001
Toyota
4Runner
SR5 Sport Utility 4-Door 3.4L 3378CC V6 GAS DOHC Naturally Aspirated
Strainer required to validate the warranty; Engine: 5VZFE<br>PartType:Electric Fuel Pump<br>Quantity Required:1<br>
2001
Toyota
Camry
CE Sedan 4-Door 2.2L 2164CC l4 GAS DOHC Naturally Aspirated
1st Character of VIN is J; Japan Built; Strainer required to validate the warranty; Engine: 5SFE<br>PartType:Electric Fuel Pump<br>Quantity Required:1<br>
2001
Toyota
Camry
LE Sedan 4-Door 2.2L 2164CC l4 CNG DOHC Naturally Aspirated
1st Character of VIN is J; Japan Built; Strainer required to validate the warranty; Engine: 5SFE<br>PartType:Electric Fuel Pump<br>Quantity Required:1<br>
2001
Toyota
Camry
LE Sedan 4-Door 2.2L 2164CC l4 GAS DOHC Naturally Aspirated
1st Character of VIN is J; Japan Built; Strainer required to validate the warranty; Engine: 5SFE<br>PartType:Electric Fuel Pump<br>Quantity Required:1<br>
2001
Toyota
Camry
LE Sedan 4-Door 3.0L 2995CC V6 GAS DOHC Naturally Aspirated
1st Character of VIN is J; Japan Built; Strainer required to validate the warranty; Engine: 1MZFE<br>PartType:Electric Fuel Pump<br>Quantity Required:1<br>
2001
Toyota
Camry
XLE Sedan 4-Door 2.2L 2164CC l4 GAS DOHC Naturally Aspirated
1st Character of VIN is J; Japan Built; Strainer required to validate the warranty; Engine: 5SFE<br>PartType:Electric Fuel Pump<br>Quantity Required:1<br>
2001
Toyota
Camry
XLE Sedan 4-Door 3.0L 2995CC V6 GAS DOHC Naturally Aspirated
1st Character of VIN is J; Japan Built; Strainer required to validate the warranty; Engine: 1MZFE<br>PartType:Electric Fuel Pump<br>Quantity Required:1<br>
2001
Toyota
Celica
GT Hatchback 2-Door 1.8L 1794CC l4 GAS DOHC Naturally Aspirated
Strainer required to validate the warranty; Engine: 1ZZFE<br>PartType:Electric Fuel Pump<br>Quantity Required:1<br>
2001
Toyota
Celica
GTS Hatchback 2-Door 1.8L 1795CC l4 GAS DOHC Naturally Aspirated
Strainer required to validate the warranty; Engine: 2ZZGE<br>PartType:Electric Fuel Pump<br>Quantity Required:1<br>
2001
Toyota
Corolla
CE Sedan 4-Door 1.8L 1794CC l4 GAS DOHC Naturally Aspirated
Strainer required to validate the warranty; Engine: 1ZZFE<br>PartType:Electric Fuel Pump<br>Quantity Required:1<br>
2001
Toyota
Corolla
LE Sedan 4-Door 1.8L 1794CC l4 GAS DOHC Naturally Aspirated
Strainer required to validate the warranty; Engine: 1ZZFE<br>PartType:Electric Fuel Pump<br>Quantity Required:1<br>
2001
Toyota
Corolla
S Sedan 4-Door 1.8L 1794CC l4 GAS DOHC Naturally Aspirated
Strainer required to validate the warranty; Engine: 1ZZFE<br>PartType:Electric Fuel Pump<br>Quantity Required:1<br>
2001
Toyota
Echo
Base Sedan 2-Door 1.5L 1497CC l4 GAS DOHC Naturally Aspirated
Strainer required to validate the warranty; Engine: 1NZFE<br>PartType:Electric Fuel Pump<br>Quantity Required:1<br>
2001
Toyota
Echo
Base Sedan 4-Door 1.5L 1497CC l4 GAS DOHC Naturally Aspirated
Strainer required to validate the warranty; Engine: 1NZFE<br>PartType:Electric Fuel Pump<br>Quantity Required:1<br>
2001
Toyota
Tacoma
DLX Extended Cab Pickup 2-Door 2.4L 2438CC l4 GAS DOHC Naturally Aspirated
Strainer required to validate the warranty; Engine: 2RZFE<br>PartType:Electric Fuel Pump<br>Quantity Required:1<br>
2001
Toyota
Tacoma
DLX Extended Cab Pickup 2-Door 2.7L 2694CC l4 GAS DOHC Naturally Aspirated
Strainer required to validate the warranty; Engine: 3RZFE<br>PartType:Electric Fuel Pump<br>Quantity Required:1<br>
2001
Toyota
Tacoma
DLX Extended Cab Pickup 2-Door 3.4L 3378CC V6 GAS DOHC Naturally Aspirated
Strainer required to validate the warranty; Engine: 5VZFE<br>PartType:Electric Fuel Pump<br>Quantity Required:1<br>
2001
Toyota
Tacoma
DLX Standard Cab Pickup 2-Door 2.4L 2438CC l4 GAS DOHC Naturally Aspirated
Strainer required to validate the warranty; Engine: 2RZFE<br>PartType:Electric Fuel Pump<br>Quantity Required:1<br>
2001
Toyota
Tacoma
DLX Standard Cab Pickup 2-Door 2.7L 2694CC l4 GAS DOHC Naturally Aspirated
Strainer required to validate the warranty; Engine: 3RZFE<br>PartType:Electric Fuel Pump<br>Quantity Required:1<br>
2001
Toyota
Tacoma
DLX Standard Cab Pickup 2-Door 3.4L 3378CC V6 GAS DOHC Naturally Aspirated
Strainer required to validate the warranty; Engine: 5VZFE<br>PartType:Electric Fuel Pump<br>Quantity Required:1<br>
2001
Toyota
Tacoma
Pre Runner Crew Cab Pickup 4-Door 2.7L 2694CC l4 GAS DOHC Naturally Aspirated
Strainer required to validate the warranty; Engine: 3RZFE<br>PartType:Electric Fuel Pump<br>Quantity Required:1<br>
2001
Toyota
Tacoma
Pre Runner Crew Cab Pickup 4-Door 3.4L 3378CC V6 GAS DOHC Naturally Aspirated
Strainer required to validate the warranty; Engine: 5VZFE<br>PartType:Electric Fuel Pump<br>Quantity Required:1<br>
2001
Toyota
Tacoma
Pre Runner Extended Cab Pickup 2-Door 2.7L 2694CC l4 GAS DOHC Naturally Aspirated
Strainer required to validate the warranty; Engine: 3RZFE<br>PartType:Electric Fuel Pump<br>Quantity Required:1<br>
2001
Toyota
Tacoma
Pre Runner Extended Cab Pickup 2-Door 3.4L 3378CC V6 GAS DOHC Naturally Aspirated
Strainer required to validate the warranty; Engine: 5VZFE<br>PartType:Electric Fuel Pump<br>Quantity Required:1<br>
2001
Toyota
Tacoma
Pre Runner Standard Cab Pickup 2-Door 2.7L 2694CC l4 GAS DOHC Naturally Aspirated
Strainer required to validate the warranty; Engine: 3RZFE<br>PartType:Electric Fuel Pump<br>Quantity Required:1<br>
2001
Toyota
Tacoma
Pre Runner Standard Cab Pickup 2-Door 3.4L 3378CC V6 GAS DOHC Naturally Aspirated
Strainer required to validate the warranty; Engine: 5VZFE<br>PartType:Electric Fuel Pump<br>Quantity Required:1<br>
2001
Toyota
Tacoma
S-Runner Extended Cab Pickup 2-Door 3.4L 3378CC V6 GAS DOHC Naturally Aspirated
Strainer required to validate the warranty; Engine: 5VZFE<br>PartType:Electric Fuel Pump<br>Quantity Required:1<br>
2000
Acura
RL
Premium Sedan 4-Door 3.5L 3475CC V6 GAS SOHC Naturally Aspirated
Strainer required to validate the warranty;<br>PartType:Electric Fuel Pump<br>Quantity Required:1<br>
2000
Chevrolet
Metro
Base Hatchback 2-Door 1.0L 993CC 61Cu. In. l3 GAS SOHC Naturally Aspirated
Strainer required to validate the warranty; VIN: 6<br>PartType:Electric Fuel Pump<br>Quantity Required:1<br>
2000
Chevrolet
Metro
Base Sedan 4-Door 1.3L 1295CC 79Cu. In. l4 GAS SOHC Naturally Aspirated
Strainer required to validate the warranty; VIN: 2<br>PartType:Electric Fuel Pump<br>Quantity Required:1<br>
2000
Chevrolet
Metro
LSi Hatchback 2-Door 1.3L 1295CC 79Cu. In. l4 GAS SOHC Naturally Aspirated
Strainer required to validate the warranty; VIN: 2<br>PartType:Electric Fuel Pump<br>Quantity Required:1<br>
2000
Chevrolet
Metro
LSi Sedan 4-Door 1.3L 1295CC 79Cu. In. l4 GAS SOHC Naturally Aspirated
Strainer required to validate the warranty; VIN: 2<br>PartType:Electric Fuel Pump<br>Quantity Required:1<br>
2000
Chevrolet
Prizm
Base Sedan 4-Door 1.8L 1794CC l4 GAS DOHC Naturally Aspirated
Strainer required to validate the warranty; VIN: 8<br>PartType:Electric Fuel Pump<br>Quantity Required:1<br>
2000
Chevrolet
Prizm
LSi Sedan 4-Door 1.8L 1794CC l4 GAS DOHC Naturally Aspirated
Strainer required to validate the warranty; VIN: 8<br>PartType:Electric Fuel Pump<br>Quantity Required:1<br>
2000
Chevrolet
Tracker
Base Sport Utility 2-Door 1.6L 1588CC 98Cu. In. l4 GAS SOHC Naturally Aspirated
Strainer required to validate the warranty;<br>PartType:Electric Fuel Pump<br>Quantity Required:1<br>
2000
Chevrolet
Tracker
Base Sport Utility 2-Door 2.0L 122Cu. In. l4 GAS DOHC Naturally Aspirated
Strainer required to validate the warranty;<br>PartType:Electric Fuel Pump<br>Quantity Required:1<br>
2000
Dodge
Dakota
SLT Crew Cab Pickup 4-Door 2.5L 2507CC 153Cu. In. l4 GAS OHV Naturally Aspirated
4 Door, Crew Cab Pickup; Part Type: Electric Fuel Pump Quantity Required:1
2000
Dodge
Dakota
SLT Crew Cab Pickup 4-Door 3.9L 3906CC 239Cu. In. V6 GAS OHV Naturally Aspirated
4 Door, Crew Cab Pickup; Part Type: Electric Fuel Pump Quantity Required:1
2000
Dodge
Dakota
SLT Crew Cab Pickup 4-Door 4.7L 287Cu. In. V8 GAS SOHC Naturally Aspirated
4 Door, Crew Cab Pickup; Part Type: Electric Fuel Pump Quantity Required:1
2000
Dodge
Dakota
SLT Crew Cab Pickup 4-Door 5.9L 360Cu. In. V8 GAS OHV Naturally Aspirated
4 Door, Crew Cab Pickup; Part Type: Electric Fuel Pump Quantity Required:1
2000
Dodge
Dakota
Sport Crew Cab Pickup 4-Door 2.5L 2507CC 153Cu. In. l4 GAS OHV Naturally Aspirated
4 Door, Crew Cab Pickup; Part Type: Electric Fuel Pump Quantity Required:1
2000
Dodge
Dakota
Sport Crew Cab Pickup 4-Door 3.9L 3906CC 239Cu. In. V6 GAS OHV Naturally Aspirated
4 Door, Crew Cab Pickup; Part Type: Electric Fuel Pump Quantity Required:1
2000
Dodge
Dakota
Sport Crew Cab Pickup 4-Door 4.7L 287Cu. In. V8 GAS SOHC Naturally Aspirated
4 Door, Crew Cab Pickup; Part Type: Electric Fuel Pump Quantity Required:1
2000
Dodge
Dakota
Sport Crew Cab Pickup 4-Door 5.9L 360Cu. In. V8 GAS OHV Naturally Aspirated
4 Door, Crew Cab Pickup; Part Type: Electric Fuel Pump Quantity Required:1
2000
Honda
Accord
EX Sedan 4-Door 2.3L 2254CC l4 GAS SOHC Naturally Aspirated
Strainer required to validate the warranty;<br>PartType:Electric Fuel Pump<br>Quantity Required:1<br>
2000
Honda
Accord
LX Coupe 2-Door 2.3L 2254CC l4 GAS SOHC Naturally Aspirated
Strainer required to validate the warranty;<br>PartType:Electric Fuel Pump<br>Quantity Required:1<br>
2000
Honda
Accord
SE Sedan 4-Door 2.3L 2254CC l4 GAS SOHC Naturally Aspirated
Strainer required to validate the warranty;<br>PartType:Electric Fuel Pump<br>Quantity Required:1<br>
2000
Honda
Civic
DX Sedan 4-Door 1.6L 1588CC 98Cu. In. l4 GAS SOHC Naturally Aspirated
Strainer required to validate the warranty;<br>PartType:Electric Fuel Pump<br>Quantity Required:1<br>
2000
Honda
Civic
EX Sedan 4-Door 1.6L 1588CC 98Cu. In. l4 GAS SOHC Naturally Aspirated
Strainer required to validate the warranty;<br>PartType:Electric Fuel Pump<br>Quantity Required:1<br>
2000
Honda
Civic
HX Coupe 2-Door 1.6L 1590CC l4 GAS SOHC Naturally Aspirated
Strainer required to validate the warranty;<br>PartType:Electric Fuel Pump<br>Quantity Required:1<br>
2000
Honda
CR-V
EX Sport Utility 4-Door 2.0L 1972CC l4 GAS DOHC Naturally Aspirated
Strainer required to validate the warranty;<br>PartType:Electric Fuel Pump<br>Quantity Required:1<br>
2000
Honda
CR-V
LX Sport Utility 4-Door 2.0L 1972CC l4 GAS DOHC Naturally Aspirated
Strainer required to validate the warranty;<br>PartType:Electric Fuel Pump<br>Quantity Required:1<br>
2000
Honda
CR-V
SE Sport Utility 4-Door 2.0L 1972CC l4 GAS DOHC Naturally Aspirated
Strainer required to validate the warranty;<br>PartType:Electric Fuel Pump<br>Quantity Required:1<br>
2000
Honda
Odyssey
Cargo Mini Cargo Van 5-Door 3.5L 3474CC V6 GAS SOHC Naturally Aspirated
Strainer required to validate the warranty;<br>PartType:Electric Fuel Pump<br>Quantity Required:1<br>
2000
Honda
Odyssey
EX Mini Passenger Van 5-Door 3.5L 3474CC V6 GAS SOHC Naturally Aspirated
Strainer required to validate the warranty;<br>PartType:Electric Fuel Pump<br>Quantity Required:1<br>
2000
Honda
Odyssey
LX Mini Passenger Van 5-Door 3.5L 3474CC V6 GAS SOHC Naturally Aspirated
Strainer required to validate the warranty;<br>PartType:Electric Fuel Pump<br>Quantity Required:1<br>
2000
Honda
Prelude
Base Coupe 2-Door 2.2L 2156CC l4 GAS DOHC Naturally Aspirated
Strainer required to validate the warranty;<br>PartType:Electric Fuel Pump<br>Quantity Required:1<br>
2000
Honda
Prelude
Type SH Coupe 2-Door 2.2L 2156CC l4 GAS DOHC Naturally Aspirated
Strainer required to validate the warranty;<br>PartType:Electric Fuel Pump<br>Quantity Required:1<br>
2000
Honda
S2000
Base Convertible 2-Door 2.0L 1997CC l4 GAS DOHC Naturally Aspirated
Strainer required to validate the warranty;<br>PartType:Electric Fuel Pump<br>Quantity Required:1<br>
2000
Hyundai
Accent
GL Sedan 4-Door 1.5L 1495CC l4 GAS SOHC Naturally Aspirated
Quantity Required: 1
2000
Hyundai
Elantra
GLS Sedan 4-Door 2.0L 1975CC l4 GAS DOHC Naturally Aspirated
Quantity Required: 1
2000
Hyundai
Elantra
GLS Wagon 5-Door 2.0L 1975CC l4 GAS DOHC Naturally Aspirated
Quantity Required: 1
2000
Hyundai
Sonata
Base Sedan 4-Door 2.4L 2351CC l4 GAS DOHC Naturally Aspirated
Quantity Required: 1
2000
Hyundai
Sonata
GLS Sedan 4-Door 2.5L 2493CC V6 GAS DOHC Naturally Aspirated
Quantity Required: 1
2000
Hyundai
Tiburon
Base Coupe 2-Door 2.0L 1997CC l4 GAS DOHC Naturally Aspirated
Quantity Required: 1
2000
Infiniti
I30
Base Sedan 4-Door 3.0L 2988CC 182Cu. In. V6 GAS DOHC Naturally Aspirated
Strainer required to validate the warranty;<br>PartType:Electric Fuel Pump<br>Quantity Required:1<br>
2000
Infiniti
I30
T Sedan 4-Door 3.0L 2988CC 182Cu. In. V6 GAS DOHC Naturally Aspirated
Strainer required to validate the warranty;<br>PartType:Electric Fuel Pump<br>Quantity Required:1<br>
2000
Isuzu
Trooper
Limited Sport Utility 4-Door 3.5L 3475CC V6 GAS DOHC Naturally Aspirated
Strainer required to validate the warranty;<br>PartType:Electric Fuel Pump<br>Quantity Required:1<br>
2000
Isuzu
Trooper
LS Sport Utility 4-Door 3.5L 3475CC V6 GAS DOHC Naturally Aspirated
Strainer required to validate the warranty;<br>PartType:Electric Fuel Pump<br>Quantity Required:1<br>
2000
Isuzu
Trooper
S Sport Utility 4-Door 3.5L 3475CC V6 GAS DOHC Naturally Aspirated
Strainer required to validate the warranty;<br>PartType:Electric Fuel Pump<br>Quantity Required:1<br>
2000
Isuzu
VehiCROSS
Base Sport Utility 2-Door 3.5L 3475CC V6 GAS DOHC Naturally Aspirated
Strainer required to validate the warranty;<br>PartType:Electric Fuel Pump<br>Quantity Required:1<br>
2000
Jeep
Cherokee
Classic Sport Utility 4-Door 4.0L 242Cu. In. l6 GAS OHV Naturally Aspirated
Part Type: Electric Fuel Pump Quantity Required:1
2000
Jeep
Cherokee
Limited Sport Utility 4-Door 4.0L 242Cu. In. l6 GAS OHV Naturally Aspirated
Part Type: Electric Fuel Pump Quantity Required:1
2000
Jeep
Cherokee
SE Sport Utility 2-Door 2.5L 150Cu. In. l4 GAS OHV Naturally Aspirated
Part Type: Electric Fuel Pump Quantity Required:1
2000
Jeep
Cherokee
SE Sport Utility 2-Door 4.0L 242Cu. In. l6 GAS OHV Naturally Aspirated
Part Type: Electric Fuel Pump Quantity Required:1
2000
Jeep
Cherokee
SE Sport Utility 4-Door 2.5L 150Cu. In. l4 GAS OHV Naturally Aspirated
Part Type: Electric Fuel Pump Quantity Required:1
2000
Jeep
Cherokee
SE Sport Utility 4-Door 4.0L 242Cu. In. l6 GAS OHV Naturally Aspirated
Part Type: Electric Fuel Pump Quantity Required:1
2000
Jeep
Cherokee
Sport Sport Utility 2-Door 4.0L 242Cu. In. l6 GAS OHV Naturally Aspirated
Part Type: Electric Fuel Pump Quantity Required:1
2000
Jeep
Cherokee
Sport Sport Utility 4-Door 4.0L 242Cu. In. l6 GAS OHV Naturally Aspirated
Part Type: Electric Fuel Pump Quantity Required:1
2000
Jeep
Grand Cherokee
Laredo Sport Utility 4-Door 4.0L 242Cu. In. l6 GAS OHV Naturally Aspirated
Part Type: Electric Fuel Pump Quantity Required:1
2000
Jeep
Grand Cherokee
Laredo Sport Utility 4-Door 4.7L 287Cu. In. V8 GAS SOHC Naturally Aspirated
Part Type: Electric Fuel Pump Quantity Required:1
2000
Jeep
Grand Cherokee
Limited Sport Utility 4-Door 4.0L 242Cu. In. l6 GAS OHV Naturally Aspirated
Part Type: Electric Fuel Pump Quantity Required:1
2000
Jeep
Grand Cherokee
Limited Sport Utility 4-Door 4.7L 287Cu. In. V8 GAS SOHC Naturally Aspirated
Part Type: Electric Fuel Pump Quantity Required:1
2000
Jeep
TJ
Sahara Sport Utility 2-Door 4.0L 242Cu. In. l6 GAS OHV Naturally Aspirated
Part Type: Electric Fuel Pump Quantity Required:1
2000
Jeep
TJ
SE Sport Utility 2-Door 2.5L 150Cu. In. l4 GAS OHV Naturally Aspirated
Part Type: Electric Fuel Pump Quantity Required:1
2000
Jeep
TJ
Sport Sport Utility 2-Door 4.0L 242Cu. In. l6 GAS OHV Naturally Aspirated
Part Type: Electric Fuel Pump Quantity Required:1
2000
Jeep
Wrangler
Sahara Sport Utility 2-Door 4.0L 242Cu. In. l6 GAS OHV Naturally Aspirated
Part Type: Electric Fuel Pump Quantity Required:1
2000
Jeep
Wrangler
SE Sport Utility 2-Door 2.5L 150Cu. In. l4 GAS OHV Naturally Aspirated
Part Type: Electric Fuel Pump Quantity Required:1
2000
Jeep
Wrangler
Sport Sport Utility 2-Door 4.0L 242Cu. In. l6 GAS OHV Naturally Aspirated
Part Type: Electric Fuel Pump Quantity Required:1
2000
Lexus
ES300
Base Sedan 4-Door 3.0L 2995CC V6 GAS DOHC Naturally Aspirated
Aisian Pump; Strainer required to validate the warranty;<br>PartType:Electric Fuel Pump<br>Quantity Required:1<br>
2000
Mazda
Protege
DX Sedan 4-Door 1.6L 1589CC l4 GAS DOHC Naturally Aspirated
Strainer required to validate the warranty;<br>PartType:Electric Fuel Pump<br>Quantity Required:1<br>
2000
Mitsubishi
Diamante
ES Sedan 4-Door 3.5L 3497CC 215Cu. In. V6 GAS SOHC Naturally Aspirated
Quantity Required: 1
2000
Mitsubishi
Diamante
LS Sedan 4-Door 3.5L 3497CC 215Cu. In. V6 GAS SOHC Naturally Aspirated
Quantity Required: 1
2000
Mitsubishi
Galant
DE Sedan 4-Door 2.4L 2351CC l4 GAS SOHC Naturally Aspirated
Quantity Required: 1
2000
Mitsubishi
Galant
ES Sedan 4-Door 2.4L 2351CC l4 GAS SOHC Naturally Aspirated
Quantity Required: 1
2000
Mitsubishi
Galant
ES Sedan 4-Door 3.0L 2972CC 181Cu. In. V6 GAS SOHC Naturally Aspirated
Quantity Required: 1
2000
Mitsubishi
Galant
GTZ Sedan 4-Door 3.0L 2972CC 181Cu. In. V6 GAS SOHC Naturally Aspirated
Quantity Required: 1
2000
Mitsubishi
Galant
LS Sedan 4-Door 3.0L 2972CC 181Cu. In. V6 GAS SOHC Naturally Aspirated
Quantity Required: 1
2000
Mitsubishi
Mirage
DE Coupe 2-Door 1.5L 1468CC 90Cu. In. l4 GAS SOHC Naturally Aspirated
Quantity Required: 1
2000
Mitsubishi
Mirage
DE Coupe 2-Door 1.8L 1834CC 112Cu. In. l4 GAS SOHC Naturally Aspirated
Quantity Required: 1
2000
Mitsubishi
Mirage
DE Sedan 4-Door 1.5L 1468CC 90Cu. In. l4 GAS SOHC Naturally Aspirated
Quantity Required: 1
2000
Mitsubishi
Mirage
DE Sedan 4-Door 1.8L 1834CC 112Cu. In. l4 GAS SOHC Naturally Aspirated
Quantity Required: 1
2000
Mitsubishi
Mirage
LS Coupe 2-Door 1.8L 1834CC 112Cu. In. l4 GAS SOHC Naturally Aspirated
Quantity Required: 1
2000
Mitsubishi
Mirage
LS Sedan 4-Door 1.8L 1834CC 112Cu. In. l4 GAS SOHC Naturally Aspirated
Quantity Required: 1
2000
Mitsubishi
Montero
Base Sport Utility 4-Door 3.5L 3497CC 215Cu. In. V6 GAS SOHC Naturally Aspirated
Quantity Required: 1
2000
Mitsubishi
Montero Sport
ES Sport Utility 4-Door 3.0L 2972CC 181Cu. In. V6 GAS SOHC Naturally Aspirated
Quantity Required: 1
2000
Mitsubishi
Montero Sport
Limited Sport Utility 4-Door 3.5L 3497CC 215Cu. In. V6 GAS SOHC Naturally Aspirated
Quantity Required: 1
2000
Mitsubishi
Montero Sport
LS Sport Utility 4-Door 3.0L 2972CC 181Cu. In. V6 GAS SOHC Naturally Aspirated
Quantity Required: 1
2000
Mitsubishi
Montero Sport
XLS Sport Utility 4-Door 3.0L 2972CC 181Cu. In. V6 GAS SOHC Naturally Aspirated
Quantity Required: 1
2000
Nissan
Altima
GXE Sedan 4-Door 2.4L 2389CC l4 GAS DOHC Naturally Aspirated
Strainer required to validate the warranty; Engine: KA24DE<br>PartType:Electric Fuel Pump<br>Quantity Required:1<br>
2000
Nissan
Frontier
XE Crew Cab Pickup 4-Door 2.4L 2389CC l4 GAS DOHC Naturally Aspirated
w/o Low Fuel Warning; Strainer required to validate the warranty; Engine: KA24DE<br>PartType:Electric Fuel Pump<br>Quantity Required:1<br>
2000
Nissan
Frontier
XE Extended Cab Pickup 2-Door 2.4L 2389CC l4 GAS DOHC Naturally Aspirated
w/o Low Fuel Warning; Strainer required to validate the warranty; Engine: KA24DE<br>PartType:Electric Fuel Pump<br>Quantity Required:1<br>
2000
Nissan
Frontier
XE Standard Cab Pickup 2-Door 2.4L 2389CC l4 GAS DOHC Naturally Aspirated
w/o Low Fuel Warning; Strainer required to validate the warranty; Engine: KA24DE<br>PartType:Electric Fuel Pump<br>Quantity Required:1<br>
2000
Nissan
Maxima
GLE Sedan 4-Door 3.0L 2988CC 182Cu. In. V6 GAS DOHC Naturally Aspirated
Strainer required to validate the warranty; Engine: VQ30DE<br>PartType:Electric Fuel Pump<br>Quantity Required:1<br>
2000
Nissan
Maxima
GXE Sedan 4-Door 3.0L 2988CC 182Cu. In. V6 GAS DOHC Naturally Aspirated
Strainer required to validate the warranty; Engine: VQ30DE<br>PartType:Electric Fuel Pump<br>Quantity Required:1<br>
2000
Nissan
Maxima
SE Sedan 4-Door 3.0L 2988CC 182Cu. In. V6 GAS DOHC Naturally Aspirated
Strainer required to validate the warranty; Engine: VQ30DE<br>PartType:Electric Fuel Pump<br>Quantity Required:1<br>
2000
Subaru
Forester
Base Wagon 4-Door 2.5L 2458CC H4 GAS SOHC Naturally Aspirated
Strainer required to validate the warranty;<br>PartType:Electric Fuel Pump<br>Quantity Required:1<br>
2000
Subaru
Forester
L Wagon 4-Door 2.5L 2458CC H4 GAS SOHC Naturally Aspirated
Strainer required to validate the warranty;<br>PartType:Electric Fuel Pump<br>Quantity Required:1<br>
2000
Subaru
Forester
S Wagon 4-Door 2.5L 2458CC H4 GAS SOHC Naturally Aspirated
Strainer required to validate the warranty;<br>PartType:Electric Fuel Pump<br>Quantity Required:1<br>
2000
Subaru
Legacy
GT Limited Sedan 4-Door 2.5L 2458CC H4 GAS SOHC Naturally Aspirated
Strainer required to validate the warranty;<br>PartType:Electric Fuel Pump<br>Quantity Required:1<br>
2000
Subaru
Legacy
L Sedan 4-Door 2.5L 2458CC H4 GAS SOHC Naturally Aspirated
Strainer required to validate the warranty;<br>PartType:Electric Fuel Pump<br>Quantity Required:1<br>
2000
Subaru
Outback
Limited Sedan 4-Door 2.5L 2458CC H4 GAS SOHC Naturally Aspirated
Strainer required to validate the warranty;<br>PartType:Electric Fuel Pump<br>Quantity Required:1<br>
2000
Subaru
Outback
Limited Wagon 4-Door 2.5L 2458CC H4 GAS SOHC Naturally Aspirated
Strainer required to validate the warranty;<br>PartType:Electric Fuel Pump<br>Quantity Required:1<br>
2000
Suzuki
Esteem
GL Sedan 4-Door 1.6L 1590CC 97Cu. In. l4 GAS SOHC Naturally Aspirated
Strainer required to validate the warranty;<br>PartType:Electric Fuel Pump<br>Quantity Required:1<br>
2000
Suzuki
Esteem
GL Sedan 4-Door 1.8L 1790CC l4 GAS DOHC Naturally Aspirated
Strainer required to validate the warranty;<br>PartType:Electric Fuel Pump<br>Quantity Required:1<br>
2000
Suzuki
Esteem
GL Wagon 5-Door 1.6L 1590CC 97Cu. In. l4 GAS SOHC Naturally Aspirated
Strainer required to validate the warranty;<br>PartType:Electric Fuel Pump<br>Quantity Required:1<br>
2000
Suzuki
Esteem
GL Wagon 5-Door 1.8L 1790CC l4 GAS DOHC Naturally Aspirated
Strainer required to validate the warranty;<br>PartType:Electric Fuel Pump<br>Quantity Required:1<br>
2000
Suzuki
Esteem
GLX Plus Sedan 4-Door 1.6L 1590CC 97Cu. In. l4 GAS SOHC Naturally Aspirated
Strainer required to validate the warranty;<br>PartType:Electric Fuel Pump<br>Quantity Required:1<br>
2000
Suzuki
Esteem
GLX Plus Sedan 4-Door 1.8L 1790CC l4 GAS DOHC Naturally Aspirated
Strainer required to validate the warranty;<br>PartType:Electric Fuel Pump<br>Quantity Required:1<br>
2000
Suzuki
Esteem
GLX Plus Wagon 5-Door 1.6L 1590CC 97Cu. In. l4 GAS SOHC Naturally Aspirated
Strainer required to validate the warranty;<br>PartType:Electric Fuel Pump<br>Quantity Required:1<br>
2000
Suzuki
Esteem
GLX Plus Wagon 5-Door 1.8L 1790CC l4 GAS DOHC Naturally Aspirated
Strainer required to validate the warranty;<br>PartType:Electric Fuel Pump<br>Quantity Required:1<br>
2000
Suzuki
Esteem
GLX Sedan 4-Door 1.6L 1590CC 97Cu. In. l4 GAS SOHC Naturally Aspirated
Strainer required to validate the warranty;<br>PartType:Electric Fuel Pump<br>Quantity Required:1<br>
2000
Suzuki
Esteem
GLX Sedan 4-Door 1.8L 1790CC l4 GAS DOHC Naturally Aspirated
Strainer required to validate the warranty;<br>PartType:Electric Fuel Pump<br>Quantity Required:1<br>
2000
Suzuki
Esteem
GLX Wagon 5-Door 1.6L 1590CC 97Cu. In. l4 GAS SOHC Naturally Aspirated
Strainer required to validate the warranty;<br>PartType:Electric Fuel Pump<br>Quantity Required:1<br>
2000
Suzuki
Esteem
GLX Wagon 5-Door 1.8L 1790CC l4 GAS DOHC Naturally Aspirated
Strainer required to validate the warranty;<br>PartType:Electric Fuel Pump<br>Quantity Required:1<br>
2000
Suzuki
Grand Vitara
JLS Sport Utility 4-Door 2.5L 2500CC V6 GAS DOHC Naturally Aspirated
Strainer required to validate the warranty;<br>PartType:Electric Fuel Pump<br>Quantity Required:1<br>
2000
Suzuki
Grand Vitara
JLX Sport Utility 4-Door 2.5L 2500CC V6 GAS DOHC Naturally Aspirated
Strainer required to validate the warranty;<br>PartType:Electric Fuel Pump<br>Quantity Required:1<br>
2000
Suzuki
Vitara
JS Sport Utility 4-Door 1.6L 1590CC 97Cu. In. l4 GAS SOHC Naturally Aspirated
Strainer required to validate the warranty;<br>PartType:Electric Fuel Pump<br>Quantity Required:1<br>
2000
Suzuki
Vitara
JX Sport Utility 2-Door 2.0L 2000CC l4 GAS DOHC Naturally Aspirated
Strainer required to validate the warranty;<br>PartType:Electric Fuel Pump<br>Quantity Required:1<br>
2000
Suzuki
Vitara
JX Sport Utility 4-Door 1.6L 1590CC 97Cu. In. l4 GAS SOHC Naturally Aspirated
Strainer required to validate the warranty;<br>PartType:Electric Fuel Pump<br>Quantity Required:1<br>
2000
Toyota
4Runner
Base Sport Utility 4-Door 2.7L 2694CC l4 GAS DOHC Naturally Aspirated
Strainer required to validate the warranty; Engine: 3RZFE<br>PartType:Electric Fuel Pump<br>Quantity Required:1<br>
2000
Toyota
4Runner
Limited Sport Utility 4-Door 3.4L 3378CC V6 GAS DOHC Naturally Aspirated
Strainer required to validate the warranty; Engine: 5VZFE<br>PartType:Electric Fuel Pump<br>Quantity Required:1<br>
2000
Toyota
4Runner
SR5 Sport Utility 4-Door 3.4L 3378CC V6 GAS DOHC Naturally Aspirated
Strainer required to validate the warranty; Engine: 5VZFE<br>PartType:Electric Fuel Pump<br>Quantity Required:1<br>
2000
Toyota
Camry
CE Sedan 4-Door 2.2L 2164CC l4 GAS DOHC Naturally Aspirated
Strainer required to validate the warranty; Engine: 5SFE<br>PartType:Electric Fuel Pump<br>Quantity Required:1<br>
2000
Toyota
Camry
LE Sedan 4-Door 2.2L 2164CC l4 CNG DOHC Naturally Aspirated
Strainer required to validate the warranty; Engine: 5SFE<br>PartType:Electric Fuel Pump<br>Quantity Required:1<br>
2000
Toyota
Camry
LE Sedan 4-Door 2.2L 2164CC l4 GAS DOHC Naturally Aspirated
Strainer required to validate the warranty; Engine: 5SFE<br>PartType:Electric Fuel Pump<br>Quantity Required:1<br>
2000
Toyota
Camry
LE Sedan 4-Door 3.0L 2995CC V6 GAS DOHC Naturally Aspirated
Strainer required to validate the warranty; Engine: 1MZFE<br>PartType:Electric Fuel Pump<br>Quantity Required:1<br>
2000
Toyota
Camry
XLE Sedan 4-Door 2.2L 2164CC l4 GAS DOHC Naturally Aspirated
Strainer required to validate the warranty; Engine: 5SFE<br>PartType:Electric Fuel Pump<br>Quantity Required:1<br>
2000
Toyota
Camry
XLE Sedan 4-Door 3.0L 2995CC V6 GAS DOHC Naturally Aspirated
Strainer required to validate the warranty; Engine: 1MZFE<br>PartType:Electric Fuel Pump<br>Quantity Required:1<br>
2000
Toyota
Celica
GT Hatchback 2-Door 1.8L 1794CC l4 GAS DOHC Naturally Aspirated
Strainer required to validate the warranty; Engine: 1ZZFE<br>PartType:Electric Fuel Pump<br>Quantity Required:1<br>
2000
Toyota
Celica
GTS Hatchback 2-Door 1.8L 1795CC l4 GAS DOHC Naturally Aspirated
Strainer required to validate the warranty; Engine: 2ZZGE<br>PartType:Electric Fuel Pump<br>Quantity Required:1<br>
2000
Toyota
Corolla
CE Sedan 4-Door 1.8L 1794CC l4 GAS DOHC Naturally Aspirated
Strainer required to validate the warranty; Engine: 1ZZFE<br>PartType:Electric Fuel Pump<br>Quantity Required:1<br>
2000
Toyota
Corolla
LE Sedan 4-Door 1.8L 1794CC l4 GAS DOHC Naturally Aspirated
Strainer required to validate the warranty; Engine: 1ZZFE<br>PartType:Electric Fuel Pump<br>Quantity Required:1<br>
2000
Toyota
Corolla
VE Sedan 4-Door 1.8L 1794CC l4 GAS DOHC Naturally Aspirated
Strainer required to validate the warranty; Engine: 1ZZFE<br>PartType:Electric Fuel Pump<br>Quantity Required:1<br>
2000
Toyota
Echo
Base Sedan 2-Door 1.5L 1497CC l4 GAS DOHC Naturally Aspirated
Strainer required to validate the warranty; Engine: 1NZFE<br>PartType:Electric Fuel Pump<br>Quantity Required:1<br>
2000
Toyota
Echo
Base Sedan 4-Door 1.5L 1497CC l4 GAS DOHC Naturally Aspirated
Strainer required to validate the warranty; Engine: 1NZFE<br>PartType:Electric Fuel Pump<br>Quantity Required:1<br>
2000
Toyota
RAV4
Base Sport Utility 2-Door 2.0L 1998CC 122Cu. In. l4 GAS DOHC Naturally Aspirated
Strainer required to validate the warranty; Engine: 3SFE<br>PartType:Electric Fuel Pump<br>Quantity Required:1<br>
2000
Toyota
RAV4
Base Sport Utility 4-Door 2.0L 1998CC 122Cu. In. l4 GAS DOHC Naturally Aspirated
Strainer required to validate the warranty; Engine: 3SFE<br>PartType:Electric Fuel Pump<br>Quantity Required:1<br>
2000
Toyota
Sienna
CE Mini Passenger Van 4-Door 3.0L 2995CC V6 GAS DOHC Naturally Aspirated
Strainer required to validate the warranty; Engine: 1MZFE<br>PartType:Electric Fuel Pump<br>Quantity Required:1<br>
2000
Toyota
Sienna
CE Mini Passenger Van 5-Door 3.0L 2995CC V6 GAS DOHC Naturally Aspirated
Strainer required to validate the warranty; Engine: 1MZFE<br>PartType:Electric Fuel Pump<br>Quantity Required:1<br>
2000
Toyota
Sienna
LE Mini Passenger Van 4-Door 3.0L 2995CC V6 GAS DOHC Naturally Aspirated
Strainer required to validate the warranty; Engine: 1MZFE<br>PartType:Electric Fuel Pump<br>Quantity Required:1<br>
2000
Toyota
Sienna
LE Mini Passenger Van 5-Door 3.0L 2995CC V6 GAS DOHC Naturally Aspirated
Strainer required to validate the warranty; Engine: 1MZFE<br>PartType:Electric Fuel Pump<br>Quantity Required:1<br>
2000
Toyota
Tacoma
DLX Extended Cab Pickup 2-Door 2.4L 2438CC l4 GAS DOHC Naturally Aspirated
Strainer required to validate the warranty; Engine: 2RZFE<br>PartType:Electric Fuel Pump<br>Quantity Required:1<br>
2000
Toyota
Tacoma
DLX Extended Cab Pickup 2-Door 2.7L 2694CC l4 GAS DOHC Naturally Aspirated
Strainer required to validate the warranty; Engine: 3RZFE<br>PartType:Electric Fuel Pump<br>Quantity Required:1<br>
2000
Toyota
Tacoma
DLX Extended Cab Pickup 2-Door 3.4L 3378CC V6 GAS DOHC Naturally Aspirated
Strainer required to validate the warranty; Engine: 5VZFE<br>PartType:Electric Fuel Pump<br>Quantity Required:1<br>
2000
Toyota
Tacoma
DLX Standard Cab Pickup 2-Door 2.4L 2438CC l4 GAS DOHC Naturally Aspirated
Strainer required to validate the warranty; Engine: 2RZFE<br>PartType:Electric Fuel Pump<br>Quantity Required:1<br>
2000
Toyota
Tacoma
DLX Standard Cab Pickup 2-Door 2.7L 2694CC l4 GAS DOHC Naturally Aspirated
Strainer required to validate the warranty; Engine: 3RZFE<br>PartType:Electric Fuel Pump<br>Quantity Required:1<br>
2000
Toyota
Tacoma
DLX Standard Cab Pickup 2-Door 3.4L 3378CC V6 GAS DOHC Naturally Aspirated
Strainer required to validate the warranty; Engine: 5VZFE<br>PartType:Electric Fuel Pump<br>Quantity Required:1<br>
2000
Toyota
Tacoma
Limited Extended Cab Pickup 2-Door 3.4L 3378CC V6 GAS DOHC Naturally Aspirated
Strainer required to validate the warranty; Engine: 5VZFE<br>PartType:Electric Fuel Pump<br>Quantity Required:1<br>
2000
Toyota
Tacoma
Pre Runner Extended Cab Pickup 2-Door 2.7L 2694CC l4 GAS DOHC Naturally Aspirated
Strainer required to validate the warranty; Engine: 3RZFE<br>PartType:Electric Fuel Pump<br>Quantity Required:1<br>
2000
Toyota
Tacoma
Pre Runner Extended Cab Pickup 2-Door 3.4L 3378CC V6 GAS DOHC Naturally Aspirated
Strainer required to validate the warranty; Engine: 5VZFE<br>PartType:Electric Fuel Pump<br>Quantity Required:1<br>
2000
Toyota
Tacoma
Pre Runner Standard Cab Pickup 2-Door 2.7L 2694CC l4 GAS DOHC Naturally Aspirated
Strainer required to validate the warranty; Engine: 3RZFE<br>PartType:Electric Fuel Pump<br>Quantity Required:1<br>
2000
Toyota
Tacoma
Pre Runner Standard Cab Pickup 2-Door 3.4L 3378CC V6 GAS DOHC Naturally Aspirated
Strainer required to validate the warranty; Engine: 5VZFE<br>PartType:Electric Fuel Pump<br>Quantity Required:1<br>
2000
Toyota
Tacoma
SR5 Extended Cab Pickup 2-Door 2.4L 2438CC l4 GAS DOHC Naturally Aspirated
Strainer required to validate the warranty; Engine: 2RZFE<br>PartType:Electric Fuel Pump<br>Quantity Required:1<br>
2000
Toyota
Tacoma
SR5 Extended Cab Pickup 2-Door 2.7L 2694CC l4 GAS DOHC Naturally Aspirated
Strainer required to validate the warranty; Engine: 3RZFE<br>PartType:Electric Fuel Pump<br>Quantity Required:1<br>
2000
Toyota
Tacoma
SR5 Extended Cab Pickup 2-Door 3.4L 3378CC V6 GAS DOHC Naturally Aspirated
Strainer required to validate the warranty; Engine: 5VZFE<br>PartType:Electric Fuel Pump<br>Quantity Required:1<br>
1999
Acura
CL
Premium Coupe 2-Door 2.3L 2254CC l4 GAS SOHC Naturally Aspirated
Strainer required to validate the warranty;<br>PartType:Electric Fuel Pump<br>Quantity Required:1<br>
1999
Acura
CL
Premium Coupe 2-Door 3.0L 2997CC V6 GAS SOHC Naturally Aspirated
Strainer required to validate the warranty;<br>PartType:Electric Fuel Pump<br>Quantity Required:1<br>
1999
Acura
Integra
GS Sedan 4-Door 1.8L 1834CC l4 GAS DOHC Naturally Aspirated
Strainer required to validate the warranty; DOHC<br>PartType:Electric Fuel Pump<br>Quantity Required:1<br>
1999
Acura
Integra
GS-R Sedan 4-Door 1.8L 1797CC l4 GAS DOHC Naturally Aspirated
Strainer required to validate the warranty; DOHC, VTEC<br>PartType:Electric Fuel Pump<br>Quantity Required:1<br>
1999
Acura
Integra
LS Sedan 4-Door 1.8L 1834CC l4 GAS DOHC Naturally Aspirated
Strainer required to validate the warranty; DOHC<br>PartType:Electric Fuel Pump<br>Quantity Required:1<br>
1999
Acura
SLX
Premium Sport Utility 4-Door 3.5L 3494CC V6 GAS DOHC Naturally Aspirated
Strainer required to validate the warranty;<br>PartType:Electric Fuel Pump<br>Quantity Required:1<br>
1999
Acura
TL
Base Sedan 4-Door 3.2L 3210CC V6 GAS SOHC Naturally Aspirated
Strainer required to validate the warranty;<br>PartType:Electric Fuel Pump<br>Quantity Required:1<br>
1999
Chevrolet
Prizm
Base Sedan 4-Door 1.8L 1794CC l4 GAS DOHC Naturally Aspirated
Strainer required to validate the warranty; VIN: 8<br>PartType:Electric Fuel Pump<br>Quantity Required:1<br>
1999
Chevrolet
Prizm
LSi Sedan 4-Door 1.8L 1794CC l4 GAS DOHC Naturally Aspirated
Strainer required to validate the warranty; VIN: 8<br>PartType:Electric Fuel Pump<br>Quantity Required:1<br>
1999
Chevrolet
Tracker
LSi Sport Utility 2-Door 1.6L 1588CC 98Cu. In. l4 GAS SOHC Naturally Aspirated
Strainer required to validate the warranty;<br>PartType:Electric Fuel Pump<br>Quantity Required:1<br>
1999
Chrysler
Sebring
LX Coupe 2-Door 2.0L 1996CC 122Cu. In. l4 GAS DOHC Naturally Aspirated
Strainer required to validate the warranty; VIN: Y, DOHC, 2 Door, Coupe<br>PartType:Electric Fuel Pump<br>Quantity Required:1<br>
1999
Dodge
Avenger
Base Coupe 2-Door 2.0L 1996CC 122Cu. In. l4 GAS DOHC Naturally Aspirated
Strainer required to validate the warranty;<br>PartType:Electric Fuel Pump<br>Quantity Required:1<br>
1999
Dodge
Avenger
ES Coupe 2-Door 2.0L 1996CC 122Cu. In. l4 GAS DOHC Naturally Aspirated
Strainer required to validate the warranty;<br>PartType:Electric Fuel Pump<br>Quantity Required:1<br>
1999
Honda
Accord
LX Coupe 2-Door 2.3L 2254CC l4 GAS SOHC Naturally Aspirated
Strainer required to validate the warranty;<br>PartType:Electric Fuel Pump<br>Quantity Required:1<br>
1999
Honda
Accord
LX Coupe 2-Door 3.0L 2997CC V6 GAS SOHC Naturally Aspirated
Strainer required to validate the warranty; VTEC<br>PartType:Electric Fuel Pump<br>Quantity Required:1<br>
1999
Honda
Civic
DX Sedan 4-Door 1.6L 1588CC 98Cu. In. l4 GAS SOHC Naturally Aspirated
Strainer required to validate the warranty;<br>PartType:Electric Fuel Pump<br>Quantity Required:1<br>
1999
Honda
Civic
GX Sedan 4-Door 1.6L 1588CC 98Cu. In. l4 CNG SOHC Naturally Aspirated
Strainer required to validate the warranty;<br>PartType:Electric Fuel Pump<br>Quantity Required:1<br>
1999
Honda
Civic
HX Coupe 2-Door 1.6L 1590CC l4 GAS SOHC Naturally Aspirated
Strainer required to validate the warranty;<br>PartType:Electric Fuel Pump<br>Quantity Required:1<br>
1999
Honda
Odyssey
Cargo Mini Cargo Van 5-Door 3.5L 3474CC V6 GAS SOHC Naturally Aspirated
Strainer required to validate the warranty;<br>PartType:Electric Fuel Pump<br>Quantity Required:1<br>
1999
Honda
Odyssey
EX Mini Passenger Van 5-Door 3.5L 3474CC V6 GAS SOHC Naturally Aspirated
Strainer required to validate the warranty;<br>PartType:Electric Fuel Pump<br>Quantity Required:1<br>
1999
Honda
Odyssey
LX Mini Passenger Van 5-Door 3.5L 3474CC V6 GAS SOHC Naturally Aspirated
Strainer required to validate the warranty;<br>PartType:Electric Fuel Pump<br>Quantity Required:1<br>
1999
Honda
Prelude
Base Coupe 2-Door 2.2L 2156CC l4 GAS DOHC Naturally Aspirated
Strainer required to validate the warranty;<br>PartType:Electric Fuel Pump<br>Quantity Required:1<br>
1999
Honda
Prelude
Type SH Coupe 2-Door 2.2L 2156CC l4 GAS DOHC Naturally Aspirated
Strainer required to validate the warranty;<br>PartType:Electric Fuel Pump<br>Quantity Required:1<br>
1999
Hyundai
Accent
GL Sedan 4-Door 1.5L 1495CC l4 GAS SOHC Naturally Aspirated
Quantity Required: 1
1999
Hyundai
Elantra
GL Sedan 4-Door 2.0L 1975CC l4 GAS DOHC Naturally Aspirated
Quantity Required: 1
1999
Hyundai
Elantra
GL Wagon 5-Door 2.0L 1975CC l4 GAS DOHC Naturally Aspirated
Quantity Required: 1
1999
Hyundai
Elantra
GLS Sedan 4-Door 2.0L 1975CC l4 GAS DOHC Naturally Aspirated
Quantity Required: 1
1999
Hyundai
Elantra
GLS Wagon 5-Door 2.0L 1975CC l4 GAS DOHC Naturally Aspirated
Quantity Required: 1
1999
Hyundai
Sonata
Base Sedan 4-Door 2.4L 2351CC l4 GAS DOHC Naturally Aspirated
Quantity Required: 1
1999
Hyundai
Sonata
GLS Sedan 4-Door 2.5L 2493CC V6 GAS DOHC Naturally Aspirated
Quantity Required: 1
1999
Hyundai
Tiburon
Base Coupe 2-Door 2.0L 1997CC l4 GAS DOHC Naturally Aspirated
Quantity Required: 1
1999
Hyundai
Tiburon
FX Coupe 2-Door 2.0L 1997CC l4 GAS DOHC Naturally Aspirated
Quantity Required: 1
1999
Infiniti
I30
Base Sedan 4-Door 3.0L 2988CC 182Cu. In. V6 GAS DOHC Naturally Aspirated
Strainer required to validate the warranty;<br>PartType:Electric Fuel Pump<br>Quantity Required:1<br>
1999
Infiniti
I30
T Sedan 4-Door 3.0L 2988CC 182Cu. In. V6 GAS DOHC Naturally Aspirated
Strainer required to validate the warranty;<br>PartType:Electric Fuel Pump<br>Quantity Required:1<br>
1999
Isuzu
Oasis
S Mini Passenger Van 5-Door 2.3L 2234CC l4 GAS SOHC Naturally Aspirated
Strainer required to validate the warranty; SOHC<br>PartType:Electric Fuel Pump<br>Quantity Required:1<br>
1999
Isuzu
Trooper
S Sport Utility 4-Door 3.5L 3475CC V6 GAS DOHC Naturally Aspirated
Strainer required to validate the warranty;<br>PartType:Electric Fuel Pump<br>Quantity Required:1<br>
1999
Isuzu
VehiCROSS
Base Sport Utility 2-Door 3.5L 3475CC V6 GAS DOHC Naturally Aspirated
Strainer required to validate the warranty;<br>PartType:Electric Fuel Pump<br>Quantity Required:1<br>
1999
Jeep
Cherokee
Classic Sport Utility 4-Door 4.0L 242Cu. In. l6 GAS OHV Naturally Aspirated
Part Type: Electric Fuel Pump Quantity Required:1
1999
Jeep
Cherokee
Limited Sport Utility 4-Door 4.0L 242Cu. In. l6 GAS OHV Naturally Aspirated
Part Type: Electric Fuel Pump Quantity Required:1
1999
Jeep
Cherokee
SE Sport Utility 2-Door 2.5L 150Cu. In. l4 GAS OHV Naturally Aspirated
Part Type: Electric Fuel Pump Quantity Required:1
1999
Jeep
Cherokee
SE Sport Utility 2-Door 4.0L 242Cu. In. l6 GAS OHV Naturally Aspirated
Part Type: Electric Fuel Pump Quantity Required:1
1999
Jeep
Cherokee
SE Sport Utility 4-Door 2.5L 150Cu. In. l4 GAS OHV Naturally Aspirated
Part Type: Electric Fuel Pump Quantity Required:1
1999
Jeep
Cherokee
SE Sport Utility 4-Door 4.0L 242Cu. In. l6 GAS OHV Naturally Aspirated
Part Type: Electric Fuel Pump Quantity Required:1
1999
Jeep
Cherokee
Sport Sport Utility 2-Door 4.0L 242Cu. In. l6 GAS OHV Naturally Aspirated
Part Type: Electric Fuel Pump Quantity Required:1
1999
Jeep
Cherokee
Sport Sport Utility 4-Door 4.0L 242Cu. In. l6 GAS OHV Naturally Aspirated
Part Type: Electric Fuel Pump Quantity Required:1
1999
Jeep
Grand Cherokee
Laredo Sport Utility 4-Door 4.0L 242Cu. In. l6 GAS OHV Naturally Aspirated
Part Type: Electric Fuel Pump Quantity Required:1
1999
Jeep
Grand Cherokee
Laredo Sport Utility 4-Door 4.7L 287Cu. In. V8 GAS SOHC Naturally Aspirated
Part Type: Electric Fuel Pump Quantity Required:1
1999
Jeep
Grand Cherokee
Limited Sport Utility 4-Door 4.0L 242Cu. In. l6 GAS OHV Naturally Aspirated
Part Type: Electric Fuel Pump Quantity Required:1
1999
Jeep
Grand Cherokee
Limited Sport Utility 4-Door 4.7L 287Cu. In. V8 GAS SOHC Naturally Aspirated
Part Type: Electric Fuel Pump Quantity Required:1
1999
Jeep
TJ
Sahara Sport Utility 2-Door 4.0L 242Cu. In. l6 GAS OHV Naturally Aspirated
Part Type: Electric Fuel Pump Quantity Required:1
1999
Jeep
TJ
SE Sport Utility 2-Door 2.5L 150Cu. In. l4 GAS OHV Naturally Aspirated
Part Type: Electric Fuel Pump Quantity Required:1
1999
Jeep
TJ
Sport Sport Utility 2-Door 4.0L 242Cu. In. l6 GAS OHV Naturally Aspirated
Part Type: Electric Fuel Pump Quantity Required:1
1999
Jeep
Wrangler
Sahara Sport Utility 2-Door 4.0L 242Cu. In. l6 GAS OHV Naturally Aspirated
Part Type: Electric Fuel Pump Quantity Required:1
1999
Jeep
Wrangler
SE Sport Utility 2-Door 2.5L 150Cu. In. l4 GAS OHV Naturally Aspirated
Part Type: Electric Fuel Pump Quantity Required:1
1999
Jeep
Wrangler
Sport Sport Utility 2-Door 4.0L 242Cu. In. l6 GAS OHV Naturally Aspirated
Part Type: Electric Fuel Pump Quantity Required:1
1999
Kia
Sportage
EX Sport Utility 4-Door 2.0L 1998CC 122Cu. In. l4 GAS DOHC Naturally Aspirated
TO 2/8/99; Strainer required to validate the warranty;<br>PartType:Electric Fuel Pump<br>Quantity Required:1<br>
1999
Lexus
ES300
Base Sedan 4-Door 3.0L 2995CC V6 GAS DOHC Naturally Aspirated
Aisian Pump; Strainer required to validate the warranty;<br>PartType:Electric Fuel Pump<br>Quantity Required:1<br>
1999
Mitsubishi
3000GT
Base Coupe 2-Door 3.0L 2972CC 181Cu. In. V6 GAS SOHC Naturally Aspirated
Without Turbo; Quantity Required: 1
1999
Mitsubishi
3000GT
SL Coupe 2-Door 3.0L 2972CC 181Cu. In. V6 GAS DOHC Naturally Aspirated
Without Turbo; Quantity Required: 1
1999
Mitsubishi
Diamante
Base Sedan 4-Door 3.5L 3497CC 215Cu. In. V6 GAS SOHC Naturally Aspirated
Quantity Required: 1
1999
Mitsubishi
Eclipse
GS Hatchback 2-Door 2.0L 1996CC 122Cu. In. l4 GAS DOHC Naturally Aspirated
Quantity Required: 1
1999
Mitsubishi
Eclipse
GST Hatchback 2-Door 2.0L 1997CC 122Cu. In. l4 GAS DOHC Turbocharged
Quantity Required: 1
1999
Mitsubishi
Eclipse
GSX Hatchback 2-Door 2.0L 1997CC 122Cu. In. l4 GAS DOHC Turbocharged
Quantity Required: 1
1999
Mitsubishi
Eclipse
RS Hatchback 2-Door 2.0L 1996CC 122Cu. In. l4 GAS DOHC Naturally Aspirated
Quantity Required: 1
1999
Mitsubishi
Eclipse
Spyder GS Convertible 2-Door 2.4L 2351CC l4 GAS SOHC Naturally Aspirated
Quantity Required: 1
1999
Mitsubishi
Eclipse
Spyder GST Convertible 2-Door 2.0L 1997CC 122Cu. In. l4 GAS DOHC Turbocharged
Quantity Required: 1
1999
Mitsubishi
Galant
DE Sedan 4-Door 2.4L 2351CC l4 GAS SOHC Naturally Aspirated
Quantity Required: 1
1999
Mitsubishi
Galant
ES Sedan 4-Door 2.4L 2351CC l4 GAS SOHC Naturally Aspirated
Quantity Required: 1
1999
Mitsubishi
Galant
ES Sedan 4-Door 3.0L 2972CC 181Cu. In. V6 GAS SOHC Naturally Aspirated
Quantity Required: 1
1999
Mitsubishi
Galant
GTZ Sedan 4-Door 3.0L 2972CC 181Cu. In. V6 GAS SOHC Naturally Aspirated
Quantity Required: 1
1999
Mitsubishi
Galant
LS Sedan 4-Door 3.0L 2972CC 181Cu. In. V6 GAS SOHC Naturally Aspirated
Quantity Required: 1
1999
Mitsubishi
Mirage
DE Coupe 2-Door 1.5L 1468CC 90Cu. In. l4 GAS SOHC Naturally Aspirated
Quantity Required: 1
1999
Mitsubishi
Mirage
DE Sedan 4-Door 1.5L 1468CC 90Cu. In. l4 GAS SOHC Naturally Aspirated
Quantity Required: 1
1999
Mitsubishi
Mirage
LS Coupe 2-Door 1.8L 1834CC 112Cu. In. l4 GAS SOHC Naturally Aspirated
Quantity Required: 1
1999
Mitsubishi
Mirage
LS Sedan 4-Door 1.8L 1834CC 112Cu. In. l4 GAS SOHC Naturally Aspirated
Quantity Required: 1
1999
Mitsubishi
Montero
Base Sport Utility 4-Door 3.5L 3497CC 215Cu. In. V6 GAS SOHC Naturally Aspirated
Quantity Required: 1
1999
Mitsubishi
Montero Sport
ES Sport Utility 4-Door 2.4L 2351CC l4 GAS SOHC Naturally Aspirated
Quantity Required: 1
1999
Mitsubishi
Montero Sport
Limited Sport Utility 4-Door 3.5L 3497CC 215Cu. In. V6 GAS SOHC Naturally Aspirated
Quantity Required: 1
1999
Mitsubishi
Montero Sport
LS Sport Utility 4-Door 3.0L 2972CC 181Cu. In. V6 GAS SOHC Naturally Aspirated
Quantity Required: 1
1999
Mitsubishi
Montero Sport
XLS Sport Utility 4-Door 3.0L 2972CC 181Cu. In. V6 GAS SOHC Naturally Aspirated
Quantity Required: 1
1999
Nissan
Altima
GXE Sedan 4-Door 2.4L 2389CC l4 GAS DOHC Naturally Aspirated
Strainer required to validate the warranty; Engine: KA24DE<br>PartType:Electric Fuel Pump<br>Quantity Required:1<br>
1999
Nissan
Altima
XE Sedan 4-Door 2.4L 2389CC l4 GAS DOHC Naturally Aspirated
Strainer required to validate the warranty; Engine: KA24DE<br>PartType:Electric Fuel Pump<br>Quantity Required:1<br>
1999
Nissan
Frontier
SE Extended Cab Pickup 2-Door 2.4L 2389CC l4 GAS DOHC Naturally Aspirated
w/o Low Fuel Warning; Strainer required to validate the warranty; Engine: KA24DE<br>PartType:Electric Fuel Pump<br>Quantity Required:1<br>
1999
Nissan
Frontier
XE Extended Cab Pickup 2-Door 2.4L 2389CC l4 GAS DOHC Naturally Aspirated
w/o Low Fuel Warning; Strainer required to validate the warranty; Engine: KA24DE<br>PartType:Electric Fuel Pump<br>Quantity Required:1<br>
1999
Nissan
Frontier
XE Standard Cab Pickup 2-Door 2.4L 2389CC l4 GAS DOHC Naturally Aspirated
w/o Low Fuel Warning; Strainer required to validate the warranty; Engine: KA24DE<br>PartType:Electric Fuel Pump<br>Quantity Required:1<br>
1999
Nissan
Maxima
GXE Sedan 4-Door 3.0L 2988CC 182Cu. In. V6 GAS DOHC Naturally Aspirated
Strainer required to validate the warranty; DOHC, Engine: VQ30DE, Valves: 24<br>PartType:Electric Fuel Pump<br>Quantity Required:1<br>
1999
Nissan
Pathfinder
XE Sport Utility 4-Door 3.3L 3275CC V6 GAS SOHC Naturally Aspirated
TO 4/98; Strainer required to validate the warranty; Engine: VG33E<br>PartType:Electric Fuel Pump<br>Quantity Required:1<br>
1999
Subaru
Forester
Base Wagon 4-Door 2.5L 2458CC H4 GAS SOHC Naturally Aspirated
Strainer required to validate the warranty;<br>PartType:Electric Fuel Pump<br>Quantity Required:1<br>
1999
Subaru
Forester
L Wagon 4-Door 2.5L 2458CC H4 GAS SOHC Naturally Aspirated
Strainer required to validate the warranty;<br>PartType:Electric Fuel Pump<br>Quantity Required:1<br>
1999
Subaru
Forester
S Wagon 4-Door 2.5L 2458CC H4 GAS SOHC Naturally Aspirated
Strainer required to validate the warranty;<br>PartType:Electric Fuel Pump<br>Quantity Required:1<br>
1999
Subaru
Legacy
Brighton Wagon 4-Door 2.2L 2212CC H4 GAS SOHC Naturally Aspirated
Strainer required to validate the warranty;<br>PartType:Electric Fuel Pump<br>Quantity Required:1<br>
1999
Subaru
Legacy
GT Sedan 4-Door 2.2L 2212CC H4 GAS SOHC Naturally Aspirated
Strainer required to validate the warranty;<br>PartType:Electric Fuel Pump<br>Quantity Required:1<br>
1999
Subaru
Legacy
GT Wagon 4-Door 2.2L 2212CC H4 GAS SOHC Naturally Aspirated
Strainer required to validate the warranty;<br>PartType:Electric Fuel Pump<br>Quantity Required:1<br>
1999
Subaru
Legacy
L 30th Anniversary Wagon 4-Door 2.2L 2212CC H4 GAS SOHC Naturally Aspirated
Strainer required to validate the warranty;<br>PartType:Electric Fuel Pump<br>Quantity Required:1<br>
1999
Subaru
Legacy
Limited 30th Anniversary Sedan 4-Door 2.5L 2458CC H4 GAS DOHC Naturally Aspirated
Strainer required to validate the warranty; Limited 30th Anniversary<br>PartType:Electric Fuel Pump<br>Quantity Required:1<br>
1999
Subaru
Legacy
SUS 30th Anniversary Sedan 4-Door 2.2L 2212CC H4 GAS SOHC Naturally Aspirated
Strainer required to validate the warranty;<br>PartType:Electric Fuel Pump<br>Quantity Required:1<br>
1999
Suzuki
Esteem
GL Sedan 4-Door 1.8L 1790CC l4 GAS DOHC Naturally Aspirated
Strainer required to validate the warranty;<br>PartType:Electric Fuel Pump<br>Quantity Required:1<br>
1999
Suzuki
Esteem
GL Wagon 5-Door 1.8L 1790CC l4 GAS DOHC Naturally Aspirated
Strainer required to validate the warranty;<br>PartType:Electric Fuel Pump<br>Quantity Required:1<br>
1999
Suzuki
Esteem
GLX Plus Sedan 4-Door 1.8L 1790CC l4 GAS DOHC Naturally Aspirated
Strainer required to validate the warranty;<br>PartType:Electric Fuel Pump<br>Quantity Required:1<br>
1999
Suzuki
Esteem
GLX Plus Wagon 5-Door 1.8L 1790CC l4 GAS DOHC Naturally Aspirated
Strainer required to validate the warranty;<br>PartType:Electric Fuel Pump<br>Quantity Required:1<br>
1999
Suzuki
Esteem
GLX Sedan 4-Door 1.8L 1790CC l4 GAS DOHC Naturally Aspirated
Strainer required to validate the warranty;<br>PartType:Electric Fuel Pump<br>Quantity Required:1<br>
1999
Suzuki
Esteem
GLX Wagon 5-Door 1.8L 1790CC l4 GAS DOHC Naturally Aspirated
Strainer required to validate the warranty;<br>PartType:Electric Fuel Pump<br>Quantity Required:1<br>
1999
Suzuki
Vitara
JS Plus Sport Utility 4-Door 1.6L 1590CC 97Cu. In. l4 GAS SOHC Naturally Aspirated
Strainer required to validate the warranty;<br>PartType:Electric Fuel Pump<br>Quantity Required:1<br>
1999
Suzuki
Vitara
JS Sport Utility 2-Door 2.0L 2000CC l4 GAS DOHC Naturally Aspirated
Strainer required to validate the warranty;<br>PartType:Electric Fuel Pump<br>Quantity Required:1<br>
1999
Suzuki
Vitara
JX Plus Sport Utility 4-Door 1.6L 1590CC 97Cu. In. l4 GAS SOHC Naturally Aspirated
Strainer required to validate the warranty;<br>PartType:Electric Fuel Pump<br>Quantity Required:1<br>
1999
Suzuki
Vitara
JX Plus Sport Utility 4-Door 2.0L 2000CC l4 GAS DOHC Naturally Aspirated
Strainer required to validate the warranty;<br>PartType:Electric Fuel Pump<br>Quantity Required:1<br>
1999
Toyota
4Runner
Base Sport Utility 4-Door 2.7L 2694CC l4 GAS DOHC Naturally Aspirated
Strainer required to validate the warranty; Engine: 3RZFE<br>PartType:Electric Fuel Pump<br>Quantity Required:1<br>
1999
Toyota
4Runner
Limited Sport Utility 4-Door 3.4L 3378CC V6 GAS DOHC Naturally Aspirated
Strainer required to validate the warranty; Engine: 5VZFE<br>PartType:Electric Fuel Pump<br>Quantity Required:1<br>
1999
Toyota
4Runner
SR5 Sport Utility 4-Door 3.4L 3378CC V6 GAS DOHC Naturally Aspirated
Strainer required to validate the warranty; Engine: 5VZFE<br>PartType:Electric Fuel Pump<br>Quantity Required:1<br>
1999
Toyota
Avalon
XL Sedan 4-Door 3.0L 2995CC V6 GAS DOHC Naturally Aspirated
Strainer required to validate the warranty; Engine: 1MZFE<br>PartType:Electric Fuel Pump<br>Quantity Required:1<br>
1999
Toyota
Avalon
XLS Sedan 4-Door 3.0L 2995CC V6 GAS DOHC Naturally Aspirated
Strainer required to validate the warranty; Engine: 1MZFE<br>PartType:Electric Fuel Pump<br>Quantity Required:1<br>
1999
Toyota
Camry
CE Sedan 4-Door 2.2L 2164CC l4 GAS DOHC Naturally Aspirated
Strainer required to validate the warranty; Engine: 5SFE<br>PartType:Electric Fuel Pump<br>Quantity Required:1<br>
1999
Toyota
Camry
LE Sedan 4-Door 2.2L 2164CC l4 GAS DOHC Naturally Aspirated
Strainer required to validate the warranty; Engine: 5SFE<br>PartType:Electric Fuel Pump<br>Quantity Required:1<br>
1999
Toyota
Camry
LE Sedan 4-Door 3.0L 2995CC V6 GAS DOHC Naturally Aspirated
Strainer required to validate the warranty; Engine: 1MZFE<br>PartType:Electric Fuel Pump<br>Quantity Required:1<br>
1999
Toyota
Camry
XLE Sedan 4-Door 2.2L 2164CC l4 GAS DOHC Naturally Aspirated
Strainer required to validate the warranty; Engine: 5SFE<br>PartType:Electric Fuel Pump<br>Quantity Required:1<br>
1999
Toyota
Camry
XLE Sedan 4-Door 3.0L 2995CC V6 GAS DOHC Naturally Aspirated
Strainer required to validate the warranty; Engine: 1MZFE<br>PartType:Electric Fuel Pump<br>Quantity Required:1<br>
1999
Toyota
Celica
GT Convertible 2-Door 2.2L 2164CC l4 GAS DOHC Naturally Aspirated
Strainer required to validate the warranty; Engine: 5SFE<br>PartType:Electric Fuel Pump<br>Quantity Required:1<br>
1999
Toyota
Celica
GT Hatchback 2-Door 2.2L 2164CC l4 GAS DOHC Naturally Aspirated
Strainer required to validate the warranty; Engine: 5SFE<br>PartType:Electric Fuel Pump<br>Quantity Required:1<br>
1999
Toyota
Corolla
CE Sedan 4-Door 1.8L 1794CC l4 GAS DOHC Naturally Aspirated
Strainer required to validate the warranty; Engine: 1ZZFE<br>PartType:Electric Fuel Pump<br>Quantity Required:1<br>
1999
Toyota
Corolla
LE Sedan 4-Door 1.8L 1794CC l4 GAS DOHC Naturally Aspirated
Strainer required to validate the warranty; Engine: 1ZZFE<br>PartType:Electric Fuel Pump<br>Quantity Required:1<br>
1999
Toyota
Corolla
VE Sedan 4-Door 1.8L 1794CC l4 GAS DOHC Naturally Aspirated
Strainer required to validate the warranty; Engine: 1ZZFE<br>PartType:Electric Fuel Pump<br>Quantity Required:1<br>
1999
Toyota
RAV4
Base Sport Utility 2-Door 2.0L 1998CC 122Cu. In. l4 GAS DOHC Naturally Aspirated
Strainer required to validate the warranty; Engine: 3SFE<br>PartType:Electric Fuel Pump<br>Quantity Required:1<br>
1999
Toyota
RAV4
Base Sport Utility 4-Door 2.0L 1998CC 122Cu. In. l4 GAS DOHC Naturally Aspirated
Strainer required to validate the warranty; Engine: 3SFE<br>PartType:Electric Fuel Pump<br>Quantity Required:1<br>
1999
Toyota
Sienna
CE Mini Passenger Van 4-Door 3.0L 2995CC V6 GAS DOHC Naturally Aspirated
Strainer required to validate the warranty; Engine: 1MZFE<br>PartType:Electric Fuel Pump<br>Quantity Required:1<br>
1999
Toyota
Sienna
CE Mini Passenger Van 5-Door 3.0L 2995CC V6 GAS DOHC Naturally Aspirated
Strainer required to validate the warranty; Engine: 1MZFE<br>PartType:Electric Fuel Pump<br>Quantity Required:1<br>
1999
Toyota
Sienna
LE Mini Passenger Van 5-Door 3.0L 2995CC V6 GAS DOHC Naturally Aspirated
Strainer required to validate the warranty; Engine: 1MZFE<br>PartType:Electric Fuel Pump<br>Quantity Required:1<br>
1999
Toyota
Sienna
XLE Mini Passenger Van 5-Door 3.0L 2995CC V6 GAS DOHC Naturally Aspirated
Strainer required to validate the warranty; Engine: 1MZFE<br>PartType:Electric Fuel Pump<br>Quantity Required:1<br>
1999
Toyota
Tacoma
DLX Extended Cab Pickup 2-Door 2.4L 2438CC l4 GAS DOHC Naturally Aspirated
Strainer required to validate the warranty; Engine: 2RZFE<br>PartType:Electric Fuel Pump<br>Quantity Required:1<br>
1999
Toyota
Tacoma
DLX Extended Cab Pickup 2-Door 2.7L 2694CC l4 GAS DOHC Naturally Aspirated
Strainer required to validate the warranty; Engine: 3RZFE<br>PartType:Electric Fuel Pump<br>Quantity Required:1<br>
1999
Toyota
Tacoma
DLX Extended Cab Pickup 2-Door 3.4L 3378CC V6 GAS DOHC Naturally Aspirated
Strainer required to validate the warranty; Engine: 5VZFE<br>PartType:Electric Fuel Pump<br>Quantity Required:1<br>
1999
Toyota
Tacoma
DLX Standard Cab Pickup 2-Door 2.4L 2438CC l4 GAS DOHC Naturally Aspirated
Strainer required to validate the warranty; Engine: 2RZFE<br>PartType:Electric Fuel Pump<br>Quantity Required:1<br>
1999
Toyota
Tacoma
DLX Standard Cab Pickup 2-Door 2.7L 2694CC l4 GAS DOHC Naturally Aspirated
Strainer required to validate the warranty; Engine: 3RZFE<br>PartType:Electric Fuel Pump<br>Quantity Required:1<br>
1999
Toyota
Tacoma
DLX Standard Cab Pickup 2-Door 3.4L 3378CC V6 GAS DOHC Naturally Aspirated
Strainer required to validate the warranty; Engine: 5VZFE<br>PartType:Electric Fuel Pump<br>Quantity Required:1<br>
1999
Toyota
Tacoma
Limited Extended Cab Pickup 2-Door 3.4L 3378CC V6 GAS DOHC Naturally Aspirated
Strainer required to validate the warranty; Engine: 5VZFE<br>PartType:Electric Fuel Pump<br>Quantity Required:1<br>
1999
Toyota
Tacoma
Pre Runner Extended Cab Pickup 2-Door 2.7L 2694CC l4 GAS DOHC Naturally Aspirated
Strainer required to validate the warranty; Engine: 3RZFE<br>PartType:Electric Fuel Pump<br>Quantity Required:1<br>
1999
Toyota
Tacoma
Pre Runner Extended Cab Pickup 2-Door 3.4L 3378CC V6 GAS DOHC Naturally Aspirated
Strainer required to validate the warranty; Engine: 5VZFE<br>PartType:Electric Fuel Pump<br>Quantity Required:1<br>
1999
Toyota
Tacoma
Pre Runner Standard Cab Pickup 2-Door 2.7L 2694CC l4 GAS DOHC Naturally Aspirated
Strainer required to validate the warranty; Engine: 3RZFE<br>PartType:Electric Fuel Pump<br>Quantity Required:1<br>
1999
Toyota
Tacoma
Pre Runner Standard Cab Pickup 2-Door 3.4L 3378CC V6 GAS DOHC Naturally Aspirated
Strainer required to validate the warranty; Engine: 5VZFE<br>PartType:Electric Fuel Pump<br>Quantity Required:1<br>
1999
Toyota
Tacoma
SR5 Extended Cab Pickup 2-Door 2.4L 2438CC l4 GAS DOHC Naturally Aspirated
Strainer required to validate the warranty; Engine: 2RZFE<br>PartType:Electric Fuel Pump<br>Quantity Required:1<br>
1999
Toyota
Tacoma
SR5 Extended Cab Pickup 2-Door 2.7L 2694CC l4 GAS DOHC Naturally Aspirated
Strainer required to validate the warranty; Engine: 3RZFE<br>PartType:Electric Fuel Pump<br>Quantity Required:1<br>
1999
Toyota
Tacoma
SR5 Extended Cab Pickup 2-Door 3.4L 3378CC V6 GAS DOHC Naturally Aspirated
Strainer required to validate the warranty; Engine: 5VZFE<br>PartType:Electric Fuel Pump<br>Quantity Required:1<br>
1998
Acura
SLX
Premium Sport Utility 4-Door 3.5L 3494CC V6 GAS DOHC Naturally Aspirated
Strainer required to validate the warranty;<br>PartType:Electric Fuel Pump<br>Quantity Required:1<br>
1998
Acura
TL
Base Sedan 4-Door 3.2L 3206CC V6 GAS SOHC Naturally Aspirated
Strainer required to validate the warranty;<br>PartType:Electric Fuel Pump<br>Quantity Required:1<br>