Complete Gas Fuel Pump Assembly For Chevrolet Silverado 1500 2500 3500 HD 04-07
| | |
| --- | --- |
| Brand/Part #: | Powerco 115147 |
| Location: | Milpitas, California, US |
| Ship To Locations: | US - FREE SHIPPING |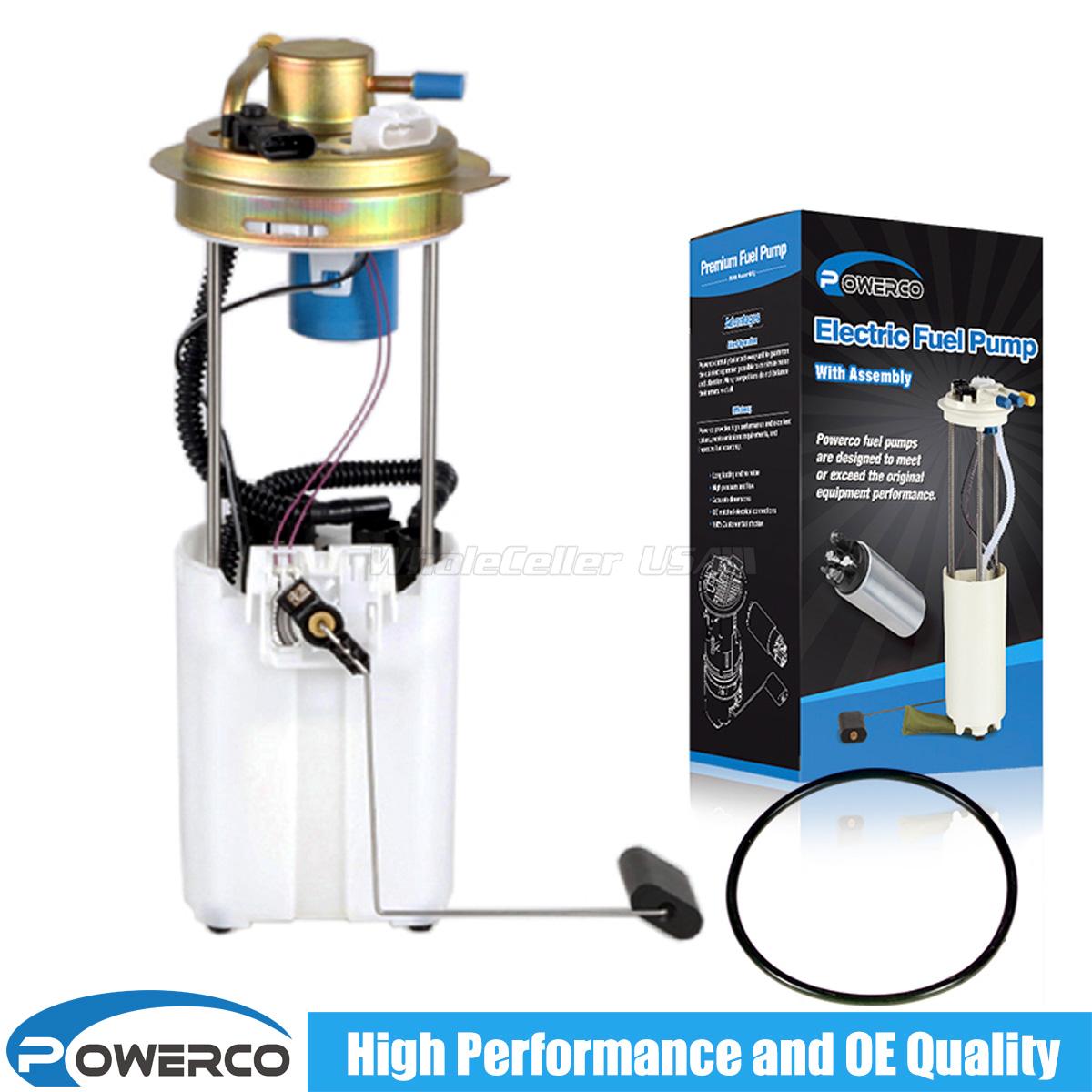 Description
Condition: Brand New
Warranty: One Year
Package Includes:
1 x Fuel Pump Module

(Including fuel pump module, Rubber Tank Seal, Float Arm & Level Sending Unit, two electric connectors on the top)
Technical Data:
Position: In-tank

Inlet Type: Strainer

Outlet Size: 3/8 inch

Outlet Type: Quick Connect

Free Flow Volume: 160 L/H (41.6 US Gallon per Hour)

Free Flow Pressure: 3 Bar (43.5 PSI)
Interchange Part Number: GT3609M
Compatability Table:
| | | | |
| --- | --- | --- | --- |
| Year | Make | Model | Details |
| 2004-2007 | Chevrolet | Pick-up Truck | Fuel Pump MU1417 |
| 2004-2007 | Chevrolet | Silverado | 2500 HD Series - 6.0L Models with 96 Inch Bed and 2 Electrical Connectors |
| 2004-2007 | Chevrolet | Silverado | 8 Cylinder 4.8L Models |
| 2004-2007 | Chevrolet | Silverado | 8 Cylinder 5.3L Models |
| 2004-2007 | Chevrolet | Silverado | 8 Cylinder 8.1L Models |
| 2005-2007 | Chevrolet | Silverado | 6 Cylinder 4.3L Models |
Tips Before Buying:
Please check actual stock part size before purchasing replacements. Compatibility list on eBay listing is not a complete list and it is a known issue that there are errors on it;
If possible please try to use laptop to check the compatibility chart, the detail information will be showed in compatibility chart due to mobile phone or tablet PC can not show the detail note about vehicles.
If you encounter model/functional compatibility issue, please contact us for assistance. We will help you exchange to compatible item (if available).
Shipping
All the orders are shipped form USA warehouse.
All orders placed before 1PM will be shipped within 24 hours on business days.
We cannot control the post after the package is shipped out. The item usually arrives within 1-5 days excludes weekends and holidays.
Return
30 days return offered for BRAND NEW items only, it starts from the day you received it.
Return shipping fee is applied to buyers, unless it's defective or damaged from shipping;
All returned items should be in the original packaging and you need to provide us with the shipping tracking number, specific reason for the return, and your eBay ID.
We will charge 20% restocking fee of paid price if the return is due to buyer's misitake.
Warranty
If you have any questions within the 1 year warranty, please feel free to contact us to fix it for you.
Returns Accepted: Returns Accepted
Item must be returned within: 30 Days
Refund will be given as: Money back or replacement (buyer's choice)
Return shipping will be paid by: Buyer
Brand: Powerco
Other Part Number: GT3609M
Warranty: 1 Year
Bundle Listing: No
Manufacturer Part Number: 75296910664T3M0
Fuel Pump Type: Electrical
Fitment Type: Direct Replacement
Working Voltage: 12V-13.5V
Include: Pump
Interchange Part Number 1: GT3609M
UPC: 192840186690
SKU: 115147
Complete Gas Fuel Pump Assembly For Chevrolet Silverado 1500 2500 3500 HD 04-07 fits on the following vehicles. This is for your reference only, please check your auto manual to make sure it fits.
YEAR
MAKE
MODEL
TRIM
NOTES
2007
Chevrolet
Silverado 1500
LT Crew Cab Pickup 4-Door 6.0L 5967CC 364Cu. In. V8 GAS OHV Naturally Aspirated
2007
Chevrolet
Silverado 1500
LT Extended Cab Pickup 4-Door 6.0L 5967CC 364Cu. In. V8 GAS OHV Naturally Aspirated
2007
Chevrolet
Silverado 1500
LT Standard Cab Pickup 2-Door 6.0L 5967CC 364Cu. In. V8 GAS OHV Naturally Aspirated
2007
Chevrolet
Silverado 1500
LTZ Crew Cab Pickup 4-Door 6.0L 5967CC 364Cu. In. V8 GAS OHV Naturally Aspirated
2007
Chevrolet
Silverado 1500
LTZ Extended Cab Pickup 4-Door 6.0L 5967CC 364Cu. In. V8 GAS OHV Naturally Aspirated
2007
Chevrolet
Silverado 1500
LTZ Standard Cab Pickup 2-Door 6.0L 5967CC 364Cu. In. V8 GAS OHV Naturally Aspirated
2007
Chevrolet
Silverado 1500 Classic
Hybrid Extended Cab Pickup 4-Door 5.3L 5328CC 325Cu. In. V8 ELECTRIC/GAS OHV Naturally Aspirated
2007
Chevrolet
Silverado 1500 Classic
LT Crew Cab Pickup 4-Door 6.0L 5967CC 364Cu. In. V8 GAS OHV Naturally Aspirated
2007
Chevrolet
Silverado 1500 Classic
LT Extended Cab Pickup 4-Door 6.0L 5967CC 364Cu. In. V8 GAS OHV Naturally Aspirated
2007
Chevrolet
Silverado 1500 Classic
LT Standard Cab Pickup 2-Door 6.0L 5967CC 364Cu. In. V8 GAS OHV Naturally Aspirated
2007
Chevrolet
Silverado 1500 Classic
SS Extended Cab Pickup 4-Door 6.0L 5967CC 364Cu. In. V8 GAS OHV Naturally Aspirated
2007
Chevrolet
Silverado 1500 HD Classic
LT Crew Cab Pickup 4-Door 6.0L 5967CC 364Cu. In. V8 GAS OHV Naturally Aspirated
2006
Chevrolet
Silverado 1500
Base Standard Cab Pickup 2-Door 4.3L 262Cu. In. V6 GAS OHV Naturally Aspirated
78.0" bed
2006
Chevrolet
Silverado 1500
Hybrid Extended Cab Pickup 4-Door 5.3L 5328CC 325Cu. In. V8 ELECTRIC/GAS OHV Naturally Aspirated
2006
Chevrolet
Silverado 1500
LS Crew Cab Pickup 4-Door 4.3L 262Cu. In. V6 GAS OHV Naturally Aspirated
78.0" bed
2006
Chevrolet
Silverado 1500
LS Crew Cab Pickup 4-Door 5.3L 5328CC 325Cu. In. V8 GAS OHV Naturally Aspirated
GAS; Extended Cab Pickup; Standard Cab Pickup; 78.0" bed
2006
Chevrolet
Silverado 1500
LS Extended Cab Pickup 4-Door 4.3L 262Cu. In. V6 GAS OHV Naturally Aspirated
78.0" bed
2006
Chevrolet
Silverado 1500
LS Extended Cab Pickup 4-Door 4.8L 294Cu. In. V8 GAS OHV Naturally Aspirated
Extended Cab Pickup; Standard Cab Pickup; 78.0" bed
2006
Chevrolet
Silverado 1500
LS Extended Cab Pickup 4-Door 5.3L 5328CC 325Cu. In. V8 FLEX OHV Naturally Aspirated
GAS; Extended Cab Pickup; Standard Cab Pickup; 78.0" bed
2006
Chevrolet
Silverado 1500
LS Extended Cab Pickup 4-Door 5.3L 5328CC 325Cu. In. V8 GAS OHV Naturally Aspirated
GAS; Extended Cab Pickup; Standard Cab Pickup; 78.0" bed
2006
Chevrolet
Silverado 1500
LS Standard Cab Pickup 2-Door 4.3L 262Cu. In. V6 GAS OHV Naturally Aspirated
78.0" bed
2006
Chevrolet
Silverado 1500
LS Standard Cab Pickup 2-Door 4.8L 294Cu. In. V8 GAS OHV Naturally Aspirated
Extended Cab Pickup; Standard Cab Pickup; 78.0" bed
2006
Chevrolet
Silverado 1500
LS Standard Cab Pickup 2-Door 5.3L 5328CC 325Cu. In. V8 FLEX OHV Naturally Aspirated
GAS; Extended Cab Pickup; Standard Cab Pickup; 78.0" bed
2006
Chevrolet
Silverado 1500
LS Standard Cab Pickup 2-Door 5.3L 5328CC 325Cu. In. V8 GAS OHV Naturally Aspirated
GAS; Extended Cab Pickup; Standard Cab Pickup; 78.0" bed
2006
Chevrolet
Silverado 1500
LT Extended Cab Pickup 4-Door 4.8L 294Cu. In. V8 GAS OHV Naturally Aspirated
Extended Cab Pickup; Standard Cab Pickup; 78.0" bed
2006
Chevrolet
Silverado 1500
LT Extended Cab Pickup 4-Door 5.3L 5328CC 325Cu. In. V8 FLEX OHV Naturally Aspirated
GAS; Extended Cab Pickup; Standard Cab Pickup; 78.0" bed
2006
Chevrolet
Silverado 1500
LT Extended Cab Pickup 4-Door 5.3L 5328CC 325Cu. In. V8 GAS OHV Naturally Aspirated
GAS; Extended Cab Pickup; Standard Cab Pickup; 78.0" bed
2006
Chevrolet
Silverado 1500
LT Standard Cab Pickup 2-Door 4.8L 294Cu. In. V8 GAS OHV Naturally Aspirated
Extended Cab Pickup; Standard Cab Pickup; 78.0" bed
2006
Chevrolet
Silverado 1500
LT Standard Cab Pickup 2-Door 5.3L 5328CC 325Cu. In. V8 FLEX OHV Naturally Aspirated
GAS; Extended Cab Pickup; Standard Cab Pickup; 78.0" bed
2006
Chevrolet
Silverado 1500
LT Standard Cab Pickup 2-Door 5.3L 5328CC 325Cu. In. V8 GAS OHV Naturally Aspirated
GAS; Extended Cab Pickup; Standard Cab Pickup; 78.0" bed
2006
Chevrolet
Silverado 1500
WT Extended Cab Pickup 4-Door 4.3L 262Cu. In. V6 GAS OHV Naturally Aspirated
78.0" bed
2006
Chevrolet
Silverado 1500
WT Extended Cab Pickup 4-Door 4.8L 294Cu. In. V8 GAS OHV Naturally Aspirated
Extended Cab Pickup; Standard Cab Pickup; 78.0" bed
2006
Chevrolet
Silverado 1500
WT Extended Cab Pickup 4-Door 5.3L 5328CC 325Cu. In. V8 FLEX OHV Naturally Aspirated
GAS; Extended Cab Pickup; Standard Cab Pickup; 78.0" bed
2006
Chevrolet
Silverado 1500
WT Extended Cab Pickup 4-Door 5.3L 5328CC 325Cu. In. V8 GAS OHV Naturally Aspirated
GAS; Extended Cab Pickup; Standard Cab Pickup; 78.0" bed
2006
Chevrolet
Silverado 1500
WT Standard Cab Pickup 2-Door 4.3L 262Cu. In. V6 GAS OHV Naturally Aspirated
78.0" bed
2006
Chevrolet
Silverado 1500
WT Standard Cab Pickup 2-Door 4.8L 294Cu. In. V8 GAS OHV Naturally Aspirated
Extended Cab Pickup; Standard Cab Pickup; 78.0" bed
2006
Chevrolet
Silverado 1500
WT Standard Cab Pickup 2-Door 5.3L 5328CC 325Cu. In. V8 FLEX OHV Naturally Aspirated
GAS; Extended Cab Pickup; Standard Cab Pickup; 78.0" bed
2006
Chevrolet
Silverado 1500
WT Standard Cab Pickup 2-Door 5.3L 5328CC 325Cu. In. V8 GAS OHV Naturally Aspirated
GAS; Extended Cab Pickup; Standard Cab Pickup; 78.0" bed
2006
Chevrolet
Silverado 1500 HD
LT Crew Cab Pickup 4-Door 6.0L 5967CC 364Cu. In. V8 GAS OHV Naturally Aspirated
Fits Silverado 1500 Base Model Or Silverado 1500 HD; w/ 2 Electrical Connectors On The Pump Assembly
2006
Chevrolet
Silverado 2500 HD
LS Crew Cab Pickup 4-Door 6.0L 5967CC 364Cu. In. V8 GAS OHV Naturally Aspirated
GAS; 78.0" bed; w/ 2 Electrical Connectors On The Pump Assembly
2006
Chevrolet
Silverado 2500 HD
LS Crew Cab Pickup 4-Door 8.1L 496Cu. In. V8 GAS OHV Naturally Aspirated
78.0" bed; w/ 2 Electrical Connectors On The Pump Assembly
2006
Chevrolet
Silverado 2500 HD
LS Extended Cab Pickup 4-Door 6.0L 5967CC 364Cu. In. V8 GAS OHV Naturally Aspirated
GAS; 78.0" bed; w/ 2 Electrical Connectors On The Pump Assembly
2006
Chevrolet
Silverado 2500 HD
LS Extended Cab Pickup 4-Door 8.1L 496Cu. In. V8 GAS OHV Naturally Aspirated
78.0" bed; w/ 2 Electrical Connectors On The Pump Assembly
2006
Chevrolet
Silverado 2500 HD
LS Standard Cab Pickup 2-Door 6.0L 5967CC 364Cu. In. V8 GAS OHV Naturally Aspirated
GAS; 78.0" bed; w/ 2 Electrical Connectors On The Pump Assembly
2006
Chevrolet
Silverado 2500 HD
LS Standard Cab Pickup 2-Door 8.1L 496Cu. In. V8 GAS OHV Naturally Aspirated
78.0" bed; w/ 2 Electrical Connectors On The Pump Assembly
2006
Chevrolet
Silverado 2500 HD
LT Crew Cab Pickup 4-Door 6.0L 5967CC 364Cu. In. V8 GAS OHV Naturally Aspirated
GAS; 78.0" bed; w/ 2 Electrical Connectors On The Pump Assembly
2006
Chevrolet
Silverado 2500 HD
LT Crew Cab Pickup 4-Door 8.1L 496Cu. In. V8 GAS OHV Naturally Aspirated
78.0" bed; w/ 2 Electrical Connectors On The Pump Assembly
2006
Chevrolet
Silverado 2500 HD
LT Extended Cab Pickup 4-Door 6.0L 5967CC 364Cu. In. V8 GAS OHV Naturally Aspirated
GAS; 78.0" bed; w/ 2 Electrical Connectors On The Pump Assembly
2006
Chevrolet
Silverado 2500 HD
LT Extended Cab Pickup 4-Door 8.1L 496Cu. In. V8 GAS OHV Naturally Aspirated
78.0" bed; w/ 2 Electrical Connectors On The Pump Assembly
2006
Chevrolet
Silverado 2500 HD
WT Crew Cab Pickup 4-Door 6.0L 5967CC 364Cu. In. V8 GAS OHV Naturally Aspirated
GAS; 78.0" bed; w/ 2 Electrical Connectors On The Pump Assembly
2006
Chevrolet
Silverado 2500 HD
WT Crew Cab Pickup 4-Door 8.1L 496Cu. In. V8 GAS OHV Naturally Aspirated
78.0" bed; w/ 2 Electrical Connectors On The Pump Assembly
2006
Chevrolet
Silverado 2500 HD
WT Extended Cab Pickup 4-Door 6.0L 5967CC 364Cu. In. V8 GAS OHV Naturally Aspirated
GAS; 78.0" bed; w/ 2 Electrical Connectors On The Pump Assembly
2006
Chevrolet
Silverado 2500 HD
WT Extended Cab Pickup 4-Door 8.1L 496Cu. In. V8 GAS OHV Naturally Aspirated
78.0" bed; w/ 2 Electrical Connectors On The Pump Assembly
2006
Chevrolet
Silverado 2500 HD
WT Standard Cab Pickup 2-Door 6.0L 5967CC 364Cu. In. V8 GAS OHV Naturally Aspirated
GAS; 78.0" bed; w/ 2 Electrical Connectors On The Pump Assembly
2006
Chevrolet
Silverado 2500 HD
WT Standard Cab Pickup 2-Door 8.1L 496Cu. In. V8 GAS OHV Naturally Aspirated
78.0" bed; w/ 2 Electrical Connectors On The Pump Assembly
2005
Chevrolet
Silverado 1500
Base Extended Cab Pickup 4-Door 4.3L 262Cu. In. V6 GAS OHV Naturally Aspirated
78.0" bed
2005
Chevrolet
Silverado 1500
Base Extended Cab Pickup 4-Door 4.8L 294Cu. In. V8 GAS OHV Naturally Aspirated
Extended Cab Pickup; Standard Cab Pickup; 78.0" bed
2005
Chevrolet
Silverado 1500
Base Extended Cab Pickup 4-Door 5.3L 5328CC 325Cu. In. V8 FLEX OHV Naturally Aspirated
Fits Extended Cab Pickup; 78.0" bed; Engine VIN B Or Extended Cab Pickup; Standard Cab Pickup; 78.0" bed; Engine VIN T
2005
Chevrolet
Silverado 1500
Base Extended Cab Pickup 4-Door 5.3L 5328CC 325Cu. In. V8 GAS OHV Naturally Aspirated
Fits Extended Cab Pickup; 78.0" bed; Engine VIN B Or Extended Cab Pickup; Standard Cab Pickup; 78.0" bed; Engine VIN T
2005
Chevrolet
Silverado 1500
Base Standard Cab Pickup 2-Door 4.3L 262Cu. In. V6 GAS OHV Naturally Aspirated
78.0" bed
2005
Chevrolet
Silverado 1500
Base Standard Cab Pickup 2-Door 4.8L 294Cu. In. V8 GAS OHV Naturally Aspirated
Extended Cab Pickup; Standard Cab Pickup; 78.0" bed
2005
Chevrolet
Silverado 1500
Base Standard Cab Pickup 2-Door 5.3L 5328CC 325Cu. In. V8 FLEX OHV Naturally Aspirated
Fits Extended Cab Pickup; 78.0" bed; Engine VIN B Or Extended Cab Pickup; Standard Cab Pickup; 78.0" bed; Engine VIN T
2005
Chevrolet
Silverado 1500
Base Standard Cab Pickup 2-Door 5.3L 5328CC 325Cu. In. V8 GAS OHV Naturally Aspirated
Fits Extended Cab Pickup; 78.0" bed; Engine VIN B Or Extended Cab Pickup; Standard Cab Pickup; 78.0" bed; Engine VIN T
2005
Chevrolet
Silverado 1500
Hybrid Extended Cab Pickup 4-Door 5.3L 5328CC 325Cu. In. V8 ELECTRIC/GAS OHV Naturally Aspirated
2005
Chevrolet
Silverado 1500
LS Extended Cab Pickup 4-Door 4.8L 294Cu. In. V8 GAS OHV Naturally Aspirated
Extended Cab Pickup; Standard Cab Pickup; 78.0" bed
2005
Chevrolet
Silverado 1500
LS Extended Cab Pickup 4-Door 5.3L 5328CC 325Cu. In. V8 FLEX OHV Naturally Aspirated
Fits Extended Cab Pickup; 78.0" bed; Engine VIN B Or Extended Cab Pickup; Standard Cab Pickup; 78.0" bed; Engine VIN T
2005
Chevrolet
Silverado 1500
LS Extended Cab Pickup 4-Door 5.3L 5328CC 325Cu. In. V8 GAS OHV Naturally Aspirated
Fits Extended Cab Pickup; 78.0" bed; Engine VIN B Or Extended Cab Pickup; Standard Cab Pickup; 78.0" bed; Engine VIN T
2005
Chevrolet
Silverado 1500
LS Standard Cab Pickup 2-Door 4.3L 262Cu. In. V6 GAS OHV Naturally Aspirated
78.0" bed
2005
Chevrolet
Silverado 1500
LS Standard Cab Pickup 2-Door 4.8L 294Cu. In. V8 GAS OHV Naturally Aspirated
Extended Cab Pickup; Standard Cab Pickup; 78.0" bed
2005
Chevrolet
Silverado 1500
LS Standard Cab Pickup 2-Door 5.3L 5328CC 325Cu. In. V8 FLEX OHV Naturally Aspirated
Fits Extended Cab Pickup; 78.0" bed; Engine VIN B Or Extended Cab Pickup; Standard Cab Pickup; 78.0" bed; Engine VIN T
2005
Chevrolet
Silverado 1500
LS Standard Cab Pickup 2-Door 5.3L 5328CC 325Cu. In. V8 GAS OHV Naturally Aspirated
Fits Extended Cab Pickup; 78.0" bed; Engine VIN B Or Extended Cab Pickup; Standard Cab Pickup; 78.0" bed; Engine VIN T
2005
Chevrolet
Silverado 1500
LT Crew Cab Pickup 4-Door 4.3L 262Cu. In. V6 GAS OHV Naturally Aspirated
78.0" bed
2005
Chevrolet
Silverado 1500
LT Extended Cab Pickup 4-Door 4.3L 262Cu. In. V6 GAS OHV Naturally Aspirated
78.0" bed
2005
Chevrolet
Silverado 1500
LT Extended Cab Pickup 4-Door 4.8L 294Cu. In. V8 GAS OHV Naturally Aspirated
Extended Cab Pickup; Standard Cab Pickup; 78.0" bed
2005
Chevrolet
Silverado 1500
LT Extended Cab Pickup 4-Door 5.3L 5328CC 325Cu. In. V8 FLEX OHV Naturally Aspirated
Fits Extended Cab Pickup; 78.0" bed; Engine VIN B Or Extended Cab Pickup; Standard Cab Pickup; 78.0" bed; Engine VIN T
2005
Chevrolet
Silverado 1500
LT Extended Cab Pickup 4-Door 5.3L 5328CC 325Cu. In. V8 GAS OHV Naturally Aspirated
Fits Extended Cab Pickup; 78.0" bed; Engine VIN B Or Extended Cab Pickup; Standard Cab Pickup; 78.0" bed; Engine VIN T
2005
Chevrolet
Silverado 1500 HD
Base Crew Cab Pickup 4-Door 6.0L 5967CC 364Cu. In. V8 GAS OHV Naturally Aspirated
Fits Silverado 1500 Base Model Or Silverado 1500 HD; w/ 2 Electrical Connectors On The Pump Assembly
2005
Chevrolet
Silverado 1500 HD
LS Crew Cab Pickup 4-Door 6.0L 5967CC 364Cu. In. V8 GAS OHV Naturally Aspirated
Fits Silverado 1500 Base Model Or Silverado 1500 HD; w/ 2 Electrical Connectors On The Pump Assembly
2005
Chevrolet
Silverado 1500 HD
LT Crew Cab Pickup 4-Door 6.0L 5967CC 364Cu. In. V8 GAS OHV Naturally Aspirated
Fits Silverado 1500 Base Model Or Silverado 1500 HD; w/ 2 Electrical Connectors On The Pump Assembly
2005
Chevrolet
Silverado 2500 HD
Base Crew Cab Pickup 4-Door 6.0L 5967CC 364Cu. In. V8 CNG OHV Naturally Aspirated
GAS; 78.0" bed; w/ 2 Electrical Connectors On The Pump Assembly
2005
Chevrolet
Silverado 2500 HD
Base Crew Cab Pickup 4-Door 6.0L 5967CC 364Cu. In. V8 GAS OHV Naturally Aspirated
GAS; 78.0" bed; w/ 2 Electrical Connectors On The Pump Assembly
2005
Chevrolet
Silverado 2500 HD
Base Crew Cab Pickup 4-Door 8.1L 496Cu. In. V8 GAS OHV Naturally Aspirated
78.0" bed; w/ 2 Electrical Connectors On The Pump Assembly
2005
Chevrolet
Silverado 2500 HD
Base Extended Cab Pickup 4-Door 6.0L 5967CC 364Cu. In. V8 CNG OHV Naturally Aspirated
GAS; 78.0" bed; w/ 2 Electrical Connectors On The Pump Assembly
2005
Chevrolet
Silverado 2500 HD
Base Extended Cab Pickup 4-Door 6.0L 5967CC 364Cu. In. V8 GAS OHV Naturally Aspirated
GAS; 78.0" bed; w/ 2 Electrical Connectors On The Pump Assembly
2005
Chevrolet
Silverado 2500 HD
Base Extended Cab Pickup 4-Door 8.1L 496Cu. In. V8 GAS OHV Naturally Aspirated
78.0" bed; w/ 2 Electrical Connectors On The Pump Assembly
2005
Chevrolet
Silverado 2500 HD
Base Standard Cab Pickup 2-Door 6.0L 5967CC 364Cu. In. V8 CNG OHV Naturally Aspirated
GAS; 78.0" bed; w/ 2 Electrical Connectors On The Pump Assembly
2005
Chevrolet
Silverado 2500 HD
Base Standard Cab Pickup 2-Door 6.0L 5967CC 364Cu. In. V8 GAS OHV Naturally Aspirated
GAS; 78.0" bed; w/ 2 Electrical Connectors On The Pump Assembly
2005
Chevrolet
Silverado 2500 HD
Base Standard Cab Pickup 2-Door 8.1L 496Cu. In. V8 GAS OHV Naturally Aspirated
78.0" bed; w/ 2 Electrical Connectors On The Pump Assembly
2005
Chevrolet
Silverado 2500 HD
LS Crew Cab Pickup 4-Door 6.0L 5967CC 364Cu. In. V8 CNG OHV Naturally Aspirated
GAS; 78.0" bed; w/ 2 Electrical Connectors On The Pump Assembly
2005
Chevrolet
Silverado 2500 HD
LS Crew Cab Pickup 4-Door 6.0L 5967CC 364Cu. In. V8 GAS OHV Naturally Aspirated
GAS; 78.0" bed; w/ 2 Electrical Connectors On The Pump Assembly
2005
Chevrolet
Silverado 2500 HD
LS Crew Cab Pickup 4-Door 8.1L 496Cu. In. V8 GAS OHV Naturally Aspirated
78.0" bed; w/ 2 Electrical Connectors On The Pump Assembly
2005
Chevrolet
Silverado 2500 HD
LS Extended Cab Pickup 4-Door 6.0L 5967CC 364Cu. In. V8 CNG OHV Naturally Aspirated
GAS; 78.0" bed; w/ 2 Electrical Connectors On The Pump Assembly
2005
Chevrolet
Silverado 2500 HD
LS Extended Cab Pickup 4-Door 6.0L 5967CC 364Cu. In. V8 GAS OHV Naturally Aspirated
GAS; 78.0" bed; w/ 2 Electrical Connectors On The Pump Assembly
2005
Chevrolet
Silverado 2500 HD
LS Extended Cab Pickup 4-Door 8.1L 496Cu. In. V8 GAS OHV Naturally Aspirated
78.0" bed; w/ 2 Electrical Connectors On The Pump Assembly
2005
Chevrolet
Silverado 2500 HD
LS Standard Cab Pickup 2-Door 6.0L 5967CC 364Cu. In. V8 CNG OHV Naturally Aspirated
GAS; 78.0" bed; w/ 2 Electrical Connectors On The Pump Assembly
2005
Chevrolet
Silverado 2500 HD
LS Standard Cab Pickup 2-Door 6.0L 5967CC 364Cu. In. V8 GAS OHV Naturally Aspirated
GAS; 78.0" bed; w/ 2 Electrical Connectors On The Pump Assembly
2005
Chevrolet
Silverado 2500 HD
LS Standard Cab Pickup 2-Door 8.1L 496Cu. In. V8 GAS OHV Naturally Aspirated
78.0" bed; w/ 2 Electrical Connectors On The Pump Assembly
2005
Chevrolet
Silverado 2500 HD
LT Cab & Chassis 2-Door 6.0L 5967CC 364Cu. In. V8 GAS OHV Naturally Aspirated
GAS; 78.0" bed; w/ 2 Electrical Connectors On The Pump Assembly
2005
Chevrolet
Silverado 2500 HD
LT Cab & Chassis 2-Door 8.1L 496Cu. In. V8 GAS OHV Naturally Aspirated
78.0" bed; w/ 2 Electrical Connectors On The Pump Assembly
2005
Chevrolet
Silverado 2500 HD
LT Crew Cab Pickup 4-Door 6.0L 5967CC 364Cu. In. V8 GAS OHV Naturally Aspirated
GAS; 78.0" bed; w/ 2 Electrical Connectors On The Pump Assembly
2005
Chevrolet
Silverado 2500 HD
LT Crew Cab Pickup 4-Door 8.1L 496Cu. In. V8 GAS OHV Naturally Aspirated
78.0" bed; w/ 2 Electrical Connectors On The Pump Assembly
2005
Chevrolet
Silverado 2500 HD
LT Extended Cab Pickup 4-Door 6.0L 5967CC 364Cu. In. V8 GAS OHV Naturally Aspirated
GAS; 78.0" bed; w/ 2 Electrical Connectors On The Pump Assembly
2005
Chevrolet
Silverado 2500 HD
LT Extended Cab Pickup 4-Door 8.1L 496Cu. In. V8 GAS OHV Naturally Aspirated
78.0" bed; w/ 2 Electrical Connectors On The Pump Assembly
2005
Chevrolet
Silverado 2500 HD
LT Standard Cab Pickup 2-Door 6.0L 5967CC 364Cu. In. V8 GAS OHV Naturally Aspirated
GAS; 78.0" bed; w/ 2 Electrical Connectors On The Pump Assembly
2005
Chevrolet
Silverado 2500 HD
LT Standard Cab Pickup 2-Door 8.1L 496Cu. In. V8 GAS OHV Naturally Aspirated
78.0" bed; w/ 2 Electrical Connectors On The Pump Assembly
2005
Chevrolet
Silverado 2500 HD
WT Crew Cab Pickup 4-Door 6.0L 5967CC 364Cu. In. V8 CNG OHV Naturally Aspirated
GAS; 78.0" bed; w/ 2 Electrical Connectors On The Pump Assembly
2005
Chevrolet
Silverado 2500 HD
WT Crew Cab Pickup 4-Door 6.0L 5967CC 364Cu. In. V8 GAS OHV Naturally Aspirated
GAS; 78.0" bed; w/ 2 Electrical Connectors On The Pump Assembly
2005
Chevrolet
Silverado 2500 HD
WT Crew Cab Pickup 4-Door 8.1L 496Cu. In. V8 GAS OHV Naturally Aspirated
78.0" bed; w/ 2 Electrical Connectors On The Pump Assembly
2005
Chevrolet
Silverado 2500 HD
WT Extended Cab Pickup 4-Door 6.0L 5967CC 364Cu. In. V8 CNG OHV Naturally Aspirated
GAS; 78.0" bed; w/ 2 Electrical Connectors On The Pump Assembly
2005
Chevrolet
Silverado 2500 HD
WT Extended Cab Pickup 4-Door 6.0L 5967CC 364Cu. In. V8 GAS OHV Naturally Aspirated
GAS; 78.0" bed; w/ 2 Electrical Connectors On The Pump Assembly
2005
Chevrolet
Silverado 2500 HD
WT Extended Cab Pickup 4-Door 8.1L 496Cu. In. V8 GAS OHV Naturally Aspirated
78.0" bed; w/ 2 Electrical Connectors On The Pump Assembly
2005
Chevrolet
Silverado 2500 HD
WT Standard Cab Pickup 2-Door 6.0L 5967CC 364Cu. In. V8 CNG OHV Naturally Aspirated
GAS; 78.0" bed; w/ 2 Electrical Connectors On The Pump Assembly
2005
Chevrolet
Silverado 2500 HD
WT Standard Cab Pickup 2-Door 6.0L 5967CC 364Cu. In. V8 GAS OHV Naturally Aspirated
GAS; 78.0" bed; w/ 2 Electrical Connectors On The Pump Assembly
2005
Chevrolet
Silverado 2500 HD
WT Standard Cab Pickup 2-Door 8.1L 496Cu. In. V8 GAS OHV Naturally Aspirated
78.0" bed; w/ 2 Electrical Connectors On The Pump Assembly
2004
Chevrolet
Silverado 1500
Base Extended Cab Pickup 4-Door 4.8L 294Cu. In. V8 GAS OHV Naturally Aspirated
Extended Cab Pickup; Standard Cab Pickup; 78.0" bed
2004
Chevrolet
Silverado 1500
Base Extended Cab Pickup 4-Door 5.3L 5328CC 325Cu. In. V8 FLEX OHV Naturally Aspirated
Extended Cab Pickup; Standard Cab Pickup; 78.0" bed
2004
Chevrolet
Silverado 1500
Base Extended Cab Pickup 4-Door 5.3L 5328CC 325Cu. In. V8 GAS OHV Naturally Aspirated
Extended Cab Pickup; Standard Cab Pickup; 78.0" bed
2004
Chevrolet
Silverado 1500
Base Standard Cab Pickup 2-Door 4.8L 294Cu. In. V8 GAS OHV Naturally Aspirated
Extended Cab Pickup; Standard Cab Pickup; 78.0" bed
2004
Chevrolet
Silverado 1500
Base Standard Cab Pickup 2-Door 5.3L 5328CC 325Cu. In. V8 FLEX OHV Naturally Aspirated
Extended Cab Pickup; Standard Cab Pickup; 78.0" bed
2004
Chevrolet
Silverado 1500
Base Standard Cab Pickup 2-Door 5.3L 5328CC 325Cu. In. V8 GAS OHV Naturally Aspirated
Extended Cab Pickup; Standard Cab Pickup; 78.0" bed
2004
Chevrolet
Silverado 1500
Hybrid Extended Cab Pickup 4-Door 5.3L 5328CC 325Cu. In. V8 ELECTRIC/GAS OHV Naturally Aspirated
2004
Chevrolet
Silverado 1500
LS Extended Cab Pickup 4-Door 4.8L 294Cu. In. V8 GAS OHV Naturally Aspirated
Extended Cab Pickup; Standard Cab Pickup; 78.0" bed
2004
Chevrolet
Silverado 1500
LS Extended Cab Pickup 4-Door 5.3L 5328CC 325Cu. In. V8 FLEX OHV Naturally Aspirated
Extended Cab Pickup; Standard Cab Pickup; 78.0" bed
2004
Chevrolet
Silverado 1500
LS Extended Cab Pickup 4-Door 5.3L 5328CC 325Cu. In. V8 GAS OHV Naturally Aspirated
Extended Cab Pickup; Standard Cab Pickup; 78.0" bed
2004
Chevrolet
Silverado 1500
LS Standard Cab Pickup 2-Door 4.8L 294Cu. In. V8 GAS OHV Naturally Aspirated
Extended Cab Pickup; Standard Cab Pickup; 78.0" bed
2004
Chevrolet
Silverado 1500
LS Standard Cab Pickup 2-Door 5.3L 5328CC 325Cu. In. V8 FLEX OHV Naturally Aspirated
Extended Cab Pickup; Standard Cab Pickup; 78.0" bed
2004
Chevrolet
Silverado 1500
LS Standard Cab Pickup 2-Door 5.3L 5328CC 325Cu. In. V8 GAS OHV Naturally Aspirated
Extended Cab Pickup; Standard Cab Pickup; 78.0" bed
2004
Chevrolet
Silverado 1500
LT Extended Cab Pickup 4-Door 4.8L 294Cu. In. V8 GAS OHV Naturally Aspirated
Extended Cab Pickup; Standard Cab Pickup; 78.0" bed
2004
Chevrolet
Silverado 1500
LT Extended Cab Pickup 4-Door 5.3L 5328CC 325Cu. In. V8 FLEX OHV Naturally Aspirated
Extended Cab Pickup; Standard Cab Pickup; 78.0" bed
2004
Chevrolet
Silverado 1500
LT Extended Cab Pickup 4-Door 5.3L 5328CC 325Cu. In. V8 GAS OHV Naturally Aspirated
Extended Cab Pickup; Standard Cab Pickup; 78.0" bed
2004
Chevrolet
Silverado 1500
SS Extended Cab Pickup 4-Door 6.0L 5967CC 364Cu. In. V8 GAS OHV Naturally Aspirated
2004
Chevrolet
Silverado 1500
WT Extended Cab Pickup 4-Door 4.8L 294Cu. In. V8 GAS OHV Naturally Aspirated
Extended Cab Pickup; Standard Cab Pickup; 78.0" bed
2004
Chevrolet
Silverado 1500
WT Extended Cab Pickup 4-Door 5.3L 5328CC 325Cu. In. V8 FLEX OHV Naturally Aspirated
Extended Cab Pickup; Standard Cab Pickup; 78.0" bed
2004
Chevrolet
Silverado 1500
WT Extended Cab Pickup 4-Door 5.3L 5328CC 325Cu. In. V8 GAS OHV Naturally Aspirated
Extended Cab Pickup; Standard Cab Pickup; 78.0" bed
2004
Chevrolet
Silverado 1500
WT Standard Cab Pickup 2-Door 4.8L 294Cu. In. V8 GAS OHV Naturally Aspirated
Extended Cab Pickup; Standard Cab Pickup; 78.0" bed
2004
Chevrolet
Silverado 1500
WT Standard Cab Pickup 2-Door 5.3L 5328CC 325Cu. In. V8 FLEX OHV Naturally Aspirated
Extended Cab Pickup; Standard Cab Pickup; 78.0" bed
2004
Chevrolet
Silverado 1500
WT Standard Cab Pickup 2-Door 5.3L 5328CC 325Cu. In. V8 GAS OHV Naturally Aspirated
Extended Cab Pickup; Standard Cab Pickup; 78.0" bed
2004
Chevrolet
Silverado 1500
Z71 Extended Cab Pickup 4-Door 4.8L 294Cu. In. V8 GAS OHV Naturally Aspirated
Extended Cab Pickup; Standard Cab Pickup; 78.0" bed
2004
Chevrolet
Silverado 1500
Z71 Extended Cab Pickup 4-Door 5.3L 5328CC 325Cu. In. V8 FLEX OHV Naturally Aspirated
Extended Cab Pickup; Standard Cab Pickup; 78.0" bed
2004
Chevrolet
Silverado 1500
Z71 Extended Cab Pickup 4-Door 5.3L 5328CC 325Cu. In. V8 GAS OHV Naturally Aspirated
Extended Cab Pickup; Standard Cab Pickup; 78.0" bed
2004
Chevrolet
Silverado 1500
Z71 Standard Cab Pickup 2-Door 4.8L 294Cu. In. V8 GAS OHV Naturally Aspirated
Extended Cab Pickup; Standard Cab Pickup; 78.0" bed
2004
Chevrolet
Silverado 1500
Z71 Standard Cab Pickup 2-Door 5.3L 5328CC 325Cu. In. V8 FLEX OHV Naturally Aspirated
Extended Cab Pickup; Standard Cab Pickup; 78.0" bed
2004
Chevrolet
Silverado 1500
Z71 Standard Cab Pickup 2-Door 5.3L 5328CC 325Cu. In. V8 GAS OHV Naturally Aspirated
Extended Cab Pickup; Standard Cab Pickup; 78.0" bed
2004
Chevrolet
Silverado 2500
Base Extended Cab Pickup 4-Door 6.0L 5967CC 364Cu. In. V8 GAS OHV Naturally Aspirated
GAS; 78.0" bed; w/ 2 Electrical Connectors On The Pump Assembly
2004
Chevrolet
Silverado 2500
Base Standard Cab Pickup 2-Door 6.0L 5967CC 364Cu. In. V8 GAS OHV Naturally Aspirated
GAS; 78.0" bed; w/ 2 Electrical Connectors On The Pump Assembly
2004
Chevrolet
Silverado 2500
LS Crew Cab Pickup 4-Door 6.0L 5967CC 364Cu. In. V8 GAS OHV Naturally Aspirated
GAS; 78.0" bed; w/ 2 Electrical Connectors On The Pump Assembly
2004
Chevrolet
Silverado 2500
LS Extended Cab Pickup 4-Door 6.0L 5967CC 364Cu. In. V8 GAS OHV Naturally Aspirated
GAS; 78.0" bed; w/ 2 Electrical Connectors On The Pump Assembly
2004
Chevrolet
Silverado 2500
LS Standard Cab Pickup 2-Door 6.0L 5967CC 364Cu. In. V8 GAS OHV Naturally Aspirated
GAS; 78.0" bed; w/ 2 Electrical Connectors On The Pump Assembly
2004
Chevrolet
Silverado 2500
LT Crew Cab Pickup 4-Door 6.0L 5967CC 364Cu. In. V8 GAS OHV Naturally Aspirated
GAS; 78.0" bed; w/ 2 Electrical Connectors On The Pump Assembly
2004
Chevrolet
Silverado 2500
LT Extended Cab Pickup 4-Door 6.0L 5967CC 364Cu. In. V8 GAS OHV Naturally Aspirated
GAS; 78.0" bed; w/ 2 Electrical Connectors On The Pump Assembly
2004
Chevrolet
Silverado 2500
WT Extended Cab Pickup 4-Door 6.0L 5967CC 364Cu. In. V8 GAS OHV Naturally Aspirated
GAS; 78.0" bed; w/ 2 Electrical Connectors On The Pump Assembly
2004
Chevrolet
Silverado 2500
WT Standard Cab Pickup 2-Door 6.0L 5967CC 364Cu. In. V8 GAS OHV Naturally Aspirated
GAS; 78.0" bed; w/ 2 Electrical Connectors On The Pump Assembly
2004
Chevrolet
Silverado 2500 HD
Base Crew Cab Pickup 4-Door 6.0L 5967CC 364Cu. In. V8 CNG OHV Naturally Aspirated
GAS; 78.0" bed; w/ 2 Electrical Connectors On The Pump Assembly
2004
Chevrolet
Silverado 2500 HD
Base Crew Cab Pickup 4-Door 6.0L 5967CC 364Cu. In. V8 GAS OHV Naturally Aspirated
GAS; 78.0" bed; w/ 2 Electrical Connectors On The Pump Assembly
2004
Chevrolet
Silverado 2500 HD
Base Crew Cab Pickup 4-Door 8.1L 496Cu. In. V8 GAS OHV Naturally Aspirated
78.0" bed; w/ 2 Electrical Connectors On The Pump Assembly
2004
Chevrolet
Silverado 2500 HD
Base Extended Cab Pickup 4-Door 6.0L 5967CC 364Cu. In. V8 CNG OHV Naturally Aspirated
GAS; 78.0" bed; w/ 2 Electrical Connectors On The Pump Assembly
2004
Chevrolet
Silverado 2500 HD
Base Extended Cab Pickup 4-Door 6.0L 5967CC 364Cu. In. V8 GAS OHV Naturally Aspirated
GAS; 78.0" bed; w/ 2 Electrical Connectors On The Pump Assembly
2004
Chevrolet
Silverado 2500 HD
Base Extended Cab Pickup 4-Door 8.1L 496Cu. In. V8 GAS OHV Naturally Aspirated
78.0" bed; w/ 2 Electrical Connectors On The Pump Assembly
2004
Chevrolet
Silverado 2500 HD
Base Standard Cab Pickup 2-Door 6.0L 5967CC 364Cu. In. V8 CNG OHV Naturally Aspirated
GAS; 78.0" bed; w/ 2 Electrical Connectors On The Pump Assembly
2004
Chevrolet
Silverado 2500 HD
Base Standard Cab Pickup 2-Door 6.0L 5967CC 364Cu. In. V8 GAS OHV Naturally Aspirated
GAS; 78.0" bed; w/ 2 Electrical Connectors On The Pump Assembly
2004
Chevrolet
Silverado 2500 HD
Base Standard Cab Pickup 2-Door 8.1L 496Cu. In. V8 GAS OHV Naturally Aspirated
78.0" bed; w/ 2 Electrical Connectors On The Pump Assembly
2004
Chevrolet
Silverado 2500 HD
LS Crew Cab Pickup 4-Door 6.0L 5967CC 364Cu. In. V8 CNG OHV Naturally Aspirated
GAS; 78.0" bed; w/ 2 Electrical Connectors On The Pump Assembly
2004
Chevrolet
Silverado 2500 HD
LS Crew Cab Pickup 4-Door 6.0L 5967CC 364Cu. In. V8 GAS OHV Naturally Aspirated
GAS; 78.0" bed; w/ 2 Electrical Connectors On The Pump Assembly
2004
Chevrolet
Silverado 2500 HD
LS Crew Cab Pickup 4-Door 8.1L 496Cu. In. V8 GAS OHV Naturally Aspirated
78.0" bed; w/ 2 Electrical Connectors On The Pump Assembly
2004
Chevrolet
Silverado 2500 HD
LS Extended Cab Pickup 4-Door 6.0L 5967CC 364Cu. In. V8 CNG OHV Naturally Aspirated
GAS; 78.0" bed; w/ 2 Electrical Connectors On The Pump Assembly
2004
Chevrolet
Silverado 2500 HD
LS Extended Cab Pickup 4-Door 6.0L 5967CC 364Cu. In. V8 GAS OHV Naturally Aspirated
GAS; 78.0" bed; w/ 2 Electrical Connectors On The Pump Assembly
2004
Chevrolet
Silverado 2500 HD
LS Extended Cab Pickup 4-Door 8.1L 496Cu. In. V8 GAS OHV Naturally Aspirated
78.0" bed; w/ 2 Electrical Connectors On The Pump Assembly
2004
Chevrolet
Silverado 2500 HD
LS Standard Cab Pickup 2-Door 6.0L 5967CC 364Cu. In. V8 CNG OHV Naturally Aspirated
GAS; 78.0" bed; w/ 2 Electrical Connectors On The Pump Assembly
2004
Chevrolet
Silverado 2500 HD
LS Standard Cab Pickup 2-Door 6.0L 5967CC 364Cu. In. V8 GAS OHV Naturally Aspirated
GAS; 78.0" bed; w/ 2 Electrical Connectors On The Pump Assembly
2004
Chevrolet
Silverado 2500 HD
LS Standard Cab Pickup 2-Door 8.1L 496Cu. In. V8 GAS OHV Naturally Aspirated
78.0" bed; w/ 2 Electrical Connectors On The Pump Assembly
2004
Chevrolet
Silverado 2500 HD
LT Crew Cab Pickup 4-Door 6.0L 5967CC 364Cu. In. V8 GAS OHV Naturally Aspirated
GAS; 78.0" bed; w/ 2 Electrical Connectors On The Pump Assembly
2004
Chevrolet
Silverado 2500 HD
LT Crew Cab Pickup 4-Door 8.1L 496Cu. In. V8 GAS OHV Naturally Aspirated
78.0" bed; w/ 2 Electrical Connectors On The Pump Assembly
2004
Chevrolet
Silverado 2500 HD
LT Extended Cab Pickup 4-Door 6.0L 5967CC 364Cu. In. V8 GAS OHV Naturally Aspirated
GAS; 78.0" bed; w/ 2 Electrical Connectors On The Pump Assembly
2004
Chevrolet
Silverado 2500 HD
LT Extended Cab Pickup 4-Door 8.1L 496Cu. In. V8 GAS OHV Naturally Aspirated
78.0" bed; w/ 2 Electrical Connectors On The Pump Assembly
2004
Chevrolet
Silverado 2500 HD
WT Crew Cab Pickup 4-Door 6.0L 5967CC 364Cu. In. V8 CNG OHV Naturally Aspirated
GAS; 78.0" bed; w/ 2 Electrical Connectors On The Pump Assembly
2004
Chevrolet
Silverado 2500 HD
WT Crew Cab Pickup 4-Door 6.0L 5967CC 364Cu. In. V8 GAS OHV Naturally Aspirated
GAS; 78.0" bed; w/ 2 Electrical Connectors On The Pump Assembly
2004
Chevrolet
Silverado 2500 HD
WT Crew Cab Pickup 4-Door 8.1L 496Cu. In. V8 GAS OHV Naturally Aspirated
78.0" bed; w/ 2 Electrical Connectors On The Pump Assembly
2004
Chevrolet
Silverado 2500 HD
WT Extended Cab Pickup 4-Door 6.0L 5967CC 364Cu. In. V8 CNG OHV Naturally Aspirated
GAS; 78.0" bed; w/ 2 Electrical Connectors On The Pump Assembly
2004
Chevrolet
Silverado 2500 HD
WT Extended Cab Pickup 4-Door 6.0L 5967CC 364Cu. In. V8 GAS OHV Naturally Aspirated
GAS; 78.0" bed; w/ 2 Electrical Connectors On The Pump Assembly
2004
Chevrolet
Silverado 2500 HD
WT Extended Cab Pickup 4-Door 8.1L 496Cu. In. V8 GAS OHV Naturally Aspirated
78.0" bed; w/ 2 Electrical Connectors On The Pump Assembly
2004
Chevrolet
Silverado 2500 HD
WT Standard Cab Pickup 2-Door 6.0L 5967CC 364Cu. In. V8 CNG OHV Naturally Aspirated
GAS; 78.0" bed; w/ 2 Electrical Connectors On The Pump Assembly
2004
Chevrolet
Silverado 2500 HD
WT Standard Cab Pickup 2-Door 6.0L 5967CC 364Cu. In. V8 GAS OHV Naturally Aspirated
GAS; 78.0" bed; w/ 2 Electrical Connectors On The Pump Assembly
2004
Chevrolet
Silverado 2500 HD
WT Standard Cab Pickup 2-Door 8.1L 496Cu. In. V8 GAS OHV Naturally Aspirated
78.0" bed; w/ 2 Electrical Connectors On The Pump Assembly